Abstract
A pot experiment (completely randomized design with four replications) was conducted to appraise the role of exogenously applied proline and glycinebetaine in ameliorating the inhibitory effects of cadmium (Cd) in two wheat cultivars, namely Millat-2011 and Punjab-2011. The Cd stress caused a marked decrease in shoot fresh and dry masses, leaf chlorophylls, carotenoids, anthocyanins, and phenolic contents while increase in tissue malondialdehyde (MDA) and hydrogen peroxide (H2O2) contents. Foliar spray of proline and glycinebetaine caused a significant change in growth and physiochemical attributes of two wheat cultivars under Cd stress. Although both proline and glycinebetaine were effective, plants treated with proline had markedly greater shoot and root fresh masses, leaf phenolics, lesser degradation of chlorophylls, and accumulation of MDA and H2O2 contents under Cd stress. Of the two wheat cultivars, Millat-2011 exhibited better tolerance to Cd toxicity in terms of greater leaf phenolics, lesser damage to photosynthetic pigments, and reduced accumulation of MDA and H2O2 contents.
Access options
Buy single article
Instant access to the full article PDF.
US$ 39.95
Tax calculation will be finalised during checkout.
Subscribe to journal
Immediate online access to all issues from 2019. Subscription will auto renew annually.
US$ 79
Tax calculation will be finalised during checkout.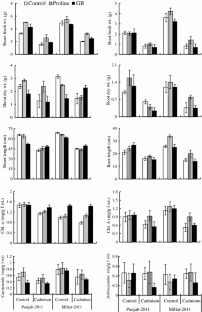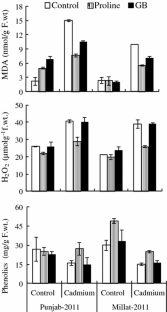 References
Agami RA, Mohamed GF (2013) Exogenous treatment with indole-3-acetic acid and salicylic acid alleviates cadmium toxicity in wheat seedlings. Ecotoxicol Environ Safe 94:164–171

Ashraf M (2009) Biotechnological approach of improving plant salt tolerance using antioxidants as markers. Biotechnol Adv 27:84–93

Ashraf M, Foolad MR (2007) Roles of glycinebetaine and proline in improving plant abiotic stress resistance. Environ Exp Bot 59:206–216

Ashraf MA, Ashraf M, Ali Q (2010) Response of two genetically diverse wheat cultivars to salt stress at different growth stages: leaf lipid peroxidation and phenolic contents. Pak J Bot 42:559–565

Ashraf MA, Ashraf M, Shahbaz M (2012) Growth stage-based modulation in antioxidant defense system and proline accumulation in two hexaploid wheat (Triticum aestivum L.) cultivars differing in salinity tolerance. Flor-Morphology Distrib Funct Ecol Plant 207(5):388–397

Banu MNA, Hoque MA, Watanabe-Sugimoto M, Matsuoka K, Nakamura Y, Shimoishi Y, Murata Y (2009) Proline and glycinebetaine induce antioxidant defense gene expression and suppress cell death in cultured tobacco cells under salt stress. J Plant Physiol 166:146–156

Benavides MP, Gallego SM, Tomaro ML (2005) Cadmium toxicity in plants. Braz J Plant Physiol 17:21–34

Briat JF (2002) Metal ion-activated oxidative stress and its control. In: Inze D, Montagu MV (eds) Oxidative stress in plants. Taylor and Francis, New York, pp 171–189

Chaum S, Samphumphuang T, Kirdmanee C (2013) Glycinebetaine alleviates water deficit stress in indica rice using proline accumulation, photosynthetic efficiencies, growth performances and yield attributes. Aust J Crop Sci 7:213–218

Chen TH, Murata N (2011) Glycinebetaine protects plants against abiotic stress: mechanisms and biotechnological applications. Plant, Cell Environ 34:1–20

Choppala G, Saifullah Bolan N, Bibi S, Iqbal M, Rengel Z, Ashwath N, Ok YS (2014) Cellular mechanisms in higher plants governing tolerance to cadmium toxicity. Crit Rev Plant Sci 33:374–391

Davies BH (1976) Carotenoids. In: Goodwin TW (ed) Chemistry and biochemistry of plant pigments, vol 2, 2nd edn. Academic Press Limited, London, pp 38–165

Domínguez DM, García FC, Raya AC, Santiago RT (2010) Cadmium-induced oxidative stress and the response of the antioxidative defense system in Spartina densiflora. Physiol Planta 139:289–302

Gillet S, Decottignies P, Chardonnet S, Le Maréchal P (2006) Cadmium response and redoxin targets in Chlamydomonas reinhardtii: a proteomic approach. Photosynth Res 89:201–211

Giri J (2011) Glycinebetaine and abiotic stress tolerance in plants. Plant Signal Behav 6:1746–1751

Guo B, Liang Y, Zhu Y (2009) Does salicylic acid regulate antioxidant defense system, cell death, cadmium uptake and partitioning to acquire cadmium tolerance in rice? J Plant Physiol 166:20–31

Habib N, Ashraf M, Ali Q, Perveen R (2012) Response of salt stressed okra (Abelmoschus esculentus Moench) plants to foliar-applied glycine betaine and glycine betaine containing sugarbeet extract. S Afr J Bot 83:151–158

Hayat S, Hayat Q, Alyemeni MN, Ahmad A (2013) Proline enhances antioxidative enzyme activity, photosynthesis and yield of Cicer arietinum L. exposed to cadmium stress. Acta Bot Croat 72:323–335

Hodges DM, Nozzolillo C (1996) Anthocyanin and anthocyanoplast content of cruciferous seedlings subjected to mineral nutrient deficiencies. J Plant Physiol 47:749–754

Hodges DM, DeLong JM, Forney CF, Prange RK (1999) Improving the thiobarbituric acid-reactive-substances assay for estimating lipid peroxidation in plant tissues containing anthocyanin and other interfering compounds. Planta 207:604–611

Hong Z, Lakkineni K, Zhang Z, Verma DPS (2000) Removal of feedback inhibition of D1-pyrroline-5-carboxylate synthetase results in increased proline accumulation and protection of plants from osmotic stress. Plant Physiol 122:1129–1136

Hoque MA, Okuma E, Banu MNA, Nakamura Y, Shimoishi Y, Murata Y (2007) Exogenous proline mitigates the detrimental effects of salt stress more than the betaine by increasing antioxidant enzyme activities. J Plant Physiol 164:553–561

Hoque MA, Banu MNA, NakamuraY SY, Murata Y (2008) Proline and glycinebetaine enhance antioxidant defense and methylglyoxal detoxification systems and reduce NaCl-induced damage in cultured tobacco cells. J Plant Physiol 165:813–824

Hussain I, Akhtar S, Ashraf MA, Rasheed R, Siddiqi EH, Ibrahim M (2013) Response of maize seedlings to cadmium application after different time intervals. ISRN Agronomy: 9

Islam MM, Hoque MA, Okuma E, Banu MNA, Shimoishi Y, Nakamura Y, Murata Y (2009) Exogenous proline and glycinebetaine increase antioxidant activities and confer tolerance to cadmium stress in cultured tobacco cells. J Plant Physiol 166:1587–1596

Julkenen-Titto R (1985) Phenolic constituents in the leaves of northern willows: methods for the analysis of certain phenolics. Agric Food Chem 33:213–217

Khedr AHA, Abbas MA, Wahid AAA, Quick WP, Abogadallah GM (2003) Proline induces the expression of salt-stress-responsive proteins and may improve the adaptation of Pancratium maritimum L. to salt-stress. J Exp Bot 54:2553–2562

Liu D, Jian W, Gao X (2004) Effect of cadmium on root growth, cell division and nucleoli in root tip cells of garlic. Biol Plant 47:79–83

Ma QQ, Wang W, Li YH, Li DQ, Zou Q (2006) Alleviation of photoinhibition in drought-stressed wheat (Triticum aestivum) by foliar-applied glycinebetaine. J Plant Physiol 163:165–175

Mallick N, Mohn FH (2000) Reactive oxygen species: responses of algal cells. J Plant Physiol 157:183–193

Mehta SK, Gaur JP (1999) Heavy metal-induced proline accumulation and its role in ameliorating metal toxicity in Chlorella vulgaris. New Phytol 143:253–259

Okuma E, Murakami Y, Shimoishi Y, Tada M, Murata Y (2004) Effects of exogenous application of proline and betaine on the growth of tobacco cultured cells under saline conditions. Soil Sci Plant Nutr 50:1301–1305

Parmar P, Kumari N, Sharma V (2013) Structural and functional alterations in photosynthetic apparatus of plants under cadmium stress. Bot Stud 54:45

Popova LP, Maslenkova LT, Yordanova RY, Ivanova AP, Krantev AP, Szalai G, Janda T (2009) Exogenous treatment with salicylic acid attenuates cadmium toxicity in pea seedlings. Plant Physiol Biochem 47:224–231

Rastgoo L, Alemzadeh A (2011) Biochemical responses of Gouan (Aeluropus littoralis) to heavy metals stress. Aust J Crop Sci 5(4):375–383

Sana R, Iqbal M, Hussain I, Rasheed R, Ashraf MA, Mahmood S, Younas M, Iqbal MZ (2014) Chronic cadmium induced oxidative stress not the DNA fragmentation modulates growth in spring wheat (Triticum aestivum). Int J Agric Biol 16:789–794

Sharma SS, Dietz KJ (2006) The significance of amino acids and amino acid-derived molecules in plant responses and adaptation to heavy metal stress. J Exp Bot 57:711–726

Sharmila P, PardhaSaradhi P (2002) Proline accumulation in heavy metal stressed plants: an adaptive strategy. In: Prasad MNV, Strazlka K (eds) Physiology and biochemistry of metal toxicity and tolerance in plants. Kluwer, Dordrecht, pp 179–199

Singh V, Bhatt I, Aggarwal A, Tripathi BN, Munjal AK, Sharma V (2010) Proline improves copper tolerance in chickpea (Cicer arietinum). Protoplasma 245:173–181

Tripathi BN, Gaur JP (2004) Relationship between Copper and Zinc-induced oxidative stress and proline accumulation in Scenedesmus sp. Planta 219:397–404

Tripathi BN, Mehta SK, Amar A, Gaur JP (2006) Oxidative stress in Scenedesmus sp. during short- and long-term exposure to Cu2+ and Zn2+. Chemosphere 62:538–544

Velikova V, Yordanov I, Edreva A (2000) Oxidative stress and some antioxidant systems in acid rain treated bean plants. Protective role of exogenous polyamines. Plant Sci 151:59–66

Weisany W, Sohrabi Y, Heidari G, Siosemardeh A, Ghassemi-Golezani K (2012) Changes in antioxidant enzymes activity and plant performance by salinity stress and zinc application in soybean (Glycine max L.). Plant Omics 5:60–67

Xu P, Liu D, Jiang W (2009) Cadmium effects on the organization of microtubular cytoskeleton in interphase and mitotic cells of Allium sativum. Biol Plant 53:387–390

Yoshida S, Forno DA, Cock JH, Gomez KA (1976) Laboratory manual for physiological studies of rice, 3rd edn. International Rice Research Institute, Philippines, pp 27–35
About this article
Cite this article
Rasheed, R., Ashraf, M.A., Hussain, I. et al. Exogenous proline and glycinebetaine mitigate cadmium stress in two genetically different spring wheat (Triticum aestivum L.) cultivars. Braz. J. Bot 37, 399–406 (2014). https://doi.org/10.1007/s40415-014-0089-7
Received:

Revised:

Accepted:

Published:

Issue Date:
Keywords
Antioxidant defense system

Cadmium

Heavy metals

Organic compounds