Abstract
Aim
The aim of this case series study is to classify deviations in mandibular and maxillary premolar eruption according to aetiology, with a focus on the resorption pattern in the preceding primary molars. The purpose is also to give treatment guidance based on aetiology.
Materials and methods
Radiographic material from 64 cases with abnormal premolar eruptions were grouped into three eruptions phases: Phase 1, from tooth bud to early root formation, sub-grouped according to "ankylosis" or "not ankylosis" of the primary molars; Phase 2, from start of eruption to the penetration of gingiva, sub-grouped according to normal or abnormal resorption of the primary molars and Phase 3, eruption after penetration of gingiva.
Results
Phase 1: early ankylosis of primary molars, ectopic locations of the premolar crown, including occlusally displacement in relation to the primary molar, are demonstrated. Not ankylosed primary molar: different positions, even an upside-down position of the premolar, are demonstrated. The conditions are explained in relation to the early migration pattern of the premolar tooth bud. Regarding treatment, in cases with ankylosed primary molars these should be extracted as soon as diagnosed and in cases with not ankylosed primary molars these should be extracted when root formation of the premolars has started. The premolars should be observed and saved if possible. Phase 2: non-exfoliation of primary molar, aetiology and treatment of premolars depend on tissue types involved. In bone dysplasia, the eruption of premolars is delayed. In these cases, the primary molars should be extracted when eruptive movements of the premolars have started. In cases with ectoderm deviation, the crown follicle does not function normally during the resorption of the primary molars and the recommended treatment is extraction of primary molars before root closure of premolars. In cases in Phase 2 where the premolars were ankylosed these should be surgical removed. Phase 3: different aetiologies are highlighted, with focus on abnormal innervation and enzyme defects. The premolars are seemingly ankylosed, and surgery might be the only treatment.
Conclusion
The case series presented demonstrate how ectopic and arrested premolars have different aetiologies and as a consequence, different treatments. The study highlights several aspects in pathological eruption, which still need to be elucidated.
Access options
Buy single article
Instant access to the full article PDF.
US$ 39.95
Tax calculation will be finalised during checkout.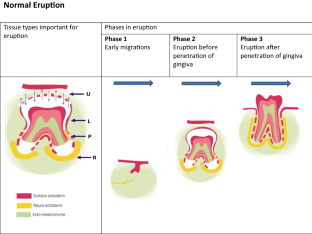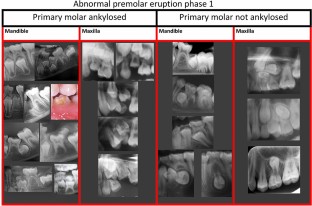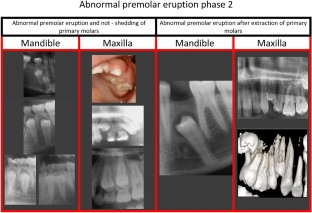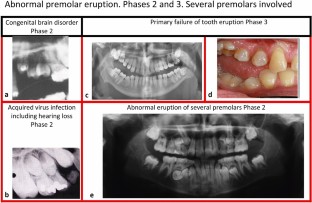 References
Bang E, Kjær I, Christensen LR. Etiologic aspects and orthodontic treatment of unilateral localized arrested tooth development combined with hearing loss. Am J Orthod Dentofacial Orthop. 1995;108(2):154–61.

Becktor KB, Kjær I, Koch C. Tooth eruption, epithelial root sheath and craniofacial profile in hyper-IgE syndrome: report of two cases. Eur J Ped Dent. 2001;2:185–90.

Becktor KB, Bangstrup MI, Rølling S, Kjær I. Uni-lateral primary or secondary retention of permanent teeth, and dental malformations. Eur J Orthod. 2002a;24(2):205–14.

Becktor KB, Hansen BF, Nolting D, Kjær I. Spatiotemporal expression of NGFR during pre-natal human tooth development. Orthod Craniofac Res. 2002b;5(2):85–9.

Becktor KB, Reibel J, Vedel B, Kjær I. Segmental odontomaxillary dysplasia: clinical, radiological and histological aspects of four cases. Oral Dis. 2002c;8(2):106–10.

Bille MLB, Nolting D, Kvetny MJ, Kjær I. Unexpected early apical resorption of primary molars and canines. Eur Archs Paediatr Dent. 2007;8:144–9.

Bille ML, Nolting D, Kjær I. Immunohistochemical studies of the periodontal membrane in primary teeth. Acta Odont Scand. 2009;67(6):382–7.

Bille MLB, Thomsen B, Kjær I. Apoptosis in the human periodontal membrane evaluated in primary and permanent teeth. Acta Odontol Scand. 2011;69(6):385–8.

Chavéz-Lomeli ME, Lory JM, Pompa JA, Kjær I. The human mandibular canal arises from three separate canals innervating different tooth groups. J Dent Res. 1996;75(8):1540–4.

Christensen LR, Mølgård K, Kjær I, Janas MS. Immunocytochemical demonstration of nerve growth factor receptor (NGF-R) in developing human fetal teeth. Anat Embryol. 1993;188(3):247–55.

Daugaard S, Christensen IJ, Kjær I. Delayed dental maturity in dentitions with agenesis of mandibular second premolars. Orthod Craniofac Res. 2010;13:191–6.

Esposito L, Poletti L, Maspero C, et al. Hyper-IgE syndrome: dental implications. Oral Surg Oral Med Oral Pathol Oral Radiol. 2012;114(2):147–53.

Frazier-Bowers SA, Koehler KE, Ackerman JL, Proffit WR. Primary failure of eruption: further characterization of a rare eruption disorder. Am J Orthod Dentofacial Orthop. 2007;131(5):578.e1-11.

Fujiyama K, Yamashiro T, Fukunaga T, Balam TA, Zheng L, Takano-Yamamoto T. Denervation resulting in dento-alveolar ankylosis associated with decreased Malassez epithelium. J Dent Res. 2004;83(8):625–9.

Gonzalez-Arriagada WA, Vargas PA, Fuentes-Cortés R, Nasi-Toso MA, Lopes MA. Segmental odontomaxillary dysplasia: report of 3 cases and literature review. Head Neck Pathol. 2012;6(2):171–7.

Ismail MQ, Lauridsen E, Andreasen JO, Hermann NV. Ectopic eruption of the second premolar: an analysis of four different treatment approaches. Eur Arch Paediatr Dent. 2020;21:119–27.

Kenrad J, Vedtofte H, Andreasen JO, Kvetny MJ, Kjær I. A retrospective overview of treatment choice and outcome in 126 cases with arrested eruption of mandibular second molars. Clin Oral Investig. 2011;15(1):81–7.

KenradBreum J, Jarle Christensen I, Kjær I. Gender difference in patterns of second premolar agenesis observed in 4,756 individuals. Eur Archs Paediatr Dent. 2013;14:397–403.

Kjær I. Can the location of tooth agenesis and the location of initial bone loss seen in juvenile periodontitis be explained by neural developmental fields in the jaws? Acta Odontol Scand. 1997;55:70–2.

Kjær I. External root resorption: different etiologies explained from the composition of the human root-close periodontal membrane. Dent Hyp. 2013;4(3):75–9.

Kjær I, Nolting D. Immunohistochemical PGP 9.5 positivity in human osteoblasts may indicate that compensatory and dysplastic craniofacial growth are under control by peripheral nerves. Orthod Craniofac Res. 2008;11:196–200.

Kjær I, Nolting D. The human periodontal membrane–focusing on the spatial interrelation between the epithelial layer of Malassez, fibers, and innervation. Acta Odontol Scand. 2009;67:134–8.

Kjær I, Kocsis G, Nodal M, Christensen LR. Aetiological aspects of mandibular tooth agenesis–focusing on the role of nerve, oral mucosa, and supporting tissues. Eur J Orthod. 1994;16(5):371–5.

Kjær I, Fink-Jensen M, Andreasen JO. Classification and sequelae of arrested eruption of primary molars. Int J Paediatr Dent. 2008;18(1):11–7.

Kjær I. Mechanism of Human Tooth Eruption: Review Article Including a New Theory for Future Studies on the Eruption Process. Scientifica. 2014; ID: 341905.

Kjær I. Etiology-Based dental and craniofacial diagnostics, Wiley. 2017

Marks SC, Cahill DR. Regional control by the dental follicle of alterations in alveolar bone metabolism during tooth eruption. J Oral Pathol. 1987;16(4):164–9.

Marks SC Jr, Schroeder HE. Tooth eruption: theories and facts. Anat Rec. 1996;245(2):374–93.

Nielsen SH, Becktor KB, Kjær I. Primary retention of first permanent mandibular molars in 29 subjects. Eur J Orthod. 2006;28(6):529–34.

Parner ET, Heidmann JM, Kjaer I, Vaeth M, Poulsen S. Biological interpretation of the correlation of emergence times of permanent teeth. J Dent Res. 2002;81(7):451–4.

Peck S. On the phenomenon of intraosseous migration of nonerupting teeth. Am J Orthod Dentofacial Orthop. 1998;113(5):515–7.

Rincon JC, Young WG, Bartold PM. The epithelial cell rests of Malassez—a role in periodontal regeneration? J Periodontal Res. 2006;41(4):245–52.

Risom L, Christoffersen L, Daugaard-Jensen J, et al. Identification of six novel PTH1R mutations in families with a history of primary failure of tooth eruption. PLoS ONE. 2013;8(9):274601.

Seager L, Ponduri S, Robinson S. Mandibular second premolars—sthe wandering minstrel. Orthodontic Update. 2017;6 (2).

Shalish M, Peck S, Wasserstein A, Peck L. Malposition of unerupted mandibular second premolar associated with agenesis of its antimere. Am J Orthod Dentofacial Orthop. 2002;121(1):53–6.

Stemm RM. The frequency of malposed unerupted lower premolar teeth. Angle Orthod. 1971;41(2):157–8.

Svanholt M, Kjær I. Developmental stages of permanent canines, premolars, and 2nd molars in 244 Danish children. Acta Odontol Scand. 2008;66(6):342–50.

Taguchi Y, Yano Y, Kobayashi H, Noda T. Retarded eruption of maxillary second premolars associated with late development of the germs. J Clin Pediatr Dent. 2003;27(4):321–6.

Tervonen SA, Stratmann U, Mokrys K, Reichart PA. Regional odontodysplasia: a review of the literature and report of four cases. Clin Oral Investig. 2004;8(2):45–51.

Vaikuntam J, Tatum NB, Mcguff HS. Regional odontodysplasia: review of the literature and report of a case. J Clin Pediatr Dent. 1996;21(1):35–40.

Wise GE, He H, Gutierrez DL, Ring S, Yao S. Requirement of alveolar bone formation for eruption of rat molars. Eur J Oral Sci. 2011;119(5):333–8.

Yamashiro T, Fujiyama K, Fukunaga T, Wang Y, Takano-Yamamoto T. Epithelial rests of Malassez express immunoreactivity of TrkA and its distribution is regulated by sensory nerve innervation. J Histochem Cytochem. 2000;48(7):979–84.
Acknowledgements
Thanks to all colleagues who contributed with materials for this study. Also thanks to the secretary Linda Michelsen and Eva Reinwald for organizing the scientific material and preparation of this manuscript. Also thanks to student assistant Ulrik Wesenberg Kjær for preparing the figures.
Funding
Funding has not been received for this project.
Ethics declarations
Conflict of interest
The author declares that there is no conflict of interest regarding the publication of this article.
Additional information
Publisher's Note
Springer Nature remains neutral with regard to jurisdictional claims in published maps and institutional affiliations.
About this article
Cite this article
Kjær, I. Abnormal premolar eruption: classification, aetiology, and treatment based on a case series study. Eur Arch Paediatr Dent (2021). https://doi.org/10.1007/s40368-021-00658-7
Received:

Accepted:

Published:
Keywords
Eruption

Ectopia

Premolar

Radiograph

Primary molar

Dentition