Abstract
Purpose
Pulpectomy may be indicated in restorable primary teeth exhibiting irreversible pulpitis or pulpal necrosis. The purpose of this study was to compare the cleaning and shaping efficacy of NiTi systems (Reciproc® Blue and MTwo®) with manual stainless-steel instrumentation in primary molars using micro-CT analysis.
Methods
Fifty-seven maxillary second primary molars were scanned using micro-CT. Teeth with three divergent roots were divided randomly (n = 15) according to instrument type (K file, MTwo®, and Reciproc® Blue). Teeth with root fusion were instrumented manually as a separate group (n = 12). Pre- and post-instrumentation micro-CT images were superimposed, and the instrumentation area (IA) and procedural complications were recorded.
Results
No statistically significant differences in IA between file systems was observed in the non-fused teeth. The mean IA of fused roots was significantly lower than in the non-fused distobuccal (p = 0.003) and palatal (p < 0.001) roots. The root segment had a significant effect on IA (p < 0.001) and the highest mean IA was observed in the apical third. Manual instrumentation had fewer procedural complications compared with rotary systems.
Conclusion
No differences were determined in the cleaning and shaping effectiveness of all systems in non-fused teeth. Uninstrumented areas (> 60%) occurred in both non-fused and fused primary teeth with fewer procedural complications observed after manual instrumentation.
Access options
Buy single article
Instant access to the full article PDF.
USD 39.95
Price includes VAT (USA)
Tax calculation will be finalised during checkout.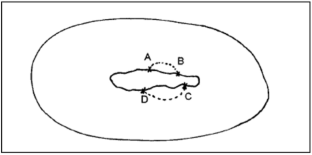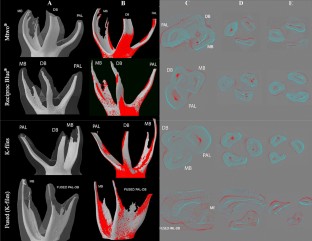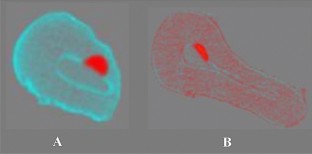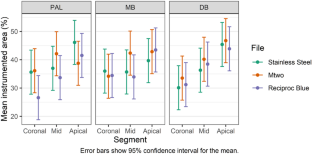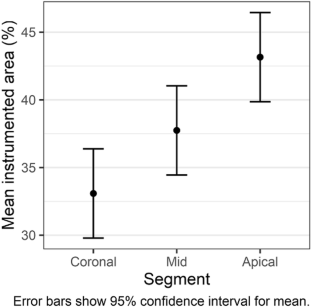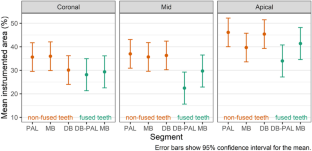 References
AAPD. Guideline on pulp therapy for primary and immature permanent teeth. Pediatr Dent. 2016;38(6):280–8.

Ahmed H, Versiani M, De-Deus G, Dummer P. A new system for classifying root and root canal morphology. Int Endod J. 2018;50(8):761–70.

Amoroso-Silva P, Alcalde MP, Hungaro Duarte MA, De-Deus G, Ordinola-Zapata R, Freire LG, et al. Effect of finishing instrumentation using NiTi hand files on volume, surface area and uninstrumented surfaces in C-shaped root canal systems. Int Endod J. 2017;6:604–11.

Azar M, Mokhtare M. Rotary Mtwo system versus manual K-file instruments: efficacy in preparing primary and permanent molar root canals. Indian J Dent Res 2011;22(2):363–7.

Azar M, Safi L, Nikaein A. Comparison of the cleaning capacity of Mtwo and Pro Taper rotary systems and manual instruments in primary teeth. Dent Res J. 2012;9(2):146–51.

Cleghorn B, Boorberg N, Christie W. Primary human teeth and their root canal systems. Endod Topics. 2012;23(1):6–33.

Crespo S, Cortes O, Garcia C, Perez L. Comparison between rotary and manual instrumentation in primary teeth. J Clin Pediatr Dent. 2008;32(4):295–8.

da Silva B, Scaini F, Tomazinho F, Gonzaga C, Gabardo M, Baratto-Filho F. Root preparation of deciduous teeth: efficacy of WaveOne and ProTaper systems with and without passive ultrasonic irrigation. Iran Endod J. 2018;13(3):362–6.

El Hachem C, Kaloustian M, Nehme W, Ghosn N, Chedid JA. Three-dimensional modeling and measurements of root canal anatomy in second primary mandibular molars: a case series micro CT study. Eur Arch Paediatr Dent. 2019;20(5):457–65.

Esentürk G, Akkas E, Cubukcu E, Nagas E, Uyanik O, Cehreli ZC. A micro-computed tomographic assessment of root canal preparation with conventional and different rotary files in primary teeth and young permanent teeth. Int J Paediatr Dent. 2019;30(2):202–8.

Fumes A, Sousa-Neto M, Leoni G, Versiani M, Silva L, Silva R, et al. Root canal morphology of primary molars: a micro-computed tomography study. Eur Arch Paediatr Dent. 2014;15(5):317–26.

Hidalgo L, Silva L, Leoni G, Mazzi-Chaves J, Carvalho E, Consolaro A, et al. Mechanical preparation showed superior shaping ability than manual technique in primary molars-a micro-computed tomography study. Braz Dent J. 2017;28(4):453–60.

Hulsmann M, Peters O, Dummer P. Mechanical preparation of root canals: shaping goals, techniques and means. Endod Topics. 2005;10(1):30–76.

Kaya E, Elbay M, Yiğit D. Evaluation of the Self-Adjusting File system (SAF) for the instrumentation of primary molar root canals: a micro-computed tomographic study. Eur J Paediatr Dent. 2017;18(2):105–10.

Manchanda S, Sardana D, Yiu C. A systematic review and meta-analysis of randomized clinical trials comparing rotary canal instrumentation techniques with manual instrumentation techniques in primary teeth. Int Endod J. 2020;53(3):333–53.

Manker A, Solanki M, Tripathi A, Jain M. Biomechanical preparation in primary molars using manual and three NiTi instruments: a cone-beam-computed tomographic in vitro study. Eur Arch Paediatr Dent. 2019;21(2):203–13.

Nagaratna P, Shashikiran N, Subbareddy V. In vitro comparison of NiTi rotary instruments and stainless steel hand instruments in root canal preparations of primary and permanent molar. J Indian Soc Pedod Prev Dent. 2006;24(4):186–91.

Ordinola-Zapata R, Martins J, Bramante C, Villas-Boas M, Duarte M, Versiani M. Morphological evaluation of maxillary second molars with fused roots: a micro-CT study. Int Endod J. 2017;50(12):1192–200.

Ozcan G, Sekerci A, Cantekin K, Aydinbelge M, Dogan S. Evaluation of root canal morphology of human primary molars by using CBCT and comprehensive review of the literature. Acta Odontol Scand. 2016;74(4):250–8.

Panchal V, Jeevanandan G, Erulappan SM. Comparison between the effectiveness of rotary and manual instrumentation in primary teeth: a systematic review. Int J Paediatr Dent. 2019;12(4):340–6.

Parashos P, Messer H. Rotary NiTi instrument fracture and its consequences. J Endod. 2006;32(11):1031–43.

Pathak S. In vitro comparison of K-file, Mtwo, and WaveOne in cleaning efficacy and instrumentation time in primary molars. CHRISMED J Health Res. 2016;3(1):60–4.

Ramazani N, Mohammadi A, Amirabadi F, Ramazani M, Ehsani F. In vitro investigation of the cleaning efficacy, shaping ability, preparation time and file deformation of continuous rotary, reciprocating rotary and manual instrumentations in primary molars. J Dent Res Dent Clin Dent Prospects. 2016;10(1):49–56.

Sathorn C, Palamara J, Messer H. Basic research-technology: a comparison of the effects of two canal preparation techniques on root fracture susceptibility and fracture pattern. J Endod. 2005;31(4):283–7.

Smaïl-Faugeron V, Glenny A, Courson F, Durieux P, Muller-Bolla M, Chabouis H. Pulp treatment for extensive decay in primary teeth. Cochrane Database Syst Rev. 2018;5:CD003220. https://doi.org/10.1002/14651858.CD003220.pub3

Spili P, Parashos P, Messer H. The impact of instrument fracture on outcome of endodontic treatment. J Endod. 2005;31(12):845–50.

Vertucci FJ. Root canal morphology and its relationship to endodontic procedures. Endod Topics. 2005;10(1):3–29.

Weiger R, ElAyouti A, Löst C. Efficiency of hand and rotary instruments in shaping oval root canals. J Endod. 2002;28(8):580–3.

Yin X, Cheung GS-P, Zhang C, Masuda YM, Kimura Y, Matsumoto K. Micro-computed tomographic comparison of nickel–titanium rotary versus traditional instruments in C-shaped root canal system. J Endod. 2010;36(4):708–12.

Zhao Y, Fan W, Xu T, Tay F, Gutmann J, Fan B. Evaluation of several instrumentation techniques and irrigation methods on the percentage of untouched canal wall and accumulated dentine debris in C-shaped canals. Int Endod J. 2019;52(9):1354–65.
Funding
This work was supported by the Australian Society of Endodontology Inc. (ASE 2017) and The Australia Dental Research Foundation (ADRF 229-2017).
Ethics declarations
Conflicts of interest
All authors deny any conflicts of interest in this study.
Additional information
Publisher's Note
Springer Nature remains neutral with regard to jurisdictional claims in published maps and institutional affiliations.
About this article
Cite this article
Dalzell, O., Mohd Ariffin, S., Patrick, C.J. et al. Root canal instrumentation efficacy of non-fused and fused primary molar roots: a micro-computed tomography study. Eur Arch Paediatr Dent 22, 911–927 (2021). https://doi.org/10.1007/s40368-021-00641-2
Received:

Accepted:

Published:

Issue Date:
Keywords
Micro-computed tomography

Primary teeth

Pulpectomy

Root canal preparation

Rotary systems