Abstract
Purpose
To investigate routines and attitudes among dentists and dental hygienists concerning use of fissure sealants and fluoride varnish for non-operative management of occlusal caries.
Methods
All dentists and dental hygienists working in child dental care in three counties in Norway were invited to answer a questionnaire on routines for use of fissure sealants and fluoride varnish. Nine statements regarding attitudes towards use of sealants were scored using a five-point Likert scale. Multivariable logistic regression analyses were performed to assess indicators associated with reported routines for use of sealants and varnish. The study was approved by the Norwegian Centre for Research Data.
Results
In total 142 of 189 (75%) dentists and dental hygienists answered the questionnaire. The majority of the respondents, n = 83 (59%), reported to prefer fissure sealants while fluoride varnish was preferred by 57 (41%) of the respondents. Frequent use of fissure sealants was reported by 58 (41%) and frequent use of varnish by 104 (74%) of the respondents. Most (n = 104, 74%), used sealants on specific indications, and 89 (64%) opened fissures only when suspecting dentine caries. Preferred method and routines for occlusal caries management differed between counties (p < 0.05). Almost all clinicians agreed with the statement that sealants are protective against caries, while statements regarding costs, technique sensitivity and children's cooperation revealed some concerns regarding fissure sealing.
Conclusions
Fissure sealants were the preferred method for occlusal caries management despite reported concerns related to technical aspects and patient cooperation. County-level variation in frequency of sealant use was observed.
Access options
Buy single article
Instant access to the full article PDF.
US$ 39.95
Tax calculation will be finalised during checkout.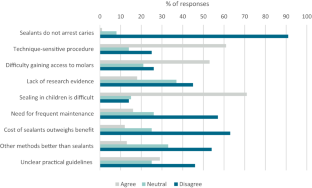 References
Ahovuo-Saloranta A, Forss H, Hiiri A, Nordblad A, Makela M. Pit and fissure sealants versus fluoride varnishes for preventing dental decay in the permanent teeth of children and adolescents. The Cochrane database of systematic reviews. 2016. 1:CD003067.

Asawa K, Gupta VV, Tak M, et al. Dental sealants: knowledge, value, opinion, and practice among dental professionals of Bathinda city, India. Adv Prev Med. 2014;2014:469738.

Batchelor PA, Sheiham A. Grouping of tooth surfaces by susceptibility to caries: a study in 5-16 year-old children. BMC Oral Health. 2004;4(1):2.

Bonetti D, Johnston M, Pitts NB, et al. Knowledge may not be the best target for strategies to influence evidence-based practice: using psychological models to understand rct effects. Int J Behav Med. 2009;16(3):287–93.

Carvalho JC. Caries process on occlusal surfaces: evolving evidence and understanding. Caries Res. 2014;48(4):339–46.

Chestnutt IG, Playle R, Hutchings S, et al. Fissure seal or fluoride varnish? A randomized trial of relative effectiveness. J Dent Res. 2017;96(7):754.

Clarkson JE, Turner S, Grimshaw JM, et al. Changing clinicians' behavior: a randomized controlled trial of fees and education. J Dent Res. 2008;87(7):640–4.

Govindaiah S, Bhoopathi V. Dentists' levels of evidence-based clinical knowledge and attitudes about using pit-and-fissure sealants. J Am Dent Assoc. 2014;145(8):849–55.

Kervanto-Seppala S, Pietila I, Meurman JH, Kerosuo E. Pit and fissure sealants in dental public health - application criteria and general policy in finland. BMC Oral Health. 2009;9:5.

Lov om tannhelsetjenesten. Helse- og Omsorgsdepartementet (Norwegian Ministry of Health and Care Services). 1984. LOV-1983-06-03-54. https://lovdata.no/dokument/NL/lov/1983-06-03-54. Accessed 2 Nov 2018.

Mejare I, Stenlund H, Zelezny-Holmlund C. Caries incidence and lesion progression from adolescence to young adulthood: a prospective 15-year cohort study in Sweden. Caries Res. 2004;38(2):130–41.

Michalaki M, Sifakaki M, Oulis CJ, Lygidakis NA. Attitudes, knowledge and utilization of fissure sealants among Greek dentists: a national survey. Eur Arch Paediatr Dent. 2010;11(6):287–93.

O'Donnell JA, Modesto A, Oakley M, Polk DE, Valappil B, Spallek H. Sealants and dental caries: insight into dentists' behaviors regarding implementation of clinical practice recommendations. J Am Dent Assoc. 2013;144(4):e24–30.

Pitts N, Amaechi B, Niederman R, et al. Global oral health inequalities: dental caries task group—research agenda. Adv Dent Res. 2011;23(2):211.

Polk DE, Weyant RJ, Shah NH, Fellows JL, Pihlstrom DJ, Frantsve-Hawley J. Barriers to sealant guideline implementation within a multi-site managed care dental practice. BMC Oral Health. 2018;18(1):17.

San Martin L, Castaño A, Bravo M, Tavares M, Niederman R, Ogunbodede Eyitope O. Dental sealant knowledge, opinion, values and practice of spanish dentists. BMC Oral Health. 2013;13:12.

San Martin L, Huertos-Marchante A, Galvan-Martos J, Rodriguez-Lozano FJ. Dental sealant knowledge, opinion, values and practice of Spanish dental hygienists. Int J Dent Hyg. 2017;15(1):46–52.

Shellis RP, Duckworth RM. Studies on the cariostatic mechanisms of fluoride. Int Dent J. 1994;44(3 Suppl 1):263–73.

Splieth CH, Ekstrand KR, Alkilzy M, et al. Sealants in dentistry: outcomes of the ORCA saturday afternoon symposium 2007. Caries Res. 2010;44(1):3–13.

Statistics Norway. Tannhelsetenesta. Tabell 11959: Tannhelsetilstand og kariesforekomst blant 5-, 12- og 18-åringer, etter alder. Statistisk sentralbyrå (Statistics Norway). 2018. https://www.ssb.no/statbank/table/11959. Accessed 2 Nov 2018.

ten Cate JM. Review on fluoride, with special emphasis on calcium fluoride mechanisms in caries prevention. Eur J Oral Sci. 1997;105(5 Pt 2):461–5.

Widstrom E, Tillberg A, Byrkjeflot LI, Skudutyte-Rysstad R. Chair-side preventive interventions in the public dental service in Norway. Br Dent J. 2016;221(4):179–85.

Wright JT, Tampi MP, Graham L, et al. Sealants for preventing and arresting pit-and-fissure occlusal caries in primary and permanent molars. A systematic review of randomized controlled trials-a report of the American academy of pediatric dentistry and the American dental association. J Am Dent Assoc. 2016;147(8):631–45.
Acknowledgements
The authors would like to thank the Chief dental officers in Hedmark, Oppland and Østfold counties for distribution of the questionnaire and Ingrid Klepaker for her contribution with collecting and processing the data.
Ethics declarations
Conflict of interest
The authors declare that they have no conflict of interest.
Ethical approval
All procedures performed in studies involving human participants were in accordance with the ethical standards of the institutional and/or national research committee and with the 1964 Helsinki declaration and its later amendments or comparable ethical standards.
Informed consent
Informed consent was obtained from all individual participants included in the study.
Additional information
Publisher's Note
Springer Nature remains neutral with regard to jurisdictional claims in published maps and institutional affiliations.
About this article
Cite this article
Uhlen, MM., Wang, N.J. & Skudutyte-Rysstad, R. Fissure sealants or fluoride varnish? Routines and attitudes among dental health personnel in Norway. Eur Arch Paediatr Dent 20, 577–583 (2019). https://doi.org/10.1007/s40368-019-00440-w
Received:

Accepted:

Published:

Issue Date:
Keywords
Fissure sealants

Fluoride varnish

Dental caries

Children

Oral health