Abstract
Aims
To clinically evaluate the retention rates and caries-prevention effect of a resin-based, non-etch and rinse, self-etch primed pit and fissure sealant containing Sealant Pre-reacted Glass Ionomer Cement (S-PRG) fillers, in comparison to a conventional resin-based sealant over an 18-month period.
Methods
There were 81 children, aged 6–12 years old, who were randomly assigned to one of two sealant-groups, either the self-etch primed sealant (Beautisealant, Shofu) or the conventional etch and rinse sealant (Seal it, Spident). A total of 218 sealants of both groups were placed on first permanent molars with either sound surfaces (The International Caries Detection and Assessment System [ICDAS], code 0) or incipient enamel caries lesions (ICDAS code 1) according to the manufacturers' instructions. Each sealant restoration was independently evaluated in terms of retention and caries status at 6, 12 and 18 months. The data were statistically analysed with the Chi-squared test and z-test and the level of significance was preset at α = 0.05.
Results
The differences between the complete retention rates of the two sealant groups were statistically significant in all periods of evaluation (p < 0.01). Survival rates of each sealant-group were comparable on sound (ICDAS 0) and enamel caries lesions (ICDAS1). Caries prevention effect of the two sealant groups was similar at the end of the evaluation period.
Conclusions
The clinical performance of the S-PRG filler-containing dental sealant placed with a self-etching primer was poor regarding its retention. Its significantly higher loss did not lead to more carious occlusal surfaces at the 18-month recall.
This is a preview of subscription content, log in to check access.
Access options
Buy single article
Instant access to the full article PDF.
US$ 39.95
Price includes VAT for USA
Subscribe to journal
Immediate online access to all issues from 2019. Subscription will auto renew annually.
US$ 99
This is the net price. Taxes to be calculated in checkout.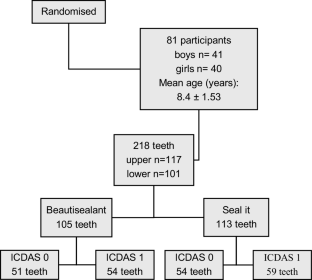 References
Ahovuo-Saloranta A, Forss H, Walsh T, et al. Sealants for preventing dental decay in the permanent teeth. Cochrane Database Syst Rev. 2013;(3):CD001830.

Aman N, Khan FR, Salim A, Farid H. A randomized control clinical trial of fissure sealant retention: self etch adhesive versus total etch adhesive. J Conserv Dent. 2015;18(1):20–4.

Bader JD, Shugars DA. The evidence supporting alternative management strategies for early occlusal caries and suspected occlusal dentinal caries. J Evid Based Dent Pract. 2006;6(1):91–100.

Beauchamp J, Caufield PW, Crall JJ, et al. Evidence-based clinical recommendations for the use of pit-and-fissure sealants: a report of the American Dental Association Council on Scientific Affairs. J Am Dent Assoc. 2008;139(3):257–68.

Bravo M, Osorio E, García-Anllo I, Llodra JC, Baca P. The influence of dft index on sealant success: a 48-month survival analysis. J Dent Res. 1996;75(2):768–74.

Burbridge L, Nugent Z, Deery C. A randomized controlled trial of the effectiveness of a one-step conditioning agent in sealant placement: 6-month results. Int J Paediatr Dent. 2006;16(6):424–30.

Burrow JF, Burrow MF, Makinson OF. Pits and fissures: relative space contribution in fissures from sealants, prophylaxis pastes and organic remnants. Aust Dent J. 2003;48(3):175–9.

Dionysopoulos D, Sfeikos T, Tolidis K. Fluoride release and recharging ability of new dental sealants. Eur Arch Paediatr Dent. 2016;17(1):45–51.

dos Santos KT, Sundfeld RH, Garbin CAS, et al. Length of resin tags in pit-and-fissure sealants: all-in-one self-etching adhesive vs phosphoric acid etching. Compend Contin Educ Dent. 2008;29(3):186–92.

Feigal RJ, Donly KJ. The use of pit and fissure sealants. Pediatr Dent. 2006;28(2):143–50.

Feigal RJ, Quelhas I. Clinical trial of a self-etching adhesive for sealant application: success at 24 months with Prompt L-Pop. Am J Dent. 2003;16(4):249–51.

Griffin SO, Oong E, Kohn W, et al. The effectiveness of sealants in managing caries lesions. J Dent Res. 2008;87(2):169–74.

Handelman SL, Leverett DH, Espeland M, Curzon J. Retention of sealants over carious and sound tooth surfaces. Community Dent Oral Epidemiol. 1987;15(1):1–5.

Hebling J, Feigal RJ. Use of one-bottle adhesive as an intermediate bonding layer to reduce sealant microleakage on saliva-contaminated enamel. Am J Dent. 2000;13(4):187–91.

Hitt JC, Feigal RJ. Use of a bonding agent to reduce sealant sensitivity to moisture contamination: an in vitro study. Pediatr Dent. 1992;14(1):41–6.

Ikemura K, Tay FR, Endo T, Pashley DH. A review of chemical-approach and ultramorphological studies on the development of fluoride-releasing dental adhesives comprising new pre-reacted glass ionomer (PRG) fillers. Dent Mater J. 2008;27(3):315–39.

Kaga M, Kakuda S, Ida Y, et al. Inhibition of enamel demineralization by buffering effect of S-PRG filler-containing dental sealant. Eur J Oral Sci. 2014;122(1):78–83.

Kanemura N, Sano H, Tagami J. Tensile bond strength to and SEM evaluation of ground and intact enamel surfaces. J Dent. 1999;27(7):523–30.

Karaman E, Yazici A, Tuncer D, et al. A 48-month clinical evaluation of fissure sealants placed with different adhesive systems. Oper Dent. 2013;38(4):369–75.

Michalaki MG, Oulis CJ, Lagouvardos P. Microleakage of three different sealants on sound and questionable occlusal surfaces of permanent molars: an in vitro study. Eur Arch Paediatr Dent. 2010;11(1):26–31.

Oulis CJ, Berdouses ED. Fissure sealant retention and caries development after resealing on first permanent molars of children with low, moderate and high caries risk. Eur Arch Paediatr Dent. 2009;10(4):211–7.

Pashley DH, Tay FR. Aggressiveness of contemporary self-etching adhesives. Part II: etching effects on unground enamel. Dent Mater. 2001;17(5):430–44.

Peutzfeldt A, Nielsen LA. Bond strength of a sealant to primary and permanent enamel: phosphoric acid versus self-etching adhesive. Pediatr Dent. 2004;26(3):240–4.

Shimazu K, Ogata K, Karibe H. Evaluation of the ion-releasing and recharging abilities of a resin-based fissure sealant containing S-PRG filler. Dent Mater J. 2011;30(6):923–7.

Shinohara MS, de Oliveira MT, Di Hipólito V, Giannini M, de Goes MF. SEM analysis of the acid-etched enamel patterns promoted by acidic monomers and phosphoric acids. J Appl Oral Sci. 2006;14(6):427–35.

Soto-Rojas AE, Escoffié-Ramírez M, Pérez-Ferrera G, et al. Retention of dental sealants placed on sound teeth and incipient caries lesions as part of a service-learning programme in rural areas in Mexico. Int J Paediatr Dent. 2012;22(6):451–8.

Swift EJ, Perdigão J, Heymann HO. Bonding to enamel and dentin: a brief history and state of the art, 1995. Quintessence Int. 1995;26(2):95–110.

Tulunoğlu O, Bodur H, Uçtaşli M, Alaçam A. The effect of bonding agents on the microleakage and bond strength of sealant in primary teeth. J Oral Rehabil. 1999;26(5):436–41.

Venker DJ, Kuthy RA, Qian F, Kanellis MJ. Twelve-month sealant retention in a school-based program using a self-etching primer/adhesive. J Public Health Dent. 2004;64(4):191–7.

Welbury R, Raadal M, Lygidakis NA. European Academy of Paediatric Dentistry. EAPD guidelines for the use of pit and fissure sealants. Eur J Paediatr Dent. 2004;5(3):179–84.
Ethics declarations
Conflict of interest
The authors declare that they have no conflict of interest.
Ethical approval
All procedures performed in this study involving human participants were in accordance with the ethical standards of the institutional and/or national research committee and with the 1964 Helsinki declaration and its later amendments or comparable ethical standards.
About this article
Cite this article
Ntaoutidou, S., Arhakis, A., Tolidis, K. et al. Clinical evaluation of a surface pre-reacted glass (S-PRG) filler-containing dental sealant placed with a self-etching primer/adhesive. Eur Arch Paediatr Dent 19, 431–437 (2018). https://doi.org/10.1007/s40368-018-0379-z
Received:

Accepted:

Published:

Issue Date:
Keywords
Dental sealants

Resin-based

Pre-reacted glass fillers

Self-etch