Abstract
Aim
To identify the variables and actual difficulties related to children and adolescents' non-compliance with dental flossing.
Methods
This cross-sectional study with 36 children and 59 adolescents were selected from dental clinics at the Dental School, University of São Paulo. The percentage of surfaces with disclosed biofilm was used to evaluate general oral hygiene. Participants answered questions concerning dental flossing (difficulties, self-reported motivation, and previous instruction). An examiner observed how the participants flossed their teeth and their possible faults. Univariate and multiple logistic regression analyses were performed and odds ratio values were calculated in order to verify the association between non-compliance (or difficulties) with flossing and possible reasons for that.
Results
Similar non-compliance with daily flossing was observed among children and adolescents (p = 0.95). Children's flossing negligence was strongly associated with self-reported laziness in flossing (p = 0.02), and negatively associated with their previous practice by some dentists (p = 0.009). Self-described difficulties in flossing also showed an association with laziness in flossing (p = 0.03). No association was found between negligence of flossing and all variables tested among adolescents (p ≥ 0.05).
Conclusions
Low compliance and difficulties in flossing among children and adolescents seemed to be more related to lack of motivation, although problems concerning manual skills were also observed.
Access options
Buy single article
Instant access to the full article PDF.
US$ 39.95
Tax calculation will be finalised during checkout.
Subscribe to journal
Immediate online access to all issues from 2019. Subscription will auto renew annually.
US$ 79
Tax calculation will be finalised during checkout.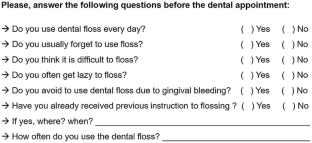 References
Al-Jewair TS, Suri S, Tompson BD. Predictors of adolescent compliance with oral hygiene instructions during two-arch multibracket fixed orthodontic treatment. Angle Orthod. 2011;81(3):525–31.

Ashkenazi M, Cohen R, Levin L. Self-reported compliance with preventive measures among regularly attending pediatric patients. J Dent Educ. 2007;71(2):287–95.

Ashkenazi M, Bidoosi M, Levin L. Factors associated with reduced compliance of children to dental preventive measures. Odontology. 2011;100(2):241–8.

Choo A, Delac DM, Messer LB. Oral hygiene measures and promotion: review and considerations. Aust Dent J. 2001;46(3):166–73.

Ciancio S. Improving oral health: current considerations. J Clin Periodontol. 2003;30(Suppl 5):4–6.

Cohen JCP, West SG, Aiken LS, editors. Applied multiple regression/correlation analysis for the behavioral sciences. Mahwah: Lawrence Earlbaum Associates; 2003.

Corby PM, Biesbrock A, Bartizek R, Corby AL, Monteverde R, Ceschin R, et al. Treatment outcomes of dental flossing in twins: molecular analysis of the interproximal microflora. J Periodontol. 2008;79(8):1426–33.

Hujoel PP, Cunha-Cruz J, Banting DW, Loesche WJ. Dental flossing and interproximal caries: a systematic review. J Dent Res. 2006;85(4):298–305.

Lang WP, Ronis DL, Farghaly MM. Preventive behaviors as correlates of periodontal health status. J Public Health Dent. 1995;55(1):10–7.

Langness A, Richter M, Hurrelmann K. Health behaviour in school-aged children—results of the international study "Health Behavior in School-aged Children". Gesundheitswesen. 2005;67(6):422–31.

Mather M, Shafir E, Johnson MK. Remembering chosen and assigned options. Mem Cogn. 2003;31(3):422–33.

Merchant AT. Flossing for 2 weeks reduces microbes associated with oral disease. J Evid Based Dent Pract. 2009;9(4):223–4.

O'Leary TJ, Drake RB, Naylor JE. The plaque control record. J Periodontol. 1972;43(1):38.

Peduzzi P, Concato J, Kemper E, Holford TR, Feinstein AR. A simulation study of the number of events per variable in logistic regression analysis. J Clin Epidemiol. 1996;49(12):1373–9.

Ramires-Romito AC, Oliveira LB, Romito GA, Mayer MP, Rodrigues CR. Correlation study of plaque and gingival indexes of mothers and their children. J Appl Oral Sci. 2005;13(3):227–31.

Santos A. Evidence-based control of plaque and gingivitis. J Clin Periodontol. 2003;30(Suppl 5):13–6.

Schüz B, Sniehotta FF, Wiedemann A, Seemann R. Adherence to a daily flossing regimen in university students: effects of planning when, where, how and what to do in the face of barriers. J Clin Periodontol. 2006;33(9):612–9.

Schüz B, Sniehotta FF, Schwarzer R. Stage-specific effects of an action control intervention on dental flossing. Health Educ Res. 2007;22(3):332–41.

Schüz B, Wiedemann AU, Mallach N, Scholz U. Effects of a short behavioural intervention for dental flossing: randomized-controlled trial on planning when, where and how. J Clin Periodontol. 2009;36(6):498–505.

Warren PR, Chater BV. An overview of established interdental cleaning methods. J Clin Dent. 1996;7(3 Spec No):65–9.
Acknowledgements
The authors would like to thank Dr. Flavia Chammas for helping with the clinical attendances and the research proof reading services team for English revision. Furthermore, we are very grateful to the Fundação de Amparo à Pesquisa do Estado de São Paulo (Process 2012/50716-0; 2014/00271-7), Conselho Nacional de Desenvolvimento Científico e Tecnológico and Coordenação de Aperfeiçoamento de Pessoal de Nível Superior for their financial support.
Ethics declarations
Conflict of interest
The authors declare that they have no conflict of interest.
Ethical approval
All procedures performed in studies involving human participants were in accordance with the ethical standards of the institutional and/or national research committee and with the 1964 Helsinki declaration and its later amendments or comparable ethical standards.
Informed consent
Informed consent was obtained from all individual participants included in the study.
About this article
Cite this article
Mattos-Silveira, J., Matos-Lima, B.B., Oliveira, T.A. et al. Why do children and adolescents neglect dental flossing?. Eur Arch Paediatr Dent 18, 45–50 (2017). https://doi.org/10.1007/s40368-016-0266-4
Received:

Accepted:

Published:

Issue Date:
Keywords
Dental floss

Compliance

Child

Adolescent