Abstract
Purpose
The purpose of this study was to explore the relationship between dentists' education in treatment of dental anxiety (DA), dentists' attitudes towards patients with DA and dentists' use of BMT.
Methods
An anonymous questionnaire was sent electronically to 611 dentists in the Public Dental Service in Norway. Statistical evaluation was done using cross tabulation with Chi square and logistic regression analyses.
Results
The response rate was 65 % (n = 391). About half of the respondents (53 %, n = 208) had followed postgraduate courses in treating patients with DA. The following were the most common attitudes towards treating young patients with DA: it feels like making a contribution (72 %, n = 286), it is difficult or tiresome (54 %, n = 215) and it is a positive challenge (51 %, n = 203). Dentists who had taken postgraduate courses in DA more often reported anxious patients as a positive challenge (60 vs. 42 %, p < 0.001) and were less reluctant to treat these patients (5 vs. 15 %, p = 0.002). The most frequently used BMT was tell-show-do (87 %, n = 340), followed by relaxation (35 %, n = 132), distraction (25 %, n = 94), systematic cognitive behaviour therapy (22 %, n = 84) and conscious sedation (18 %, n = 69). Dentists without postgraduate courses in DA used fewer techniques when treating these patients (OR 2.1, 95 % CI 1.3–3.3, p = 0.001) compared with dentists who had taken these courses.
Conclusion
Country of graduation and postgraduate courses in DA had a strong relationship with dentists' use of BMT and dentists' attitudes towards young patients with DA.
This is a preview of subscription content, log in to check access.
Access options
Buy single article
Instant access to the full article PDF.
US$ 39.95
Price includes VAT for USA
Subscribe to journal
Immediate online access to all issues from 2019. Subscription will auto renew annually.
US$ 99
This is the net price. Taxes to be calculated in checkout.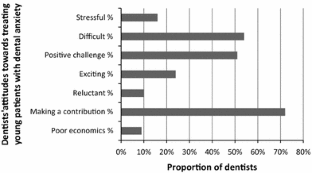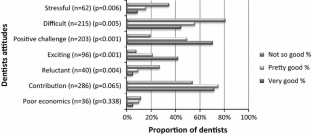 References
Adair SM, Schafer TE, Waller JL, Rockman RA. Age and gender differences in the use of behavior management techniques by pediatric dentists. Pediatr Dent. 2007;29:403–8.

Armfield JM, Heaton LJ. Management of fear and anxiety in the dental clinic: a review. Aust Dent J. 2013;58:390–407.

Åstrøm AN, Skaret E, Haugejorden O. Dental anxiety and dental attendance among 25-year-olds in Norway: time trends from 1997 to 2007. BMC Oral Health. 2011;11:10.

Brahm CO, Lundgren J, Carlsson SG, et al. Dentists' views on fearful patients. Problems and promises. Swed Dent J. 2012;36:79–89.

Brahm CO, Lundgren J, Carlsson SG, et al. Dentists' skills with fearful patients: education and treatment. Eur J Oral Sci. 2013;121:283–91.

Davies EB, Buchanan H. An exploratory study investigating children's perceptions of dental behavioural management techniques. Int J Paediatr Dent. 2013;23:297–309.

De Jongh A, Adair P, Meijerink-Anderson M. Clinical management of dental anxiety: what works for whom? Int Dent J. 2005;55:73–80.

Diercke K, Ollinger I, Bermejo JL, et al. Dental fear in children and adolescents: a comparison of forms of anxiety management practised by general and paediatric dentists. Int J Paediatr Dent. 2012;22:60–7.

Goodchild JH, Donaldson M. The use of sedation in the dental outpatient setting: a web-based survey of dentists. Dent Implantol Update. 2011;22:73–80.

Hakeberg M, Klingberg G, Noren JG, Berggren U. Swedish dentists' perceptions of their patients. Acta Odontol Scand. 1992;50:245–52.

Haukebo K, Skaret E, Ost LG, et al. One- vs five-session treatment of dental phobia: a randomized controlled study. J Behav Ther Exp Psychiatry. 2008;39:381–90.

Hill KB, Hainsworth JM, Burke FJ, Fairbrother KJ. Evaluation of dentists' perceived needs regarding treatment of the anxious patient. Br Dent J. 2008;204:E13.

Julihn A, Barr Agholme M, Grindefjord M, Modeer T. Risk factors and risk indicators associated with high caries experience in Swedish 19-year-olds. Acta Odontol Scand. 2006;64:267–73.

Klingberg G. Dental fear and behavior management problems in children. A study of measurement, prevalence, concomitant factors, and clinical effects. Swed Dent J. 1995;103:1–78.

Klingberg G, Berggren U, Noren JG. Dental fear in an urban Swedish child population: prevalence and concomitant factors. Community Dent Health. 1994;11:208–14.

Klingberg G, Broberg AG. Temperament and child dental fear. Pediatr Dent. 1998;20:237–43.

Mulic A, Vidnes-Kopperud S, Skaare AB, et al. Opinions on dental erosive lesions, knowledge of diagnosis, and treatment strategies among Norwegian dentists: a questionnaire survey. Int J Dent. 2012;2012:716396.

Ogle OE, Hertz MB. Anxiety control in the dental patient. Dent Clin North Am. 2012;56:1–16.

Oliver R, Sanz M. The Bologna Process and health science education: times are changing. Med Educ. 2007;41:309–17.

Öst L-G, Skaret E. Cognitive behaviour therapy for dental phobia and anxiety. Chichester: Wiley-Blackwell; 2013.

Ozen B, Malamed SF, Cetiner S, et al. Outcomes of moderate sedation in paediatric dental patients. Aust Dent J. 2012;57:144–50.

Skaret E, Raadal M, Berg E, Kvale G. Dental anxiety among 18-year-olds in Norway. Prevalence and related factors. Eur J Oral Sci. 1998;106:835–43.

Skaret E, Raadal M, Berg E, Kvale G. Dental anxiety and dental avoidance among 12–18 year olds in Norway. Eur J Oral Sci. 1999;107:422–8.

SSB (2013) Statistics Norway. Database of PDS dentists in Norway. (Online) https://www.ssb.no/statistikkbanken/selecttable/hovedtabellHjem.asp?KortNavnWeb=tannhelse&CMSSubjectArea=helse&checked=true. Accessed 10 Oct 2013.

Wang NJ, Schiøth JT. Ikke møtt til avtalt time-et problem? Ressursbruk i offentlig tannhelsetjeneste. Norske Tannlegeforenings Tidende. 2000;110:874–7.

Wigen TI, Skaret E, Wang NJ. Dental avoidance behaviour in parent and child as risk indicators for caries in 5-year-old children. Int J Paediatr Dent. 2009;19:431–7.

Willumsen T, Vassend O. Effects of cognitive therapy, applied relaxation and nitrous oxide sedation. A 5-year follow-up study of patients treated for dental fear. Acta Odontol Scand. 2003;61:93–9.
Acknowledgments
The authors would like to thank Professor Leiv Sandvik at the Faculty of Dentistry in the University of Oslo for relevant statistical advice. The authors would also like to thank the dentists in the Public Dental Service in the counties of Finnmark, Nordland, Sør-Trøndelag, Møre og Romsdal, Hordaland, Vest-Agder, Hedmark and Oslo for their contributions to the study. The manuscript does not contain clinical studies or patient data.
Conflict of interest
The authors declare they have no conflict of interest.
About this article
Cite this article
Strøm, K., Rønneberg, A., Skaare, A.B. et al. Dentists' use of behavioural management techniques and their attitudes towards treating paediatric patients with dental anxiety. Eur Arch Paediatr Dent 16, 349–355 (2015). https://doi.org/10.1007/s40368-014-0169-1
Received:

Accepted:

Published:

Issue Date:
Keywords
Dental anxiety

Behavioural management techniques

Dentist-patient relationship

Education

Attitudes