Abstract
Aim
To determine the effect of three-dimensional (3D) audiovisual (AV) distraction in reducing dental anxiety of children.
Study design
A randomised clinical trial with a parallel design carried out on 90 children (49 boys and 41 girls) aged between 7 and 10 years (mean age of 8.4 years) to ascertain the comparative efficacy of audio (music) and AV (3D video glasses) distraction in reducing the dental anxiety of children during local analgesia (LA) administration.
Methods
Ninety children were randomly divided into three groups; control (basic behaviour guidance techniques without distraction), audio (basic techniques plus music) and AV (basic techniques plus 3D AV) distraction groups. All the children experienced LA administration with/without distraction and the anxiety was assessed using a combination of measures: MCDAS(f) (self-report), pulse rate (physiological), behaviour (using Wright's modification of Frankl behaviour rating scale and Houpt scale) and preferences of children.
Results
All 90 children completed the study. A highly significant reduction in the anxiety of audiovisual group as reported by the MCDAS(f) values (p < 0.001) and Houpt scale (p = 0.003); whereas pulse rate showed statistically significant increase (p < 0.001) in all the three groups irrespective of distraction. The child preferences also affirmed the usage of 3D video glasses.
Conclusions
LA administration with music or 3D video glasses distraction had an added advantage in a majority of children with 3D video glasses being superior to music. High levels of satisfaction from children who experienced treatment with 3D video glasses were also observed.
This is a preview of subscription content, log in to check access.
Access options
Buy single article
Instant access to the full article PDF.
US$ 39.95
Tax calculation will be finalised during checkout.
Subscribe to journal
Immediate online access to all issues from 2019. Subscription will auto renew annually.
US$ 99
Tax calculation will be finalised during checkout.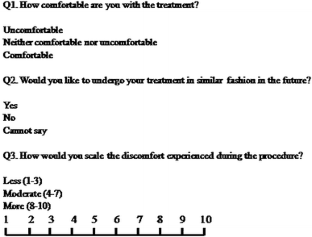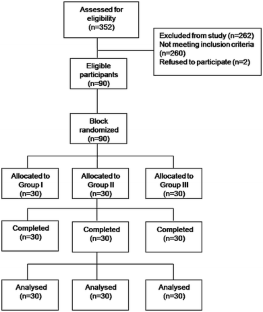 References
Aitken JC, Wilson S, Coury D, Moursi M. The effect of music distraction on pain, anxiety and behavior in pediatric dental patients. Pediatr Dent. 2002;24:114–8.

Alwin NP, Murray JJ, Britton PG. An assessment of dental anxiety in children. Br Dent J. 1991;17:201–7.

American Academy of Pediatric Dentistry Reference Manual. Guideline on behavior guidance for the pediatric dental patient 2012/13;34: 170-82 downloaded on 19-10-12 from http://www.aapd.org/media/Policies_Guidelines/Gbehaveguide.pdf.

Bagdadi ZD. Evaluation of audio analgesia for restorative care in children treated using electronic dental anesthesia. J Clin Pediatr Dent. 2000;25:9–12.

Bentsen B, Wenzel A, Svensson P. Comparison of the effect of video glasses and nitrous oxide analgesia on the perceived intensity of pain and unpleasantness evoked by dental scaling. Eur J Pain. 2003;7:49–53.

Berggren N, Derakshan N. Attentional control deficits in trait anxiety: Why you see them and why you don't. Biol Psychol. 2013;92:440–6.

Dahlquist LM, McKenna KD, Jones KK, et al. Active and passive distraction using a head-mounted display helmet: effects on cold pressor pain in children. Health Psychol. 2007;26:794–801.

Diercke K, Ollinger I, Bermejo JI, et al. Dental fear in children and adolescents: a comparison of forms of anxiety management practised by general and paediatric dentists. Int J Paediatr Dent. 2012;22:60–7.

El-Sharkawi HFA, El-Housseiny AA, Aly AM. Effectiveness of new distraction technique on pain associated with injection of local anesthesia for children. Pediatr Dent. 2012;34:142–5.

Florella M, Sarale C, Ram RD. Audiovisual iatrosedation with video eyeglasses distraction method in pediatric dentistry: case history. J Int Dent Med Res. 2010;3:133–6.

Gawronska-Skorkowska J, Zienkiewicz J, Majkowicz M. Music therapy before and during oral surgeries as a positive relaxing influence on the young patients. Annales Academiae Medicae Gedanensis. 2002;32:161–72 (In Polish).

Hoge MA, Howard MR, Wallace DP, Allen KD. Use of video eyewear to manage distress in children during restorative dental treatment. Pediatr Dent. 2012;34:378–82.

Howard KE, Freeman R. Reliability and validity of a faces version of the modified child dental anxiety scale. Int J Paediatr Dent. 2007;17:281–8.

Klieber C, McCarthy AM. Evaluating instruments for a study on children's responses to a painful procedure when parents are distraction coaches. J Pediatr Nurs. 2006;21:99–107.

Lambert SA. Distraction, imagery, and hypnosis: Techniques for management of children's pain. J Child Fam Nurs. 1999;2:5–15.

Liau FL, Kok SH, Lee JJ, et al. Cardiovascular influence of dental anxiety during local anesthesia for tooth extraction. Oral Surg Oral Med Oral Pathol Oral Radiol Endod. 2008;105:16–26.

Manepalli S, Nuvvula S, Kamatham R, Nirmala S. Comparative efficacy of a self report scale and physiological measures in dental anxiety of children. J Investig Clin Dent. 2013. doi:10.1111/jicd.12046 [Epub ahead of print].

Marwah N, Prabhakar AR, Raju OS. Music distraction- its efficacy in management of anxious pediatric dental patients. J Indian Soc Pedod Prev Dent. 2005;23:168–70.

Mason S, Johnson MH, Wooley C. A comparison of distractors for controlling distress in young children during medical procedures. J Clin Psychol Med. 1999;6:239–48.

Mc Donald RE, Avery DR, Dean JA, Jones JE. Local anesthesia and pain control for the child and adolescent. In: Mc Donald and Avery's Dentistry for the Child and Adolescent. Dean JA, Avery DR, Mc Donald RE, editors. 9th edition (Restricted South Asia) 2011, Reed Elsevier India Pvt. Ltd: p. 242–243.

McGrath PA, deVeber LL, Hearn MJ. Multidimensional pain assessment in children. In: Fields H, Dubner R, Cervero F, editors. Proceedings of the Fourth world congress on pain. New York, NY: Raven Press; Advances in pain research and therapy 1985;9:387–393.

Meyer FU. Haemodynamic changes under emotional stress following a minor surgical procedure under local anaesthesia. Int J Oral Maxillofac Surg. 1987;16:688–94.

Myers DR, Kramer WS, Sullivan RE. A study of the heart action of the child dental patient. ASDC J Dent Child. 1972;39:99–106.

Nilsson S, Finnstrom B, Kokinsky E, Enskar K. The use of virtual reality for needle-related procedural pain and distress in children and adolescents in a paediatric oncology unit. Eur J Oncol Nurs. 2009;13:102–9.

Patel A, Schieble T, Davidson M, et al. Distraction with a hand-held video game reduces pediatric preoperative anxiety. Paediatr Anaesth. 2006;16:1019–27.

Peretz B, Gluck GM. Assessing an active distracting technique for local anaesthetic injection in pediatric dental patients: Repeated deep breathing and blowing out air. J Clin Pediatr Dent. 1999;24:5–8.

Prabhakar AR, Marwah N, Raju OS. A comparison between audio and audiovisual distraction techniques in managing anxious pediatric dental patients. J Indian Soc Pedod Prev Dent. 2007;25:177–82.

Ram D, Shapira J, Holan G, et al. Audiovisual video eyeglass distraction during dental treatment in children. Quintessence Int. 2010;41:673–9.

Robson W. WARNING: 3D video hazardous to your health. (2010). Downloaded from URL: http://www.audioholics.com/editorials/warning-3d-video-hazardous-to-your-health.

Rodolfa ER, Kraft W, Reilley RR. Etiology and treatment of dental anxiety and phobia. Am J Clin Hypn. 1990;33:22–8.

Rosenberg HM, Katcher AH. Heart rate and physical activity of children during dental treatment. J Dent Res. 1976;55:648–51.

Simpson WJ, Ruzicka RL, Thomas NR. Physiologic responses of children to initial dental experience. ASDC J Dent Child. 1974;41:465–70.

Taggart P, Hedworth-Whitty R, Carruthers M, Gordon PD. Observations on electrocardiogram and plasma catecholamines during dental procedures: the forgotten vagus. Br Med J. 1976;2:787–9.

Weinstein P, Getz T, Ratener P, Domoto P. Dentists' responses to fear- and non fear-related behaviors in children. J Am Dent Assoc. 1982;104:38–40.

Weydert JA, Shapiro DE, Acra SA, et al. Evaluation of guided imagery as treatment for recurrent abdominal pain in children: a randomized controlled trial. BMC Pediatr. 2006;6:29. doi:10.1186/1471-2431-6-29.

West GA, Reid KH, Bastawi AE. Clinical Science: Autonomic responses to dental procedures in pedodontic patients during a standard restoration session. J Dent Res. 1983;62:728–32.

Wright GZ, Stigers JI. Nonpharmacologic management of children's behaviors. In: Mc Donald and Avery's Dentistry for the child and adolescent. Dean JA, Avery DR, Mc Donald RE, editors. 9th edition (Restricted South Asia) 2011, Reed Elsevier India Pvt. Ltd: p. 31.

Yelderman M, New W Jr. Evaluation of pulse oximetry. Anesthesiology. 1983;59:349–52.

Zhang G, Hou R, Zhou H, et al. Improved sedation for dental extraction using video eyewear in conjunction with nitrous oxide: a randomized, controlled, cross-over clinical trial. Oral Surg Oral Med Oral Pathol Oral Radiol Endod. 2012;113:188–92.
About this article
Cite this article
Nuvvula, S., Alahari, S., Kamatham, R. et al. Effect of audiovisual distraction with 3D video glasses on dental anxiety of children experiencing administration of local analgesia: a randomised clinical trial. Eur Arch Paediatr Dent 16, 43–50 (2015). https://doi.org/10.1007/s40368-014-0145-9
Received:

Accepted:

Published:

Issue Date:
Keywords
Distraction

Behaviour guidance

Children's dental anxiety