Abstract
To investigate the crustal structure of the Bitlis–Pötürge Suture Zone and its vicinity, gravity complete Bouguer anomaly data obtained from the World Gravity Map (WGM2012) were analyzed using Spectral Depth Estimation, Frequency Filtering, Total Horizontal Derivative (THD) and Parker-Oldenburg inversion techniques. The THD method was applied to the data after band-pass filtering of Bouguer gravity data in order to image the discontinuities in the basement levels which are determined by the critical wave numbers determined from the amplitude spectrum of gravity complete Bouguer anomaly data. The maximum amplitude values of the THD were used to reveal the discontinuities caused by the density difference in the BPSZ and its vicinity. In addition, the basement upper surface topography of the region was calculated and mapped with the inverse solution. The presence of an uplift area that is an antiroot in the south of the study area, as well as the subsidence that is a root of the BPSZ was determined. As a result of the inverse solution, it was determined that the depth of the sedimentary basement in the south approximately reaches 6 km and was detected the presence of approximately 7 km thick sedimentary deposit on the BPSZ. Basement upper surface depth is calculated as 8 km in average under the Eastern Anatolian High Plateau.
Access options
Buy single article
Instant access to the full article PDF.
US$ 39.95
Tax calculation will be finalised during checkout.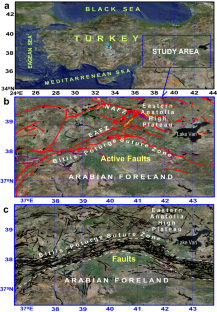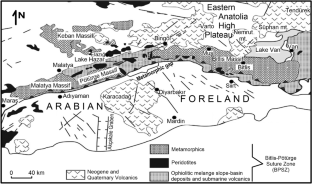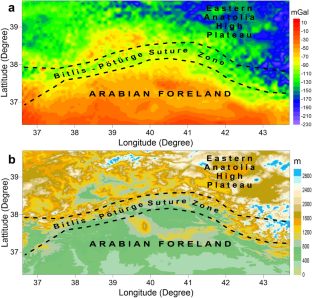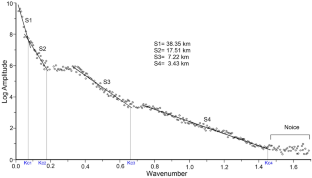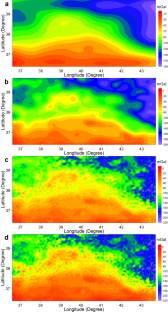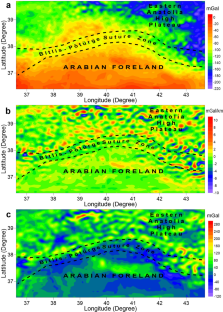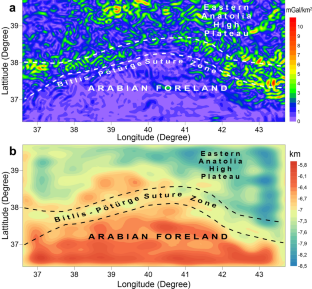 References
Al-Lazki A, Sandvol E, Seber D, Türkelli N, Mohamad R, Barazangi M (2003) Tomographic Pn velocity and anisotropy structure beneath the Anatolian plateau (eastern Turkey) and the surrounding regions. Geophys Res Lett 30:8043. https://doi.org/10.1020/2003GL018912

Allen M, Jackson J, Walker R (2004) Late Cenozoic reorganization of the Arabia-Eurasia collision and the comparison of short-term and long-term deformation rates. Tectonics 23:TC2008. https://doi.org/10.1029/2003TC001530

Altınoğlu FF, Sarı M, Aydın A (2015) Detection of lineaments in Denizli Basin of Western Anatolia Region using Bouguer gravity data. Pure Appl Geophys 172:415–425

Arısoy MÖ, Dikmen Ü (2011) Potensoft: MATLAB-based software for potential field data processing, modelling and mapping. Comput Geosci 37:935–942

Barazangi M, Sandvol E, Seber D (2006) Structure and tectonic evolution of the Anatolian plateau in eastern Turkey. In: Dilek Y, Pavlides S (eds) Post-collisional tectonics and magmatism in the eastern Mediterranean region and Asia. Geological Society of America Special Paper, vol 409, pp 463–474

Bhattacharyya BK (1967) Some general properties of potential fields in space and frequency domain: a review. Geoexploration 5(3):127–143

Bonvalot S, Balmino G, Briais A, Kuhn M, Peyrefitte A, Vales N, Biancale R, Gabalda G, Reinquin F, Sarrailh M (2012) World gravity map. Commission for the Geological Map of the World (eds) BGI-CGMW-CNES-IRD, Paris

Bozkurt E (2001) Neotectonics of Turkey—a synthesis. Geodin Acta 14:3–30

Büyüksaraç A (2007) Investigation into the regional wrench tectonics of inner East Anatolia (Turkey) using potential field data. Phys Earth Planet Inter 160:86–95

Çağlayan MA, İnal RN, Şengün M, Yurtsever A (1984) Structural setting of the Bitlis Massif. In: Tekeli O, Göncüoğlu MC (eds) Geology of the Taurus Belt, Proceedings of the international symposium, mineral research and exploration Institute of Turkey (MTA). Turkey, Ankara, pp 245–254

Çoban H (2007) Basalt magma genesis and fractionation in collision- and extension-related provinces: a comparison between eastern, central and western Anatolia. Earth Sci Rev 80:219–238

Cordell L, Grauch VJS (1985) Mapping basement magnetization zones from aeromagnetic data in the San Juan Basin, New Mexico. In: Hinze WJ (ed) The utility of regional gravity and magnetic anomaly maps, Society of Exploration Geophysicists, pp 181–197

Dewey JF, Hempton MR, Kidd WSF, Saroglu F, Şengör AMC (1986) Shortening of continental lithosphere: the neotectonics of Eastern Anatolia-a young collision zone. In: Coward MP, Ries AC (eds) Collision tectonics. Geol. Soc, London, pp 3–36

Dhont D, Chorowicz J, Luxey P (2006) Anatolian escape tectonics driven by Eocene crustal thickening and Neogene–Quaternary extensional collapse in the eastern Mediterranean region. In: Dilek Y, Pavlides S (eds) Post-collisional tectonics and magmatism in the eastern mediterranean region andAsia. Geological Society of America Special Paper, vol 409, pp 441–462

Dilek Y, Furnes H, Shallo M (2007) Suprasubduction zone ophiolite formation along the periphery of Mesozoic Gondwana. Gondwana Res 11:453–467

Elitok Ö, Dolmaz MN (2008) Mantle flow-induced crustal thinning in the area between the easternmost part of the Anatolian plate and the Arabian Foreland (E Turkey) deduced from the geological and geophysical data. Gondwana Res 13:302–318

Elmas A (2018) Kıbrıs Adasındaki Yapısal Süreksizliklerin EGM08 Gravite Verileri Kullanılarak Belirlenmesi. Jeoloji Mühendisliği Dergisi 42:17–32. https://doi.org/10.24232/jmd.434135

Elmas A (2019) Edge position detection and depth estimation from gravity data with application to mineral exploration. Carbonates Evaporites. https://doi.org/10.1007/s13146-018-0480-8

Elmas A, Karslı H, Kadirov FA (2018) Lineaments in the Shamakhy-Gobustan and Absheron hydrocarbon containing areas using gravity data. Acta Geophys. https://doi.org/10.1007/s11600-017-0104-z

Emre Ö, Duman TY, Özalp S, Elmacı H, Olgun Ş, Şaroğlu F (2013) Açıklamalı 1/1.250.000 Ölçekli Türkiye Diri Fay Haritası, Maden Tetkik ve Arama Genel Müdürlüğü, Özel Yayın Serisi-30, Ankara- Türkiye

Faccenna C, Bellier O, Martinod J, Piromallo C, Regard V (2006) Slab detachment beneath eastern Anatolia: a possible cause for the formation of the North Anatolian fault. Earth Planet Sci Lett 242:85–97

Flower MFJ, Hoang N, Çoban H (2007) Collision-induced mantle flow as a driver of extrusion tectonics; a comparison of southeast Asia and the eastern Mediterranean. Geophys Res Abst 9:05923

Gautier P, Brun J-P, Moriceau R, Sokoutis D, Martinod J, Jolivet L (1999) Timing, kinematics and cause of Aegean extension: a scenario based on a comparison with simple analogue experiments. Tectonophysics 315:31–72

Genç S (1990) Bitlis masifi, Çökekyazı-Gökay (Hizan-Bitlis) yöresi metamorfitlerinin petrografisi, metamorfizması ve kökeni. Geol Bull Turkey 33:1–14

Gök R, Sandvol E, Türkelli N, Seber D, Barazangi M (2003) Sn attenuation in the Anatolian and Iranian plateau and surrounding regions. Geophys Res Lett 30:8042. https://doi.org/10.1029/2003GL018912

Gök R, Pasyanos M, Zor E (2007) Lithospheric structure of the continent–continent collision zone: eastern Turkey. Geophys J Int 169:1079–1088

Gomez-Ortiz D, Agarwal BNP (2005) 3DINVER.M: A MATLAB program to invert the gravity anomaly over a 3-D horizontal density interface by Parker–Oldenburg's algorithm. Comput Geosci 31:513–520

Göncüoğlu MC, Turhan N (1984) Geology of the Bitlis Metamorphic Belt. In: Tekeli O, Göncüoğlu MC (eds) Geology of the Taurus Belt, proceedings of the international symposium, mineral research and exploration Institute of Turkey (MTA), Turkey, Ankara, pp 237–242

Hall R (1976) Ophiolite emplacement and the evolution of the Taurus suture zone, southeastern Turkey. Geol Soc Am Bull 87:1078–1088

Hall R (1980) Unmixing a melange: the petrology and history of a disrupted and metamorphosed ophiolite, SE Turkey. J Geol Soc 137:195–206

Helvacı C, Griffin WL (1983) Metamorphic feldspathization of metavolcanics and granitoids, Avnik area, Turkey. Contrib Miner Petrol 83:309–319

Hubert-Ferrari A, King G, Manighetti I, Armijo R, Meyer B, Tapponnier P (2003) Long-term elasticity in the continental lithosphere; modelling the Aden Ridge propagation and the Anatolian extrusion process. Geophys J Int 153:111–132

İmamoğlu MŞ (2009) V. Yenilenebilir Enerji Kaynakları Sempozyumu, Diyarbakır, Türkiye

Kaymakcı N, Langereis C, Özkaptan M, Özacar AA, Gülyüz E, Uzel B, Sözbilir H (2018) Paleomagnetic evidence for upper plate response to a STEP fault, SW Anatolia. Earth Planet Sci Lett 498:101–115

Keskin M (2003) Magma generation by slab steepening and breakoff beneath a subduction-accretion complex: an alternative model for collision-related volcanism in Eastern Anatolia. Turkey Geophys Res Lett 30:8046. https://doi.org/10.1029/2003GL018019

Keskin M, Pearce JA, Kempton PD, Greenwood P (2006) Magma–crust interactions and magma plumbing in a postcollisional setting: geochemical evidence from the Erzurum–Kars volcanic plateau, eastern Turkey. In: Dilek Y, Pavlides S (eds) Post-collisional tectonics and magmatism in the Eastern Mediterranean Region and Asia. Geological Society of America Special Paper, vol 409, pp 475–505

Koçyiğit A, Beyhan A (1998) A new intracontinental transcurrent structure: the Central Anatolian Fault Zone, Turkey. Tectonophysics 284:317–336

Koçyiğit A, Yılmaz A, Adamia A, Kuloshvili S (2001) Neotectonics of East Anatolian Plateau (Turkey) and Lesser Caucasus: implication for transition from thrusting to strike-slip faulting. Geodin Acta 14:177–195

Lei J, Zhao D (2007) Teleseismic evidence for a break-off subducting slab under Eastern Turkey. Earth Planet Sci Lett 257:14–28

McClusky S, Balassanian S, Barka A, Demir C, Ergintav S, Georgiev I, Gurkan O, Hamburger M, Hurst K, Kahle H, Kastens K, Kekelidze G, Ring R, Kotzev V, Lenk O, Mahmoud S, Mishin A, Nadariya M, Ouzounis A, Paradissis D, Peter Y, Prilepin M, Reilinger R, Sanli I, Seeger H, Tealeb A, Toksöz MN, Veis G (2000) Global positioning system constraints on plate kinematics and dynamics in the eastern Mediterranean and Caucasus. J Geophys ResSolid Earth 105:5695–5719

Nabighian MN (1972) The Analytic Signal of two dimensional magnetic bodies with polygonal cross section: Its properties and use for automated anomaly interpretation. Geophysics 37:507–517

Oberhänsli R, Candan O, Rimmelé G, Bousquet R, Okay A (2007) Metamorphism in the Bitlis Massif, its geodynamic consequences. Geophys Res Abst 9:05983

Oldenburg DW (1974) The inversion and interpretation of gravity anomalies. Geophysics 39:526–536

Oruç B (2010) Edge detection and depth estimation using a tilt angle map from gravity gradient data of the Kozaklı-Central Anatolia Region. Pure Appl Geophys Turkey. https://doi.org/10.1007/s00024-010-0211-0

Oruç B, Sönmez T (2017) The rheological structure of the lithosphere in the Eastern Marmara region, Turkey. J Asian Earth Sci 139:183–191

Oruç B, Sertçelik İ, Kafadar Ö, Selim HH (2013) Structural interpretation of the Erzurum Basin, Eastern Turkey, using curvature gravity gradient tensor and gravity inversion of basement relief. J Appl Geophys 88:105–113

Oruç B, Gomez-Ortiz D, Petit C (2017) Lithospheric flexural strength and effective elastic thicknesses of the Eastern Anatolian and surrounding region. J Asian Earth Sci. https://doi.org/10.1016/j.jseaes.2017.09.015

Oyan V, Tolluoğlu AÜ (2005) Bitlis Masifi'nde (Yolcular Metamorfiti) Nafeldspat bakımından zengin lökogranitik kayaçlar: feldspat kaynağı olarak bir potansiyel. J Earth Sci Appl Res Centre Hacettepe Univ 26:1–11

Özkaptan M, Koç A, Lefebvre C, Gülyüz E, Uzel B, Kaymakci N, Langereis CG, Özacar AA, Sözbilir H (2014) Kinematics of SW Anatolia implications on crustal deformation above slab tear. In: EGU General Assembly conference abstracts, p 6061

Pamukçu O, Gönenç T, Çırmık AY, Demirbaş Ş, Tosun S (2015) Vertical and horizontal analysis of crustal structure in Eastern Anatolia region. Bull Min Res Exp 151:217–229

Parker RL (1973) The rapid calculation of potential anomalies. Geophys J Int 31:447–455

Pearce JA, Bender JF, De Long SE, Kidd WSF, Low PJ, Guner Y, Saroglu F, Moorbath S, Mitchell JG (1990) Genesis of collision volcanism in eastern Anatolia, Turkey. J Volcanol Geotherm Res 44:189–229

Pedersen LB, Rasmussen TM (1990) The gradient tensor of potential field anomalies: some implications on data collection and data processing of maps. Geophysics 55:1558–1556

Perinçek D (1980) Bitlis metamorfitlerinde volkanitli Triyas. Geol Bull Turk 23:201–211

Perinçek D, Kozlu H (1984) Stratigraphy and structural relations of the units in the Afşin–Elbistan–Doğanşehir region (Eastern Taurus). In: Tekeli O, Göncüoğlu MC (eds) Geology of the Taurus Belt, proceedings of the international symposium, mineral research and exploration Institute of Turkey (MTA), Turkey, Ankara, pp 181–198

Şengör AMC (1979) The North Anatolian transform fault: its age, offset and tectonic significance. J Geol Soc 136:269–282

Şengör AMC, Yılmaz Y (1981) Tethyan evolution of Turkey: a plate tectonic approach. Tectonophysics 75:181–241

Şengör AMC, Görür N, Şaroğlu F (1985) Strike-slip faulting and related basin formation in zones of tectonic escape: Turkey as a case study. In: Biddle KT, Christie-Blick N (eds) Strike-slip deformation, basin formation and sedimentation. Society of Economic Mineralogist and Paleontologists Special Publication, vol 37, pp 227–264

Seyitoğlu G, Scott BC (1996) The cause of N-S extensional tectonics in western Turkey: tectonic escape vs back-arc spreading vs orogenic collapse. J Geodyn 22:145–153

Ustaömer PA, Ustaömer T, Collins AS, Robertson AHF (2007) Geohronology and tectonic setting of the granitoidic intrusions in the Bitlis Massif, SE Turkey. Geophys Res Abst 9:06131

Yazgan E (1981) Doğu Toroslarda etkin bir paleo-kıta kenarı etüdü (Üst Kretase-Orta Eosen) Malatya-Elazığ, Doğu Anadolu. J Earth Sci Appl Res Centre Hacettepe Univ 7:83–104

Yiğitbaş E, Genç ŞC, Yılmaz Y (1993) Güneydoğu Anadolu orojenik kuşağında Maden Grubunun tektonik konumu ve jeolojik önemi. A. Suat Erk Sempozyumu Bildirileri, 2–5 Eylül, A.Ü. Fen Fakültesi Jeoloji Mühendisliği Bölümü, Ankara, pp 251–264 (in Turkish with English abstract)

Yiğitbaş E, Yılmaz Y (1996) New evidence and solution to Maden Complex controversy of the southeast Anatolian orogen (Turkey). Geol Rundsch 85:250–263

Yılmaz O (1975) Cacas Bölgesi (Bitlis Masifi) Kayaçlarının petrografik ve stratigrafik incelemesi. Bull Geol Soc Turk 18:33–40

Yılmaz Y (1993) New evidence and model on the evolution of the southeast Anatolian orogen. Geol Soc Am Bull 105:251–271

Yılmaz Y, Güner Y, Şaroğlu F (1998) Geology of the quaternary volcanic centers of the east Anatolia. J Volcanol Geoth Res 85:173–210

Yılmaz H, Alpaslan M, Temel A (2007) Two-stage felsic volcanism in the western part of the southeastern Anatolian orogen: petrologic and geodynamic implications. Int Geol Rev 49:120–141
About this article
Cite this article
Elmas, A. Determination of tectonic and crustal structure of Bitlis–Pötürge Suture Zone using WGM2012 complete Bouguer anomaly data. Acta Geod Geophys (2021). https://doi.org/10.1007/s40328-021-00353-5
Received:

Accepted:

Published:
Keywords
Bouguer gravity anomaly

Total horizontal derivative

Bitlis–Pötürge Suture Zone

Inverse solution

Structural discontinuity