Abstract
In double permeability models, the first and second porosities are represented by the main pores and fissures, respectively. The constitutional relation in the models suffers from a disadvantage that the compressibility matrix is symmetric which is incompatible with classic poroelasticity. This study aims to improving the double permeability models not only to well predict the measured velocity and attenuation at ultrasonic frequency, but also to yield the classic Gassmann velocity at the low frequency limit. The first porosity in this paper refers to the main pore space, while the second porosity refers to throat (between grains) and fissures. Our improvements in this paper include: (1) the compressibility matrix is unsymmetric for the model to automatically yield Gassmann velocity at the low frequency limit; (2) squirt coefficient is got from dimensional analysis; and (3) the compressibility coefficients are qualitatively constrained based on rock physics. For simplicity, permeabilities of the first and second porosities are set to zero because local squirt between them is dominant in P-wave attenuation. The wavenumber equation yields one fast P-wave and one slow P-wave (which has zero velocity due to vanishing permeabilities). Two core samples (Berea sandstone and Boise sandstone) with the measured data are used for illustration. The results show that the improved model successfully predicts both velocity and the quality factor of ultrasonic P-wave in the two sandstones, being superior to the previous models.
Access options
Buy single article
Instant access to the full article PDF.
US$ 39.95
Tax calculation will be finalised during checkout.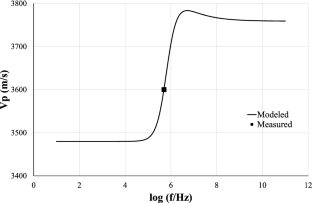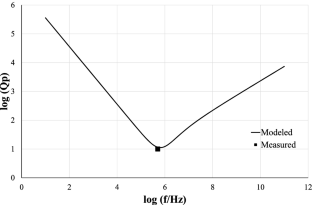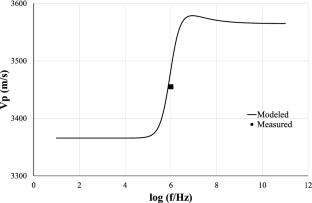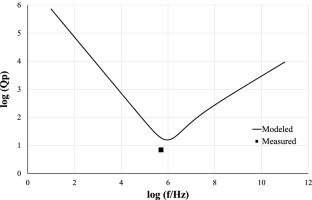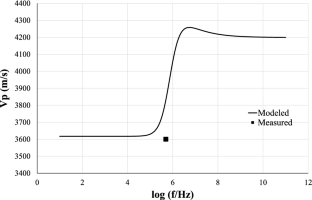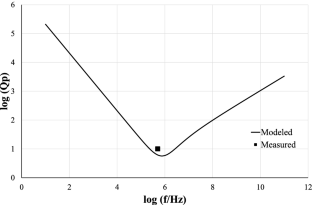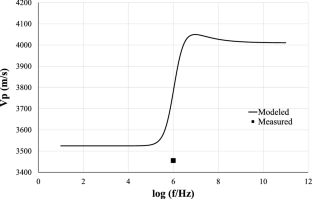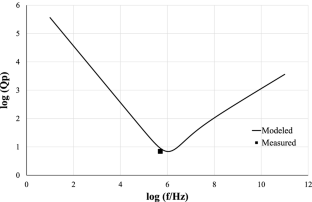 References
Ablowitz MJ, Fokas AS (1997) Complex variables: introduction and applications. Cambridge University Press, New York

Auriault JL, Boutin C, Geindreau C (2009) Homogenization of coupled phenomena in heterogeneous media. Wiley, New York

Bear J (1972) Dynamics of fluids in porous medium. Dover, New York

Bear J, Tsang C-F, de Marsily G (1993) Flow and contaminant transport in fractured rock. Academic Press, San Diego

Berryman J, Wang F (1995) The elastic coefficients of double-porosity models for fluid transport in jointed rock. J Geophys Res 100:24611–24627

Biot M (1956a) Theory of propagation of elastic waves in a fluid-saturated porous solid I. Lower frequency range. J Acoust Soc Am 28:168–178

Biot M (1956b) Theory of propagation of elastic waves in a fluid-saturated porous solid II. Higher frequency range. J Acoust Soc Am 28:179–191

Boutin C, Royer P (2015) On models of double porosity poroelastic media. Geophys J Int 203:1694–1725

de Marsily G (1986) Quantitative hydrogeology. Academic Press, San Diego

Dvorkin J, Nur A (1993) Dynamic poroelasticity: a unified model with the squirt and the Biot mechanisms. Geophysics 58:524–533

Dvorkin J, Mavko G, Nur A (1995) Squirt flow in fully saturated rocks. Geophysics 60(1):97–107

Fine RA, Millero FJ (1973) Compressibility of water as a function of temperature and pressure. J Chem Phys 59(10):5529–5536. https://doi.org/10.1063/1.1679903

Gassmann F (1951) Uber die Elasticität Poröser Medien [On the elasticity of porous media]. Vierteljahrsschrift Der Naturforschenden Gesllschaft in Zürich 96:1–23

Gregory AR (1976) Fluid saturation effects on dynamic elastic properties of sedimentary rocks. Geophysics 41:895–921

Guo J, Gurevich B (2020) Effects of coupling between wave-induced fluid flow and elastic scattering on P-wave dispersion and attenuation in rocks with aligned fractures. J Geophy Res. https://doi.org/10.1029/2019JB018685

Jaeger J, Cook N, Zimmerman R (2007) Fundamentals of rock mechanics, 4th edn. Wiley-Blackwell, New York

Jones T, Nur A (1983) Velocity and attenuation in sandstone at elevated temperatures and pressures. Geophys Res Lett 10:140–143

Klem-Musatov K, Hoeber HC, Moser TJ, Pelissier MA (2016) Classical and modern diffraction theory. SEG Geophysics Reprint Series No. 29, Society of Exploration Geophysicists, Tulsa, OK

Kundu P (1990) Fluid mechanics. Academic Press, San Diego

Li G (2020) S-wave attenuation based on Stokes boundary layer. Geophys Prospect 68:910–917

Li G, Zhang P, Sun J (2017) A new model describing the interaction between fluid pressure wave in pores and P-wave in rock matrix. Geophysics 82(4):MR105–MR109

Mavko G, Nur A (1975) Melt squirt in the asthenosphere. J Geophys Res 80:1444–1448

Mavko G, Mukerji T, Dvorkin J (2009) The rock physics handbook: tools for seismic analysis of porous media, 2nd edn. Cambridge University Press, New York

Mochizuki S (1982) Attenuation in partially saturated rocks. J Geophys Res 87:8598–8604

Murphy W, Winkler K, Kleinberg R (1984) Frame modulus reduction in sedimentary rocks: the effect of adsorption on grain contacts. Geophys Res Lett 11:805–808

Pride S, Berryman J (2003a) Linear dynamics of double porosity and dual-permeability materials I. Governing equations and acoustic attenuation. Phys Rev E 68:036603

Pride S, Berryman J (2003b) Linear dynamics of double porosity and dual-permeability materials II. Fluid transport equations. Phys Rev E 68:036604

Pride S, Berryman J, Harris J (2004) Seismic attenuation due to wave-induced flow. J Geophys Res 109:B01201. https://doi.org/10.1029/2003JB002639

Sahay PN (2013) Biot Constitutive relation and porosity perturbation equation. Geophysics 78:L57–L67

Skempton AW (1954) The pore pressure coefficients A and B. Geotechnique 4:143–147

Toksöz M, Johnston D, Timur A (1979) Attenuation of seismic waves in dry and saturated rocks I. Laboratory measurements. Geophysics 44(4):681–690

Wang H (2000) Theory of linear poroelasticity—with applications to geomechanics and hydrogeology. Princeton University Press, Princeton
Acknowledgements
The research was sponsored by National Natural Science Foundation of China under Grant 42064006. The authors would like to thank S.R. Pride and J.G. Berryman for the contribution that their articles in Physical Review in 2003 reminded them of the idea of unsymmetric compressibility matrix. Sincere thanks to Editor, Norbert Péter Szabó and two anonymous reviewers for their positive comments and constructive suggestions.
About this article
Cite this article
Li, G., Mu, Y. & Xie, C. Unsymmetric compressibility matrix to model P-wave attenuation. Acta Geod Geophys 56, 407–424 (2021). https://doi.org/10.1007/s40328-021-00344-6
Received:

Accepted:

Published:

Issue Date:
Keywords
Double porosity

P-wave

Squirt

Constitutional relation

Gassmann velocity