Abstract
Investigations of hydraulically induced micro-seismicity are typically connected with magma injections, exploitation of geothermal fields and salt mines. Our study examines the seismicity and seismic sources in a peri-platform region with long salt production history. In addition, a very large site for extraction of aggregates and limestone is presented in the area. Increased seismicity in the region has been observed for several decades as during the study period of the last 12 years, more than 1000 events with magnitude \(M < 4.3\) have been registered. To study the complex seismic sources concentrated in such small area spatial distribution of seismicity and fault plane solutions are analyzed together with available geological and geophysical data, in order to connect registered earthquakes swarms with geological structures. Results show that several faults are outlined from geological information and confirmed by interpretation of geophysical data. Very different focal mechanisms calculated for the 13 earthquakes in the near region of the salt production site cannot propose a dominant fault mechanism and confirm the complexity of the seismic sources in the area. Our results suppose that activation of some of these structures is more likely due to water injected in the salt dome as part of the production process, which changes the stress equilibrium in the Earth crust.
This is a preview of subscription content,
to check access.
Access this article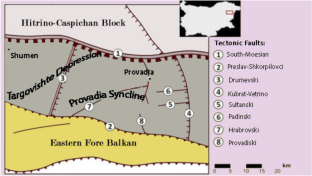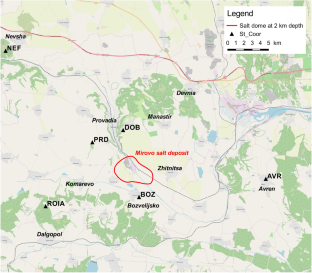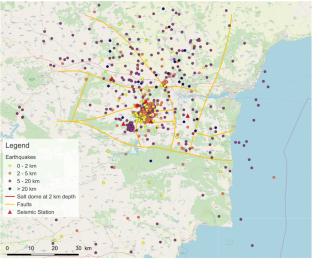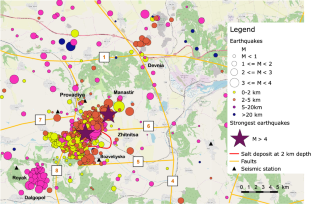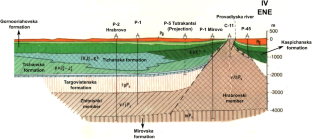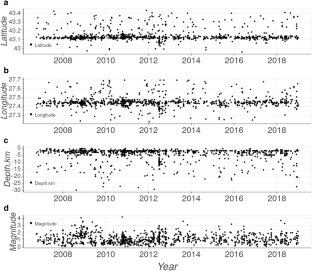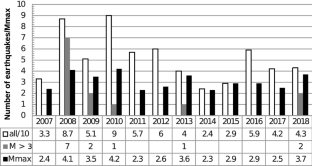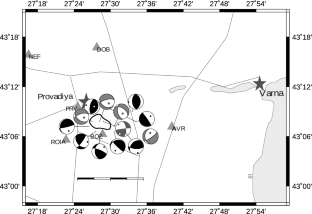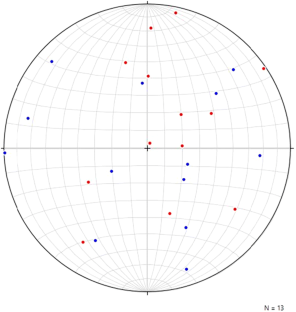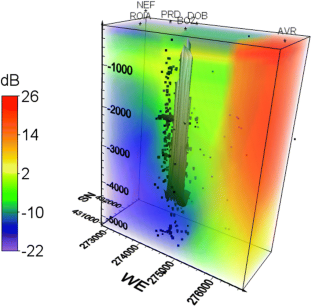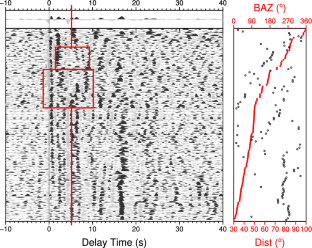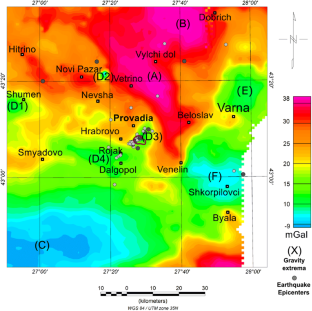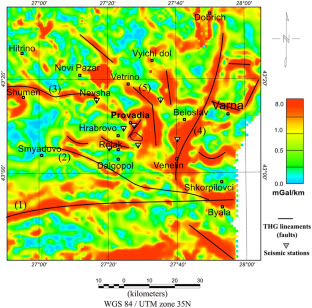 Similar content being viewed by others
References
Atanasov A (1973) Regularities in the structure and oil–gas distribution of northern Bulgaria. J Bulg Geol Soc 24(3):247–272 (in Bulgarian)

Barrier E, Chamot-Rooke N, Giordano G (2004) Geodynamic map of the Mediterranean, sheet 1—tectonics and kinematics. CGMW, Paris

Blakely RJ, Simpson RW (1986) Approximating of edges of source bodies from magnetic or gravity anomalies. Geophysics 51:1494–1498

Bokov P, Chemberski Hr (1987) Geological prerequisites for the oil–gas distribution in Northeastern Bulgaria. Technika, Sofia (in Bulgarian)

Bokov P, Chelebiev H (1987) Geological prerequisites for the oil–gas distribution in north-eastern Bulgaria. Techniques, Sofia (in Bulgarian)

Bokov P, Vitonova N, Monahov I (1987) Geological maps of northeastern Bulgaria on horizontal sections. Geol Balc 8(4):79–86 (in Russian)

Bonchev E, Belmustakov E, Yordanov M, Karagyuleva Y (1957) The main lines of the Fore-Balkan geological structure between the Yantra valley and the Black Sea. Rep Geol Inst 5:3–78 (in Bulgarian)

Botev E (2000) On the Seismotectonics of the Bulgarian territory. Final report N236 on ICPT program for training and research in Italian laboratories. Trieste, Italy, p 87

Botev E, Slejko D, Bressan G, Bragato B (2002) Stress and stain modeling of the Bulgarian area from the focal mechanisms. In: Proceedings of 3rd Balkan geophysical congress and exhibition, 24–28 June 2002, Sofia, pp 329–330

Boykova A (1999) Moho discontinuity in central Balkan Peninsula in the light of the geostatistical structural analysis. Phys Earth Planet Inter 114:49–58

BS: National Seismic Network of Bulgaria. https://doi.org/10.7914/SN/BS

Cavazza W, Roure FM, Spakman W, Stampfli GM, Ziegler PA (2004) The TRANSMED Atlas. The Mediterranean region from Crust to Mantle. Elsevier, Amsterdam

Cheshitev G, Milanova V (1994) Geological map of Bulgaria M 1:100000. Map page Provadia, Enterprise for Geological Surveys and Geological Mapping

Christoskov L, Dimitrova L, Solakov D (2011) Magnitude determinations of P wave by digital broadband seismometers of NOTSSI network for local and regional events. Comptes rendus de l'Academie bulgare des Sciences 65(5):653–660

Dachev H (1988) Structure of the Earth crust in Bulgaria. Technika, Sofia (in Bulgarian)

Dimitrova L (2010) Analysis and automation of seismic observations in the NOTTSSI digital system. PhD thesis, Bulgarian Academy of Sciences (in Bulgarian)

Dimitrova L, Nikolova S, Georgieva G, Raykova R, Ivanova I, Asparuhova I (2010) Processing and analysis of seismicity in Provadia region in 3 year period. In: Proceedings of the 6th national conference of geophysics—Sofia, 17 Dec 2010. No. 9. ISSN-1314-2518

Dimitrova L, Solakov D, Simeonova S, Aleksandrova I, Georgieva G (2015) Analysis of the seismicity in the region of Mirovo salt mine after 8 years monitoring. EGU GA, Vienna, Austria, EGU2015-11419

Georgiev GB, Mandev PD, Valcheva SP, Mincheva TK, Jelev SK (1985) Oil–gas perspective of Mesozoic sediments in the Provadia Sinclin and the Upper Chief lishki Horst. Annu Sofia Univ Geol 78(3):150–170 (in Bulgarian)

Georgieva GD (2015) Crustal and upper mantle structure in the southen part of the Moesian platform obtained by data from seismic stations MPE, PVL and SZH. Bulg Chem Commun 47:324–331

Georgieva G, Nikolova S (2013) The Moho depth and crustal structure beneath Bulgaria obtained from receiver function analysis. Comptes rendus de l'Academie bulgare des Sciences 66(5):725–732

Gorbatikov AV, Stepanova MYu, Arnozo H, Montesinos F (2008) Development of the El Hierro Island model of the Canary archipelago based on the integrated interpretation of the results of low-frequency microseismic sounding and gravimetric studies. Proc Conf 60–70:108

Ivanov Z (2017) Tectonics of Bulgaria. University Press of SU "Sv. Kliment Ohridski", Sofia, p 331

Kenyeres A, Bellet JG, Bruyninx C, Caporali A, de Doncker F, Droscak B, Duret A, Franke P, Georgiev I, Bingley R, Huisman L, Jivall L, Khoda O, Kollo K, Kurt AI, Lahtinen S, Legrand J, Magyar B, Mesmaker D, Morozova K, Nagl J, Ozdemir S, Papanikolaou X, Parseliunas E, Stangl G, Ryczywolski M, Tangen OB, Valdes M, Zurutuza J, Weber M (2019) Regional integration of long-term national dense GNSS network solutions. GPS Solut 24(90):122–139. https://doi.org/10.1007/s10291-019-0902-7

Kiselinov H, Vangelov D, Andreeva P, Vangelova V (2012) Heterogeny of the subthrust structures in front of a thin-skinned thrust belt—an example from the East Fore-Balkan. In: BGS Conference "GEOSCIENCES 2012", Sofia

Langston CA (1979) Structure under Mount Rainier, Washington, inferred from teleseismic body waves. J Geophys Res 84:4749–4762

Nikolov V (2016) The prehistoric salt-production and urban center of Provadia-Solnitsata, Northeastern Bulgaria. Mediterranee 126:71–78

Orozova-Stanishkova I, Slejko D (1994) Seismic hazard of Bulgaria. Nat Hazards 9(1):247–271. https://doi.org/10.1007/BF00662602

Paskaleva I, Manev G, Kuteva M (1992) Induced seismicity at Mirovo salt deposit, Bulgaria. ACTA Montana Ser A 2(88):193–200

Paskaleva I, Nikolova S, Dimitrova L, Georgieva G (2010) Monitoring networks—way for improving risk assessment from natural and man-made hazards: case study salt mine Provadia (NE Bulgaria). Acta Geodaetica Geophys Hung 45(3):388–402

Protopopova V (2015) Geodynamics of the Bulgaria territory and adjacent lands by seismological data. PhD thesis, National Institute of Geophysics, Geodesy and Geography, Bulgarian Academy of Sciences (in Bulgarian)

Protopopova V, Georgiev I, Botev E, Dimitrov D (2016) Geodynamics on Northern Bulgarian seismic zones. In: Proceedings of 8th BGGS national conference, 25 November 2016, Sofia, Bulgaria (in Bulgarian)

Provadsol Ltd. https://www.solvay.bg/bg/solvay-in/provadsol.html

Report PROMIRA (2012) Salt mine monitoring system in Provodia—a way to assess and reduce natural and technological risks. Research project. Contract number DFNI IO-02/2006 (in Bulgarian)

Shanov S (2005) Post-Cretaceous to recent stress fields in the SE Moesian Platform (Bulgaria). Tectonophysics 410(4):217–233

Snoke JA (2002) FOCMEC: FOcal MEChanism determinations. In: Lee WHK, Kanamori H, Jennings PC, Kisslinger C (eds) International handbook of earthquake and engineering seismology, Part B. Accompanying CD. Academic Press, San Diego, pp 1629–1630

Solakov D (1993) An algorithm for determining the basic kinematic parameters of local earthquakes. Bulg Geophys J 19(12):56–69 (in Bulgarian)

Solakov D, Simeonova S (1993) Bulgaria catalogue of earthquakes 1981–1990. Bulgarian Academy of Sciences, Sofia

Solakov D, Simeonova S, Trifonova P, Georgiev I, Rajkova P, Metodiev M, Aleksandrova I, Stefanov D, Simeonov S, Vatceva R, Vaseva E, Dinkov D, Georgiev G (2019) Seismic risk management for buildings. Sofia, Prof. Marin Drinov, p 248. ISBN: 978-954-322-988-8 (in Bulgarian)

Stavrev P, Solakov D, Simeonova S, Trifonova P (2009) Regional set of dislocations in the Earth's crust of Bulgaria according to gravity data. In: Proceedings of the 5th congress of BGS

Trifonova P, Solakov D, Simeonova S, Metodiev M, Stavrev P (2013) Regional pattern of the earth's crust dislocations on the territory of Bulgaria inferred from gravity data and its recognition in the spatial distribution of seismicity. Pattern Recognit Phys 1:25–36. https://doi.org/10.5194/prp-1-25-2013

Tzankov Ch (2013) Development of algorithm, programs and methods for modeling and interpretation of gravitation anomalies in interactive mode. Summary of PhD thesis, UMG Sofia (in Bulgarian)

Tzankov Ch, Papratilov I (2013) A program to solve the reverse gravimetric task by optimizing patterns comprised of a finite number of three-dimensional prismatic bodies. Yearbook of UMG, p 56

Vangelov D, Kiselinov H, Andreeve P, Vangelova V (2013) Structural characteristics for a part of the Eastern Fore-Balkan. Rev BGS 74(1–3):21–39 (in Bulgarian)

Vinnik LP (1977) Detection of waves converted from P to SV in the mantle. Phys Earth Planet Inter 15:39–45

Yankova M, Dimovski S (2015) Application of borehole log analysis for evaluating the reservoir properties of thick terrigenous rocks,. In: Proceedings of 7th BGS conference on "Geophysics 2015", Sofia (in Bulgarian)

Zagorchev I, Dabovski H, Nikolov T (2009) Geology of Bulgaria, II.5. Mesozoic geology. Acad "Prof. M. Drinov", Sofia
Acknowledgements
We thank our colleagues Iliana Popova, Blagovesta Babachkova, Sylvia Velichkova, Irena Aleksandrova who participated in the interactive processing of the local seismic events, as well as of all seismologists on duty. We thank our colleagues from the IRSM, Prague for the provided seismic data. We thank the editor and two anonymous reviewers for their valuable comments that helped us to improve the manuscript.
Ethics declarations
Conflict of interest
The authors declare that they have no conflict of interest.
About this article
Cite this article
Dimitrova, L., Georgieva, G., Trifonova, P. et al. Seismic sources and Earth structure in the transition zone between Fore-Balkan unit and Moesian platform, NE Bulgaria. Acta Geod Geophys 55, 183–202 (2020). https://doi.org/10.1007/s40328-020-00288-3
Received:

Accepted:

Published:

Issue Date:

DOI: https://doi.org/10.1007/s40328-020-00288-3
Keywords