Abstract
We analyze theoretically two possible sources of co-seismic electromagnetic response to the propagation of various types of seismic waves caused either by the electrokinetic phenomena or geomagnetic inductive effect. The differences between these two generation mechanisms have been examined for different types of seismic waves (P, S, and Rayleigh-Love). Theoretical relationships describing the dependence of the co-seismic signal amplitude, polarization and apparent impedance on the earthquake seismic moment and magnitude have been derived as a function of distance. We indicate an observational possibility to discriminate seismo-electrokinetic and seismo-magnetic effects and to estimate their contribution into a recorded co-seismic electromagnetic signal. Magnitudes and polarization of these signals are shown to depend strongly on the type of seismic wave and local crust parameters, such as streaming potential coupling coefficient, conductivity, inhomogeneity, etc. Co-seismic electromagnetic signals, though not directly applied for earthquake prediction, contain a useful information on local crustal phenomena, and can be used to identify "sensitive" zones perspective for the monitoring of precursory electromagnetic disturbances.
This is a preview of subscription content, log in to check access.
Access options
Buy single article
Instant access to the full article PDF.
US$ 39.95
Price includes VAT for USA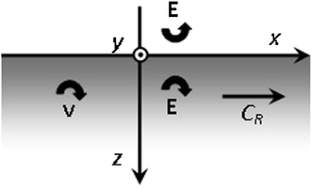 References
Aki K, Richards P (2002) Quantitative Seismology, 2nd edn. University Science Books, Sausalito, p 932

Anisimov SV, Gokhberg MB, Ivanov EA et al (1985) Short period vibrations of the Earth's electromagnetic field due to industrial explosion. Rep USSR Acad Sci 281(3):556–559

Bockris JOM, Reddy AKN (1970) Modern electrochemistry. Plenum, New York, pp 623–843

Dobrovolsky IP, Gershenzon NI, Gokhberg MB (1989) Theory of electrokinetic effects occurring at the final state in the preparation of a tectonic earthquake. Phys Earth Planet Inter 57:144–156

Eleman F (1965) The response of magnetic instruments to earthquake waves. J Geomagn Geoelectr 18:43–72

Fedorov E, Pilipenko V, Uyeda S (2001) Electric and magnetic fields generated by electrokinetic processes in a conductive crust. Phys Chem Earth 26:793–799

Fitterman DV (1978) Electrokinetic and magnetic anomalies associated with dilatant regions in a layered earth. J Geophys Res 83:5923–5928

Fitterman DV (1979a) Theory of electrokinetic-magnetic anomalies in a faulted half-space. J Geophys Res 84:6031–6040

Fitterman DV (1979b) Calculations of self-potential anomalies near vertical contacts. Geophysics 44:195–205

Frenkel YAI (1944) On the theory of seismic and seismoelectric phenomena in a moist soil. J Phys (USSR) 8:230–241

Gershenzon NI, Bambakidis G, Ternovskiy I (2014) Coseismic electromagnetic field due to the electrokinetic effect. Geophysics 79:E217–E229

Gorbachev LP, Surkov VV (1987) Perturbation of an external magnetic field by a Rayleigh surface wave. Magnetohydrodynamics 23:117–125

Guglielmi AV (1986) Excitation of electromagnetic field oscillations by elastic waves in conducting body. Geomagn Aeron 27:467–470

Guglielmi AV (1991) Magnetic structure of the elastic wave front in conductive media. Izv Akad Nauk SSSR Ser Fiz Zemli 4:753–758

Guglielmi AV, Ruban VF (1990) On the theory of the seismomagnetic induction effect. Izv Akad Nauk SSSR Ser Fiz Zemli N5:47–54

Guglielmi A, Hayakawa M, Potapov A, Tsegmed B (2006) Polarization method to detect the co-seismic magnetic oscillations. Phys Chem Earth 31:299–304

Honkura Y, Matsushima M, Oshiman N et al (2002) Small electric and magnetic signals observed before the arrival of seismic wave. Earth Planets Space 54:e9–e12

Huang Q, Ren H, Zhang D, Chen YJ (2015) Medium effect on the characteristics of the coupled seismic and electromagnetic signals. Proc Jpn Acad Ser B Phys Biol Sci 91:17–24

Ivanov AG (1939) Effect of electrization of earth layers by elastic waves passing through them. Proc USSR Acad Sci 24:42–45

Ivanov AG (1940) Seismoelectric effect of the second kind. Proc USSR Acad Sci Ser Geogr Geophys 4:699–726

Iyemori T, Kamei T, Tanaka Y et al (1996) Co-seismic geomagnetic variations observed at the 1995 Hyogoken–Nanbu earthquake. J Geomagn Geoelectr 48:1059–1070

Johnston MJS (1978) Tectonomagnetic effects. Earthq Inf Bull (USGS) 10:82–87

Jouniaux L, Bernard ML, Zamora M, Pozzi JP (2000) Streaming potential in volcanic rocks from Mount Pelée. J Geophys Res 105:8391–8401

Kaliski S (1960) Solution of the equation of motion in a magnetic field for an isotropic body in an infinite space assuming perfect electric conductivity. Proc Vibr Probl 1(3):53–67

Kanamori H, Anderson DL (1975) Theoretical basis of some empirical relations in seismology. Bull Seism Soc Am 65:1073–1095

Knopoff EL (1955) The interaction between elastic waves motion and a magnetic field in electrical conductors. J Geophys Res 60:617–629

Landau LD, Lifshitz EM (1960) Electrodynamics of continuous media. In: Course of theoretical physics, vol 8. Pergamon Press, Oxford

Landau LD, Lifshitz EM (1970) Theory of elasticity. In: Course of theoretical physics, vol 7. Pergamon Press, Oxford

Martner ST, Sparks NR (1959) The electroseismic effect. Geophysics 24:297–308

Mavko G, Mukerji T, Dvorkin T (2014) The rock physics handbook: tools for seismic analysis of porous media, 2nd edn. Cambridge University Press, Cambridge

Molchanov OA, Hayakawa M (2008) Seismo-electromagnetics and related phenomena: history and latest results. TERRAPUB, Tokyo, p 189

Molchanov O, Kulchitsky A, Hayakawa M (2001) Inductive seismo-electromagnetic effect in relation to seismogenic ULF emission. Nat Hazards Earth Syst Sci 1:61–67

Molchanov O, Kulchitsky A, Hayakawa M (2002) ULF emission due to inductive seismo-electromagnetic effect. In: Hayakawa M, Molchanov OA (eds) Seismo-electromagnetics: lithosphere-atmosphere-ionosphere coupling. TERRARUB, Tokyo, pp 153–162

Morgan FD, Williams ER, Madden TR (1989) Streaming potential properties of Westerly granite with applications. J Geophys Res 94:12449–12461

Nagao T, Orihara Y, Yamaguchi T et al (2000) Co-seismic geoelectric potential changes observed in Japan. Geophys Res Lett 27:1535–1538

Pilipenko V, Fedorov E (2014) Coupling mechanism between geoacoustic emission and electromagnetic anomalies prior to earthquakes. Res Geophys 4:5008. https://doi.org/10.4081/rg.2014.5008

Pilipenko V, Nenovski P, Tanaka H (2003) Detection and discrimination of VLF/ULF seismic-related electromagnetic emissions. Bulg Geophys J 29:13–30

Pride SR (1994) Governing equations for the coupled electromagnetics and acoustics of porous media. Phys Rev B 50:15678–15696

Pride SR, Garambois S (2005) Electroseismic wave theory of Frenkel and more recent developments. J Eng Mech 131:898–907

Shaidurov GYA, Potylitsyn VS, Kudinov DS (2016) Phase-induced polarization method based on processing noise signals of the natural electromagnetic field of the earth. Rus Geol Geophys 57:1371–1376

Sparnaay MJ (1972) The electrical double layer. Pergamon Press, New York, p 415

Surkov VV (1989) Perturbation of an external magnetic field by a longitudinal acoustic wave. Magnetohydrodynamics 25:145–148

Surkov VV (1997) The electromagnetic precursor of a seismic wave. Geomagn Aeron 37:792–796

Surkov V, Hayakawa M (2014) Ultra and extremely low frequency electromagnetic fields, springer geophysics series, vol XVI. Springer, Berlin, p 486

Surkov VV, Pilipenko VA (1997) Magnetic effects due to earthquakes and underground explosions: a review. Ann Geophys 40(2):227–239. https://doi.org/10.4401/ag-3904

Surkov VV, Pilipenko VA (2015) Estimate of ULF electromagnetic noise caused by a fluid flow during seismic or volcano activity. Ann Geophys 58(6):S0655. https://doi.org/10.4401/ag-6767
Acknowledgements
This study is supported by the Grant No 15-55-45064 from the Russian Foundation for Basic Sciences (VAP, AKS) and by the Competitiveness Program of NRNU MEPhI (VVS). We appreciate useful comments of both reviewers.
About this article
Cite this article
Surkov, V.V., Pilipenko, V.A. & Sinha, A.K. Possible mechanisms of co-seismic electromagnetic effect. Acta Geod Geophys 53, 157–170 (2018). https://doi.org/10.1007/s40328-018-0211-6
Received:

Accepted:

Published:

Issue Date:
Keywords
Co-seismic effect

Electrokinetic phenomena

Geomagnetic inductive effect

Earthquake

Geophysical prospecting