Foresight in support of European research and innovation policies: The European Commission is preparing the funding of grand societal challenges
Open Access
Review Article
Abstract
A foresight hub within the Directorate General Research and Innovation (DG RTD) of the European Commission will support the decision-making procedures of the EU Horizon 2020 research, technology, and innovation programme. Foresight in particular is seen as an instrument defining research priorities for European society's needs in support of the 'grand societal challenges'.
The new initiative marks the recent success of the institutional and administrative application of foresight and derives from a long history of approaches to foresight taken by the European Commission. In fact, the Commission has been implementing measures to both internalise and externalise foresight during various periods since the 1970s. This paper outlines the various phases and approaches of foresight at the European Commission. It contextualises the new attempt of the foresight hub that is assumed to support the next European Commission's research and innovation policies.
Keywords
European Commission 
Horizon 2020 
Administrative foresight 
Good governance 
Introduction
The 2008 financial crisis and its aftermath could have triggered the acceptance and the re-appearance of foresight in the EU's policy toolbox. Thus, instruments are needed to detect early crisis phenomena and to identify sustainable ways to overcome these.
Over time in DG Research and Innovation, foresight has taken different forms in terms of approach, methodology and operation. Originally more of an academic activity, it has developed as an instrument for policy-making. However, foresight has been informative in nature, focusing on influencing policy thinking rather than policy making.1 Today, foresight is accepted as a knowledge tool for decision-making on R&I priorities.
The article will explain firstly the approach of foresight in the context of good governance. Secondly it will outline the new institutional and administrative approach of foresight in the Commission. Thirdly it will look retrospectively at earlier approaches and phases of foresight in the European Commission. Then the article will describe the framework of the 'grand societal challenges' relevant for the operation of the foresight hub before eventually concluding its reasoning.
Foresight and good governance
As latterly understood, foresight feeds not only into thinking about and debating the future but also into shaping the future by means of a structured process. Historically, it has developed from pure technological and economic forecasting to a policy instrument involving stakeholder participation. The same has been observed outside the Commission. Foresight is an enlightened approach to policy-making.
In one sense, the Commission's mainstreaming of foresight is a response to the challenge of improving its administration and governance,2 as outlined in its White Paper on European Governance.3 This paper sought to involve more people and organisations in policy-making and called for more openness, accountability and responsibility. In view of the diversity of national institutions, the Commission announced that it favoured policies based on framework directives and co-regulation in view of the diversity of national institutions. This was to ensure smoother implementation instead of insisting on more directives and other legislation. Consequently, the Commission moved to the 'open method of coordination', which is a 'soft power' approach to governance steered and coordinated by the Commission itself.
When it comes to new initiatives in the field of economic and social matters, the Commission seeks to lead the European policy agenda. This is achieved through documents setting out comparative information, results of Europe-wide consultations with stakeholders in the field, and options for action plans. The Member States then tend to reflect these policy agendas in their own national policies. The Commission has initiated Europe-wide debate on many policy issues.4 This debate-based approach to policy leads to new forms of cooperation between Member States and the Commission rather than directives and executive decisions.
The Commission works on consensus-building in inter-institutional fora, as well as with Member State representatives in committees and through inter-governmental cooperation in order to implement policies. One example of this approach is the 'open method of coordination', rather than using legislative power for policy implementation. This is a specific form of cooperation between Member States and the Commission based on various types of benchmarking. Under the European Semester,5 the Commission issues recommendations and carries out monitoring. Member States are required to report on progress and implement the guidelines at national level according to their particular circumstances. This open but informed method/process is essential where governance is seen as involving a broad range of stakeholders and experts in policy-making. This has become a feature of European politics and the EU's approach to governance.
Foresight is able to significantly contribute to these peculiarly European methods of governance. Foresight procedures can help tackle innovation obstacles by mobilising a range of societal and economic stakeholders to overcome problems caused by the 'grand societal challenges'. This is through the Innovation Union initiative6 and the development of technology platforms. In that spirit, foresight contributes to the 'soft power' approach to governance. Consequently, it can contribute to good governance practices, such as information, consultation, consensus-building and enlightening policy-making.
The new institutional and administrative approach of foresight
Since 2014, foresight activities have been integral to the Commission's priority-setting in research and innovation (R&I) policy and action. They will shape the preparation of work programmes for upcoming R&I programmes under Horizon 2020.7
As an integral part of the Commission's administrative culture, foresight is expected to be used as follows:
to support the Horizon 2020 strategic programme;

to improve interaction with stakeholders by:

helping to develop a 'foresight' community in the EU;

linking foresight in Member States;

systematically integrating advisory structures into the Horizon 2020;

creating an internal community.
After a long process of learning from various foresight activities,8 the recent foresight developments have been reintroduced to DG RTD. This time, it comes in the form of administrative mainstreaming, whereby a systematic foresight procedure will influence decision-making on the Horizon 2020 work programme.
The European Forum on Forward Looking Activities (EFFLA), which consisted of high level expert group of 15 dedicated Members,9 was set up to ensure genuinely evidence-based and forward-looking policy-making. EFFLA drew up a specially tailored process for the Commission. This was due to enter into force in 2014.
Diagram: Suggested modus operandi of the envisaged Foresight Hub.
This Modus Operandi has been inspired by a system used by Tekes, Finland.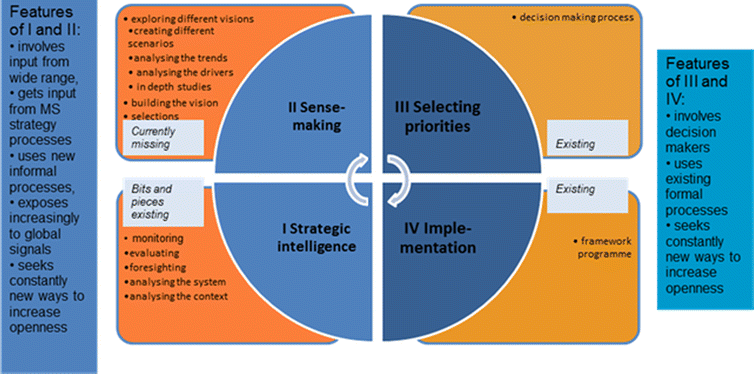 This foresight process is made up of four parts: Part I – Strategic intelligence, Part II – Sense-making, Part III – Selecting priorities, and Part IV – Implementation (see diagram).
Parts I and II introduce a challenge to the Commission, as they take on board input from a wide range of sources, including Member States. In addition it takes account of any influences to be as inclusive and open as possible.
'Strategic intelligence' in a broad and comprehensive manner has until now been missing from the process of the Commission's activities and hence requires more attention. This step involves a systemic process of collecting, analysing and making sense of all strategic intelligence to gather evidence, future perspectives and options needed to make enlightened decisions on priorities and implementation.
The phase of
'sense-making'
intends to reveal gaps in the input collected of the strategic intelligence. It challenges the results of intelligence reports by exploring alternatives. 'Sense-making' was part of the Commission's process before EFFLA made its recommendation, but it was a relatively weak and isolated activity. This is still the case in some Member States. The revised Sense-making is more robust and inclusive and considers in particular:
analysing drivers;

ensuring vision-building;

creating alternative scenarios.
'Selecting priorities' and 'implementation' are the last two steps of the foresight process, and are closely linked. They are already well-established at EU and Member State levels. They can be significantly enriched through reinforced strategic intelligence and sense-making processes. These will provide much stronger, genuinely evidence-based analyses of issues and options, and assessments of expected impacts.
It is important to make a clear distinction between formal and informal steps. 'Strategic intelligence' and 'sense-making' are predominantly informal processes of research. However 'selecting priorities' and 'implementation' are formal processes inside the institutions whereby 'intelligent' stakeholders can lend support although formal stakeholders remain in charge.10
Institutionalising foresight in the Commission requires the creation of a foresight 'hub' through which officials co-ordinate their foresight efforts, including cooperation with the Member States. Important steps have already been taken to set up this 'hub' and it is likely to be operational in the near future. This hub will help advisory groups in their discussions on priorities and directions based on foresight evidence.
Ensuring the quality and integration of 'strategic intelligence' and 'sense-making' will make for better decision-making and more appropriate implementation and monitoring.11
The rocky way of foresight in the Commission
After having outlined the current initiative we will describe in more detail the long-lasting history of foresight inside the European Commission which serves as a background for the current initiative. In the following chapter we will outline the application of foresight within the Commission over time. Its progression to being used as an administrative instrument is characterised by a series of overlapping phases of different forms of application. We may assign these phases to time periods, although these periods only can indicate the most relevant developments.
Over time, foresight has been supported or applied by the Commission in different ways. The Commission has used foresight as an internal advisory capacity by establishing dedicated intelligence units in the institution as the strongest form of foresight application in support of policy decision making. Another approach was funding independent foresight by research grants. In addition, exploratory studies and reports have been commissioned in order to exploit particular results in the interest of the Commission. Another approach was supporting the foresight community in the Member States, co-operating with external institutions and co-ordinating issues in common interest. The phases of interest and of activities undertaken by the European Commission can thus be described as a rise and fall and a rise again of Commission owned foresight.
The grand societal challenges are challenges for foresight
The European research, technology and innovation programme Horizon 2020 put much explicit focus on resolving prospective global and societal problems. There are three funding areas: academic, industrial, and societal. The area of grand societal challenges received the greatest share of the funds. In the early definition of Horizon 2020 by the Member States, the Swedish Presidency in its Lund Declaration 2009 launched the idea to put central focus on prospective societal problems instead of on industrial lead technology programmes.27
The idea was that a challenge-based approach would bring together resources and knowledge across different fields, technologies and disciplines, including social sciences and the humanities. In fact, research activities in Horizon 2020 now bridge research to market with innovation-related activities, such as piloting.
Horizon 2020 will focus funding on the following societal challenges:
Health, demographic change and wellbeing;

Food security, sustainable agriculture and forestry, marine and maritime and inland water research, and the bio-economy;

Secure, clean and efficient energy;

Smart, green and integrated transport;

Climate, environment, resource efficiency and raw materials;

Europe in a changing world – inclusive, innovative and reflective societies;

Secure societies – protecting freedom and security of Europe and its citizens.
These challenges mean the following:
"Health, demographic change and wellbeing". Europe already spends nearly 10 % of GDP in this field. The aim is to personalise health and care given the ageing of the European population. The objective is to save the sustainability and equity of the European health and care system which is under increasing threats.

"Food security, sustainable agriculture and forestry, marine, maritime and inland water and the bio-economy". This challenge focuses on making the best of our biological resources in a sustainable way. The objective is to contribute to securing sufficient supplies of safe, healthy and high quality food and other bio-based products. This is to be achieved by developing productive, sustainable and resource-efficient primary production systems, fostering related ecosystem services.

"Secure, clean and efficient energy". The EU has agreed on ambitious Energy and Climate targets for 2020 and beyond to reduce greenhouse gas emissions. This is to increase the share of renewable energies and to improve energy efficiency. New technologies and solutions need to compete on cost and reliability with well-established energy systems technologies. Research and innovation are critical to make these new, cleaner, low-carbon, efficient energy sources commercially attractive on the scale needed. They need to be combined with measures facilitating the market uptake of these energy technologies and services.

"Smart, green and integrated transport". The objective of this societal challenge is to achieve a European transport system that is resource-efficient, climate- and environmentally-friendly, safe and seamless. Activities need to aim at resource efficient transport that respects the environment including noise and air pollution. Socio-economic and behavioural research and forward looking activities for policy making need to support improved policy making.

"Climate, environment, resource efficiency and raw materials". The aim of this societal challenge is to achieve a resource efficient and resilient economy, the protection and sustainable management of natural resources and ecosystems. This is in order to meet the needs of a growing global population within the sustainable limits of the planet's natural resources and eco-systems.

"Europe in a changing world – inclusive, innovative and reflective societies". The aim is to gain a greater understanding of the societal changes in Europe and their impact on social cohesion. The development of innovative societies and policies in Europe need to be fostered through the engagement of citizens, civil society organisations, enterprises and users in research and innovation. Another objective is to contribute to an understanding of Europe's intellectual basis, its history and influences.

"Secure societies – protecting freedom and security of Europe and its citizens". This societal challenge aims to protect European citizens, society and economy as well as European assets, infrastructures and services, prosperity, political stability and well-being. It aims to eliminate any malfunction or disruption, either intentional or accidental, that can have detrimental impact with high economic or societal costs. The respect of privacy and civil liberties is the underlying principle.
These seven grand societal challenges are about the future. The challenges will require high solution potential provided by technical and socio-economic research, enriched by foresight activities. The application of solutions is however a political one and less a research or foresight issue. The foresight hub will deal with the assessment of solution potentials and support institutional and administrative decision making in DG RTD. These will influence the decisions for funding allocations and the work programmes for the societal challenges in Horizon 2020.
Conclusions
The mainstreaming of foresight in DG RTD's policy making mechanism signals that foresight has reached some maturity as a decision support tool for research and innovation policy. It now has to prove that it can be instrumental with decision making on practical R&I issues. The proof will be in how far the next research and innovation work programme has a greater impact on responding better to society's needs, and in how far it can leave some traces in safeguarding European welfare by research and innovation activities.
Therefore, as foresight research has limits in the real world of policy decision making and policy development, it is to be seen if it can keep its position.
Copyright information
© The Author(s) 2014
This article is published under license to BioMed Central Ltd. Open Access This article is distributed under the terms of the Creative Commons Attribution License which permits any use, distribution, and reproduction in any medium, provided the original author(s) and the source are credited.