Abstract
This paper examines the effects of English Childhood home language (CHL) on teacher risk taking and identity in a Chinese context where Chinese and English bilingualism is prioritized in its national school curriculum. Data were collected from 3388 Chinese Singaporean teachers. We used structural equation modeling to examine the relationships among CHL, risk taking, and teacher identification with student-centered practices. Results indicated that English-CHL professionals have stronger risk-taking tendencies compared with Chinese-CHL professionals, and that risk taking mediates the association between CHL and the likelihood of implementing student-centered practice. The results also indicate that CHL has direct effects on student-centered practice. Theoretical and practical implications are discussed.
Access options
Buy single article
Instant access to the full article PDF.
USD 39.95
Price includes VAT (USA)
Tax calculation will be finalised during checkout.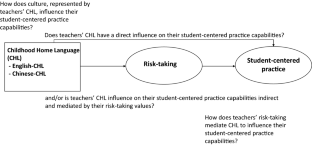 References
Ali, P., Anderson, M., McRae, C., & Ramsey, I. (2016). The financial literacy of young people: Socioeconomic status, language background, and the rural-urban chasm. Australian and International Journal of Rural Education, 26(1), 54–66.

Anderson, J. C., & Gerbing, D. W. (1988). Structural equation modeling in practice: A review and recommended two-step approach. Psychological Bulletin, 103, 411–423.

Asaad, C. T. (2015). Financial literacy and financial behavior: Assessing knowledge and confidence. Financial Services Review, 24(2), 101–117.

Bautista, A., Toh, G. Z., Mancenido, Z. N., & Wong, J. (2018). Student-centered pedagogies in the Singapore music classroom: A case study on collaborative composition. Australian Journal of Teacher Education (online), 43(11), 1–25.

Beeler, B., & Lecomte, P. (2017). Shedding light on the darker side of language: A dialogical approach to cross-cultural collaboration. International Journal of Cross Cultural Management, 17(1), 53–67.

Bradbury, A. (2011). Rethinking assessment and inequality: The production of disparities in attainment in early years education. Journal of Education Policy, 26(5), 655–676.

Brown, M., Henchoz, C., & Spycher, T. (2018). Culture and financial literacy: Evidence from a within-country language border. Journal of Economic Behavior and Organization, 150, 62–85.

Campbell, C., Lieberman, A., & Yashkina, A. (2013). The teacher learning and leadership program: Research report. Ontario Teachers' Federation.

Chen, J. (2015). Teachers' conceptions of approaches to teaching: A Chinese perspective. The Asia-Pacific Education Researcher, 24(2), 341–351.

Chen, P. S. J. (1973). Social stratification in Singapore. Department of Sociology, University of Singapore.

Cheung, H., Wu, Y., & Tao, J. (2013). Risk perception and risk-taking attitude: A comparison between Hong Kong and Mainland Chinese undergraduate students. The Asia-Pacific Education Researcher, 22(4), 497–506.

Chiew, S. K., & Ko, Y. C. (1991). The economic dimension. In S. R. Quah, S. K. Chiew, Y. C. Ko, & M. C. Lee (Eds.), Social class in Singapore (pp. 116–137). Singapore University Press.

Costes-Onishi, P., & Caleon, I. (2016). Generalists to specialists: Transformative evidences and impediments to student-centered practices of primary music and art teachers in Singapore. International Journal of Education and the Arts, 17(7), 1–26.

Darling-Hammond, L., Friedlaender, D., & Snyder, J. (2014). Student-centered schools: Policy supports for closing the opportunity gap. Stanford Center for Opportunity Policy in Education.

De Costa, P., Park, J., & Wee, L. (2016). Language learning as linguistic entrepreneurship: Implications for language education. The Asia-Pacific Education Researcher, 25(5–6), 695–702.

Deng, Z., & Gopinathan, S. (2016). PISA and high-performing education systems: Explaining Singapore's education success. Comparative Education, 52(4), 449–472.

Dietz, J., Fitzsimmons, S. R., Aycan, Z., Francesco, A. M., Jonsen, K., Osland, J., Sackmann, S. A., Lee, H.-J., & Boyacigiller, N. A. (2017). Cross-cultural management education rebooted: Creating positive value through scientific mindfulness. Cross Cultural and Strategic Management, 24(1), 125–151.

DuFour, R., DuFour, R., & Eaker, R. (2012). Revisiting professional learning communities at work: New insights for improving schools. Solution Tree Press.

Feng, A., & Adamson, B. (2018). Language policies and sociolinguistic domains in the context of minority groups in China. Journal of Multilingual and Multicultural Development, 39(2), 169–180.

Gaibrois, C., & Steyaert, C. (2017). Beyond possession and competition: Investigating cooperative aspects of power in multilingual organizations. International Journal of Cross Cultural Management, 17(1), 69–84.

Guven, C., & Islam, A. (2015). Age at migration, language proficiency, and socioeconomic outcomes: Evidence from Australia. Demography, 52(2), 513–542.

Hadjichristidis, C., Geipel, J., & Savadori, L. (2015). The effect of foreign language in judgments of risk and benefit: The role of affect. Journal of Experimental Psychology: Applied, 21(2), 117–129.

Hairon, S. (2017). Teacher leadership in Singapore: The next wave of effective leadership. Research in Educational Administration and Leadership (REAL), 2(2), 170–194.

Harrison, G., Walsh, D., & Healy, K. (2011). Shifting the focus from expert-centred to student-centred learning resources: Creating student-centred learning resources for direct practice. Advances in Social Work and Welfare Education, 13(1), 64.

Hayakawa, S., Costa, A., Foucart, A., & Keysar, B. (2016). Using a foreign language changes our choices. Trends in Cognitive Sciences, 20(11), 791–793.

Hofstede, G. (2001). Culture's consequences: Comparing values, behaviors, institutions, and organizations across cultures. Sage.

Hofstede, G. J. (2015). Culture's causes: The next challenge. Cross Cultural and Strategic Management, 22(4), 545–569.

Hu, L., & Bentler, P. M. (1999). Cutoff criteria for fit indexes in covariance structure analysis: Conventional criteria versus new alternatives. Structural Equation Modeling, 6(1), 1–55.

Iftach, G., & Shapira-Lishchinsky, O. (2021). Ethical dilemmas among mid-level school leaders through role-play simulations: Developing a social-ecological approach. Educational Management Administration and Leadership. https://doi.org/10.1177/17411432211002517

Keller, R., & Johnson, E. (2019). Effects of individual and situational characteristics on the use of student-centered pedagogy in calculus I. International Journal of Teaching and Learning in Higher Education, 31(1), 115–127.

Kish-Gephart, J. J., & Campbell, J. T. (2015). You don't forget your roots: The influence of CEO social class background on strategic risk taking. Academy of Management Journal, 58(6), 1614–1636.

Lee, D. H. L. (2017). Managing Chineseness: Identity and ethnic management in Singapore. London: Palgrave Macmillan.

Lee, D. H. L. (2020). Teacher sociolinguistic backgrounds: A multilingual domain approach to understand teacher agency and language planning outcomes. Current Issues in Language Planning, 21(5), 490–511.

Lee, D. H. L., & Lee, W. O. (2018). Transformational changes in instruction with professional learning communities? The influence of teacher cultural dispositions in high power distance contexts. Journal of Educational Change, 19(4), 463–488.

Lee, E. E. F. (2001). Profile of the Singapore Chinese dialect groups. Statistics Singapore Newsletter. Singapore Department of Statistics. Retrieved August 19, 2021, from https://pdfs.semanticscholar.org/d44c/05ee1c9260804897768a1cd1647b5f0233a3.pdf.

Lee, K. Y. (2012). My lifelong challenge: Singapore's bilingual journey. Singapore: Straits Times Press.

Lee, P. (2016). English most common home language in Singapore, bilingualism also up: Government survey. Retrieved August 19, 2021, from https://www.straitstimes.com/singapore/english-most-common-home-language-in-singapore-bilingualism-also-up-government-survey.

Li, Y., & Ahlstrom, D. (2020). Risk-taking in entrepreneurial decision-making: A dynamic model of venture decision. Asia Pacific Journal of Management, 37(3), 899–933.

Lloyd, M. E. R., Veal, W., & Howell, M. (2016). The use of teachers' baseline normative beliefs to guide professional development in teaching mathematics. Professional Development in Education, 42(3), 359–386.

Mak, L. F. (1993). The rise of the Singapore middle class: An analytic framework. In M. H. H. Hsiao (Ed.), Discovery of the middle classes in East Asia (pp. 307–335). Institute of Ethnology, Academia Sinica.

McCabe, A., & O'Connor, U. (2014). Student-centred learning: The role and responsibility of the lecturer. Teaching in Higher Education, 19(4), 350–359.

Minkov, M., & Hofstede, G. (2011). The evolution of Hofstede's doctrine. Cross Cultural Management: An International Journal, 18(1), 10–20.

Minkov, M., & Hofstede, G. (2014). A replication of Hofstede's uncertainty avoidance dimension across nationally representative samples from Europe. International Journal of Cross Cultural Management, 14(2), 161–171.

Neo, P. F. (2007). Student movement and the establishment of government Chinese middle schools in Singapore, 1954–1956: A historical analysis. Asian Culture, 31, 18–31.

Ng, P. C. L. (2017). A study of attitudes of dialect speakers towards the speak Mandarin campaign in Singapore. Springer.

Nguyen, A. M. D., & Ahmadpanah, S. S. (2014). The interplay between bicultural blending and dual language acquisition. Journal of Cross-Cultural Psychology, 45, 1215–1220.

OECD (2019). PISA 2018 results: Combined executive summaries, Volume I, II and III. Retrieved August 19, 2021, from https://www.oecd.org/pisa/Combined_Executive_Summaries_PISA_2018.pdf

Pearl, J. (2012). The causal foundation of structural equation modeling. In R. Hoyle (Ed.), Handbook of structural equation modeling (pp. 68–91). Guilford Press.

Rodan, G. (1989). The political economy of Singapore's industrialization: National state and international capital. Macmillan.

Schumacker, R. E., & Lomax, R. G. (2016). A beginner's guide to structural equation modeling (4th ed.). Routledge.

Shirley, D., & Hargreaves, A. (2021). Five paths of student engagement blazing the trail to learning and success. Solution Tree.

Talbert, E., Hofkens, T., & Wang, M. T. (2019). Does student-centered instruction engage students differently? The moderation effect of student ethnicity. The Journal of Educational Research, 112(3), 327–341.

Tong, V. M. (2014). Understanding the acculturation experience of Chinese adolescent students: Sociocultural adaptation strategies and a positive bicultural and bilingual identity. Bilingual Research Journal, 37(1), 83–100.

Vasil, R. K. (1995). Asianising Singapore: The PAP's management of ethnicity. Heinemann Asia.

Wagner, T. S. (2005). Occidentalism in Novels of Malaysia and Singapore, 1819–2004. Edwin Mellen Press.

Yang, J., & Tan, C. (2019). Advancing student-centric education in Korea: Issues and challenges. The Asia - Pacific Education Researcher, 28(6), 483–493.

Yu, H. (2016). Between the national and the international: Ethnography of language ideologies in a middle-class community in China. The Asia-Pacific Education Researcher, 25(5–6), 703–711.

Zhao, S., & Liu, Y. (2007). Home language shift and its implications for language planning in Singapore: From the perspective of prestige planning. The Asia-Pacific Education Researcher, 16(2), 111–126.

Zhu, C. (2013). How innovative are schools in teaching and learning? A case study in Beijing and Hong Kong. The Asia-Pacific Education Researcher, 22(2), 137–145.
Acknowledgements
The authors would like to express their gratitude to the following bodies and persons for supporting the research presented in this paper: University Grants Council Hong Kong for research grant ECS28605318; The Academy of Singapore Teachers for their support in data collection; all co-investigators and collaborators of Ministry Academies Fund Singapore AFR05-14LHL, especially Shaljan Areepattamannil. We are grateful to our reviewers, who play an important role as critical friends in improving the quality of the paper. Thank you, Hee-Kung Lee, and the editorial team.
Additional information
Publisher's Note
Springer Nature remains neutral with regard to jurisdictional claims in published maps and institutional affiliations.
About this article
Cite this article
Lee, D.H.L., King, R.B. Childhood Home Language Effects on Teacher Risk-Taking and Student-Centered Professional Practice in a Bilingual Chinese Context. Asia-Pacific Edu Res (2021). https://doi.org/10.1007/s40299-021-00613-6
Keywords
Childhood home language

Chinese language and English language

Teacher

Student-centered practice

Risk-taking