Abstract
Despite the crucial importance of teacher impact for a wide range of student and teacher outcomes, it is not clear whether any individual-level factors precede teacher passion and if so how. Drawing on self-regulation theory and the self-regulatory strength model, I propose a theoretical reciprocal model in which teachers' sleep quality predicts their work enjoyment and engagement in cooperative interaction with others in school, both of which lead to greater work passion. In turn, higher levels of work passion have a reciprocal effect on the teachers' sleep quality. The model is tested using experience sampling method (ESM) data collected from 137 teacher leaders in Hong Kong and 79 teacher leaders in Shanghai. Teacher leaders responded to short ESM questionnaires three times a day for ten consecutive working days. The results of cross-lagged path analysis support the hypothetical model. The results are interpreted as that nurturing teacher passion is partly a within-person process; teachers' passion can stem from their own work enjoyment and positive interaction with others in schools, for both of which good quality sleep is helpful.
Access options
Buy single article
Instant access to the full article PDF.
US$ 39.95
Tax calculation will be finalised during checkout.
Subscribe to journal
Immediate online access to all issues from 2019. Subscription will auto renew annually.
US$ 79
Tax calculation will be finalised during checkout.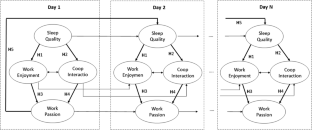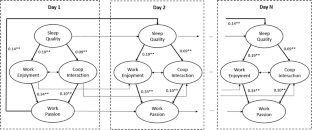 References
Bargh, J. A. (1994). The four horsemen of automaticity: Awareness, intention, efficiency, and control in social cognition. Handbook of social cognition, 1, 1–40.

Baumeister, R. F., Schmeichel, B. J., & Vohs, K. D. (2007). Self-regulation and the executive function: The self as controlling agent. In A. W. Kruglanski & E. T. Higgins (Eds.), Social psychology: Handbook of basic principles (pp. 516–539). New York, NY: Guilford Press.

Beal, D. J. (2015). ESM 2.0: State of the art and future potential of experience sampling methods in organizational research. Annual Review of Organizational Psychology and Organizational Behavior, 2(1), 383–407.

Benington, J. H. (2000). Sleep homeostasis and the function of sleep. Sleep, 23(7), 959–966.

Brayfield, A. H., & Rothe, H. F. (1951). An index of job satisfaction. Journal of Applied Psychology, 35(5), 307.

Brislin, R. W. (1970). Back-translation for cross-cultural research. Journal of Cross-Cultural Psychology, 1(3), 185–216.

Butler, D. L., Lauscher, H. N., Jarvis-Selinger, S., & Beckingham, B. (2004). Collaboration and self-regulation in teachers' professional development. Teaching and Teacher Education, 20(5), 435–455.

Buysse, D., Reynolds, C., III, Monk, T., Berman, S., & Kupfer, D. (1989). The Pittsburgh Sleep Quality Index: A new instrument for psychiatric practice and research. Psychiatry Research, 28(2), 193–213.

Carbonneau, N., Vallerand, R. J., Fernet, C., & Guay, F. (2008). The role of passion for teaching in intrapersonal and interpersonal outcomes. Journal of Educational Psychology, 100(4), 977–987.

Carver, C. S., & Scheier, M. F. (1990). Origins and functions of positive and negative affect: A control-process view. Psychological Review, 97(1), 19–35.

Chong, E. Y., & Chan, A. H. (2010). Subjective health complaints of teachers from primary and secondary schools in Hong Kong. International Journal of Occupational Safety and Ergonomics, 16(1), 23–39.

Christian, M. S., & Ellis, A. P. (2011). Examining the effects of sleep deprivation on workplace deviance: A self-regulatory perspective. Academy of Management Journal, 54(5), 913–934.

Chung, K. F., & Cheung, M. M. (2008). Sleep-wake patterns and sleep disturbance among Hong Kong Chinese adolescents. Sleep, 31(2), 185–194.

Colten, H. R., & Altevogt, B. M. (2006). Functional and economic impact of sleep loss and sleep-related disorders. In H. R. Colton & B. M. Altevogt (Eds.), Sleep disorders and sleep deprivation: An unmet public health problem (pp. 137–172). Washington, DC: National Academies Press (US).

Crosswell, L. J., & Elliott, R. G. (2004). Committed teachers, passionate teachers: The dimension of passion associated with teacher commitment and engagement. Paper Retrieved from http://eprints.qut.edu.au/968/1/cro04237.pdf.

Curcio, G., Ferrara, M., & De Gennaro, L. (2006). Sleep loss, learning capacity and academic performance. Sleep Medicine Reviews, 10(5), 323–337.

Day, C. (2004). A passion for teaching. London: Routledge Falmer.

Fisher, C. D., & To, M. L. (2012). Using experience sampling methodology in organizational behavior. Journal of Organizational Behavior, 33(7), 865–877.

Fried, R. L. (1995). The passionate teacher: A practical guide. Boston, MA: Beacon Press.

Goldstein, L. S. (2003). Commitment, community; and passion: Dimensions of a care-centered approach to teacher education. Teacher Education and Practice, 15(1/2), 36–56.

Hargreaves, A. (2000). Four ages of professionalism and professional learning. Teachers and Teaching, 6(2), 151–182.

Hobbs, L. (2012). Examining the aesthetic dimensions of teaching: Relationships between teacher knowledge, identity and passion. Teaching and Teacher Education, 28(5), 718–727.

Hu, L., & Bentler, P. M. (1999). Cutoff criterion for fit indexes in covariance structure analysis: Conventional criteria versus new alternatives. Structural Equation Modeling, 6, 1–55.

Hülsheger, U. R., Feinholdt, A., & Nübold, A. (2015). A low-dose mindfulness intervention and recovery from work: Effects on psychological detachment, sleep quality, and sleep duration. Journal of Occupational and Organizational Psychology, 88(3), 464–489.

Jin, P., Yeung, A. S., Tang, T. O., & Low, R. (2008). Identifying teachers at risk in Hong Kong: Psychosomatic symptoms and sources of stress. Journal of Psychosomatic Research, 65(4), 357–362.

Kecskes, I., & Zhang, F. (2009). Activating, seeking, and creating common ground: A socio-cognitive approach. Pragmatics & Cognition, 17(2), 331–355.

Lam, S. F., Yim, P. S., & Lam, T. W. (2002). Transforming school culture: Can true collaboration be initiated? Educational Research, 44(2), 181–195.

Li, Z., He, J., Zhou, Q., & Zhang, D. (1996). Zhongxiaoxue jiaoshi shuimian zhiliang ji yingxiang yinsu de yanjiu [A study on the sleep quality of primary and secondary school teachers]. Zhongguo xinli weisheng zazhi [Chinese Mental Health Journal], 10(3), 118–119. (In Chinese).

Little, J. W. (1984). Seductive images and organization realities in professional development. Teachers' College Record, 86(1), 84–102.

Lu, J., & Hallinger, P. (2018). A mirroring process: From school management team cooperation to teacher collaboration. Leadership and Policy in Schools., 17(2), 238–263.

Ma, D., & Li, P. (2015). Gansusheng Minlexian xiaoxue, chuzhong, gaozhong jiaoshi shuimian zhiliang ji xiangguan yinsu de bijiao fenxi [Comparative analysis on sleep quality and the influencing factors among teachers of Minle County in Gansu province]. Manxing bingxue zazhi [Chronic Pathematology Journal], 5, 511–514. (In Chinese).

Mart, C. T. (2013). A passionate teacher: Teacher commitment and dedication to student learning. International Journal of Academic Research in Progressive Education and Development, 2(1), 437–442.

Muraven, M., & Baumeister, R. F. (2000). Self-regulation and depletion of limited resources: Does self-control resemble a muscle? Psychological Bulletin, 126(2), 247.

Muthén, L. K., & Muthén, B. O. (2012). Mplus version 7 user's guide. Los Angeles, CA: Muthén & Muthén.

Qian, H., Walker, A., & Yang, X. (2017). Building and leading a learning culture among teachers: A case study of a Shanghai primary school. Educational Management Administration & Leadership, 45(1), 101–122.

Roberts, R. E., Roberts, C. R., & Duong, H. T. (2008). Chronic insomnia and its negative consequences for health and functioning of adolescents: A 12-month prospective study. Journal of Adolescent Health, 42(3), 294–302.

Robertson-Kraft, C., & Duckworth, A. L. (2014). True grit: Trait-level perseverance and passion for long-term goals predicts effectiveness and retention among novice teachers. Teachers College Record (1970), 116(3). Retrieved from https://www.ncbi.nlm.nih.gov/pmc/articles/PMC4211426/pdf/nihms515928.pdf.

Salanova, M., Bakker, A. B., & Llorens, S. (2006). Flow at work: Evidence for an upward spiral of personal and organizational resources. Journal of Happiness Studies, 7(1), 1–22.

Schunk, D. H., & Zimmerman, B. J. (Eds.). (1994). Self-regulation of learning and performance: Issues and educational applications. Hillsdale, NJ: Lawrence Erlbaum Associates Inc.

Smylie, M. A., Conley, S., & Marks, H. M. (2002). Exploring new approaches to teacher leadership for school improvement. Yearbook of the National Society for the Study of Education, 101(1), 162–188.

Sonnentag, S., Binnewies, C., & Mojza, E. J. (2008). "Did you have a nice evening?" A day-level study on recovery experiences, sleep, and affect. Journal of Applied Psychology, 93, 674–684.

Steptoe, A., O'Donnell, K., Marmot, M., & Wardle, J. (2008). Positive affect, psychological well-being, and good sleep. Journal of Psychosomatic Research, 64(4), 409–415.

Tagliazucchi, E., & Laufs, H. (2014). Decoding wakefulness levels from typical fMRI resting-state data reveals reliable drifts between wakefulness and sleep. Neuron, 82(3), 695–708.

Tjosvold, D. (1998). Cooperative and competitive goal approach to conflict: Accomplishments and challenges. Applied Psychology, 47(3), 285–313.

Vallerand, R. J. (2008). On the psychology of passion: In search of what makes people's lives most worth living. Canadian Psychology/Psychologie Canadienne, 49(1), 1–13.

Vallerand, R. J., Blanchard, C., Mageau, G. A., Koestner, R., Ratelle, C., Léonard, M., et al. (2003). Les passions de l'ame: On obsessive and harmonious passion. Journal of Personality and Social Psychology, 85(4), 756–767.

Wisehart, R. (2004). Nurturing passionate teachers: Making our work transparent. Teacher Education Quarterly, 31(4), 45–53.

Zhang, D., Wang, Y., & Huo, S. (2006). Zhongxue nvjiaoshi shuimian zhuangkuang diaocha fenxi [An investigation of the sleep quality of female teachers in secondary schools]. Zhongguo jiankang xinlixue zazhi [China Journal of Health Psychology]., 14(3), 326–327. (In Chinese).

Zigarmi, D., Nimon, K., Houson, D., Witt, D., & Diehl, J. (2009). Beyond engagement: Toward a framework and operational definition for employee work passion. Human Resource Development Review, 8(3), 300–326.
Acknowledgement
This study is part of a research project funded the Research Grant Council of Hong Kong through the Early Career Scheme Project (Ref. No. 846012). The author thank Ms. Wanlu Li and Mr. Yip-Man Suen for their helpful assistance in data collection; Ms. Pamela Wong for programming the phone-based ESM survey system; Dr. Jinlong Zhu and Dr. Junjun Chen for their insightful feedback and comments during the preparation of the manuscript; and Dr. Jinxin Zhu for his invaluable assistance in data analysis.
About this article
Cite this article
Lu, J. Reciprocal Gain Spirals: The Relationship of Sleep Quality, Work Enjoyment, Cooperative Interaction, and Work Passion Among Teacher Leaders. Asia-Pacific Edu Res 28, 353–361 (2019). https://doi.org/10.1007/s40299-018-00430-4
Keywords
Sleep quality

Work enjoyment

Cooperative interaction

Teacher passion