Abstract
Virtual reality (VR) has brought about numerous alternative learning opportunities in the last decade, and with modern products such as Oculus Rift and other wearable Virtual Reality technologies being introduced into society, VR will promisingly continue to provide yet unseen opportunities in the next few decades and therefore is a technology that deserves serious consideration and study. In an attempt to better understand how virtual worlds positively affect student learning, this study used an online 3D VR English language learning platform and conducted an experiment to evaluate the student learning effectiveness based on Bloom's cognitive complexity level. t test analysis was used to determine the effectiveness of the learning platform, while structural equation modeling (SEM) analysis was used to determine the learning model behind the pedagogy. Participants were 448 students at a science and technology university in Taiwan. Results show that students improved their phonological, morphological, grammar and syntax knowledge, and virtual world learning assisted in the development of a more complex and higher level of thinking. The SEM analysis results indicated the virtual learning environment with unique features of immersion and ease of use, together with help-seeking positively affected student language cognition.
This is a preview of subscription content,
to check access.
Access this article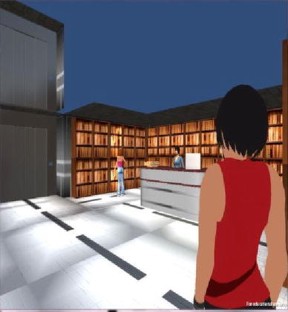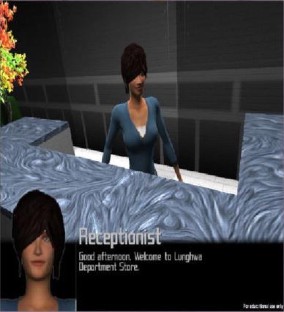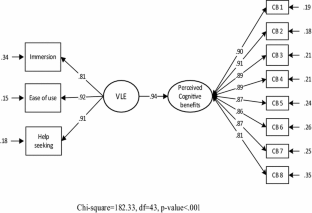 References
Anderson, L. W., & Sosniak, L. A. (1994). Bloom's taxonomy: A forty-year retrospective. Ninety-third Yearbook of the National Society for the Study of Education. Chicago, NSSE: The University of Chicago Press.

Antonacci, D., DiBartolo, S., Edwards, N., Fritch, K., McMullen, B., & Murch-Shafer, R. (2008). The power of virtual worlds in education: A second life primer and resource for exploring the potential of virtual worlds to impact teaching and learning. Angel Learning White Paper.

Antonacci, D., & Modaress, N. (2005). Second life: The educational possibilities of a massively multiplayer virtual world (MMVW). In EDUCAUSE Western Regional Conference-Winds of Change: Charting the Course for Technology in Challenging Times, San Francisco, April 26 (Vol. 28).

Bailenson, J. N., Yee, N., Blascovich, J., Beall, A. C., Lundblad, N., & Jin, M. (2008). The use of immersive virtual reality in the learning sciences: Digital transformations of teachers, students, and social context. The Journal of the Learning Sciences, 17(1), 102–141.

Bell, J. T. & Fogler, H. S. (1995). The investigation and application of virtual reality as an educational tool. Reprinted from the Proceedings of the American Society for Engineering Education 1995 Annual Conference.

Berman, R. A. (2007). Developing linguistic knowledge and language use across adolescence. In E. Hoff & M. Shatz (Eds.), Blackwell handbook of language development (pp. 347–367). Oxford, UK: Blackwell Publishing Ltd.

Buck, D., & Stucki, D. (2000). Design early considered harmful: Graduated exposure to complexity and structure based on levels of cognitive development. Paper: Mathematics Faculty Scholarship. 12.

Chuang, S.-C., & Tsai, C.-C. (2004). A survey on the perceptions toward the Internet-based learning environments among Taiwanese secondary school students: Differences between preferred and actual forms. Journal of National University of Tainan, 38(2), 55–70. (in Chinese).

Clark, D. (2006). Motivation in e-learning, Março. Retrieved June 30, 2015, from http://www.epic.co.uk.

Davis, F. D. (1989). Perceived usefulness, perceived ease of use, and user acceptance of information technology. MIS Quarterly, 13(3), 319–339.

de Figueiredo, A. D. (Ed.). (2005). Managing learning in virtual settings: The role of context. Hershey: IGI Global.

Dreher, C., Reiners, T., Dreher, N., & Dreher, H. (2009). Virtual worlds as a context suited for information systems education: Discussion of pedagogical experience and curriculum design with reference to Secon Life. Journal of Information Systems Education, 20(2), 211–224.

Falloon, G. (2010). Using avatars and virtual environments in learning: What do they have to offer? British Journal of Educational Technology, 41(1), 108–122.

Forehand, M. (2005). Bloom's taxonomy: Original and revised. In M. Orey (Ed.), Emerging perspectives on learning, teaching, and technology. Retrieved March 15, 2016, from http://epltt.coe.uga.edu.

Goodhue, D. L., & Thompson, R. L. (1995). Task-technology fit and individual performance. MIS Quarterly, 19(2), 213–236.

Hew, K., & Cheung, W. (2010). Use of three-dimensional (3-D) immersive virtual worlds in K-12 and higher education settings: A review of the research. British Journal of Educational Technology, 41, 33–55.

Hu, L., & Bentler, P. M. (1999). Cutoff criteria for fit indexes in covariance structure analysis: Conventional criteria versus new alternatives. Structural Equation Modeling, 6(1), 1–55.

Huang, H. M., Rauch, U., & Liaw, S. S. (2010). Investigating learners' attitudes toward virtual reality learning environments: Based on a constructivist approach. Computers & Education, 55(3), 1171–1182.

Inman, C., Wright, V. H., & Hartman, J. A. (2010). Use of second life in K-12 and higher education: A review of research. Journal of Interactive Online Learning, 9(1), 44–63.

Jarmon, L., Traphagan, T., Mayrath, M., & Trivedi, A. (2009). Virtual world teaching, experiential learning and assessment: An interdisciplinary communication course in second life. Computers & Education, 53, 169–182.

Kastoudi, D. (2012). Using a quest in a 3D virtual environment for student interaction and vocabulary acquisition in foreign language learning. In The EUROCALL Review. Proceedings of the EUROCALL 2011 Conference, 20, 87–89.

Kaya, M. H. (2015). The role of technology in an emerging ELT constructivist pedagogy, Humanising Language Teaching, 1, Retrieved February 28, 2016, from http://www.hltmag.co.uk/feb15/sart06.htm.

Krathwohl, D. R. (2002). A revision of Bloom's Taxonomy: An overview. Theory into Practice, 41(4), 212–218.

Lee, Y., Kozar, K. A., & Larsen, K. R. T. (2003). The technology acceptance model: Past, present, and future. Communications of the Association for Information Systems, 12(1), 752–780.

Lin, C.-S., & Kuo, M. S. (2005). Adaptive networked learning environments using learning objects, learner profiles and inhabited virtual learning worlds. In Proceedings of IEEE ICALT2005: The 5th International Conference on Advanced Learning Technology (pp. 116–118). Kaohsiung, Taiwan.

Maor, D. (1999). A teacher professional development program on using a constructivist multimedia learning environment. Learning Environments Research, 2(3), 307–330.

Maruyama, G. (1998). Basics of structural equation modeling. Thousand Oaks, CA: Sage.

Noble, T. (2004). Integrating the revised Bloom's Taxonomy with multiple intelligences: A planning tool for curriculum differentiation. Teacher College Record, 106(2), 193–211.

Overbaugh, R. C., & Lin, S. (2004). Student characteristics, sense of community, and cognitive achievement in web-based and lab-based learning environments. Journal of Research on Technology in Education, 39(2), 205–223.

Paul, R. W. (1985). Bloom's Taxonomy and critical thinking instruction. Educational Leadership, 42(8), 36–39.

Peterson, M. (2006). Learner interaction management in an avatar and chat-based virtual world. Computer Assisted Language Learning, 19(1), 79–103.

Pinho, M. S., Bawman, D. A., & Freitas, C. (2009). Cooperative object manipulation in collaborative virtual environments. Journal of the Brazilian Computer Society, 14(2), 54–67.

Robers, L. D., Smith, L. M., & Pollock, C. M. (2000). U r a lot bolder on the net. In W. R. Crozier (Ed.), Shyness: Development, consolidation and change. New York: Routledge.

Sandars, J., & Morrison, C. (2007). What is the Net Generation? The challenge for future medical education. Medical Teacher, 29(2/3), 85–88.

Savin-Baden, M. (2010). A practical guide to using second life in higher education. New York, NY: Open University Press.

Scherman, W. R., & Craig, A. B. (2003). Understanding virtual reality. New York: Morgan Kaufmann Publishers.

Stæhr, L. S. (2009). Vocabulary knowledge and advanced listening comprehension in English as a foreign language. Studies in Second Language Acquisition, 31(4), 577–607.

Su, Y.-C. (2006). EFL teachers' perceptions of English language policy at the elementary level in Taiwan. Educational Studies, 32(3), 265–283.

Svensson, P. (2003). Virtual worlds as arenas for language learning. In U. Felix (Ed.), Language learning online: Toward best practice (pp. 123–146). Lisse, The Netherlands: Swets & Zeitlinger.

Thompson, B. (2000). Ten commandments of structural equation modeling. In L. G. Grimm & P. R. Yarnold (Eds.), Reading and understanding more multivariate statistics (pp. 261–283). Washington, DC: American Psychology Association.

Thorsteinsson, G., & Page, T. (2008). Reflecting from the literature on constructivist learning in virtual reality in relation to the FISTE Comenius 2.1 Project. Educatia, 21, 95–104.

Wang, Y., & Braman, J. (2009). Extending the classroom through second life. Journal of Information Systems Education, 20(2), 235–247.

Ward, J. (2010). The avatar lecturer: Learning and teaching in second life. Marketing Intelligence & Planning, 28(7), 862–881.
Acknowledgments
This work was supported by a grant from Taiwan Ministry of Science and Technology No. MOST 103-2410-H-262 -011. I appreciate the reviewers' valuable comments and suggestions.
Funding
Taiwan Ministry of Science and Technology, Grant No. MOST 103-2410-H-262 -011.
About this article
Cite this article
Chen, YL. The Effects of Virtual Reality Learning Environment on Student Cognitive and Linguistic Development. Asia-Pacific Edu Res 25, 637–646 (2016). https://doi.org/10.1007/s40299-016-0293-2
Published:

Issue Date:

DOI: https://doi.org/10.1007/s40299-016-0293-2
Keywords