Abstract
Introduction
Although several trials have assessed the effect of coenzyme Q10 (CoQ10) supplementation on blood pressures among patients with metabolic diseases, findings are controversial.
Aim
This review of randomized controlled trials (RCTs) was performed to summarize the evidence on the effects of CoQ10 supplementation on blood pressures among patients with metabolic diseases.
Methods
Randomized-controlled trials (RCTs) published in PubMed, EMBASE, Web of Science and Cochrane Library databases up to 10 August 2017 were searched. Two review authors independently assessed study eligibility, extracted data, and evaluated risk of bias of included studies. Heterogeneity was measured with a Q-test and with I2 statistics. Data were pooled by using the fix or random-effect model based on the heterogeneity test results and expressed as standardized mean difference (SMD) with 95% confidence interval (CI).
Results
A total of seventeen randomized controlled trials (684 participants) were included. Results showed that CoQ10 supplementation significantly decreased systolic blood pressure (SBP) (SMD − 0.30; 95% CI − 0.52, − 0.08). However, CoQ10 supplementation decreased diastolic blood pressure (DBP), but this was not statistically significant (SMD − 0.08; 95% CI − 0.46, 0.29).
Conclusions
CoQ10 supplementation may result in reduction in SBP levels, but did not affect DBP levels among patients with metabolic diseases. Additional prospective studies regarding the effect of CoQ10 supplementation on blood pressure in patients with metabolic diseases are necessary.
This is a preview of subscription content, log in to check access.
Access options
Buy single article
Instant access to the full article PDF.
US$ 39.95
Price includes VAT for USA
Subscribe to journal
Immediate online access to all issues from 2019. Subscription will auto renew annually.
US$ 171
This is the net price. Taxes to be calculated in checkout.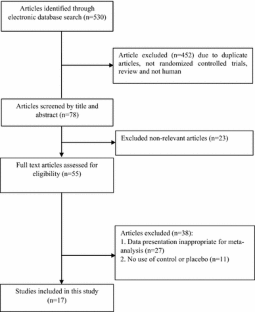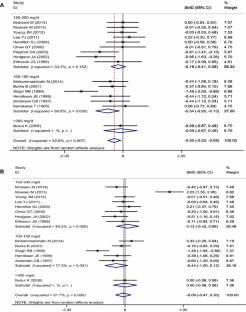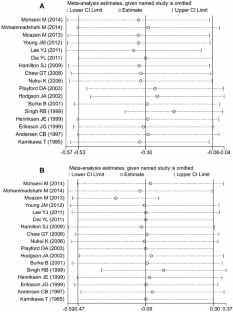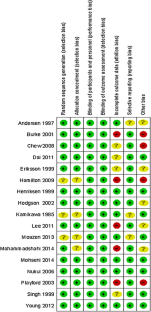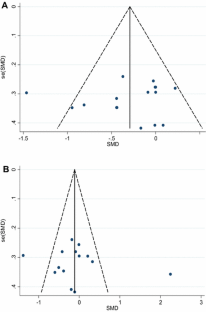 References
1.

Baradaran A, Nasri H, Rafieian-Kopaei M. Oxidative stress and hypertension: possibility of hypertension therapy with antioxidants. J Res Med Sci. 2014;19:358–67.

2.

Lawes CM, Vander Hoorn S, Rodgers A. Global burden of blood-pressure-related disease, 2001. Lancet. 2008;371:1513–8.

3.

Palmer SC, Mavridis D, Navarese E, Craig JC, Tonelli M, Salanti G, et al. Comparative efficacy and safety of blood pressure-lowering agents in adults with diabetes and kidney disease: a network meta-analysis. Lancet. 2015;385:2047–56.

4.

Acosta MJ, Vazquez Fonseca L, Desbats MA, Cerqua C, Zordan R, Trevisson E, et al. Coenzyme Q biosynthesis in health and disease. Biochim Biophys Acta. 2016;1857:1079–85.

5.

Langsjoen PH, Langsjoen AM. Overview of the use of CoQ10 in cardiovascular disease. BioFactors. 1999;9:273–84.

6.

Gonenc A, Hacisevki A, Tavil Y, Cengel A, Torun M. Oxidative stress in patients with essential hypertension: a comparison of dippers and non-dippers. Eur J Intern Med. 2013;24:139–44.

7.

Ates O, Bilen H, Keles S, Alp HH, Keles MS, Yildirim K, et al. Plasma coenzyme Q10 levels in type 2 diabetic patients with retinopathy. Int J Ophthalmol. 2013;6:675–9.

8.

Yen CH, Yang NC, Lee BJ, Lin JY, Hsia S, Lin PT. The antioxidant status and concentrations of coenzyme Q10 and vitamin E in metabolic syndrome. Sci World J. 2013;2013:767968.

9.

Langsjoen PH, Folkers K. Long-term efficacy and safety of coenzyme Q10 therapy for idiopathic dilated cardiomyopathy. Am J Cardiol. 1990;65:521–3.

10.

Watts GF, Castelluccio C, Rice-Evans C, Taub NA, Baum H, Quinn PJ. Plasma coenzyme Q (ubiquinone) concentrations in patients treated with simvastatin. J Clin Pathol. 1993;46:1055–7.

11.

Hodgson JM, Watts GF, Playford DA, Burke V, Croft KD. Coenzyme Q10 improves blood pressure and glycaemic control: a controlled trial in subjects with type 2 diabetes. Eur J Clin Nutr. 2002;56:1137–42.

12.

Rosenfeldt FL, Haas SJ, Krum H, Hadj A, Ng K, Leong JY, et al. Coenzyme Q10 in the treatment of hypertension: a meta-analysis of the clinical trials. J Hum Hypertens. 2007;21:297–306.

13.

Moazen M, Mazloom Z, Dabbaghmanesh M, Ahmadi A. Effect of CoQ10 supplementation on blood pressure, inflammation, and lipid profile in type 2 diabetics. Iran J Nutr Sci Food Technol. 2013;8:145–53.

14.

Hamilton SJ, Chew GT, Watts GF. Coenzyme Q10 improves endothelial dysfunction in statin-treated type 2 diabetic patients. Diabetes Care. 2009;32:810–2.

15.

Chew GT, Watts GF, Davis TM, Stuckey BG, Beilin LJ, Thompson PL, et al. Hemodynamic effects of fenofibrate and coenzyme Q10 in type 2 diabetic subjects with left ventricular diastolic dysfunction. Diabetes Care. 2008;31:1502–9.

16.

Playford DA, Watts GF, Croft KD, Burke V. Combined effect of coenzyme Q10 and fenofibrate on forearm microcirculatory function in type 2 diabetes. Atherosclerosis. 2003;168:169–79.

17.

Henriksen JE, Andersen CB, Hother-Nielsen O, Vaag A, Mortensen SA, Beck-Nielsen H. Impact of ubiquinone (coenzyme Q10) treatment on glycaemic control, insulin requirement and well-being in patients with Type 1 diabetes mellitus. Diabetic Med J Br Diabetic Assoc. 1999;16:312–8.

18.

Eriksson J, Forsen T, Mortensen S, Rohde M. The effect of coenzyme Q10 administration on metabolic control in patients with type 2 diabetes mellitus. BioFactors (Oxf Engl). 1999;9:315–8.

19.

Andersen CB, Henriksen JE, Hother-Nielsen O, Vaag A, Mortensen SA, Beck-Nielsen H. The effect of coenzyme Q10 on blood glucose and insulin requirement in patients with insulin dependent diabetes mellitus. Mol Asp Med. 1997;18(Suppl):S307–9.

20.

Mohseni M, Vafa MR, Hajimiresmail SJ, Zarrati M, Rahimi Forushani A, Bitarafan V, et al. Effects of coenzyme q10 supplementation on serum lipoproteins, plasma fibrinogen, and blood pressure in patients with hyperlipidemia and myocardial infarction. Iran Red Crescent Med J. 2014;16:e16433.

21.

Mohammadshahi M, Farsi F, Nejad PA, Hajiani E, Zarei M, Engali KA. The coenzyme Q10 supplementation effects on lipid profile, fasting blood sugar, blood pressure and oxidative stress status among non-alcoholic fatty liver disease patients: a randomized, placebo-controlled, pilot study. J Gastroenterol Hepatol Res. 2014;3:1108–13.

22.

Young JM, Florkowski CM, Molyneux SL, McEwan RG, Frampton CM, Nicholls MG, et al. A randomized, double-blind, placebo-controlled crossover study of coenzyme Q10 therapy in hypertensive patients with the metabolic syndrome. Am J Hypertens. 2012;25:261–70.

23.

Lee YJ, Cho WJ, Kim JK, Lee DC. Effects of coenzyme Q10 on arterial stiffness, metabolic parameters, and fatigue in obese subjects: a double-blind randomized controlled study. J Med Food. 2011;14:386–90.

24.

Dai YL, Luk TH, Yiu KH, Wang M, Yip PM, Lee SW, et al. Reversal of mitochondrial dysfunction by coenzyme Q10 supplement improves endothelial function in patients with ischaemic left ventricular systolic dysfunction: a randomized controlled trial. Atherosclerosis. 2011;216:395–401.

25.

Nuku K, Matsuoka Y, Yamagishi T, Miyawaki H, Sato K. Safety assessment of PureSorb-Q40 in healthy subjects and serum coenzyme Q10 level in excessive dosing. J Nutr Sci Vitaminol. 2007;53:198–206.

26.

Burke BE, Neuenschwander R, Olson RD. Randomized, double-blind, placebo-controlled trial of coenzyme Q10 in isolated systolic hypertension. South Med J. 2001;94:1112–7.

27.

Singh R, Niaz M, Rastogi S, Shukla P, Thakur A. Effect of hydrosoluble coenzyme Q10 on blood pressures and insulin resistance in hypertensive patients with coronary artery. J Hum Hypertens. 1999;13:203–8.

28.

Kamikawa T, Kobayashi A, Yamashita T, Hayashi H, Yamazaki N. Effects of coenzyme Q10 on exercise tolerance in chronic stable angina pectoris. Am J Cardiol. 1985;56:247–51.

29.

Langsjoen P, Willis R, Folkers K. Treatment of essential hypertension with coenzyme Q10. Mol Asp Med. 1994;15(Suppl):S265–72.

30.

Gao L, Mao Q, Cao J, Wang Y, Zhou X, Fan L. Effects of coenzyme Q10 on vascular endothelial function in humans: a meta-analysis of randomized controlled trials. Atherosclerosis. 2012;221:311–6.

31.

Sander S, Coleman CI, Patel AA, Kluger J, White CM. The impact of coenzyme Q10 on systolic function in patients with chronic heart failure. J Card Fail. 2006;12:464–72.

32.

Satoh K, Ichihara K. Lipophilic HMG-CoA reductase inhibitors increase myocardial stunning in dogs. J Cardiovasc Pharmacol. 2000;35:256–62.

33.

Koska J, Syrova D, Blazicek P, Marko M, Grna JD, Kvetnansky R, et al. Malondialdehyde, lipofuscin and activity of antioxidant enzymes during physical exercise in patients with essential hypertension. J Hypertens. 1999;17:529–35.

34.

Grunfeld S, Hamilton CA, Mesaros S, McClain SW, Dominiczak AF, Bohr DF, et al. Role of superoxide in the depressed nitric oxide production by the endothelium of genetically hypertensive rats. Hypertension. 1995;26:854–7.

35.

Kumar A, Kaur H, Devi P, Mohan V. Role of coenzyme Q10 (CoQ10) in cardiac disease, hypertension and Meniere-like syndrome. Pharmacol Ther. 2009;124:259–68.

36.

Watts GF, Playford DA, Croft KD, Ward NC, Mori TA, Burke V. Coenzyme Q(10) improves endothelial dysfunction of the brachial artery in Type II diabetes mellitus. Diabetologia. 2002;45:420–6.

37.

Folkers K, Drzewoski J, Richardson PC, Ellis J, Shizukuishi S, Baker L. Bioenergetics in clinical medicine. XVI. Reduction of hypertension in patients by therapy with coenzyme Q10. Res Commun Chem Pathol Pharmacol. 1981;31:129–40.

38.

Evans M, Baisley J, Barss S, Guthrie N. A randomized, double-blind trial on the bioavailability of two CoQ10 formulations. J Funct Foods. 2009;1:65–73.

39.

Prangthip P, Kettawan A, Posuwan J, Okuno M, Okamoto T. An improvement of oxidative stress in diabetic rats by ubiquinone-10 and ubiquinol-10 and bioavailability after short- and long-term coenzyme Q10 supplementation. J Diet Suppl. 2016;13:647–59.
Ethics declarations
Funding
The current study was founded by a grant from the Vice-chancellor for Research, Shiraz University of Medical Sciences, Shiraz, and Iran.
Conflict of interest
None.
Ethical approval
This article does not contain any studies with human participants or animals performed by any of the authors.
About this article
Cite this article
Tabrizi, R., Akbari, M., Sharifi, N. et al. The Effects of Coenzyme Q10 Supplementation on Blood Pressures Among Patients with Metabolic Diseases: A Systematic Review and Meta-analysis of Randomized Controlled Trials. High Blood Press Cardiovasc Prev 25, 41–50 (2018). https://doi.org/10.1007/s40292-018-0247-2
Received:

Accepted:

Published:

Issue Date:
Keywords
Coenzyme Q10

Blood pressure

Metabolic diseases

Meta-analysis