Abstract
Introduction
Asymptomatic hyperuricemia is not a current indication for therapy as the definite role of serum uric acid elevation as a cardiovascular risk factor is extremely likely but still controversial.
Aim
We designed a double blind, placebo-controlled, randomized study to assess the effects of a combination of nutraceuticals (ZinutriK®, containing a fixed combination of kampferol, baicalin, caffeine, and rutin) on serum uric acid levels, lipid variables and the global cardiovascular risk profile.
Methods
Sixteen individuals (mean age 59.0 ± 11.9 years, 4 women) with asymptomatic hyperuricemia completed the study.
Results
ZinutriK® treatment (4 weeks) reduced serum uric acid concentrations (from 7.9 + 0.9 to 7.0 + 0.7 mg/dL) when compared to both baseline and placebo (p < 0.006 and p < 0.001, respectively). Compared to both placebo and baseline, the same fixed combination of nutraceuticals also reduced circulating LDL cholesterol and increased HDL cholesterol concentrations within 4 weeks (p < 0.001 or less), thereby improving the Framingham risk score (p < 0.001 or less). Neither minor nor major side effects were observed.
Conclusions
This study represents the first demonstration that a short-term therapy with a fixed combination of different natural substances can significantly reduce serum uric acid concentrations in asymptomatic hyperuricemic patients, with no side effects and a significant improvement in the lipid pattern and then in the global cardiovascular risk profile.
Access options
Buy single article
Instant access to the full article PDF.
US$ 39.95
Tax calculation will be finalised during checkout.
Subscribe to journal
Immediate online access to all issues from 2019. Subscription will auto renew annually.
US$ 259
Tax calculation will be finalised during checkout.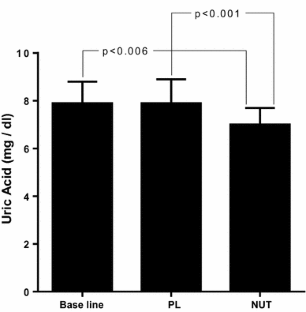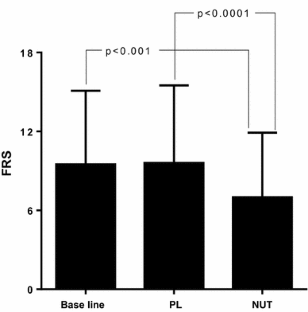 References
1.

Ciarla S, Struglia M, Giorgini P, Striuli R, Necozione S, Properzi G, Ferri C. Serum uric acid levels and metabolic syndrome. Arch Physiol Biochem. 2014;120(3):119–22.

2.

Grassi D, Desideri G, Ferri C. New insight into urate-related mechanism of cardiovascular damage. Curr Pharm Des. 2014;20(39):6089–95.

3.

The Sixth Joint Task Force of the European. Society of Cardiology and Other Societies on Cardiovascular Disease Prevention in Clinical Practice (constituted by representatives of 10 societies and by invited experts) Developed with the special contribution of the European Association for Cardiovascular Prevention & Rehabilitation (EACPR). 2016 European Guidelines on cardiovascular disease prevention in clinical practice. Eur Heart J. 2016;37(29):2315–81.

4.

Palmer TM, Nordestgaard BG, Benn M, Tybjærg-Hansen A, Davey Smith G, Lawlor DA, Timpson NJ. Association of plasma uric acid with ischaemic heart disease and blood pressure: mendelian randomisation analysis of two large cohorts. BMJ. 2013;347: f4262.

5.

Yang Q, Köttgen A, Dehghan A, Smith AV, Glazer NL, Chen MH, Chasman DI, Aspelund T, Eiriksdottir G, Harris TB, Launer L, Nalls M, Hernandez D, Arking DE, Boerwinkle E, Grove ML, Li M, Linda Kao WH, Chonchol M, Haritunians T, Li G, Lumley T, Psaty BM, Shlipak M, Hwang SJ, Larson MG, O'Donnell CJ, Upadhyay A, van Duijn CM, Hofman A, Rivadeneira F, Stricker B, Uitterlinden AG, Paré G, Parker AN, Ridker PM, Siscovick DS, Gudnason V, Witteman JC, Fox CS, Coresh J. Multiple genetic loci influence serum urate levels and their relationship with gout and cardiovascular disease risk factors. Circ Cardiovasc Genet. 2010;3(6):523–30.

6.

Kleber ME, Delgado G, Grammer TB, Silbernagel G, Huang J, Krämer BK, Ritz E, März W. Uric acid and cardiovascular events: a mendelian randomization study. JASN. 2015;26(11):2831–8.

7.

Savarese G, Ferri C, Trimarco B, Rosano G, Dellegrottaglie S, Losco T, Casaretti L, D'Amore C, Gambardella F, Prastaro M, Rengo G, Leosco D, Perrone-Filardi P. Changes in serum uric acid levels and cardiovascular events: a meta-analysis. Nutr Metab Cardiovasc Dis. 2013;23(8):707–14.

8.

Silbernagel G, Hoffmann MM, Grammer TB, Boehm BO, März W. Uric acid is predictive of cardiovascular mortality and sudden cardiac death in subjects referred for coronary angiography. Nutr Metab Cardiovasc Dis. 2013;23(1):46–52.

9.

Thornley S, Marshall RJ, Jackson R, Gentles D, Dalbeth N, Crengle S, Kerr A, Wells S. Is serum urate causally associated with incident cardiovascular disease? Rheumatology. 2013;52(1):135–42.

10.

Kim SY, Guevara JP, Kim KM, Choi HK, Heitjan DF, Albert DA. Hyperuricemia and coronary heart disease: a systematic review and meta-analysis. Arthritis Care Res. 2010;62(2):170–80.

11.

Rho YH, Zhu Y, Choi HK. The epidemiology of uric acid and fructose. Semin Nephrol. 2011;31(5):410–9.

12.

Johnson RJ, Sautin YY, Oliver WJ, Roncal C, Mu W, Gabriela Sanchez-Lozada L, Rodriguez-Iturbe B, Nakagawa T, Benner SA. Lessons from comparative physiology: could uric acid represent a physiologic alarm signal gone awry in western society? J Comp Physiol. 2009;179(1):67–76.

13.

Jung MH, Seong PN, Kim MH, Myong NH, Chang MJ. Effect of green tea extract microencapsulation on hypertriglyceridemia and cardiovascular tissues in high fructose-fed rats. Nut Res Pract. 2013;7(5):366–72.

14.

Sautin YY, Nakagawa T, Zharikov S, Johnson RJ. Adverse effects of the classic antioxidant uric acid in adipocytes: NADPH oxidase-mediated oxidative/nitrosative stress. Am J Physiol. 2007;293(2):C584–96.

15.

Anyachuckwu Irondi E, Olalekan Agboola S, Oboh G, Boligon AA, Athayde ML, Shode FO Guava leaves polyphenolics-rich extract inhibits vital enzymes implicated in gout and hypertension in vitro. J Intercult Ethnopharmacol. 2016;5(2):122–30.

16.

Jang YJ, Kim J, Shim J, Kim J, Byun S, Oak MH, et al. Kaempferol attenuates 4-hydroxynonenal-induced apoptosis in PC12 cells by directly inhibiting NADPH oxidase. J Pharmacol. Exp. Ther. 2011;337(3):747–54.

17.

Bochorakova H, Paulova H, Slanina J, Musil P, Taborska E. Main flavonoids in the root of Scutellaria baicalensis cultivated in Europe and their comparative antiradical properties. Phytother Res. 2003;17(6):640–4.

18.

D'Agostino RB Sr, Grundy S, Sullivan LM. Wilson P; CHD Risk Prediction Group. Validation of the Framingham coronary heart disease prediction scores: results of a multiple ethnic groups investigation. JAMA. 2001;286(2):180–7.

19.

Mancia G, Fagard R, Narkiewicz K, Redon J, Zanchetti A, Bohm M, et al. 2013 ESH/ESC guidelines for the management of arterial hypertension: the Task Force for the Management of Arterial Hypertension of the European Society of Hypertension (ESH) and of the European Society of Cardiology (ESC). Eur Heart J. 2013;34(28):2159–219.

20.

Trimarco V, Izzo R, Stabile E, Rozza F, Santoro M, Manzi MV, et al. Effects of a new combination of nutraceuticals with Morus alba on lipid profile, insulin sensitivity and endotelial function in dyslipidemic subjects. A cross-over, randomized, double-blind trial. High Blood Press Cardiovasc Prev. 2015;22(2):149–54.

21.

Izzo R, de Simone G, Giudice R, Chinali M, Trimarco V, De Luca N, et al. Effects of nutraceuticals on prevalence of metabolic syndrome and on calculated Framingham Risk Score in individuals with dyslipidemia. J Hypertens. 2010;28(7):1482–7.

22.

Santos CX, Anjos EI, Augusto O. Uric acid oxidation by peroxynitrite: multiple reactions, free radical formation, and amplification of lipid oxidation. Arch Biochem Biophys. 1999;372(2):285–94.

23.

Ciarla S, Giorgini P, Struglia M, Striuli R, Necozione S, Desideri G, et al. Associations between low levels of serum uric acid and cardiometabolic parameters. Arch Phys Biochem. 2015;121(4):139–43.

24.

Feig DI, Kang DH, Johnson RJ. Uric acid and cardiovascular risk. N Engl J Med. 2008;23,359(17):1811–21.

25.

Kojima S, Matsui K, Ogawa H, Jinnouchi H, Hiramitsu S, Hayashi T, et al. Rationale, design, and baseline characteristics of a study to evaluate the effect of febuxostat in preventing cerebral, cardiovascular, and renal events in patients with hyperuricemia. J Cardiol. 2016. doi:10.1016/j.jjcc.2016.02.015.

26.

Kleijnen J, Knipschild P. Ginkgo biloba. Lancet. 1992;340(8828):1136–9.

27.

Landes P. Market report: whole Foods magazine's 2nd annual herb market survey for U.S. health food stores. Herbal Gram 1997:40–52.

28.

Borghi C, Perez-Ruiz F. Urate lowering therapies in the treatment of gout: a systematic review and meta-analysis. Eur Rev Med Pharmacol Sci. 2016;20(5):983–92.

29.

Degli Esposti L, Saragoni S, Buda S, Desideri G, Borghi C. Retrospective analysis on hospitalization and health care costs, according to serum uric acid levels in patients from a sample of Italian local health units. Int J Soc Pharmacoecon Outcom Res. 2014;17(7):A477–8.
Ethics declarations
Conflict of interest
The authors declare that they have no conflict of interest.
Research involving human participants and/or animals
This article does not contain any studies with human participants or animals performed by any of the authors.
Informed Consent
Written informed consent was obtained from each subject.
About this article
Cite this article
Rozza, F., Trimarco, V., Izzo, R. et al. Effects of a Novel Fixed Combination of Nutraceuticals on Serum Uric Acid Concentrations and the Lipid Profile in Asymptomatic Hyperuricemic Patients. High Blood Press Cardiovasc Prev 23, 381–386 (2016). https://doi.org/10.1007/s40292-016-0168-x
Received:

Accepted:

Published:

Issue Date:
Keywords
Hyperuricemia

Nutraceuticals

Hyperlipidemia