Abstract
Introduction
Patients and healthcare practitioners are increasingly interested in using cannabis and cannabinoids to address unmet clinical needs. Although we have clinical evidence on the medical use of cannabinoids, a significant portion of the data is not based on randomized clinical trials, which are considered the gold standard in clinical research. We have reviewed the registered clinical trials on cannabis and cannabinoids for therapeutic or drug development purposes to underline the past and current attempts to generate robust clinical evidence and identify existing knowledge gaps.
Methods
We reviewed four clinical trial registries (International Clinical Trials Registry Program [ICTRP], ClinicalTrials.gov, European Clinical Trial Registry [EUCTR], Australian New Zealand Clinical Trial Registry [ANZCTR]) to identify clinical trials on cannabinoids (phyto- or synthetic) or cannabis-based medications between January 1, 2000, and December 31, 2021. All interventional clinical trials on cannabinoids and other compounds interacting with the endocannabinoid system, regardless of the investigated medical condition, assessed health outcomes, or choice of comparator, were included, provided they had a therapeutic or drug development purpose. Data on the primary sponsor, type of sponsor, date of registration, recruitment status, number of participants, study design, the phase of the study, country, medical conditions, investigated cannabinoids, and the route of administration were extracted. The therapeutic area and class of cannabinoids were identified based on the details of each trial.
Results
We included 834 out of 2966 reviewed clinical trials. The number of registered clinical trials has constantly increased from 30 in 2013 to 103 in 2021. More than 40% of registered clinical trials in 2021 were phase II and phase III clinical trials. The mean number of trial enrollments for completed, ongoing, and terminated studies were 128, 156, and 542, respectively. Clinical research on Δ9-tetrahydrocannabinol (THC), cannabidiol (CBD), and the oral routes of administration dominate the field. Approximately two-thirds of clinical trials were conducted in five therapeutic areas (i.e., 'Chronic pain,' 'Mental, behavioral or neurodevelopmental disorders,' 'Nervous system diseases,' 'Endocrine, nutritional or metabolic diseases,' and 'Neoplasms'). Pharmaceutical companies sponsored 39% of all clinical trials. However, trial sponsorships vary noticeably in different jurisdictions, likely due to, in part, different regulatory frameworks.
Conclusion
Our review highlights the diversification of clinical trials on cannabinoid-based medications in the past 21 years. This review underlines the increased interest in conducting clinical studies on new cannabinoid administration methods such as topical applications and on the investigation of emerging phyto- and synthetic cannabinoids. Moreover, more clinical trials have been designed to explore the potential therapeutic benefits of cannabinoids in areas such as mental, behavioral, or neurodevelopmental disorders and skin diseases. There is a need for granular analyses of clinical trials on more commonly studied therapeutic areas such as chronic pain, nervous system diseases, and mental and behavioral disorders to generate more actionable information and insight for all stakeholders.
Access options
Buy single article
Instant access to the full article PDF.
USD 49.95
Price excludes VAT (USA)
Tax calculation will be finalised during checkout.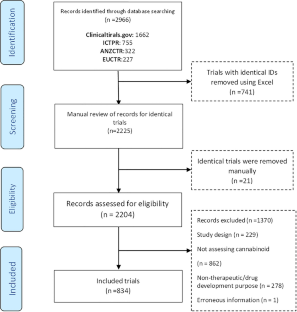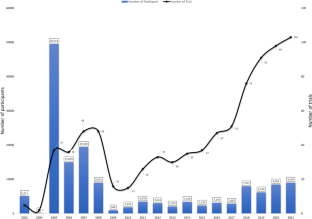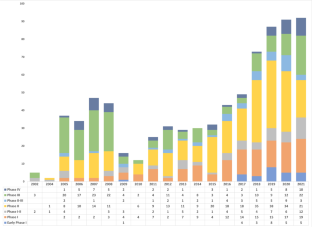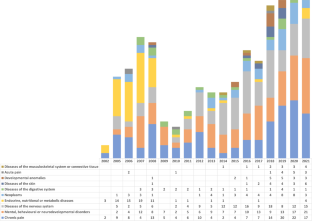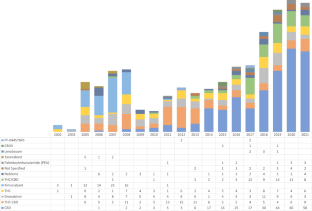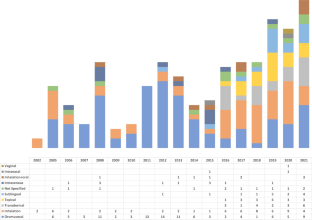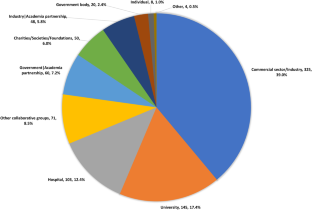 References
Bridgeman MB, Abazia DT. Medicinal cannabis: history, pharmacology, and implications for the acute care setting. Pharm Ther. 2017;42(3):180–8.

Ben AM. Cannabinoids in medicine: a review of their therapeutic potential. J Ethnopharmacol. 2006;105(1–2):1–25. https://doi.org/10.1016/j.jep.2006.02.001.

Montero-Oleas N, Arevalo-Rodriguez I, Nuñez-González S, et al. Therapeutic use of cannabis and cannabinoids: an evidence mapping and appraisal of systematic reviews. BMC Complement Med Ther. 2020. https://doi.org/10.1186/s12906-019-2803-2.

Government of Canada. Marihuana Medical Access Regulations (SOR/2001-227) [Internet]. Canada Gaz. 2001 p. 1–30.

Schlag AK. An evaluation of regulatory regimes of medical cannabis: what lessons can be learned for the UK? Med Cannabis Cannabinoids. 2020;3(1):25–60. https://doi.org/10.1159/000505028.

Ipsos. New global study: most believe that cannabis will be legal in coming years | Ipsos [Internet]. Glob. Views Vices – 2019. 2019.

Gallup. Support for Legal Marijuana Holds at Record High of 68% [Internet]. 2021.

Kaplan L, Klein T, Wilson M, et al. Knowledge, practices, and attitudes of Washington State health care professionals regarding medical cannabis. Cannabis Cannabinoid Res. 2020;5(2):172–82. https://doi.org/10.1089/can.2019.0051.

Weisman JM, Rodríguez M. A systematic review of medical students' and professionals' attitudes and knowledge regarding medical cannabis. J Cannabis Res. 2021;3(1):47. https://doi.org/10.1186/s42238-021-00100-1.

Rønne ST, Rosenbæk F, Pedersen LB, et al. Physicians' experiences, attitudes, and beliefs towards medical cannabis: a systematic literature review. BMC Fam Pract. 2021. https://doi.org/10.1186/s12875-021-01559-w.

Gardiner KM, Singleton JA, Sheridan J, et al. Health professional beliefs, knowledge, and concerns surrounding medicinal cannabis—a systematic review. PLoS ONE. 2019. https://doi.org/10.1371/JOURNAL.PONE.0216556.

Orjuela-Rojas JM, García Orjuela X, Ocampo SS. Medicinal cannabis: knowledge, beliefs, and attitudes of Colombian psychiatrists. J Cannabis Res. 2021. https://doi.org/10.1186/s42238-021-00083-z.

Crowley D, Collins C, Delargy I, et al. Irish general practitioner attitudes toward decriminalisation and medical use of cannabis: results from a national survey. Harm Reduct J. 2017. https://doi.org/10.1186/s12954-016-0129-7.

Hordowicz M, Jarosz J, Czaplińska M, et al. Polish physicians' perspectives on medical cannabis policy and educational needs: results of an online survey. J Clin Med. 2021;10(19):4545. https://doi.org/10.3390/jcm10194545.

Allan GM, Finley CR, Ton J, et al. Systematic review of systematic reviews for medical cannabinoids. Can Fam Physician. 2018;64(2):e78-94.

Petzke F, Tölle T, Fitzcharles MA, et al. Cannabis-based medicines and medical cannabis for chronic neuropathic Pain. CNS Drugs Adis. 2022;1:31–44.

Johal H, Devji T, Chang Y, et al. Cannabinoids in chronic non-cancer pain: a systematic review and meta-analysis. Clin Med Insights Arthritis Musculoskelet Disord. 2020. https://doi.org/10.1177/1179544120906461.

Wang L, Hong PJ, May C, et al. Medical cannabis or cannabinoids for chronic non-cancer and cancer related pain: a systematic review and meta-analysis of randomised clinical trials. BMJ. 2021. https://doi.org/10.1136/bmj.n1034.

Whiting PF, Wolff RF, Deshpande S, et al. Cannabinoids for medical use: a systematic review and meta-analysis. JAMA J Am Med Assoc. 2015;313(24):2456–73. https://doi.org/10.1001/jama.2015.6358.

Black N, Stockings E, Campbell G, et al. Cannabinoids for the treatment of mental disorders and symptoms of mental disorders: a systematic review and meta-analysis. Lancet Psychiatry. 2019;6(12):995–1010. https://doi.org/10.1016/S2215-0366(19)30401-8.

National Academies of Sciences Engineering and Medicine. The health effects of cannabis and cannabinoids [Internet]. Washington, D.C.: National Academies Press; 2017. (10.17226/24625).

Orsolini L, Chiappini S, Volpe U, et al. Use of medicinal cannabis and synthetic cannabinoids in post-traumatic stress disorder (PTSD): a systematic review. Med Medicina (Kaunas). 2019. https://doi.org/10.3390/medicina55090525.

Mücke M, Phillips T, Radbruch L, et al. Cannabis-based medicines for chronic neuropathic pain in adults. Cochrane Database Syst Rev. 2018. https://doi.org/10.1002/14651858.CD012182.pub2.

Amato L, Minozzi S, Mitrova Z, et al. Revisione sistematica sull'efficacia terapeutica e la sicurezza della cannabis per i pazienti affetti da sclerosi multipla, dolore neuropatico cronico e pazienti oncologici che assumono chemioterapie. Epidemiol Prev. 2017. https://doi.org/10.19191/EP17.5-6.AD01.069.

Lim K, See YM, Lee J. A systematic review of the effectiveness of medical cannabis for psychiatric, movement and neurodegenerative disorders. Clin Psychopharmacol Neurosci. 2017;15(4):301–12. https://doi.org/10.9758/cpn.2017.15.4.301.

World Health Organization. International Classification of Diseases, 11th Revision (ICD-11). Geneva [Internet]: World Heal. Organ; 2018.

ANZCTR. ANZCTR Data field definitions [Internet]. 2019. p. 1–26.

Sam AH, Salem V, Ghatei MA. Rimonabant: from RIO to Ban. J Obes. 2011. https://doi.org/10.1155/2011/432607.

European Medicines Agency T. PRESS RELEASE The European Medicines Agency recommends suspension of the marketing authorisation of Acomplia [Internet]. 2008. p. 4–5.

International Association for Cannabis as Medicine. Recommendation of suspension of the marketing authorisation of rimonabant and discontinuation of clinical research into cannabinoid receptor antagonists [Internet]. 2008.

Cooper ZD, Abrams DI, Gust S, et al. Challenges for clinical cannabis and cannabinoid research in the United States. J Natl Cancer Inst Monogr. 2021;2021(58):114–22. https://doi.org/10.1093/jncimonographs/lgab009.

Walsh KB, McKinney AE, Holmes AE. Minor cannabinoids: biosynthesis, molecular pharmacology and potential therapeutic uses. Front Pharmacol. 2021. https://doi.org/10.3389/fphar.2021.777804.

Pellati F, Borgonetti V, Brighenti V, et al. Cannabis sativa L. and nonpsychoactive cannabinoids: their chemistry and role against oxidative stress, inflammation, and cancer. Biomed Res Int. 2018. https://doi.org/10.1155/2018/1691428.

National Center for Drug Abuse Statistics. Opioids crisis statistics: prescription opioid abuse. [Internet]. 2022.

Boscarino JA, Rukstalis M, Hoffman SN, et al. Risk factors for drug dependence among out-patients on opioid therapy in a large US healthcare system. Addiction. 2010;105(10):1776–82. https://doi.org/10.1111/j.1360-0443.2010.03052.x.

National Institutes of Health (NIH). NIH to investigate minor cannabinoids and terpenes for potential pain-relieving properties [Internet]. ENP Newswire. 2019.

Zhong H, Chan G, Hu Y, et al. A comprehensive map of FDA-approved pharmaceutical products. Pharmaceutics. 2018;10(4):263.

Lutz B. Neurobiology of cannabinoid receptor signaling. Dialogues Clin Neurosci. 2020;22(3):207–22. https://doi.org/10.31887/DCNS.2020.22.3/BLUTZ.

Drug Enforcement Administration. Drug Scheduling [Internet]. 2006. p. 299–309. https://doi.org/10.1201/9781420009835.ax1

Therapeutic Goods Administration. Medicinal cannabis: Role of the TGA | Therapeutic Goods Administration (TGA) [Internet]. Ther. Goods Adm. 2021.

Goyal S, Kubendran S, Kogan M, et al. High expectations: The landscape of clinical trials of medical marijuana in oncology. Complement Ther Med. 2020;49:102336.

Kowal MA, Hazekamp A, Grotenhermen F. Review on clinical studies with cannabis and cannabinoids 2010–2014. Cannabinoids. 2016;11:1–18.

ClinicalTrials.gov. Disclaimer [Internet].

EU Clinical Trials Register. About the Clinical Trials Register-Legal Notice [Internet].

Australian New Zealand Clinical Trials Registry (ANZCTR). Disclaimer [Internet]. Aust. New Zeal. Clin. Trials Regist. 2021.

Zarin DA, Ide NC, Tse T, et al. Issues in the registration of clinical trials. J Am Med Assoc. 2007;297(19):2112–20. https://doi.org/10.1001/jama.297.19.2112.

Wilbert-Lampen U, Leistner D, Greven S, et al. Cardiovascular events during world cup soccer. N Engl J Med. 2008;358(5):475–83. https://doi.org/10.1056/nejmoa0707427.
Acknowledgments
We would like to thank Dr. Pooyeh Graili for her comments on the scientific content of this article.
Ethics declarations
Funding
No grant or financial contribution was received from a third party.
Conflict of Interest
FM and KT declare that this study was conducted without any commercial or financial relationships that could be considered a potential conflict of interest.
Authors' Contributions
FM: Conceptualization, methodology, investigation, data curation, writing—original draft, review and editing, visualization. KT: Conceptualization, methodology, investigation, data curation, writing—review and editing, visualization. All authors approved the final version of this manuscript to be published and agree to be accountable for all aspects of the work in ensuring that questions related to the accuracy or integrity of any part of the work are appropriately investigated and resolved.
Data Access Statement
Data supporting this study are openly available from the website of respective clinical trial registries: https://clinicaltrials.gov/, https://www.clinicaltrialsregister.eu/, https://www.anzctr.org.au/Default.aspx, https://www.who.int/clinical-trials-registry-platform/the-ictrp-search-portal.
Ethical Approval
There is no human subject or identifiable personal information in this article, and informed consent is not applicable.
Consent to Participate
Not applicable.
Consent for Publication
Not applicable.
Code Availability
Not applicable.
Supplementary Information
Below is the link to the electronic supplementary material.
Rights and permissions
Springer Nature or its licensor (e.g. a society or other partner) holds exclusive rights to this article under a publishing agreement with the author(s) or other rightsholder(s); author self-archiving of the accepted manuscript version of this article is solely governed by the terms of such publishing agreement and applicable law.
About this article
Cite this article
Modaresi, F., Talachian, K. The Characteristics of Clinical Trials on Cannabis and Cannabinoids: A Review of Trials for Therapeutic or Drug Development Purposes. Pharm Med 36, 387–400 (2022). https://doi.org/10.1007/s40290-022-00447-7
Accepted:

Published:

Issue Date:

DOI: https://doi.org/10.1007/s40290-022-00447-7