Abstract
Introduction
The role of herbal medicine in the treatment of common psychiatric disorders such as anxiety, depression and insomnia has become more established over the past decade. Some herbal preparations such as St John's wort (Hypericum perforatum) have demonstrated clinical evidence but have also been included in recent reports of widespread adulteration and contamination. Herbal medicines sold in Australia are required to be listed on the Therapeutic Goods Administration's (TGA) Australian Register of Therapeutic Goods (ARTG) and must comply with strict ingredient and manufacturing guidelines to assure quality and safety.
Objective
The aim of this research was to assess whether pharmaceutical adulterants and contaminants were present in psychotropic herbal medicines available in Australia, as a measure of quality, and the effectiveness of regulation.
Methods
A two-pronged approach combining next-generation DNA sequencing and small-molecule analysis techniques was undertaken to audit a subset of herbal medicines for the presence of prescription medications, illicit drugs, pesticides, herbicides, heavy metals and contaminant DNA. Small-molecule analysis included liquid chromatography with quadrupole time-of-flight mass spectrometer (LC-QTOF-MS) detection, liquid chromatography with UV/vis diode array (LC-UV) detection, gas chromatography with nitrogen–phosphorus and mass spectrometer detection (GC-NPD/MS) and heavy metal analysis using inductively coupled plasma with mass spectrometer (ICP-MS) detection.
Results
In total, 49% (29 of 59) of the investigated herbal medicines had one or more materials not listed on their labels or ARTG registration, including Convention on International Trade in Endangered Species of Wild Fauna and Flora (CITES)-listed material (one medicine), heavy metals (12%) or components that could trigger food sensitivity, such as wheat (12%). In contrast to previous studies, no prescription pharmaceutical adulterants were detected, although 10% had undeclared caffeine. Twenty-four percent of herbal medicines had DNA from animal species, including mice and bats, indicating poor quality control. The surveyed herbal medicines included both traditional Chinese medicines (TCM) and Western herbals. Ninety-four percent of TCMs were contaminated or adulterated, compared with 37% of the Western herbals. Only two of the 59 samples contained the listed active ingredient(s) without additional adulterants and contaminants, or missing ingredients.
Conclusions
The high levels of contamination found in this study suggests that closer surveillance of herbal medicines is needed in order to assure the required level of quality of herbal medicines available in Australia. The results suggest that the TGA's low-/high-risk system for regulation coupled with post-market auditing is not keeping unapproved and/or unsafe herbal medicines from the market.
Access options
Buy single article
Instant access to the full article PDF.
US$ 49.95
Tax calculation will be finalised during checkout.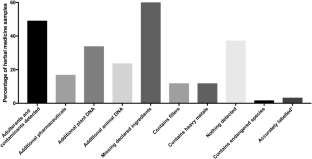 References
1.

Sarris J. Herbal medicines in the treatment of psychiatric disorders: 10-year updated review. Phytother Res. 2018;32(7):1147–62.

2.

Coghlan ML, Maker G, Crighton E, Haile J, Murray DC, White NE, et al. Combined DNA, toxicological and heavy metal analyses provides an auditing toolkit to improve pharmacovigilance of traditional Chinese medicine (TCM). Sci Rep. 2015;10:17475.

3.

Newmaster SG, Grguric M, Shanmughanandhan D, Ramalingam S, Ragupathy S. DNA barcoding detects contamination and substitution in North American herbal products. BMC Med. 2013;11:222.

4.

Parveen I, Gafner S, Techen N, Murch SJ, Khan IA. DNA barcoding for the identification of botanicals in herbal medicine and dietary supplements: strengths and limitations. Planta Med. 2016;82(14):1225–35.

5.

Sarwat M, Yamdagni MM. DNA barcoding, microarrays and next generation sequencing: recent tools for genetic diversity estimation and authentication of medicinal plants. Crit Rev Biotechnol. 2016;36(2):191–203.

6.

Ivanova NV, Kuzmina ML, Braukmann TW, Borisenko AV, Zakharov EV. Authentication of herbal supplements using next-generation sequencing. PLoS One. 2016;11(5):e0156426.

7.

Mishra P, Kumar A, Nagireddy A, Mani DN, Shukla AK, et al. DNA barcoding: an efficient tool to overcome authentication challenges in the herbal market. Plant Biotechnol J. 2016;14(1):8–21.

8.

Blacksell L, Byard RW, Musgrave IF. Forensic problems with the composition and content of herbal medicines. J Forensic Leg Med. 2014;23:19–21.

9.

Hoban CL, Byard RW, Musgrave IF. A comparison of patterns of spontaneous adverse drug reaction reporting with St. John's wort and fluoxetine during the period 2000–2013. Clin Exp Pharmacol Physiol. 2015;42:747–51.

10.

Gilbert JD, Musgrave IF, Hoban C, Byard RW. Lethal hepatocellular necrosis associated with herbal polypharmacy in a patient with chronic hepatitis B infection. Forensic Sci Int. 2014;24:138–40.

11.

Najafian J, Abdar-Esfahani M, Arab-Momeni M, Akhavan-Tabib A. Safety of herbal medicine in treatment of weight loss. ARYA Atheroscler. 2014;10:55–8.

12.

Kostakis C, Byard RW. Sudden death associated with intravenous injection of toad extract. Forensic Sci Int. 2009;188:e1–5.

13.

O'Callaghan C, Quine S. How older Vietnamese Australian women manage their medicines. J Cross Cult Gerontol. 2007;22:405–19.

14.

Sims DN, Felgate PD, Felgate HE, Lokan RJ. Application of a simple extraction procedure using aqueous ammonia to the analysis of basic drugs in blood by GC. Forensic Sci Int. 1991;49:33–42.

15.

Coghlan ML, Haile J, Houston J, Murray DC, White NE, et al. Deep sequencing of plant and animal DNA contained within traditional Chinese medicines reveals legality issues and health safety concerns. PLoS Genet. 2012;8:e1002657.

16.

Taberlet P, Coissac E, Pompanon F, Gielly L, Miquel C, et al. Power and limitations of the chloroplast trnL (UAA) intron for plant DNA barcoding. Nucl Acid Res. 2007;35:e14.

17.

Taylor PG. Reproducibility of ancient DNA sequences from extinct Pleistocene fauna. Mol Biol Evol. 1996;13(1):283–5.

18.

Murray DC, Coghlan ML, Bunce M. From benchtop to desktop: important considerations when designing amplicon sequencing workflows. PLoS ONE. 2015;10(4):e0124671.

19.

Poinar HN, Hofreiter M, Spaulding WG, Martin PS, Stankiewicz BA, et al. Molecular coproscopy: dung and diet of the extinct ground sloth Nothrotheriops shastensis. Science. 1998;281:402–6.

20.

Kearse M, Moir R, Wilson A, Stones-Havas S, Cheung M, et al. Geneious Basic: an integrated and extendable desktop software platform for the organization and analysis of sequence data. Bioinf. 2012;28(12):1647–9.

21.

Edgar RC. Search and clustering orders of magnitude faster than BLAST. Bioinf. 2010;26:2460–1.

22.

Edgar RC, Haas BJ, Clemente JC, Quince C, Knight R. UCHIME improves sensitivity and speed of chimera detection. Bioinf. 2011;27:2194–200.

23.

Altschul SF, Gish W, Miller W, Myers EW, Lipman DJ. Basic local alignment search tool. J Mol Biol. 1990;215:403–10.

24.

Huson DH, Auch AF, Qi J, Schuster SC. MEGAN analysis of metagenomic data. Genome Res. 2007;17(3):377–86.

25.

Therapeutic Goods Administration, Australian Regulatory Guidelines, Good Manufacturing Practice (GMP) clearance for overseas manufacturers. 17th ed. Version 1.0 May 2011. https://www.tga.gov.au/sites/default/files/manuf-overseas-medicines-gmp-clearance-17.pdf. Accessed 22 Jun 2017.

26.

Grantley J, McPherson F, Petroeschevsky A. Recognising water weeds: plant identification guide. The State of New South Wales Industry & Investment; 2009. http://www.dpi.nsw.gov.au/__data/assets/pdf_file/0007/329308/041209-DPI-RWW-PLANT-GUIDE.pdf. Accessed 22 Jun 2017.

27.

Real A, Comino I, de Lorenzo L, Merchán F, Gil-Humanes J, et al. Molecular and immunological characterization of gluten proteins isolated from oat cultivars that differ in toxicity for celiac disease. PLoS ONE. 2012;7:e48365.

28.

Convention on International Trade in Endangered Species of Flora and Fauna, The CITES Appendices. https://www.cites.org/eng/app/index.php. Accessed Jul 2016.

29.

Australian Government. Therapeutic Goods Order No. 69 general requirements for labels for medicines (27/08/2001)

30.

Johnston A, Holt DW. Substandard drugs: a potential crisis for public health. Br J Clin Pharmacol. 2014;78(2):218–43.

31.

Calisher CH, Childs JE, Field HE, Holmes KV, Schountz T. Bats: important reservoir hosts of emerging viruses. Clin Microbiol Rev. 2006;19:531–45.

32.

Churchill S. Australian bats. 2nd ed. Crows Nest: Allen & Unwin; 2008.

33.

Zhou J, Xie G, Yan X. Encyclopedia of traditional Chinese medicines. Molecular structures, pharmacological activities, natural sources and applications. Berlin: Springer; 2011.

34.

Byard RW. Traditional medicines and species extinction: another side to forensic wildlife investigation. Forensic Sci Med Pathol. 2016;12:125–7.

35.

Allison DB, Cutter G, Poehlman ET, Moore DR, Barnes S. Exactly which synephrine alkaloids does Citrus aurantium (bitter orange) contain? Int J Obes (Lond). 2005;29:443–6.

36.

Arbo MD, Larentis ER, Linck VM, Aboy AL, Pimentel AL, Henriques AT, et al. Concentrations of p-synephrine in fruits and leaves of Citrus species (Rutaceae) and the acute toxicity testing of Citrus aurantium extract and p-synephrine. Food Chem Toxicol. 2008;46:2770–5.

37.

Musgrave IF, Farrington RL, Hoban CL, Byard RW. Caffeine toxicity in forensic practice: possible effects and under-appreciated sources. Forensic Sci Med Pathol. 2016;12(3):299–303.

38.

Pendleton M, Brown S, Thomas CM, Odle B. Potential toxicity of caffeine when used as a dietary supplement for weight loss. J Diet Suppl. 2013;10(1):1–5.

39.

Ching CK, Chen SPL, Lee HHC, Lam YH, Ng SW, et al. Adulteration of proprietary Chinese medicines and health products with undeclared drugs: experience of a tertiary toxicology laboratory in Hong Kong. Br J Clin Pharmacol. 2018;84(1):172–8.

40.

Morales ME, Derbes RS, Ade CM, Ortego JC, Stark J, et al. Heavy metal exposure influences double strand break DNA repair outcomes. PLoS One. 2016;11(3):e0151367.

41.

Vickers KA, Jolly KB, Greenfield SM. Herbal medicine: women's views, knowledge and interaction with doctors: a qualitative study. BMC Compl Altern Med. 2006;6:40.

42.

Blödt S, Mittring N, Schützler L, Fischer F, Holmberg C, et al. A consultation training program for physicians for communication about complementary medicine with breast cancer patients: a prospective, multi-center, cluster-randomized, mixed-method pilot study. BMC Cancer. 2016;16:843.

43.

MacLennan AH, Myers SP, Taylor AW. The continuing use of complementary and alternative medicine in South Australia: costs and beliefs in 2004. Med J Aust. 2006;184:27–31.

44.

Brazier NC, Levine MAH. Drug-herb interaction among commonly used conventional medicines: a compendium for health care professionals. Am J Therap. 2003;10:163–9.

45.

Byard RW. The potential forensic significance of traditional herbal medicines. J Forensic Sci. 2010;55:89–92.

46.

de Boer HJ, Ichim MC, Newmaster SG. DNA barcoding and pharmacovigilance of herbal medicines. Drug Saf. 2015;38:611–20.

47.

McIntyre E, Saliba AJ, Wiener KK, Sarris J. Herbal medicine use behaviour in Australian adults who experience anxiety: a descriptive study. BMC Complement Altern Med. 2016;16:60–72.

48.

McIntyre E, Adams J, Foley H, Harnett J, Leach MJ. Consultations with naturopaths and Western herbalists prevalence of use and characteristics of users in Australia. J Altern Complement Med. 2018. https://doi.org/10.1089/acm.2018.0309.
Ethics declarations
Funding
This study was funded by the Australian National Health and Medical Research Council (NHMRC) (grant #1061329).
Conflict of interest
Claire L. Hoban, Ian F. Musgrave, Megan L. Coghlan, Matthew W.P. Power, Roger W. Byard, Christine Nash, Rachael Farrington, Garth Maker, Elly Crighton, Robert Trengove and Michael Bunce report no known conflicts of interest.
Ethical approval
This article does not contain any studies with human participants or animals performed by any of the authors.
Electronic supplementary material
Below is the link to the electronic supplementary material.
About this article
Cite this article
Hoban, C.L., Musgrave, I.F., Coghlan, M.L. et al. Adulterants and Contaminants in Psychotropic Herbal Medicines Detected with Mass Spectrometry and Next-Generation DNA Sequencing. Pharm Med 32, 429–444 (2018). https://doi.org/10.1007/s40290-018-0252-8