Abstract
Background
Running is a popular activity practiced worldwide. It is important to understand how running affects joint health to provide recommendations to sports medicine practitioners and runners.
Objective
Our aim was to summarize the influence of running on lower limb cartilage morphology and composition using quantitative magnetic resonance imaging (MRI).
Methods
Prospective repeated-measures studies evaluating cartilage using MRI before and after running were included. Data sources included Pubmed, Embase, CINAHL, SportDiscus, Web of Science, and Cochrane Central Registry of Controlled Trials. Qualitative analyses considered the number and methodological quality ratings of studies based on the QualSyst tool, and recommendations were based on the strength of evidence (strong, moderate, limited, or very limited). Quantitative analysis involved meta-analyses, for which effect sizes were calculated as Hedge's g standardized mean differences.
Results
We included 43 articles, assessing seven outcomes (lesions, volume, thickness, glycosaminoglycan content, and T1ρ, T2, and T2* relaxation times). Nineteen articles were rated as high quality, 24 were rated as moderate quality, and none were rated as low quality. Qualitative analyses suggest that running may cause an immediate reduction in knee cartilage volume, thickness, as well as T1ρ and T2 relaxation times immediately; however, these changes did not persist. Meta-analyses revealed a small and moderate decrease immediately following a single running bout in T2 relaxation time in the medial femur and tibia, respectively. Qualitative analyses indicated that the influence of repeated exposure to running on cartilage morphology and composition was limited. Despite conflicting evidence regarding pre-existing knee cartilage lesions, moderate evidence suggests that running does not lead to the formation of new lesions. Repeated running exposure did not cause changes to foot and ankle cartilage thickness or composition.
Conclusions
Changes to lower limb cartilage following running are transient. Immediate changes to cartilage morphology and composition, which likely reflect natural fluid dynamics, do not persist and were generally not significant when pooled statistically. Results suggest that cartilage recovers well from a single running bout and adapts to repeated exposure. Given that moderate evidence indicates that running does not lead to new lesions, future trials should focus on clinical populations, such as those with osteoarthritis.
Trial Registration
Not applicable.
Access options
Buy single article
Instant access to the full article PDF.
USD 49.95
Price includes VAT (USA)
Tax calculation will be finalised during checkout.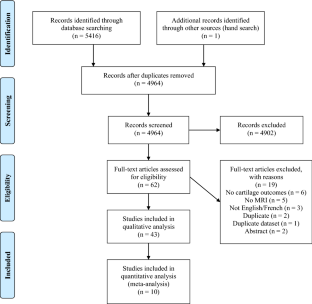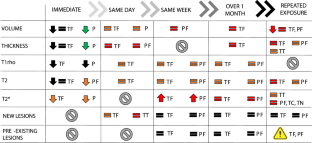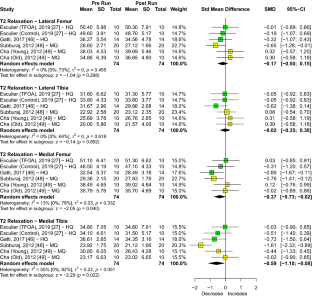 References
1.

Hespanhol LC, Pillay JD, van Mechelen W, Verhagen E. Meta-analyses of the effects of habitual running on indices of health in physically inactive adults. Sport Med. 2015;45:1455–68.

2.

Messier SP, Legault C, Schoenlank CR, Newman JJ, Martin DF, Devita P. Risk factors and mechanisms of knee injury in runners. Med Sci Sports Exerc. 2008;40:1873–9.

3.

McLaughlin P, Chowdary P, Woledge R, McCarthy A, Mayagoitia R. The effect of neutral-cushioned running shoes on the intra-articular force in the haemophilic ankle. Clin Biomech. 2013;28:672–8.

4.

Siverling S, O'Sullivan E, Garofalo M, Moley P. Hip osteoarthritis and the active patient: will I run again? Curr Rev Musculoskelet Med. 2012;5:24–31.

5.

Van Gent RN, Siem D, Van Middelkoop M, Van Os AG, Bierma-Zeinstra SMA, Koes BW. Incidence and determinants of lower extremity running injuries in long distance runners: a systematic review. Br J Sports Med. 2007;41:469–80.

6.

Leech RD, Edwards KL, Batt ME. Does running protect against knee osteoarthritis? Or promote it? Assessing the current evidence. Br J Sports Med. 2015;49:1355–6.

7.

Driban JB, Hootman JM, Sitler MR, Harris KP, Cattano NM. Is participation in certain sports associated with knee osteoarthritis? A systematic review. J Athl Train. 2017;52:497–506.

8.

Lo GH, Driban JB, Kriska AM, McAlindon TE, Souza RB, Petersen NJ, et al. Is there an association between a history of running and symptomatic knee osteoarthritis? A cross-sectional study from the Osteoarthritis Initiative. Arthritis Care Res. 2017;69:183–91.

9.

Timmins KA, Leech RD, Batt ME, Edwards KL. Running and knee osteoarthritis: a systematic review and meta-analysis. Am J Sports Med. 2017;45:1447–57.

10.

Williams PT. Effects of running and walking on osteoarthritis and hip replacement risk. Med Sci Sport Exerc. 2013;45:1292–7.

11.

Bricca A, Juhl CB, Steultjens M, Wirth W, Roos EM. Impact of exercise on articular cartilage in people at risk of, or with established, knee osteoarthritis: a systematic review of randomised controlled trials. Br J Sports Med. 2019;53:940–7.

12.

Miller RH, Krupenevich RL. Medial knee cartilage is unlikely to withstand a lifetime of running without positive adaptation: a theoretical biomechanical model of failure phenomena. PeerJ. 2020;8:e9676.

13.

Gold GE, Chen CA, Koo S, Hargreaves BA, Bangerter NK. Recent advances in MRI of articular cartilage. Am J Roentgenol. 2009;193:628–38.

14.

Hunter DJ, Altman RD, Cicuttini F, Crema MD, Duryea J, Eckstein F, et al. OARSI clinical trials recommendations: knee imaging in clinical trials in osteoarthritis. Osteoarthr Cartil. 2015;23:698–715.

15.

Hoessly ML, Wildi LM. Magnetic resonance imaging findings in the knee before and after long-distance running—documentation of irreversible structural damage? A systematic review. Am J Sports Med. 2017;45:1206–17.

16.

Dong X, Li C, Liu J, Huang P, Jiang G, Zhang M, et al. The effect of running on knee joint cartilage: a systematic review and meta-analysis. Phys Ther Sport. 2020;47:147–55.

17.

Moher D, Shamseet L, Clarke M, Ghersi D, Liberati A, Petticrew M, et al. Preferred reporting items for systematic review and meta-analysis protocols (PRISMA-P) 2015 statement. Syst Rev. 2015;4:1–9.

18.

Kmet LM, Lee RC, Cook LS. Standard quality assessment criteria for evaluating primary research papers from a variety of fields. HTA Initiative #13. 2004.

19.

Bernard S, Ouellet MP, Moffet H, Roy JS, Dumoulin C. Effects of radiation therapy on the structure and function of the pelvic floor muscles of patients with cancer in the pelvic area: a systematic review. J Cancer Surviv. 2016;10:351–62.

20.

Becker R, Kopf S, Karlsson J. Loading conditions of the knee: What does it mean? Knee Surg Sport Traumatol Arthrosc. 2013;21:2659–60.

21.

van Tulder M, Furlan AD, Pennick V, Bombardier C, Bouter L. Updated method guidelines for systematic reviews in the Cochrane Collaboration Back Review Group. Spine (Phila Pa 1976). 2003;28:1290–9.

22.

Barton CJ, Bonanno DR, Carr J, Neal BS, Malliaras P, Franklyn-Miller A, et al. Running retraining to treat lower limb injuries: a mixed-methods study of current evidence synthesised with expert opinion. Br J Sports Med. 2016;50:513–26.

23.

DerSimonian R, Laird N. Meta-analysis in clinical trials revisited. Contemp Clin Trials. 2015;45:139–45.

24.

Higgins J, Thomas J, Chandler J, Cumpston M, Li T, Page M, et al. Cochrane handbook for systematic reviews of interventions. New York: Wiley; 2019.

25.

Balduzzi S, Rücker G, Schwarzer G. How to perform a meta-analysis with R: a practical tutorial. Evid Based Ment Health. 2019;22:153–60.

26.

Cohen J. Statistical power analysis for the behavioural sciences. 2nd ed. Hillsdale: Lawrence Erlbaum Associates; 1988.

27.

Esculier JF, Jarrett M, Krowchuk NM, Rauscher A, Wiggermann V, Taunton JE, et al. Cartilage recovery in runners with and without knee osteoarthritis: a pilot study. Knee. 2019;26:1049–57.

28.

van Ginckel A, Verdonk P, Victor J, Witvrouw E. Cartilage status in relation to return to sports after anterior cruciate ligament reconstruction. Am J Sports Med. 2013;41:550–9.

29.

Leiter JRS, MacDonald L, McRae S, Davidson M, MacDonald PB. Intrinsic stresses on bone and cartilage in the normal and anterior cruciate ligament-reconstructed knee before and after a half marathon: a magnetic resonance imaging analysis. Clin J Sport Med. 2012;22:439–42.

30.

Schueller-Weidekamm C, Schueller G, Uffmann M, Bader TR. Does marathon running cause acute lesions of the knee? Evaluation with magnetic resonance imaging. Eur Radiol. 2006;16:2179–85.

31.

Niehoff A, Müller M, Brüggemann L, Savage T, Zaucke F, Eckstein F, et al. Deformational behaviour of knee cartilage and changes in serum cartilage oligomeric matrix protein (COMP) after running and drop landing. Osteoarthr Cartil. 2011;19:1003–10.

32.

Mosher TJ, Liu Y, Torok CM. Functional cartilage MRI T2 mapping: evaluating the effect of age and training on knee cartilage response to running. Osteoarthr Cartil. 2010;18:358–64.

33.

Boocock M, McNair P, Cicuttini F, Stuart A, Sinclair T. The short-term effects of running on the deformation of knee articular cartilage and its relationship to biomechanical loads at the knee. Osteoarthr Cartil. 2009;17:883–90.

34.

Kessler MA, Glaser C, Tittel S, Reiser M, Imhoff AB. Recovery of the menisci and articular cartilage of runners after cessation of exercise: additional aspects of in vivo investigation based on 3-dimensional magnetic resonance imaging. Am J Sports Med. 2008;36:966–70.

35.

Kessler MA, Glaser C, Tittel S, Reiser M, Imhoff AB. Volume changes in the menisci and articular cartilage of runners: an in vivo investigation based on 3-D magnetic resonance imaging. Am J Sports Med. 2006;34:832–6.

36.

Eckstein F, Lemberger B, Gratzke C, Hudelmaier M, Glaser C, Englmeier KH, et al. In vivo cartilage deformation after different types of activity and its dependence on physical training status. Ann Rheum Dis. 2005;64:291–5.

37.

Kersting UG, Stubendorff JJ, Schmidt MC, Brüggemann GP. Changes in knee cartilage volume and serum COMP concentration after running exercise. Osteoarthr Cartil. 2005;13:925–34.

38.

Mosher TJ, Smith HE, Collins C, Liu Y, Hancy J, Dardzinski BJ, et al. Change in knee cartilage T2 at MR imaging after running: a feasibility study. Radiology. 2005;234:245–9.

39.

Heckelman LN, Riofrio AD, Vinson EN, Collins AT, Gwynn OR, Utturkar GM, et al. Dose and recovery response of patellofemoral cartilage deformations to running. Orthop J Sport Med. 2020;8:1–6.

40.

Brenneman Wilson EC, Gatti AA, Maly MR. A new technique to evaluate the impact of running on knee cartilage deformation by region. MAGMA. 2021;34(4):593–603.

41.

Heckelman LN, Smith WAR, Riofrio AD, Vinson EN, Collins AT, Gwynn OR, et al. Quantifying the biochemical state of knee cartilage in response to running using T1rho magnetic resonance imaging. Sci Rep. 2020;10(1):1870.

42.

Crowder HA, Mazzoli V, Black MS, Watkins LE, Kogan F, Hargreaves BA, et al. Characterizing the transient response of knee cartilage to running: decreases in cartilage T2 of female recreational runners. J Orthop Res. 2021. https://doi.org/10.1002/jor.24994.

43.

Bratke G, Bruggemann GP, Willwacher S, Mählich D, Trudeau MB, Rohr E, et al. Does footwear affect articular cartilage volume change after a prolonged run? Scand J Med Sci Sport. 2020;30:332–8.

44.

Karanfil Y, Babayeva N, Dönmez G, Diren HB, Eryılmaz M, Doral MN, et al. Thirty minutes of running exercise decreases T2 signal intensity but not thickness of the knee joint cartilage: a 3.0-T magnetic resonance imaging study. Cartilage. 2018;10:444–50.

45.

Chen M, Qiu L, Shen S, Wang F, Zhang J, Zhang C, et al. The influences of walking, running and stair activity on knee articular cartilage: quantitative MRI using T1 rho and T2 mapping. PLoS One. 2017;12:1–15.

46.

Gatti AA, Noseworthy MD, Stratford PW, Brenneman EC, Totterman S, Tamez-Peña J, et al. Acute changes in knee cartilage transverse relaxation time after running and bicycling. J Biomech. 2017;53:171–7.

47.

Behzadi C, Welsch GH, Laqmani A, Henes FO, Kaul MG, Schoen G, et al. The immediate effect of long-distance running on T2 and T2* relaxation times of articular cartilage of the knee in young healthy adults at 3.0 T MR imaging. Br J Radiol. 2016;89:1–7.

48.

Subburaj K, Kumar D, Souza RB, Alizai H, Li X, Link TM, et al. The acute effect of running on knee articular cartilage and meniscus magnetic resonance relaxation times in young healthy adults. Am J Sports Med. 2012;40:2134–41.

49.

Cha JG, Lee JC, Kim HJ, Han JK, Lee EH, Kim YD, et al. Comparison of MRI T2 relaxation changes of knee articular cartilage before and after running between young and old amateur athletes. Korean J Radiol. 2012;13:594–601.

50.

Wang Z, Ai S, Tian F, Liow MHL, Wang S, Zhao J, et al. Higher body mass index is associated with biochemical changes in knee articular cartilage after marathon running: a quantitative T2-relaxation MRI study. Orthop J Sport Med. 2020;8(8):2325967120943874.

51.

Zhang P, Yu B, Zhang R, Chen X, Shao S, Zeng Y, et al. Longitudinal study of the morphological and T2* changes of knee cartilages of marathon runners using prototype software for automatic cartilage segmentation. Br J Radiol. 2021;94(1119):20200833.

52.

Krampla W, Mayrhofer R, Malcher J, Kristen KH, Urban M, Hruby W. MR imaging of the knee in marathon runners before and after competition. Skelet Radiol. 2001;30:72–6.

53.

Kyung Kim H, Mirjalili A, Doyle A, Fernandez J. Tibiotalar cartilage stress corresponds to T2 mapping: application to barefoot running in novice and marathon-experienced runners. Comput Methods Biomech Biomed Eng. 2019;22:1153–61.

54.

Kyung Kim H, Fernandez J, Logan C, Tarr GP, Doyle A, Mirjalili SA. T2 relaxation time measurements in tibiotalar cartilage after barefoot running and its relationship to ankle biomechanics. J Biomech. 2019;90:103–12.

55.

Nathani A, Gold GE, Monu U, Hargreaves B, Finlay AK, Rubin EB, et al. Does injection of hyaluronic acid protect against early cartilage injury seen after marathon running? A randomized controlled trial utilizing high-field magnetic resonance imaging. Am J Sports Med. 2019;47:3414–22.

56.

Hesper T, Miese FR, Hosalkar HS, Behringer M, Zilkens C, Antoch G, et al. Quantitative T2* assessment of knee joint cartilage after running a marathon. Eur J Radiol. 2015;84:284–9.

57.

Luke AC, Stehling C, Stahl R, Xiaojuan L, Kay T, Takamoto S, et al. High-field magnetic resonance imaging assessment of articular cartilage before and after marathon running: does long-distance running lead to cartilage damage? Am J Sports Med. 2010;38:2273–80.

58.

Stahl R, Luke A, Li X, Carballido-Gamio J, Ma BC, Majumdar S, et al. T1rho, T2 and focal knee cartilage abnormalities in physically active and sedentary healthy subjects versus early OA patients: a 3.0-Tesla MRI study. Eur Radiol. 2009;19:132–43.

59.

Hagemann GJ, Rijke AM, Corr PD. Do knees survive the Comrades Marathon? S Afr Med J. 2008;98:873–6.

60.

Schütz UH-W, Brix M, Kiess A, Goed S, Friedrich K, Weber M, et al. Femoropatellar joint reaction detected during a 4486 KM ultramarathon with mobile MRI. Int J Sports Med. 2020;41:398–411.

61.

Schütz UHW, Ellermann J, Schoss D, Wiedelbach H, Beer M, Billich C. Biochemical cartilage alteration and unexpected signal recovery in T2* mapping observed in ankle joints with mobile MRI during a transcontinental multistage footrace over 4486 km. Osteoarthr Cartil. 2014;22:1840–50.

62.

Schütz UHW, Billich C, Schoss D, Beer M, Ellermann J. MRI cartilage assessment of the subtalar and midtarsal joints during a transcontinental ultramarathon: new insights into human locomotion. Int J Sports Med. 2018;39:37–49.

63.

Horga LM, Henckel J, Fotiadou A, Hirschmann AC, Di Laura A, Torlasco C, et al. Is the immediate effect of marathon running on novice runners' knee joints sustained within 6 months after the run? A follow-up 3.0 T MRI study. Skelet Radiol. 2020;49:1221–9.

64.

Horga LM, Henckel J, Fotiadou A, Hirschmann A, Torlasco C, Di Laura A, et al. Can marathon running improve knee damage of middle-aged adults? A prospective cohort study. BMJ Open Sport Exerc Med. 2019;5:1–8.

65.

Qiu L, Perez J, Emerson C, Barrera CM, Zhong J, Nham F, et al. Biochemical changes in knee articular cartilage of novice half-marathon runners. J Int Med Res. 2019;47:5671–9.

66.

Lu LY, Wang YB. Effects of exercises on knee cartilage volume in young healthy adults: a randomized controlled trial. Chin Med J (Engl). 2014;127:2316–21.

67.

Hinterwimmer S, Feucht MJ, Steinbrech C, Graichen H, von Eisenhart-Rothe R. The effect of a 6-month training program followed by a marathon run on knee joint cartilage volume and thickness in marathon beginners. Knee Surg Sport Traumatol Arthrosc. 2014;22:1353–9.

68.

van Ginckel A, Baelde N, Almqvist KF, Roosen P, Mcnair P, Witvrouw E. Functional adaptation of knee cartilage in asymptomatic female novice runners compared to sedentary controls. A longitudinal analysis using delayed Gadolinium Enhanced Magnetic Resonance Imaging of Cartilage (dGEMRIC). Osteoarthr Cartil. 2010;18:1564–9.

69.

Krampla WW, Newrkla SP, Kroener AH, Hruby WF. Changes on magnetic resonance tomography in the knee joints of marathon runners: a 10-year longitudinal study. Skelet Radiol. 2008;37:619–26.

70.

Brenneman EC, Gatti AA, Maly MR. Influence of sex on tibiofemoral cartilage response to running in young healthy men and women. Osteoarthr Cartil. 2019;27:S340.

71.

Niehoff A, Kersting UG, Helling S, Dargel J, Maurer J, Thevis M, et al. Different mechanical loading protocols influence serum cartilage oligomeric matrix protein levels in young healthy humans. Eur J Appl Physiol. 2010;110:651–7.

72.

Stahl R, Luke A, Ma CB, Krug R, Steinbach L, Majumdar S, et al. Prevalence of pathologic findings in asymptomatic knees of marathon runners before and after a competition in comparison with physically active subjects—a 3.0 T magnetic resonance imaging study. Skelet Radiol. 2008;37:627–38.

73.

Hagemann GJ, Rijke AM, Corr PD. Do knees survive the Comrades Marathon. S Afr Med J. 2008;98:873–6.

74.

Lai WM, Mow VC, Roth V. Effects of nonlinear strain-dependent permeability and rate of compression on the stress behavior of articular cartilage. J Biomech Eng. 1981;103:61–6.

75.

Muir H. The chondrocyte, architect of cartilage. Biomechanics, structure, function and molecular biology of cartilage matrix molecules. BioEssays. 1995;17:1039–48.

76.

Sophia Fox AJ, Bedi A, Rodeo SA. The basic science of articular cartilage: Structure, composition, and function. Sports Health. 2009;1:461–8.

77.

Burstein D, Bashir A, Gray ML. MRI techniques in early stages of cartilage disease. Investig Radiol. 2000;35:622–38.

78.

Binks DA, Hodgson RJ, Ries ME, Foster RJ, Smye W, McGonagle D, et al. Quantitative parametric MRI of articular cartilage: a review of progress and open challenges. Br J Radiol. 2013;86(1023):20120163.

79.

Treppo S, Koepp H, Quan EC, Cole AA, Kuettner KE, Grodzinsky AJ. Comparison of biomechanical and biochemical properties of cartilage from human knee and ankle pairs. J Orthop Res. 2000;18:739–48.

80.

Esculier JF, Krowchuk NM, Li LC, Taunton JE, Hunt MA. What are the perceptions about running and knee joint health among the public and healthcare practitioners in Canada? PLoS One. 2018;13(10):e0204872.

81.

Alentorn-Geli E, Samuelsson K, Musahl V, Green CL, Bhandari M, Karlsson J. The association of recreational and competitive running with hip and knee osteoarthritis: a systematic review and meta-analysis. J Orthop Sports Phys Ther. 2017;47:373–90.

82.

Chakravarty EF, Hubert HB, Lingala VB, Zatarain E, Fries JF. Long distance running and knee osteoarthritis. A prospective study. Am J Prev Med. 2008;35:133–8.
Ethics declarations
Funding
Salary support was provided by the Canadian Institutes of Health Research (JMC, JFE, MAH) and the Michael Smith Foundation for Health Research (MAH).
Conflict of interests
Michaela Khan, James O'Donovan, Jesse Charlton, Jean-Sébastien Roy, Michael Hunt, and Jean-Francois Esculier declare they have no competing interests.
Ethics approval and consent to participate
Not applicable.
Consent for publication
Not applicable.
Availability of data and material
The datasets generated and/or analysed during the current study are available from the corresponding author on reasonable request.
Author contributions
JSR and JFE designed the study. MCMK, JOD, JMC, JSR and JFE performed the literature search, critical appraisal, and data extraction, and MCMK, JMC, MAH and JFE performed the data analyses. The first draft was prepared by MCMK, JMC, MAH and JFE. All co-authors provided feedback and approved the final manuscript.
Supplementary Information
Below is the link to the electronic supplementary material.
About this article
Cite this article
Khan, M.C.M., O'Donovan, J., Charlton, J.M. et al. The Influence of Running on Lower Limb Cartilage: A Systematic Review and Meta-analysis. Sports Med (2021). https://doi.org/10.1007/s40279-021-01533-7