Abstract
Background
Trail running is characterised by large elevation gains/losses and uneven varying running surfaces. Limited information is available on injury and illness among trail runners to help guide injury and illness prevention strategies.
Objective
The primary aim of this review was to describe the epidemiology of injury and illness among trail runners.
Methods
Eight electronic databases were systematically searched (MEDLINE Ovid, PubMed, Scopus, SportsDiscus, CINAHL, Health Source: Nursing/Academic, Health Source: Consumer Ed., and Cochrane) from inception to November 2020. The search was conducted according to the PRISMA statement and the study was registered on PROSPERO international prospective register of systematic reviews (CRD42019135933). Full-text English and French studies that investigated injury and/or illness among trail runners participating in training/racing were included. The main outcome measurements included: trail running injury (incidence, prevalence, anatomical site, tissue type, pathology-type/specific diagnosis, severity), and illness (incidence, prevalence, symptoms, specific diagnosis, organ system, severity). The methodological quality of the included studies was assessed using an adapted Downs and Black assessment tool.
Results
Sixteen studies with 8644 participants were included. Thirteen studies investigated race-related injury and/or illness and three studies included training-related injuries. The overall incidence range was 1.6–4285.0 injuries per 1000 h of running and 65.0–6676.6 illnesses per 1000 h of running. The foot was the most common anatomical site of trail running injury followed by the knee, lower leg, thigh, and ankle. Skin lacerations/abrasions were the most common injury diagnoses followed by skin blisters, muscle strains, muscle cramping, and ligament sprains. The most common trail running illnesses reported related to the gastro-intestinal tract (GIT), followed by the metabolic, and cardiovascular systems. Symptoms of nausea and vomiting related to GIT distress and dehydration were commonly reported.
Conclusion
Current trail running literature consists mainly of injury and illness outcomes specifically in relation to single-day race participation events. Limited evidence is available on training-related injury and illness in trail running. Our review showed that injury and illness are common among trail runners, but certain studies included in this review only focused on dermatological injuries (e.g. large number of feet blisters) and GIT symptoms. Specific areas for future research were identified that could improve the management of trail running injury and illness.
Access options
Buy single article
Instant access to the full article PDF.
USD 49.95
Price excludes VAT (USA)
Tax calculation will be finalised during checkout.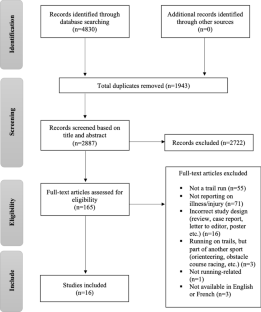 References
Johnston N, Macridis S. How do we get more people moving? Examining the many great benefits of physical activity. WellSpring. 2019;30(8):1–5.

Lee D-C, Pate RR, Lavie CJ, Sui X, Church TS, Blair SN. Leisure-time running reduces all-cause and cardiovascular mortality risk. J Am Coll Cardiol. 2014;64(5):472–81. https://doi.org/10.1016/j.jacc.2014.04.058.

Absil H, Baudet L, Robert A, Lysy PA. Benefits of physical activity in children and adolescents with type 1 diabetes: a systematic review. Diabetes Res Clin Pract. 2019;156:107810. https://doi.org/10.1016/j.diabres.2019.107810.

Lee D-C, Brellenthin AG, Thompson PD, Sui X, Lee IM, Lavie CJ. Running as a key lifestyle medicine for longevity. Prog Cardiovasc Dis. 2017;60(1):45–55. https://doi.org/10.1016/j.pcad.2017.03.005.

van der Worp MP, ten Haaf DSM, van Cingel R, de Wijer A, Nijhuis-van der Sanden MWG, Staal JB. Injuries in runners; a systematic review on risk factors and sex differences. PLoS ONE. 2015;10(2):1–18. https://doi.org/10.1371/journal.pone.0114937.

Thompson Coon J, Boddy K, Stein K, Whear R, Barton J, Depledge MH. Does participating in physical activity in outdoor natural environments have a greater effect on physical and mental wellbeing than physical activity indoors? A systematic review. Environ Sci Technol. 2011;45(5):1761–72. https://doi.org/10.1021/es102947t.

Hoffman MD, Ong JC, Wang G. Historical analysis of participation in 161 km ultramarathons in North America. Int J Hist Sport. 2010;27(11):1877–91. https://doi.org/10.1080/09523367.2010.494385.

Vernillo C, Savoldelli A, La Torre A, Skafidas S, Bortolan L, Schena F. Injury and . nt J Sports Med. 2016;37(7):565–9.

Hespanhol Junior L, van Mechelen W, Verhagen E. Health and economic burden of running-related injuries in dutch trailrunners: a prospective cohort study. Sports Med. 2017;47(2):367–77.

Van Gent RN, Siem D, Van Middelkoop M, Van Os AG, Bierma-Zeinstra SMA, Koes BW. Incidence and determinants of lower extremity running injuries in long distance runners: a systematic review. Br J Sports Med. 2007;41(8):469–80. https://doi.org/10.1136/bjsm.2006.033548.

Laskowski-Jones L, Caudell MJ, Hawkins SC, Jones LJ, Dymond CA, Cushing T, et al. Extreme event medicine: considerations for the organisation of out-of-hospital care during obstacle, adventure and endurance competitions. Emerg Med J. 2017;34(10):680–5. https://doi.org/10.1136/emermed-2017-206695.

Hoffman M, Pasternak A, Rogers I, Khodaee M, Hill J, Townes D, et al. Medical services at ultra-endurance foot races in remote environments: medical issues and consensus guidelines. Sports Med. 2014;44(8):1055–69.

Young SJ, Keiper MC, Fried G, Seidler T, Eickhoff-Shemek JM. A Muddied industry: growth, injuries, and legal issues associated with mud runs—Part I. ACSMs Health Fit J. 2014;18(3):31–4. https://doi.org/10.1249/FIT.0000000000000037.

Ceyssens L, Vanelderen R, Barton C, Malliaras P, Dingenen B. Biomechanical risk factors associated with running-related injuries: a systematic review. Sports Med. 2019;49(7):1095–115. https://doi.org/10.1007/s40279-019-01110-z.

Gijon-Nogueron G, Fernandez-Villarejo M. Risk factors and protective factors for lower-extremity running injuries: a systematic review. J Am Podiatr Med Assoc. 2015;105(6):532–40. https://doi.org/10.7547/14-069.1.

Lopes AD, Hespanhol Júnior LC, Yeung SS, Costa LO. What are the main running-related musculoskeletal injuries? A systematic review. Sports Med. 2012;42(10):891–905. https://doi.org/10.1007/BF03262301

Nielsen RO, Buist I, Srensen H, Lind M, Rasmussen S. Training errors and running related injuries: a systematic review. Int J Sports Phys Ther. 2012;7(1):58–75.

Tonoli DC, Cumps E, Aerts I, Verhagen E, Meeusen R. Incidence, risk factors and prevention of running related injuries in long-distance running: a systematic review. Geneeskd Sport. 2010;43(5):12–8.

Mocanu P. Risks and benefits in practicing trail running. Bull Transilv Univ Brasov Ser IX Sci Human Kinet. 2015;8(2):65–80.

Mocanu P, Balint L. Particular aspects of trail running and the somato—functional and motric profile of participants. Ovidius Univ Ann Ser Phys Educ Sport/Sci Mov Health. 2015;15(2):455–61.

Scheer BV, Murray A. Al Andalus Ultra Trail: an observation of medical interventions during a 219-km, 5-day ultramarathon stage race. Clin J Sport Med. 2011;21(5):444–6. https://doi.org/10.1097/JSM.0b013e318225b0df.

McGowan V, Hoffman MD. Characterization of medical care at the 161-km Western States Endurance Run. Wilderness Environ Med. 2015;26(1):29–35. https://doi.org/10.1016/j.wem.2014.06.015.

Easthope C, Hausswirth C, Louis J, Lepers R, Vercruyssen F, Brisswalter J, et al. Effects of a trail running competition on muscular performance and efficiency in well-trained young and master athletes. Eur J Appl Physiol. 2010;110(6):1107–16. https://doi.org/10.1007/s00421-010-1597-1.

Krabak BJ, Waite B, Schiff MA. Study of injury and illness rates in multiday ultramarathon runners. Med Sci Sports Exerc. 2011;43(12):2314–20.

Drew M, Finch C. The relationship between training load and injury, illness and soreness: a systematic and literature review. Sports Med. 2016;46(6):861–83. https://doi.org/10.1007/s40279-015-0459-8.

Gordon L, Schwellnus M, Swanevelder S, Jordaan E, Derman W. Recent acute prerace systemic illness in runners increases the risk of not finishing the race: SAFER study V. Br J Sports Med. 2017;51(17):1295–300.

Moher D, Liberati A, Tetzlaff J, Altman DG, Group atP. Preferred reporting items for systematic reviews and meta-analyses: the PRISMA statement. Ann Intern Med. 2009;151(4):264–9. https://doi.org/10.7326/0003-4819-151-4-200908180-00135

Schwellnus M, Kipps C, Roberts WO, Drezner JA, D'Hemecourt P, Troyanos C, et al. Medical encounters (including injury and illness) at mass community-based endurance sports events: an international consensus statement on definitions and methods of data recording and reporting. Br J Sports Med. 2019. https://doi.org/10.1136/bjsports-2018-100092.

Bahr R, Clarsen B, Derman W, Dvorak J, Emery CA, Finch CF, et al. International Olympic Committee consensus statement: methods for recording and reporting of epidemiological data on injury and illness in sport 2020 (including STROBE Extension for Sport Injury and Illness Surveillance (STROBE-SIIS)). Br J Sports Med. 2020;54(7):372–89. https://doi.org/10.1136/bjsports-2019-101969.

ITRA: International trail tunning association: historical. http://www.i-tra.org/page/257/Historical.html (2019). Accessed 15 Mar 2019.

Howick J, Phillips B, Ball C, Sackett D, Badenoch D, Straus S, et al.: Oxford Centre for Evidence-based Medicine – Levels of Evidence (March 2009). https://www.cebm.net/2009/06/oxford-centre-evidence-based-medicine-levels-evidence-march-2009/ (2009). Accessed 15 Jun 2019

Downs SH, Black N. The feasibility of creating a checklist for the assessment of the methodological quality both of randomised and non-randomised studies of health care interventions. J Epidemiol Community Health. 1998;52(6):377–84. https://doi.org/10.1136/jech.52.6.377.

Banfi G, Marinelli M, Bonini P, Gritti I, Roi GS. Pepsinogens and gastrointestinal symptoms in mountain marathon runners. Int J Sports Med. 1996;17(8):554–8. https://doi.org/10.1055/s-2007-972894.

Baska RS, Moses FM, Graeber G, Kearney G. Gastrointestinal bleeding during an ultramarathon. Dig Dis Sci. 1990;35(2):276–9. https://doi.org/10.1007/bf01536777.

Costa R, Snipe R, Camões-Costa V, Scheer V, Murray A. The impact of gastrointestinal symptoms and dermatological injuries on nutritional intake and hydration status during ultramarathon events. Sports Med Open. 2016;2(1):1–14. https://doi.org/10.1186/s40798-015-0041-9.

Graham SM, McKinley M, Chris CC, Westbury T, Baker JS, Kilgore L, et al. Injury occurrence and mood states during a desert ultramarathon. Clin J Sport Med. 2012;22(6):462–6. https://doi.org/10.1097/JSM.0b013e3182694734.

Hoffman MD, Stuempfle KJ. Muscle cramping during a 161-km Ultramarathon: comparison of characteristics of those with and without cramping. Sports Med Open. 2015;1(1):24

Stuempfle KJ, Hoffman MD. Gastrointestinal distress is common during a 161-km ultramarathon. J Sports Sci. 2015;33(17):1814–21.

Stuempfle KJ, Hoffman MD, Hew-Butler T. Association of gastrointestinal distress in ultramarathoners with race diet. Int J Sport Nutr Exerc Metab. 2013;23(2):103–9.

Stuempfle KJ, Valentino T, Hew-Butler T, Hecht FM, Hoffman MD. Nausea is associated with endotoxemia during a 161-km ultramarathon. J Sports Sci. 2016;34(17):1662–8.

González-Lázaro J, Arribas-Cubero HF, Rodríguez-Marroyo JA. Muskuloskeletal injuries in mountain running races: a 5 seasons study. Injury. 2020. https://doi.org/10.1016/j.injury.2020.10.045.

Malliaropoulos N, Mertyri D, Tsaklis P. Prevalence of injury in ultra trail running. Human Mov. 2015;16(2):52–9.

Matos S, Ferreira da Silva BA, Clemente FM, Pereira J. Running-related injuries in Portuguese trail runners: a retrospective cohort study. J Sports Med Phys Fitness. 2020. https://doi.org/10.23736/s0022-4707.20.11304-5.

Clarsen B, Myklebust G, Bahr R. Development and validation of a new method for the registration of overuse injuries in sports injury epidemiology: the Oslo Sports Trauma Research Centre (OSTRC) Overuse Injury Questionnaire. Br J Sports Med. 2013;47(8):495–502.

Scheer V, Basset P, Giovanelli N, Vernillo G, Millet GP, Costa RJS. Defining off-road running: a position statement from the ultra sports science foundation. Int J Sports Med. 2020. https://doi.org/10.1055/a-1096-0980.

ITRA: International Trail Running Association: Historical. http://www.i-tra.org/page/257/Historical.html (2020). Accessed 02 Apr 2020

Hoffman MD. Etiological foundation for practical strategies to prevent exercise-related foot blisters. Curr Sports Med Rep. 2016;15(5):330–5.

Willwacher S, Sanno M, Brüggemann G-P. Fatigue matters: an intense 10 km run alters frontal and transverse plane joint kinematics in competitive and recreational adult runners. Gait Posture. 2020;76:277–83.

Briani RV, Pazzinatto MF, Waiteman MC, de Oliveira SD, de Azevedo FM. Association between increase in vertical ground reaction force loading rate and pain level in women with patellofemoral pain after a patellofemoral joint loading protocol. Knee. 2018;25(3):398–405. https://doi.org/10.1016/j.knee.2018.03.009.

Petersen J, SØRensen H, Nielsen RØ. Cumulative loads increase at the knee joint with slow-speed running compared to faster running: a biomechanical study. J Orthop Sports Phys Ther. 2015;45(4):316–22

Bittencourt NFN, Meeuwisse WH, Mendonça LD, Nettel-Aguirre A, Ocarino JM, Fonseca ST. Complex systems approach for sports injuries: moving from risk factor identification to injury pattern recognition-narrative review and new concept. Br J Sports Med. 2016;50(21):1309–14. https://doi.org/10.1136/bjsports-2015-095850.

Giandolini M, Horvais N, Rossi J, Millet GY, Morin JB, Samozino P. Acute and delayed peripheral and central neuromuscular alterations induced by a short and intense downhill trail run. Scand J Med Sci Sports. 2016;26(11):1321–33.

Giandolini M, Horvais N, Rossi J, Millet GY, Morin JB, Samozino P. Effects of the foot strike pattern on muscle activity and neuromuscular fatigue in downhill trail running. Scand J Med Sci Sports. 2017;27(8):809–19.

De Oliveira E, Burini R, Jeukendrup A. Gastrointestinal complaints during exercise: prevalence, etiology, and nutritional recommendations. Sports Med. 2014;44:79–85. https://doi.org/10.1007/s40279-014-0153-2.

Schwellnus MP. Cause of exercise associated muscle cramps (EAMC): altered neuromuscular control, dehydration or electrolyte depletion? Br J Sports Med. 2009;43(6):401–8. https://doi.org/10.1136/bjsm.2008.050401.

Li J, Lu Y, Huang K, Wang C, Lu J, Zhang C, et al. Chinese response to allergy and asthma in Olympic athletes. Allergy. 2008;63(8):962–8. https://doi.org/10.1111/j.1398-9995.2008.01816.x.

Althubaiti A. Information bias in health research: definition, pitfalls, and adjustment methods. J Multidiscip Healthc. 2016;9:211–7. https://doi.org/10.2147/JMDH.S104807.

Roebuck GS, Urquhart DM, Knox L, Fitzgerald PB, Cicuttini FM, Lee S, et al. Psychological factors associated with Ultramarathon Runners' supranormal pain tolerance: a pilot study. J Pain. 2018;19(12):1406–15. https://doi.org/10.1016/j.jpain.2018.06.003.

Hoffman MD, Lee J, Zhao H, Tsodikov A. Pain perception after running a 100-mile ultramarathon. Arch Phys Med Rehabil. 2007;88(8):1042–8. https://doi.org/10.1016/j.apmr.2007.05.004.
Ethics declarations
Conflict of interests
The authors declare that there are no conflict of interests.
Funding
None.
Ethics approval
Not applicable.
Consent to participate
Not applicable.
Consent for publication
Not applicable.
Availability of data and material
No additional data are available.
Code availability
Not applicable.
Supplementary Information
Below is the link to the electronic supplementary material.
About this article
Cite this article
Viljoen, C.T., Janse van Rensburg, D.C., Verhagen, E. et al. Epidemiology of Injury and Illness Among Trail Runners: A Systematic Review. Sports Med 51, 917–943 (2021). https://doi.org/10.1007/s40279-020-01418-1
Accepted:

Published:

Issue Date:

DOI: https://doi.org/10.1007/s40279-020-01418-1