Abstract
Background
Recent literature has identified that the vestibular system is often involved following a sport-related concussion. Furthermore, the consequences of vestibular and ocular/oculomotor involvement have been explored and identified as potential predictors for prolonged recovery. Although vestibular and ocular/oculomotor involvement is common following head injury, the clinical assessment strategies for vestibular function are less commonly practiced in the sports medicine setting and have limited research. Therefore, despite the suspected link between vestibular consequences of concussion and prolonged recovery time, there is limited understanding on how these consequences affect outcomes following concussion and how to properly assess these functions.
Objectives
The objectives of this scoping review were to: (1) outline the current clinical assessment strategies for vestibular and ocular/oculomotor function in sports medicine to identify the best strategies for assessment, and (2) investigate the evidence regarding the influence of vestibular and ocular/oculomotor function on outcomes for patients with a sport-related concussion.
Methods
Two separate and independent reviews of the current literature were conducted to provide evidence for each specified objective. Studies for potential inclusion were identified through electronic database searches. Inclusion criteria for each objective were used to identify the most effective studies and inquiries to address the outlined objectives.
Results
The identified and included studies provided evidence-based information regarding the current assessment strategies as well as outcomes following concussion.
Conclusion
Despite agreement among studies, there was limited evidence to support each aim, identifying a need for further exploration into these objectives.
Access options
Buy single article
Instant access to the full article PDF.
USD 39.95
Price excludes VAT (USA)
Tax calculation will be finalised during checkout.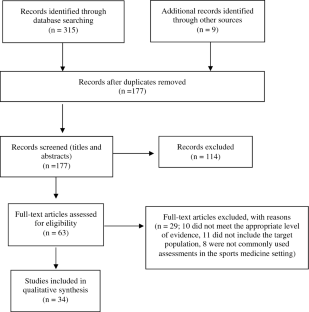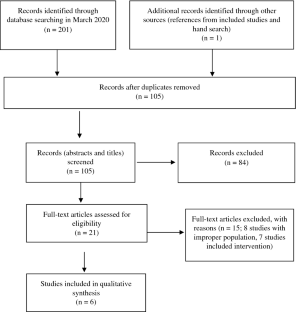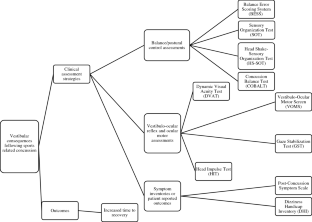 References
Corwin DJ, Wiebe DJ, Zonfrillo MR, Grady MF, Robinson RL, Goodman AM, et al. Vestibular deficits following youth concussion. J Pediatr. 2015;166(5):1221–5.

Langlois J, Rutland-Brown W, Wald M. The epidemiology and impact of traumatic brain injury: a brief overview. J Head Trauma Rehabil. 2006;21(5):375–8.

Daneshvar DH, Nowinski CJ, McKee AC, Cantu RC. The epidemiology of sport-related concussion. Clin Sport Med. 2011;30(1):1–vii.

Bryan MA, Rowhani-Rahbar A, Comstock RD, Rivara F. Sports-and recreation-related concussions in US youth. Pediatrics. 2016;138(1):e20154635.

Collins M, Kontos A, Reynolds E, Murawski C, Fu F. A comprehensive, targeted approach to the clinical care of athletes following sport-related concussion. Knee Surg Sports Traumatol Arthrosc. 2014;22(2):235–46.

Mucha A, Collins MW, Elbin R, Furman JM, Troutman-Enseki C, DeWolf RM, et al. A brief vestibular/ocular motor screening (VOMS) assessment to evaluate concussions: preliminary findings. Am J Sports Med. 2014;42(10):2479–86.

Guskiewicz KM, Ross SE, Marshall SW. Postural stability and neuropsychological deficits after concussion in collegiate athletes. J Athl Train. 2001;36(3):263.

Valovich McLeod T, Hale T. Vestibular and balance issues following sport-related concussion. Brain Inj. 2015;29(2):175–84.

Broglio SP, Collins MW, Williams RM, Mucha A, Kontos AP. Current and emerging rehabilitation for concussion: a review of the evidence. Clin Sports Med. 2015;34(2):213–31.

McCrory P, Meeuwisse W, Dvorak J, Aubry M, Bailes J, Broglio S, et al. Consensus statement on concussion in sport—the 5th international conference on concussion in sport held in Berlin, October 2016. Br J Sports Med. 2017;51:838–47.

Gottshall K, Drake A, Gray N, McDonald E, Hoffer ME. Objective vestibular tests as outcome measures in head injury patients. Laryngoscope. 2003;113(10):1746–50.

Guskiewicz KM. Balance assessment in the management of sport-related concussion. Clin Sports Med. 2011;30(1):89–102.

Zhou G, Brodsky JR. Objective vestibular testing of children with dizziness and balance complaints following sports-related concussions. Otolaryngol Head Neck Surg. 2015;152(6):1133–9.

Guskiewicz KM, Bruce SL, Cantu RC, Ferrara MS, Kelly JP, McCrea M, et al. National athletic trainers' association position statement: management of sport-related concussion. J Athl Train. 2004;39(3):280–97.

Moher D, Shamseer L, Clarke M, Ghersi D, Liberati A, Petticrew M, et al. Preferred reporting items for systematic review and meta-analysis protocols (PRISMA-P) 2015 statement. Syst Rev. 2015;1(4):1.

Munn J, Sullivan SJ, Schneiders AG. Evidence of sensorimotor deficits in functional ankle instability: a systematic review with meta-analysis. J Sci Med Sport. 2010;13(1):2–12.

Group OLoEW. "The Oxford 2011 Levels of Evidence." Oxford Centre for Evidence-Based Medicine. 2011. http://www.cebm.net/index.aspx?o=5653. Accessed Feb 2020.

Anzalone AJ, Blueitt D, Case T, McGuffin T, Pollard K, Garrison JC, et al. A positive vestibular/ocular motor screening (VOMS) is associated with increased recovery time after sports-related concussion in youth and adolescent athletes. Am J Sports Med. 2017;45(2):474–9.

Lau B, Kontos A, Collins M, Mucha A, Lovell M. Which on-field signs/symptoms predict protracted recovery from sport-related concussion among high school football players? Am J Sports Med. 2011;39(11):2311–8.

Sufrinko AM, Marchetti GF, Cohen PE, Elbin R, Re V, Kontos AP. Using acute performance on a comprehensive neurocognitive, vestibular, and ocular motor assessment battery to predict recovery duration after sport-related concussions. Am J Sports Med. 2017;45(5):1187–94.

Sinnott AM, Elbin R, Collins MW, Reeves VL, Holland CL, Kontos AP. Persistent vestibular-ocular impairment following concussion in adolescents. J Sci Med Sport. 2019;22(12):1292–7.

Master CL, Master SR, Wiebe DJ, Storey EP, Lockyer JE, Podolak OE, et al. Vision and vestibular system dysfunction predicts prolonged concussion recovery in children. Clin J Sport Med. 2018;28(2):139–45.

McDevitt J, Appiah-Kubi K, Tierney R, Wright W. Vestibular and oculomotor assessments may increase accuracy of subacute concussion assessment. Int J Sports Med. 2016;37(09):738–47.

Alkathiry AA, Kontos AP, Furman JM, Whitney SL, Anson ER, Sparto PJ. Vestibulo-ocular reflex function in adolescents with sport-related concussion: preliminary results. Sports Health. 2019;11(6):479–85.

Gray M, Wilson J, Potter M, Provance A, Howell D. Female adolescents demonstrate greater oculomotor and vestibular dysfunction than male adolescents following concussion. Phys Ther Sport. 2020;2020(42):68–74.

Yorke AM, Smith L, Babcock M, Alsalaheen B. Validity and reliability of the vestibular/ocular motor screening and associations with common concussion screening tools. Sports Health. 2017;9(2):174–80.

McCrea M, Guskiewicz KM, Marshall SW, Barr W, Randolph C, Cantu RC, et al. Acute effects and recovery time following concussion in collegiate football players: the NCAA concussion study. JAMA. 2003;290(19):2556–63.

Nashner LM. Computerized dynamic posturography. In: Handbook of balance function testing. 1993. p. 208–307.

Kontos AP, Deitrick JM, Collins MW, Mucha A. Review of vestibular and oculomotor screening and concussion rehabilitation. J Athl Train. 2017;52(3):256–61.

Heick JD, Bay C, Dompier TP, Valovich McLeod TC. Relationships among common vision and vestibular tests in healthy recreational athletes. Int J Sports Phys Ther. 2017;12(4):581–91.

Christy JB, Cochrane GD, Almutairi A, Busettini C, Swanson MW, Weise KK. Peripheral vestibular and balance function in athletes with and without concussion. J Neurol Phys Ther. 2019;43(3):153–9.

Alsalaheen BA, Whitney SL, Marchetti GF, Furman JM, Kontos AP, Collins MW, et al. Relationship between cognitive assessment and balance measures in adolescents referred for vestibular physical therapy after concussion. Clin J Sport Med. 2016;26(1):46.

Peterson CL, Ferrara MS, Mrazik M, Piland S, Elliott R. Evaluation of neuropsychological domain scores and postural stability following cerebral concussion in sports. Clin J Sport Med. 2003;13(4):230–7.

Sosnoff JJ, Broglio SP, Shin S, Ferrara MS. Previous mild traumatic brain injury and postural-control dynamics. J Athl Train. 2011;46(1):85–91.

Mishra A, Davis S, Speers R, Shepard NT. Head shake computerized dynamic posturography in peripheral vestibular lesions. Am J Audiol. 2009;18(1):53–9.

Honaker JA, Converse CM, Shepard NT. Modified head shake computerized dynamic posturography. Am J Audiol. 2009;18(2):108–13.

Cripps AE, Livingston SC. The head shake sensory organization test (HS-SOT): normative data and correlation with dynamic visual acuity testing. J Sports Med Allied Health Sci. 2017;3(2):3.

Massingale SL, Alexander AD, Erickson SM, McQueary ES, Gerkin RD, Schodrof SB, et al. Assessing balance in an athletic population: normative data for the concussion balance test (COBALT©). Int J Athl Ther Train. 2018;23(3):96–100.

Massingale S, Alexander A, Erickson S, McQueary E, Gerkin R, Kisana H, et al. Comparison of uninjured and concussed adolescent athletes on the concussion balance test (COBALT). J Neurol Phys Ther. 2018;42(3):149–54.

Harmon KG, Drezner JA, Gammons M, Guskiewicz KM, Halstead M, Herring SA, et al. American Medical Society for Sports Medicine position statement: concussion in sport. Br J Sports Med. 2013;47(1):15–26.

Ward BK, Mohammad MT, Whitney SL, Marchetti GF, Furman JM. The reliability, stability, and concurrent validity of a test of gaze stabilization. J Vestib Res. 2010;20(5):363–72.

Kaufman DR, Puckett MJ, Smith MJ, Wilson KS, Cheema R, Landers MR. Test–retest reliability and responsiveness of gaze stability and dynamic visual acuity in high school and college football players. Phys Ther Sport. 2014;15(3):181–8.

Corwin DJ, Zonfrillo MR, Wiebe DJ, Master CL, Grady MF, Arbogast KB. Vestibular and oculomotor findings in neurologically-normal, non-concussed children. Brain Inj. 2018;32(6):794–9.

Dunlap PM, Mucha A, Smithnosky D, Whitney SL, Furman JM, Collins MW, et al. The gaze stabilization test following concussion. J Am Acad Audiol. 2018 [published online ahead of print, 2018 Nov 29].

Honaker JA, Criter RE, Patterson JN, Jones SM. Gaze stabilization test asymmetry score as an indicator of previous concussion in a cohort of collegiate football players. Clin J Sport Med. 2015;25(4):361–6.

Cheever KM, McDevitt J, Tierney R, Wright WG. Concussion recovery phase affects vestibular and oculomotor symptom provocation. Int J Sports Med. 2018;39(02):141–7.

Schneider KJ, Meeuwisse WH, Palacios-Derflingher L, Emery CA. Changes in measures of cervical spine function, vestibulo-ocular reflex, dynamic balance, and divided attention following sport-related concussion in elite youth ice hockey players. J Orthop Sports Phys Ther. 2018;48(12):974–81.

Marquez C, Lininger M, Raab S. Establishing normative change values in visual acuity loss during the dynamic visual acuity test. Int J Sports Phys Ther. 2017;12(2):227–32.

Herdman SJ, Tusa RJ, Blatt P, Suzuki A, Venuto PJ, Roberts D. Computerized dynamic visual acuity test in the assessment of vestibular deficits. Otol Neurotol. 1998;19(6):790–6.

Sufrinko AM, Kegel NE, Mucha A, Collins MW, Kontos AP. History of high motion sickness susceptibility predicts vestibular dysfunction following sport/recreation-related concussion. Clin J Sport Med. 2019;29(4):318–23.

Russell-Giller S, Toto D, Heitzman M, Naematullah M, Shumko J. Correlating the King-Devick test with vestibular/ocular motor screening in adolescent patients with concussion: a pilot study. Sports Health. 2018;10(4):334–9.

Sufrinko AM, Mucha A, Covassin T, Marchetti G, Elbin RJ, Collins MW, et al. Sex differences in vestibular/ocular and neurocognitive outcomes after sport-related concussion. Clin J Sport Med. 2017;27(2):133–8.

Elbin R, Kontos AP, Sufrinko A, McElroy M, Stephenson-Brown K, Mohler S, et al. Motion sickness susceptibility and baseline vestibular and ocular-motor performance in adolescent athletes. J Athl Train. 2019;54(9):939–44.

MacDougall H, Weber K, McGarvie L, Halmagyi G, Curthoys I. The video head impulse test: diagnostic accuracy in peripheral vestibulopathy. Neurology. 2009;73(14):1134–41.

Alshehri MM, Sparto PJ, Furman JM, Fedor S, Mucha A, Henry LC, et al. The usefulness of the video head impulse test in children and adults post-concussion. J Vestib Res. 2016;26(5–6):439–46.

Leung FT, Rahmann A, Mendis MD, Smith MMF, Sonsearay C, Choy NL, et al. Vestibulo-ocular dysfunction in adolescent rugby union players with and without a history of concussion. Musculoskelet Sci Pract. 2019;39:144–9.

Romano F, Bertolini G, Agostino D, Straumann D, Ramat S, Feddermann-Demont N. Functional head impulse test in professional athletes: sport-specific normative values and implication for sport-related concussion. Front Neurol. 2019;10:387.

Lempke LB, Schmidt JD, Lynall RC. Athletic trainers' concussion-assessment and concussion-management practices: an update. J Athl Train. 2020;55(1):17–26.

Lynall RC, Laudner KG, Mihalik JP, Stanek JM. Concussion-assessment and-management techniques used by athletic trainers. J Athl Train. 2013;48(6):844–50.

Kontos A, Elbin R, Schatz P, Covassin T, Henry L, Pardini J, et al. A revised factor structure for the post-concussion symptom scale: baseline and postconcussion factors. Am J Sports Med. 2012;40(10):2375–84.

Jacobson G, Newman C. The development of the dizziness handicap inventory. Arch Otolaryngol Head Neck Surg. 1990;116(4):424–7.

Alsalaheen BA, Mucha A, Morris LO, Whitney SL, Furman JM, Camiolo-Reddy CE, et al. Vestibular rehabilitation for dizziness and balance disorders after concussion. J Neurol Phys Ther. 2010;34(2):87–93.

Davis GA, Anderson V, Babl FE, Gioia GA, Giza CC, Meehan W, et al. What is the difference in concussion management in children as compared with adults? A systematic review. Br J Sports Med. 2017;51(12):949–57.

Ernst A, Basta D, Seidl RO, Todt I, Scherer H, Clarke A. Management of posttraumatic vertigo. Otolaryngol Head Neck Surg. 2005;132(4):554–8.

Park K, Ksiazek T, Olson B. Effectiveness of vestibular rehabilitation therapy for treatment of concussed adolescents with persistent symptoms of dizziness and imbalance. J Sport Rehabil. 2018;27(5):485–90.

Storey EP, Wiebe DJ, D'Alonzo BA, Nixon-Cave K, Jackson-Coty J, Goodman AM, et al. Vestibular rehabilitation is associated with visuovestibular improvement in pediatric concussion. J Neurol Phys Ther. 2018;42(3):134–41.

Alsalaheen B, Carender W, Grzesiak M, Munday C, Almeida A, Lorincz M, et al. Changes in vestibular/ocular-motor screen scores in adolescents treated with vestibular therapy after concussion. Pediatr Phys Ther. 2020;32(4):331–7.

Kelly KM, Kiderman A, Akhavan S, Quigley MR, Snell ED, Happ E, et al. Oculomotor, vestibular, and reaction time effects of sports-related concussion: video-oculography in assessing sports-related concussion. J Head Trauma Rehabil. 2019;34(3):176.

Murray NG, Ambati VP, Contreras MM, Salvatore AP, Reed-Jones RJ. Assessment of oculomotor control and balance post-concussion: a preliminary study for a novel approach to concussion management. Brain Inj. 2014;28(4):496–503.
Ethics declarations
Funding
No sources of funding were used to assist in the preparation of this article.
Conflicts of Interest
Carolina Quintana, Tamara Valovich McLeod, Anne Olson, Nick Heebner and Matthew Hoch declare that they have no conflicts of interest relevant to the content of this review.
Data Availability
The data reported in this manuscript were extracted from tables and figures within the cited manuscripts. Due to the nature of this scoping review, there are no underlying data to be made available.
Authorship Contributions
CQ wrote the first draft of the manuscript. TCVM, AO, NH, and MH revised the original manuscript and revisions. All authors read and approved the final manuscript.
About this article
Cite this article
Quintana, C.P., McLeod, T.C.V., Olson, A.D. et al. Vestibular and Ocular/Oculomotor Assessment Strategies and Outcomes Following Sports-Related Concussion: A Scoping Review. Sports Med 51, 737–757 (2021). https://doi.org/10.1007/s40279-020-01409-2
Accepted:

Published:

Issue Date:

DOI: https://doi.org/10.1007/s40279-020-01409-2