Abstract
As part of both training and active service, military members can be exposed to prolonged periods of sleep loss. Given the extent of physical and cognitive performances viewed as critical to successful military performance, such sleep disruption may present risk to health and performance. The primary aim of this narrative review was to investigate evidence on the effect of inadequate sleep on measures of aerobic capacity, anaerobic capacity, muscular strength and muscular endurance in military personnel. Sleep loss appears to have the greatest negative impact on aerobic capacity, muscular endurance and military-specific performance in military populations. The findings showed varied results for handgrip strength and anaerobic capacity, with sleep loss inducing a decrease in mean power of the upper body. In comparison to other measures of performance, lower-body muscular strength appeared to be resilient to sleep restriction. However, due to the limited evidence and inter-individual variability in results there is no clear consensus on the specific volume of sleep loss that induces significant or meaningful performance decrements. The difficulties of conducting well-designed and -controlled interventions in military populations are appreciated. However, due to the low quality of reporting and lack of control for confounders (i.e. physical activity, load carriage, prior sleep debt, motivation and energy intake) in the majority of studies, it is difficult to establish the relationship between sleep loss and physical performance in military populations.
This is a preview of subscription content, log in to check access.
Access options
Buy single article
Instant access to the full article PDF.
US$ 49.95
Price includes VAT for USA
Subscribe to journal
Immediate online access to all issues from 2019. Subscription will auto renew annually.
US$ 199
This is the net price. Taxes to be calculated in checkout.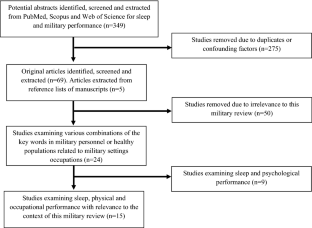 References
1.

National Sleep Foundation. Sleep in America poll: exercise and sleep. 2013. http://sleepfoundation.org/sites/default/files/RPT336%20Summary%20of%20Findings%2002%2020%202013.pdf.

2.

Vincent G, Aisbett B, Larsen B, et al. The impact of heat exposure and sleep restriction on firefighters' work performance and physiology during simulated wildfire suppression. Int J Environ Health Res. 2017;14(2):180.

3.

Fowler P, Duffield R, Howle K, et al. Effects of northbound long-haul international air travel on sleep quantity and subjective jet lag and wellness in professional Australian soccer players. Int J Sports Physiol Perform. 2015;10(5):648–54.

4.

Lieberman HR, Niro P, Tharion WJ, et al. Cognition during sustained operations: comparison of a laboratory simulation to field studies. Aviat Space Environ Med. 2006;77(9):929–35.

5.

Williams SG, Collen J, Wickwire E, et al. The impact of sleep on soldier performance. Curr Psychiatry Rep. 2014;16(8):459.

6.

Petersen S, Anderson G, Tipton M, et al. Towards best practice in physical and physiological employment standards. Appl Physiol Nutr Metab. 2016;41(6):47–62.

7.

Nindl B, Jaffin D, Dretsch M, et al. Human performance optimization metrics: consensus findings, gaps, and recommendations for future research. J Strength Cond Res. 2015;29(Suppl 11):S221–45.

8.

Halson S, Nichols J. When failure is not an option: creating excellence in sport through insights from special forces. Int J Sports Physiol Perform. 2015;10(2):137–8.

9.

Friedl K, Knapik J, Häkkinen K, et al. Perspectives on aerobic and strength influences on military physical readiness: report of an international military physiology roundtable. J Strength Cond Res. 2015;29(Suppl 11):S10–23.

10.

Kraemer WJ, Szivak TK. Strength training for the warfighter. J Strength Cond Res. 2012;26(Suppl 2):S107–18.

11.

Drain J, Sampson J, Billing D, et al. The effectiveness of basic military training to improve functional lifting strength in new recruits. J Strength Cond Res. 2015;29(Suppl 11):S173–7.

12.

Groeller H, Burley S, Orchard P, et al. How effective is initial military-specific training in the development of physical performance of soldiers? J Strength Cond Res. 2015;29(Suppl 11):S158–62.

13.

Fullagar H, Skorski S, Duffield R, et al. Sleep and athletic performance: the effects of sleep loss on exercise performance, and physiological and cognitive responses to exercise. Sports Med. 2015;45(2):161–86.

14.

Luke A, Lazaro R, Bergeron M, et al. Sports-related injuries in youth athletes: is overscheduling a risk factor? Clin J Sport Med. 2011;21(4):307–14.

15.

Nimmo M, Ekblom B. Fatigue and illness in athletes. J Sports Sci. 2007;25(Suppl 1):S93–102.

16.

Hausswirth C, Louis J, Aubry A, et al. Evidence of disturbed sleep and increased illness in overreached endurance athletes. Med Sci Sports Exerc. 2014;46(5):1036–45.

17.

Anglem N, Lucas S, Rose E, et al. Mood, illness and injury responses and recovery with adventure racing. Wilderness Environ Med. 2008;19(1):30–8.

18.

Harrison E, Glickman G, Beckerley S, et al. Self-reported sleep during US navy operations and the impact of deployment-related factors. Mil Med. 2017;182(3/4):189–94.

19.

Nindl B, Leone C, Tharion W, et al. Physical performance responses during 72 h of military operational stress. Med Sci Sports Exerc. 2002;34(11):1814–22.

20.

Burley S, Drain J, Sampson J, et al. Positive, limited and negative responders: the variability in physical fitness adaptation to basic military training. J Sci Med Sport. 2018;21(11):1168–72.

21.

Jones B, Bovee M, Harris J, et al. Intrinsic risk factors for exercise-related injuries among male and female army trainees. Am J Sports Med. 1993;21(5):705–10.

22.

Finestone A, Milgrom C, Evans R, et al. Overuse injuries in female infantry recruits during low-intensity basic training. Med Sci Sports Exerc. 2008;40(Suppl 11):S630–5.

23.

Piantanida N, Kanpik J, Brannen S, et al. Injuries during marine corps officer basic training. Mil Med. 2000;165(7):515–20.

24.

Smith T, Cashman T. The incidence of injury in light infantry soldiers. Mil Med. 2002;167(2):104–8.

25.

Nindl B, Williams T, Deuster P, et al. Strategies for optimizing military physical readiness and preventing musculoskeletal injuries in the 21st century. US Army Med Dep J. 2013:5–23.

26.

Halson S. Sleep in elite athletes and nutritional interventions to enhance sleep. Sports Med. 2014;44(Suppl 1):S13–23.

27.

Jay S, Aisbett B, Sprajcer M, et al. Sleeping at work: not all about location, location, location. Sleep Med Rev. 2015;19:59–66.

28.

Kecklund G, Axelsson J. Health consequences of shift work and insufficient sleep. BMJ. 2016;355:i5210.

29.

Capaldi V, Balkin T, Mysliwiec V. Optimizing sleep in the military: challenges and opportunities. Chest. 2018;155(1):215–26.

30.

Bero L, Grilli R, Grimshaw J, et al. Closing the gap between research and practice: an overview of systematic reviews of interventions to promote the implementation of research findings. BMJ. 1998;15(371):465–8.

31.

Shea B, Reeves B, Wells G, et al. AMSTAR 2: a critical appraisal tool for systematic reviews that include randomised or non-randomised studies of healthcare interventions, or both. BMJ. 2017;358:j4008.

32.

Foulis S, Sharp M, Redmond J, et al. US army physical demands study: development of the occupational physical assessment test for combat arms soldiers. J Sci Med Sport. 2017;20(Suppl 4):S74–8.

33.

Keramidas ME, Siebenmann C, Norrbrand L, et al. A brief pre-exercise nap may alleviate physical performance impairments induced by short-term sustained operations with partial sleep deprivation. Chronobiol Int. 2018;35(10):1464–70.

34.

Knapik J, Daniels W, Murphy M, et al. Physiological factors in infantry operations. Eur J Appl Physiol Occup Physiol. 1990;60(3):233–8.

35.

Tomczak A, Dabrowski J, Mikulski T. Psychomotor performance of Polish air force cadets after 36 hours of survival training. Ann Agric Environ Med. 2017;24(3):387–91.

36.

Vaara JP, Oksanen H, Kyröläinen H, et al. 60-hour sleep deprivation affects submaximal but not maximal physical performance. Front Physiol. 2018;9:1437.

37.

Keramidas ME, Gadefors M, Nilsson L-O, et al. Physiological and psychological determinants of whole-body endurance exercise following short-term sustained operations with partial sleep deprivation. Eur J Appl Physiol. 2018;118:1373–84.

38.

Rodgers CD, Paterson DH, Noble EG, et al. Sleep deprivation: effects on work capacity, self-paced walking, contractile properties and perceived exertion. Sleep. 1995;18(1):30–8.

39.

Guezennec C, Satabin P, Legrand H, et al. Physical performance and metabolic changes induced by combined prolonged exercise and different energy intakes in humans. Eur J Appl Physiol Occup Physiol. 1994;68(6):525–30.

40.

Rognum TO, Vartdal F, Rodahl K, et al. Physical and mental performance of soldiers on high-and low-energy diets during prolonged heavy exercise combined with sleep deprivation. Ergonomics. 1986;29(7):859–67.

41.

McEwen BS. Sleep deprivation as a neurobiologic and physiologic stressor: allostasis and allostatic load. Metabolism. 2006;55(Suppl 2):S20–3.

42.

Murphy MM, Knapik JJ, Vogel JA, et al. Relationship of anaerobic power capacity to performance during a 5-day sustained combat scenario. Natick: Army Research Institute of Enviromental Medicine; 1984.

43.

Legg S, Patton J. Effects of sustained manual work and partial sleep deprivation on muscular strength and endurance. Eur J Appl Physiol Occup Physiol. 1987;56(1):64–8.

44.

Patton JF, Vogel JA, Damokosh AI, et al. Effects of continuous military operations on physical fitness capacity and physical performance. Work Stress. 1989;3(1):69–77.

45.

Tomczak A. Coordination motor skills of military pilots subjected to survival training. J Strength Cond Res. 2015;29(9):2460–4.

46.

Iermakov S, Podrigalo LV, Jagiełło W. Hand-grip strength as an indicator for predicting the success in martial arts athletes. Arch Budo. 2016;12:179–86.

47.

Fleishman EA, Hempel WE Jr. A factor analysis of dexterity tests. Pers Psychol. 1954;7(1):15–32.

48.

Russell DM, Leiter L, Whitwell J, et al. Skeletal muscle function during hypocaloric diets and fasting: a comparison with standard nutritional assessment parameters. Am J Clin Nutr. 1983;37(1):133–8.

49.

Foo S, How J, Siew M, et al. Effects of sleep deprivation on naval seamen: II. Ann Acad Med Singap. 1994;23(5):676–9.

50.

Reilly T, Walsh T. Physiological, psychological and performance measures during an endurance record for five-a-side soccer. Br J Sports Med. 1981;15(2):122–8.

51.

Goh VH-H, Tong TY-Y, Lim C-L, et al. Effects of one night of sleep deprivation on hormone profiles and performance efficiency. Mil Med. 2001;166(5):427–31.

52.

How J, Foo S, Low E, et al. Effects of sleep deprivation on performance of naval seamen: I. Ann Acad Med Singap. 1994;23(5):669–75.

53.

Sargent C, Ferguson SA, Darwent D, et al. The influence of circadian phase and prior wake on neuromuscular function. Chronobiol Int. 2010;27(5):911–21.

54.

Bowers CA, Baker DP, Salas E. Measuring the importance of teamwork: the reliability and validity of job/task analysis indices for team-training design. Mil Psychol. 1994;6(4):206–14.

55.

Maladouangdock J. The role of strength and power in high intensity military relevant tasks [Master's thesis]. University of Connecticut. 2014;584. http://digitalcommons.uconn.edu/gs_theses/584. Accessed 9 May 2019.

56.

Haslam DR. The military performance of soldiers in sustained operations. Aviat Space Environ Med. 1984;55(3):216–21.

57.

Zhang N, Liu H-T. Effects of sleep deprivation on cognitive functions. Neurosci Bull. 2008;24(1):45–8.

58.

Opstad PK, Ekanger R, Nummestad M, et al. Performance, mood, and clinical symptoms in men exposed to prolonged, severe physical work and sleep deprivation. Aviat Space Environ Med. 1978;49:1065–73.

59.

Vrijkotte S, Roelands B, Meeusen R, et al. Sustained military operations and cognitive performance. Aerosp Med Hum Perform. 2016;87(8):718–27.

60.

Lieberman HR, Bathalon GP, Falco CM, et al. Severe decrements in cognition function and mood induced by sleep loss, heat, dehydration, and undernutrition during simulated combat. Biol Psychiatry. 2005;57(4):422–9.

61.

Lucas SJE, Anson JG, Palmer CD, et al. The impact of 100 hours of exercise and sleep deprivation on cognitive function and physical capacities. J Sports Sci. 2009;27(7):719–28.

62.

Gould KS, Hirvonen K, Koefoed VF, et al. Effects of 60 hours of total sleep deprivation on two methods of high-speed ship navigation. Ergonomics. 2009;52(12):1469–86.

63.

Myles WS, Romet TT. Self-paced work in sleep deprived subjects. Ergonomics. 1987;30(8):1175–84.

64.

McLellan TM, Kamimori GH, Voss DM, et al. Caffeine maintains vigilance and improves run times during night operations for special forces. Aviat Space Environ Med. 2005;76(7):647–54.

65.

McLellan TM, Kamimori GH, Voss DM, et al. Caffeine effects on physical and cognitive performance during sustained operations. Aviat Space Environ Med. 2007;78(9):871–7.

66.

Tharion WJ, Shukitt-Hale B, Lieberman HR. Caffeine effects on marksmanship during high-stress military training with 72 hour sleep deprivation. Aviat Space Environ Med. 2003;74(4):309–14.

67.

Moran DS, Hadad E, Berlin S, et al. Psychostimulants and military operations. Mil Med. 2007;172(4):383–7.
Ethics declarations
Funding
No sources of funding were used to assist in the preparation of this article.
Conflict of interest
Clementine Grandou, Lee Wallace, Hugh Fullagar, Rob Duffield and Simon Burley declare that they have no conflicts of interest relevant to the content of this review.
About this article
Cite this article
Grandou, C., Wallace, L., Fullagar, H.H.K. et al. The Effects of Sleep Loss on Military Physical Performance. Sports Med 49, 1159–1172 (2019). https://doi.org/10.1007/s40279-019-01123-8