Abstract
Background
Small-sided games have been suggested as a viable alternative to conventional endurance training to enhance endurance performance in youth soccer players. This has important implications for long-term athlete development because it suggests that players can increase aerobic endurance through activities that closely resemble their sport of choice.
Objectives
The objectives of this meta-analysis were to compare male youth soccer players' adaptability to small-sided games vs. conventional endurance training and to establish exercise prescription guidelines for this population.
Data Sources
The data sources utilised were Google Scholar, PubMed and Microsoft Academic.
Study Eligibility Criteria
Studies were eligible for inclusion if interventions were carried out in male soccer players (aged < 18 years) and compared the effects of small-sided games and conventional endurance training on aerobic endurance performance. We defined small-sided games as "modified [soccer] games played on reduced pitch areas, often using adapted rules and involving a smaller number of players than traditional games". We defined conventional endurance training as continuous running or extensive interval training consisting of work durations > 3 min.
Study Appraisal and Synthesis Methods
The inverse-variance random-effects model for meta-analyses was used because it allocates a proportionate weight to trials based on the size of their individual standard errors and facilitates analysis whilst accounting for heterogeneity across studies. Effect sizes were represented by the standardised mean difference and presented alongside 95% confidence intervals.
Results
Seven studies were included in this meta-analysis. Both modes of training were effective in increasing endurance performance. Within-mode effect sizes were both of moderate magnitude [small-sided games: 0.82 (95% confidence interval 0.05, 1.60), Z = 2.07 (p = 0.04); conventional endurance training: 0.89 (95% confidence interval 0.06, 1.72), Z = 2.10 (p = 0.04)]. There were only trivial differences [0.04 (95% confidence interval − 0.36, 0.43), Z = 0.18 (p = 0.86)] between the effects on aerobic endurance performance of small-sided games and conventional endurance training. Subgroup analyses showed mostly trivial differences between the training methods across key programming variables such as set duration (≥ or < 4 min) and recovery period between sets (≥ or < 3 min). Programmes that were longer than 8 weeks favoured small-sided games [effect size = 0.45 (95% confidence interval − 0.12, 1.02), Z = 1.54 (p = 0.12)], with the opposite being true for conventional endurance training [effect size = − 0.33 (95% confidence interval − 0.79, 0.14), Z = 1.39 (p = 0.16)]. Programmes with more than 4 sets per session favoured small-sided games [effect size = 0.53 (95% confidence interval − 0.52, 1.58), Z = 0.98 (p = 0.33)] with only a trivial difference between those with 4, or fewer, sets [effect size = − 0.13 (95% confidence interval − 0.52, 0.26), Z = 0.65 (p = 0.52)].
Conclusions
Small-sided games are as effective as conventional endurance training for increasing aerobic endurance performance in male youth soccer players. This is important for practitioners as it means that small-sided games can allow both endurance and skills training to be carried out simultaneously, thus providing a more efficient training stimulus. Small-sided games offer the same benefits as conventional endurance training with two sessions per week, with ≥ 4 sets of 4 min of activity, interspersed with recovery periods of 3 min, recommended in this population.
This is a preview of subscription content, log in to check access.
Access options
Buy single article
Instant access to the full article PDF.
US$ 49.95
Price includes VAT for USA
Subscribe to journal
Immediate online access to all issues from 2019. Subscription will auto renew annually.
US$ 199
This is the net price. Taxes to be calculated in checkout.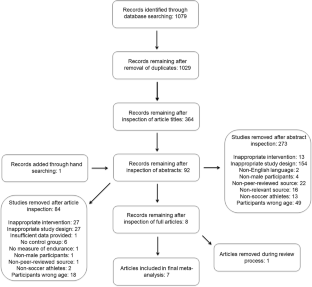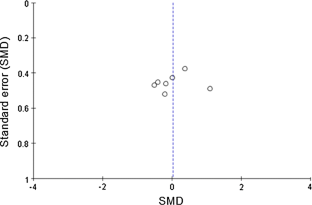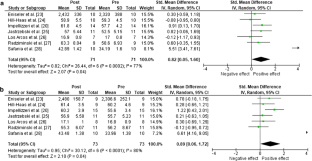 References
1.

Bangsbo J. The physiology of soccer: with special reference to intense intermittent exercise. Acta Physiol Scand Suppl. 1994;619:1–155.

2.

Chamari K, Hachana Y, Kaouech F, Jeddi R, Moussa-Chamari I, Wisloff U. Endurance training and testing with the ball in young elite soccer players. Br J Sports Med. 2005;39:24–8.

3.

McMillan K, Helgerud J, Macdonald R, Hoff J. Physiological adaptations to soccer specific endurance training in professional youth soccer players. Br J Sports Med. 2005;39:273–7.

4.

Iaia MF, Rampinini E, Bangsbo J. High-intensity training in football. Int J Sports Physiol Perform. 2009;4:291–306.

5.

Harrison CB, Gill ND, Kinugasa T, Kilding AE. Development of aerobic fitness in young team sport athletes. Sports Med. 2015;45:969–83.

6.

Russell M, Kingsley M. Influence of exercise on skill proficiency in soccer. Sports Med. 2011;41:523–39.

7.

Hammami A, Gabbett TJ, Slimani M, Bouhlel E. Does small-sided games training improve physical-fitness and specific skills for team sports? A systematic review with meta-analysis. J Sports Med Phys Fitness. 2018;58:1446–55.

8.

Moran J, Sandercock G, Ramirez-Campillo R, Clark C, Fernandes J, Drury B. A meta-analysis of resistance training in female youth: its effect on muscular strength, and shortcomings in the literature. Sports Med. 2018;48:1661–71.

9.

Castellano J, Casamichana D, Dellal A. Influence of game format and number of players on heart rate responses and physical demands in small-sided soccer games. J Strength Cond Res. 2013;27:1295–303.

10.

Casamichana D, Castellano J. Time-motion, heart rate, perceptual and motor behaviour demands in small-sides soccer games: effects of pitch size. J Sports Sci. 2010;28:1615–23.

11.

Hill-Haas SV, Coutts AJ, Dawson BT, Rowsell GJ. Time-motion characteristics and physiological responses of small-sided games in elite youth players: the influence of player number and rule changes. J Strength Cond Res. 2010;24:2149–56.

12.

Ngo JK, Tsui MC, Smith AW, Carling C, Chan GS, Wong DP. The effects of man-marking on work intensity in small-sided soccer games. J Sport Sci Med. 2012;11:109–14.

13.

Sanchez-Sanchez J, Ramirez-Campillo R, Carretero M, Martín V, Hernández D, Nakamura FY. Soccer small-sided games activities vary according to the interval regime and their order of presentation within the session. J Hum Kinet. 2018;62:167–75.

14.

Sanchez-Sanchez J, Hernández D, Casamichana D, Martínez-Salazar C, Ramirez-Campillo R, Sampaio J. Heart rate, technical performance, and session-RPE in elite youth soccer small-sided games played with wildcard players. J Strength Cond Res. 2017;31:2678–85.

15.

Sanchez-Sanchez J, Sanchez M, Hernandez D, Ramirez-Campillo R, Martínez C, Nakamura FY. Fatigue in u12 soccer-7 players during repeated one-day tournament games: a pilot study. J Strength Cond Res. 2017. https://doi.org/10.1519/jsc.0000000000002141 (Epub ahead of print).

16.

Liberati A, Altman DG, Tetzlaff J, Mulrow C, Gøtzsche PC, Ioannidis JPAA, et al. The PRISMA statement for reporting systematic reviews and meta-analyses of studies that evaluate health care interventions: explanation and elaboration. J Clin Epidemiol. 2009;62:e1–34.

17.

Hill-Haas SV, Dawson B, Impellizzeri FM, Coutts AJ. Physiology of small-sided games training in football: a systematic review. Sports Med. 2011;41:199–220.

18.

Kibler WB, Allistratos ELK, Afis GIKP, Atsikas CHAK, Ouvis STD, Frost DM, et al. Interval training for performance: a scientific and empirical practice. Sports Med. 2014;38:1–3.

19.

Williams CA, Armstrong N, Powell J. Aerobic responses of prepubertal boys to two modes of training. Br J Sports Med. 2000;34:168–73.

20.

Impellizzeri FM, Marcora SM, Castagna C, Reilly T, Sassi A, Iaia FM, et al. Physiological and performance effects of generic versus specific aerobic training in soccer players. Int J Sports Med. 2006;27:483–92.

21.

Turner HM, Bernard RM. Calculating and synthesizing effect sizes. Contemp Issues Commun Sci Disord. 2006;33:42–55.

22.

Moran J, Sandercock GRH, Ramírez-Campillo R, Meylan C, Collison J, Parry DA. A meta-analysis of maturation-related variation in adolescent boy athletes' adaptations to short-term resistance training. J Sports Sci. 2017;35:1041–51.

23.

Eniseler N, Şahan Ç, Özcan I, Dinler K. High-intensity small-sided games versus repeated sprint training in junior soccer players. J Hum Kinet. 2017;60:101–11.

24.

Hill-Haas SV, Coutts AJ, Rowsell GJ, Dawson BT. Generic versus small-sided game training in soccer. Int J Sports Med. 2009;30:636–42.

25.

Jastrzebski Z, Barnat W, Dargiewicz R, Jaskulska E, Szwarc A, Radzimiński Ł. Effect of in-season generic and soccer-specific high-intensity interval training in young soccer players. Int J Sports Sci Coach. 2014;9:1169–79.

26.

Los Arcos A, Vázquez JS, Martin J, Lerga J, Sánchez F, Villagra F, et al. Effects of small-sided games vs. interval training in aerobic fitness and physical enjoyment in young elite soccer players. PLoS One. 2015;10(9):e0137224.

27.

Radziminski L, Rompa P, Barnat W, Dargiewicz R, Jastrzebski Z. A comparison of the physiological and technical effects of high-intensity running and small-sided games in young soccer players. Int J Sports Sci Coach. 2013;8:455–66.

28.

Safania AM, Alizadeh R, Nourshahi M, Branch AA. A comparison of small-side games and interval training on same selected physical fitness factors in amateur soccer players. Soc Sci. 2011;7:349–53.

29.

The Nordic Cochrane Centre. Review manager. Copenhagen: Cochrane Collaboration; 2014: pp. 1–43.

30.

Deeks JJ, Higgins JP, Altman DG. Analysing data and undertaking meta-analyses. Cochrane Handb Syst Rev Interv Cochrane B Ser. 2008;243–96.

31.

Hopkins WG, Marshall SW, Batterham AM, Hanin J. Progressive statistics for studies in sports medicine and exercise science. Med Sci Sports Exerc. 2009;41:3–12.

32.

Higgins JPT, Thompson SG, Deeks JJ, Altman DG. Measuring inconsistency in meta-analyses. BMJ. 2003;327:557–60.

33.

Maher CG, Sherrington C, Herbert RD, Moseley AM, Elkins M. Reliability of the PEDro scale for rating quality of randomized controlled trials. Phys Ther. 2003;83:713–21.

34.

Schmidt FL. Statistical and measurement pitfalls in the use of meta-regression in meta-analysis. Career Dev Int. 2017;22:469–76.

35.

Harrison CB, Kinugasa T, Gill N, Kilding AE. Aerobic fitness for young athletes: combining game-based and high-intensity interval training. Int J Sports Med. 2015;36:929–34.

36.

Brink MS, Visscher C, Arends S, Zwerver J, Post WJ, Lemmink KAPM. Monitoring stress and recovery: new insights for the prevention of injuries and illnesses in elite youth soccer players. Br J Sports Med. 2010;44:809–15.

37.

Ward P, Hodges NJ, Starkes JL, Williams MA. The road to excellence: deliberate practice and the development of expertise. High Abil Stud. 2007;18:119–53.

38.

Arruda AFS, Carling C, Zanetti V, Aoki MS, Coutts AJ, Moreira A. Effects of a very congested match schedule on body-load impacts, accelerations, and running measures in youth soccer players. Int J Sports Physiol Perform. 2015;10:248–52.

39.

Moreira A, Bradley P, Carling C, Arruda AFS, Spigolon LMP, Franciscon C, et al. Effect of a congested match schedule on immune-endocrine responses, technical performance and session-RPE in elite youth soccer players. J Sports Sci. 2016;34:2255–61.

40.

Rampinini E, Impellizzeri FM, Castagna C, Abt G, Chamari K, Sassi A, et al. Factors influencing physiological responses to small-sided soccer games. J Sports Sci. 2007;25:659–66.

41.

Armstrong N, McNarry M. Aerobic fitness and trainability in healthy youth: gaps in our knowledge. Pediatr Exerc Sci. 2016;28:171–7.

42.

Bishop DJ, Granata C, Eynon N. Can we optimise the exercise training prescription to maximise improvements in mitochondria function and content? Biochim Biophys Acta. 2014;1840:1266–75.

43.

Ade JD, Harley JA, Bradley PS. Physiological response, time-motion characteristics, and reproducibility of various speed-endurance drills in elite youth soccer players: small-sided games versus generic running. Int J Sports Physiol Perform. 2014;9:471–9.

44.

Burke JF, Sussman JB, Kent DM, Hayward RA. Three simple rules to ensure reasonably credible subgroup analyses. BMJ. 2015;4(351):h5651.

45.

Altman DG, Royston P. The cost of dichotomising continuous variables. BMJ. 2006;332:1080.

46.

Sandercock GRH, Bromley PD, Brodie DA. Effects of exercise on heart rate variability: inferences from meta-analysis. Med Sci Sports Exerc. 2005;37:433–9.

47.

Bonafiglia JT, Rotundo MP, Whittall JP, Scribbans TD, Graham RB, Gurd BJ. Inter-individual variability in the adaptive responses to endurance and sprint interval training: a randomized crossover study. PLoS One. 2016;11(12):e0167790.

48.

Helgerud J, Engen LC, Wisloff U, Hoff J, Wisløff U, Hoff J. Aerobic endurance training improves soccer performance. Med Sci Sports Exerc. 2001;33:1925–31.
Ethics declarations
Funding
No sources of funding were received for the preparation of this article.
Conflict of interest
Jason Moran, Richard C. Blagrove, Benjamin Drury, John F. T. Fernandes, Kevin Paxton, Helmi Chaabene and Rodrigo Ramirez-Campillo have no conflicts of interest that are directly relevant to the content of this review.
About this article
Cite this article
Moran, J., Blagrove, R.C., Drury, B. et al. Effects of Small-Sided Games vs. Conventional Endurance Training on Endurance Performance in Male Youth Soccer Players: A Meta-Analytical Comparison. Sports Med 49, 731–742 (2019). https://doi.org/10.1007/s40279-019-01086-w