Abstract
Background
Meta-analyses have shown that land training (LT) reduces blood pressure; however, it is not known whether aquatic training (AT) promotes this same effect.
Objective
The aim was to conduct a meta-analysis on the effects of AT on systolic blood pressure (SBP) and diastolic blood pressure (DBP) in adults and elderly and compare them to those of LT and no training [control group (CG)].
Data Sources
Embase, PubMed, Cochrane and Scopus were searched up to May 2017.
Study Eligibility Criteria
Studies that evaluated the effect of upright AT (i.e., AT performed in upright position) on the blood pressure of adult individuals and the elderly who did not present with cardiovascular disease (other than hypertension) were included.
Data Analysis
Two independent reviewers screened search results, performed data extraction and assessed risk of bias. Random effect was used, and the effect size (ES) was calculated by using the standardized mean difference with a 95% confidence interval.
Results
AT promoted a reduction in SBP (ES − 1.47; 95% CI − 2.23 to − 0.70; p < 0.01) compared to CG. This effect is maintained with training progression (ES − 1.52; 95% CI − 2.70 to − 0.33; p = 0.01) and no progression (ES − 1.43; 95% CI − 2.64 to − 0.23; p = 0.02). These effects were significant only in hypertensive (ES − 2.20; 95% CI − 2.72 to − 1.68; p < 0.01), and not in pre-hypertensive individuals. AT promoted a decrease in DBP (− 0.92; 95% CI − 1.27 to − 0.57; p < 0.01) after training with progression (− 0.81; 95% CI − 1.62 to − 0.001; p = 0.04) and no progression (− 1.01; 95% CI − 1.40 to − 0.62; p < 0.01) in pre-hypertensive (− 1.12; 95% CI − 1.53 to − 0.70; p < 0.01) and hypertensive patients (− 0.69; 95% CI − 1.31 to − 0.06; p = 0.03). AT promoted similar reductions in SBP compared to LT; however, reduction of DBP in hypertensive patients was lower (1.82; 95% CI 0.84 to 2.79; p < 0.01).
Conclusion
AT promotes blood pressure reduction in adults and elderly. The reduction in SBP in those performing AT is similar to those performing LT, but reduction of DBP is lower in the AT group compared to that in the LT group.
Systematic Review Registration Number
CRD42016049716.
This is a preview of subscription content, log in to check access.
Access options
Buy single article
Instant access to the full article PDF.
US$ 49.95
Tax calculation will be finalised during checkout.
Subscribe to journal
Immediate online access to all issues from 2019. Subscription will auto renew annually.
US$ 199
Tax calculation will be finalised during checkout.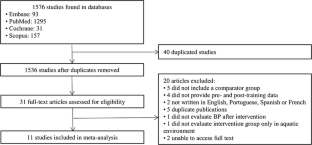 References
1.

Boutcher YN, Boutcher SH. Exercise intensity and hypertension: what's new? J Hum Hypertens. 2017;31:157–64.

2.

Brown RE, Riddell MC, Macpherson AK, Canning KL, Kuk JL. The joint association of physical activity, blood-pressure control, and pharmacologic treatment of hypertension for all-cause mortality risk. Am J Hypertens. 2013;26:1005–10.

3.

Chobanian AV, Bakris GL, Black HR, Cushman WC, Green LA, Izzo JL Jr, et al. The seventh report of the Joint National Committee on Prevention, Detection, Evaluation, and Treatment of High Blood Pressure: the JNC 7 report. JAMA. 2003;289:2560–72.

4.

Chow CK, Teo KK, Rangarajan S, Islam S, Gupta R, Avezum A, et al. Prevalence, awareness, treatment, and control of hypertension in rural and urban communities in high-, middle-, and low-income countries. JAMA. 2013;310:959–68.

5.

Pescatello LS, Franklin BA, Fagard R, Farquhar WB, Kelley GA, Ray CA. American College of Sports Medicine position stand. Exercise and hypertension. Med Sci Sports Exerc. 2004;36:533–53.

6.

Pescatello LS, MacDonald HV, Lamberti L, Johnson BT. Exercise for hypertension: a prescription update integrating existing recommendations with emerging research. Curr Hypertens Rep. 2015;17:87.

7.

Calhoun DA, Jones D, Textor S, Goff DC, Murphy TP, Toto RD, et al. Resistant hypertension: diagnosis, evaluation, and treatment. A scientific statement from the American Heart Association Professional Education Committee of the Council for High Blood Pressure Research. Hypertension. 2008;51:1403–19.

8.

Gonzaga CC, Calhoun DA. American Heart Association Statement on diagnosis, evaluation, and treatment of resistant hypertension: what should we remember in everyday practice? Pol Arch Med Wewn. 2008;118:396–7.

9.

Mancia G, Laurent S, Agabiti-Rosei E, Ambrosioni E, Burnier M, Caulfeld MJ, et al. Reappraisal of European guidelines on hypertension management: a European Society of Hypertension Task Force document. J Hypertens. 2009;27:2121–58.

10.

Kelley GA, Kelley KS. Progressive resistance exercise and resting blood pressure: a meta-analysis of randomized controlled trials. Hypertension. 2000;35:838–43.

11.

Whelton SP, Chin A, Xin X, He J. Effect of aerobic exercise on blood pressure: a meta-analysis of randomized, controlled trials. Ann Intern Med. 2002;136:493–503.

12.

Cornelissen VA, Fagard RH, Coeckelberghs E, Vanhees L. Impact of resistance training on blood pressure and other cardiovascular risk factors: a meta-analysis of randomized, controlled trials. Hypertension. 2011;58:950–8.

13.

Cornelissen VA, Smart NA. Exercise training for blood pressure: a systematic review and meta-analysis. JAMA. 2013;2:e004473.

14.

Delevatti RS, Marson E, Kruel LF. Effect of aquatic exercise training on lipids profile and glycaemia: a systematic review. Rev Andal Med Deporte. 2015;8:163–70.

15.

Pendergast DR, Moon RE, Krasney JJ, Held HE, Zamparo P. Human physiology in an aquatic environment. Compr Physiol. 2015;5:1705–50.

16.

Epstein M. Cardiovascular and renal effects of head-out water immersion in man: of the model in the assessment of volume homeostasis. Circ Res. 1976;39:619–28.

17.

Epstein M. Renal effects of head-out water immersion in humans: a 15-year update. Physiol Rev. 1992;72:563–621.

18.

Pendergast DR, Lundgren CEG. The underwater environment: cardiopulmonary, thermal, and energetic demands. J Appl Physiol. 2009;106:276–83.

19.

Gabrielsen A, Pump B, Bie P, Christensen NJ, Warberg J, Nor SKP. Atrial distension, haemodilution, and acute control of renin release during water immersion in humans. Acta Physiol Scand. 2002;174:91–9.

20.

Carvalho-Filho MA, Carvalheira JB, Velloso LA, Saad MJ. Cross-talk das vias de sinalização de insulina e angiotensina II: implicações com a associaçãoentre diabetes mellitus e hipertensão arterial e doença cardiovascular. Arq Bras Endocrinol Metab. 2007;51:195–203.

21.

Riet LT, van Esch JH, Roks AJ, van den Meiracker AH, Danser AH. Hypertension: renin–angiotensin–aldosterone system alterations. Circ Res. 2015;116:960–75.

22.

Colado JC, Triplett NT, Tella V, Saucedo P, Abellán J. Effects of aquatic resistance training on health and fitness in postmenopausal women. Eur J Appl Physiol. 2009;106:113–22.

23.

Lambert BS, Greene NP, Carradine AT, Joubert DP, Fluckey JD, Riechman SE, et al. Aquatic treadmill training reduces blood pressure reactivity to physical stress. Med Sci Sports Exerc. 2014;46:809–16.

24.

Piotrowska-Całka E. Effects of a 24-week deep water aerobic training program on cardiovascular fitness. Biol Sport. 2010;27:95–8.

25.

Nuttamonwarakul A, Amatyakul S, Suksom D. Twelve weeks of aqua-aerobic exercise improve physiological adaptations and glycemic control in elderly patients with type 2 diabetes. J Exerc Physiol Online. 2012;2:64–70.

26.

Arca EA, Martinelli B, Martin LC, Waisberg CB, Franco RJ. Aquatic exercise is as effective as dry land training to blood pressure reduction in postmenopausal hypertensive women. Physiother Res Int. 2014;19:93–8.

27.

Boidin M, Lapierre G, Paquette Tanir L, Nigam A, Juneau M, Guilbeault V, et al. Effect of aquatic interval training with Mediterranean diet counseling in obese patients: results of a preliminary study. Ann Phys Rehabil Med. 2015;58:269–75.

28.

Delevatti RS, Kanitz AC, Alberton CL, Marson EC, Lisboa SC, Pinho CD, et al. Glucose control can be similarly improved after aquatic or dry-land aerobic training in patients with type 2 diabetes: a randomized clinical trial. J Sci Med Sport. 2015;19:688–93.

29.

Farahani AV, Mansournia MA, Asheri H, Fotouhi A, Yunesian M, Jamali M, et al. The effects of a 10-week water aerobic exercise on the resting blood pressure in patients with essential hypertension. Asian J Sports Med. 2010;1:159–67.

30.

Guimarães GV, de Barros Cruz LG, Fernandes-Silva MM, Dorea EL, Bocchi EA. Heated water-based exercise training reduces 24-hour ambulatory blood pressure levels in resistant hypertensive patients: a randomized controlled trial (HEx trial). Int J Cardiol. 2014;172:434–41.

31.

Kaddissy G, Lattouf N. Daily integration of the regular aquatic rhythmic activity in women's life during menopause and its role in the prevention of the metabolic syndrome. Kinesither Rev. 2011;118:48–53.

32.

Kamalakkannan K, Suresh KM. Effect of land and shallow water aerobic exercises on selected physiological and biochemical variables of obese adult. J Phys Educ Sport. 2014;14:532–6.

33.

Pechter U, Ots M, Mesikepp S, Zilmer K, Kullissaar T, Vihalemm T, et al. Beneficial effects of water-based exercise in patients with chronic kidney disease. Int J Rehabil Res. 2003;26:153–6.

34.

Yoo WK, Kim SK, Song MS. Effects of muscular and aqua aerobic combined exercise on metabolic indices in elderly women with metabolic syndrome. J Exerc Nutr Biochem. 2013;17:133–41.

35.

Higgins JPT, Deeks JJ, Altman DG. Cochrane handbook for systematic reviews of interventions, version 5.1. The Cochrane Collaboration. 2011. http://www.cochrane-handbook.org.

36.

Moher D, Liberati A, Tetzlaff J, Altman DG, Group P. Preferred reporting items for systematic reviews and meta-analyses: the PRISMA statement. J Clin Epidemiol. 2009;62:1006–12.

37.

Brixius KS, Schoenberger D, Ladage Knigge H, Falkowski G, Hellmich M, et al. Long-term endurance exercise decreases antiangiogenic endostatin signalling in overweight men aged 50–60 years. Br J Sports Med. 2008;42(2):126–9.

38.

Gormley SE, Swain DP, High R, Spina RJ, Dowling EA, Kotipalli US, et al. Effect of intensity of aerobic training on VO2max. Med Sci Sports Exerc. 2008;40(7):1336–43.

39.

Katz J, Wilson BRA. The effects of a six-week, low-intensity nautilus circuit training program on resting blood pressure in females. J Sports Med Phys Fit. 1992;32:299–302.

40.

Elliott KJ, Sale C, Cable NT. Effects of RT and detraining on muscle strength and blood lipid profiles in postmenopausal women. Br J Sports Med. 2002;36:340–4.

41.

Okamoto T, Masuhara M, Ikuta K. Effects of eccentric and concentric RT on arterial stiffness. J Hum Hypertens. 2006;20:348–54.

42.

Higgins JPT, Thompson SG, Deeks JJ, Altman DG. Measuring inconsistency in meta-analyses. BMJ. 2003;327:557–60.

43.

Sheldahl LM, Tristani FE, Clifford PS, Kalbfleisch JH, Smits G, Hughes CV. Effect of head-out water immersion on response to exercise training. J Appl Physiol. 1986;60:1878–81.

44.

Takeshima N, Rogers ME, Watanabe E, Brechue WF, Okada A, Yamada T, et al. Water-based exercise improves health-related aspects of fitness in older women. Med Sci Sports Exerc. 2002;34:544–51.

45.

Kanitz AC, Delevatti RS, Reichert T, Liedtke GV, Ferrari R, Almada BP, et al. Effects of two deep water training programs on cardiorespiratory and muscular strength responses in older adults. Exp Gerontol. 2015;64:55–61.

46.

Frontera WR, Hughes VA, Lutz KJ, Evans WJ. A cross-sectional study of muscle strength and mass in 45- to 78-yr-old men and women. J Appl Physiol. 1991;71:644–50.

47.

Goodpaster BH, Park SW, Harris TB, Kritchevsky SB, Nevitt M, Schwartz AV, et al. The loss of skeletal muscle strength, mass, and quality in older adults: the health, aging and body composition study. J Gerontol A Biol Sci Med Sci. 2006;61:1059–64.

48.

Manini TM, Clark BC. Dynapenia and aging: an update. J Gerontol A Biol Sci Med Sci. 2012;67(1):28–40.

49.

Reichert T, Kanitz AC, Delevatti RS, Bagatini NC, Barroso BM, Kruel LF. Continuous and interval training programs using deep water running improves functional fitness and blood pressure in the older adults. Age (Dordr). 2016;38:20.

50.

Lewington S, Clarke R, Qizilbash N, Peto R, Collins R, Prospective Studies Collaboration. Age-specific relevance of usual blood pressure to vascular mortality: a meta-analysis of individual data for one million adults in 61 prospective studies. Lancet. 2002;360:1903–13.

51.

Whelton PK, He J, Appel LJ, Cutler JA, Havas S, Kotchen TA, et al. Primary prevention of hypertension: clinical and public health advisory from the National High Blood Pressure Education Program. JAMA. 2002;288:1882–8.

52.

Jiang SZ, Lu W, Zong XF, Ruan HY, Liu Y. Obesity and hypertension. Exp Ther Med. 2016;12:2395–9.

53.

Sun Z. Aging, arterial stiffness, and hypertension. Hypertension. 2015;65:252–6.
Ethics declarations
Funding
No sources of funding were used to assist in the preparation of this article.
Conflict of interest
Thaís Reichert, Rochelle Rocha Costa, Bruna Machado Barroso, Vitória de Mello Bones da Rocha, Rodrigo Sudatti Delevatti and Luiz Fernando Martins Kruel declare that they have no conflicts of interest relevant to the content of this review.
Electronic supplementary material
Below is the link to the electronic supplementary material.
About this article
Cite this article
Reichert, T., Costa, R.R., Barroso, B.M. et al. Aquatic Training in Upright Position as an Alternative to Improve Blood Pressure in Adults and Elderly: A Systematic Review and Meta-Analysis. Sports Med 48, 1727–1737 (2018). https://doi.org/10.1007/s40279-018-0918-0