Abstract
Background
Leptin is a hormone associated with satiety, lipid oxidation, energy expenditure, and energy homeostasis. To date, the current body of research examining the effect of chronic exercise training on leptin has yielded inconsistent results.
Objective
The purpose of this meta-analysis was to provide a quantitative estimate of the magnitude of change in leptin levels following participation in exercise interventions lasting ≥ 2 weeks.
Methods
All studies included were peer-reviewed and published in English. To be included, studies randomized human participants to an exercise training group or non-exercise comparison group for an exercise training intervention. Leptin levels were measured at baseline, during, and/or after completion of the exercise training program. Random-effects models were used to aggregate a mean effect size (ES) and 95% confidence intervals (CIs), and identify potential moderators.
Results
Seventy-two randomized controlled trials met the inclusion criteria and resulted in 107 effects (n = 3826). The mean ES of 0.24 (95% CI 0.16–0.32, p < 0.0001) indicated a decrease in leptin following an exercise training program. A decrease in %Fat (β = − 0.07, p < 0.01) was associated with a decrease in leptin after accounting for the type of control group (β = − 0.38, p < 0.0001) used in each study.
Conclusion
These results suggest that engaging in chronic exercise training (≥ 2 weeks) is associated with a decrease in leptin levels for individuals regardless of age and sex. However, a greater decrease in leptin occurred with a decreased percentage of body fat.
Access options
Buy single article
Instant access to the full article PDF.
US$ 49.95
Tax calculation will be finalised during checkout.
Subscribe to journal
Immediate online access to all issues from 2019. Subscription will auto renew annually.
US$ 259
Tax calculation will be finalised during checkout.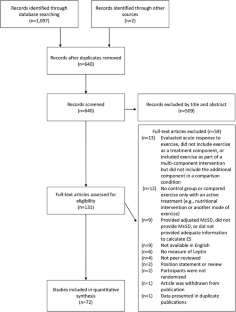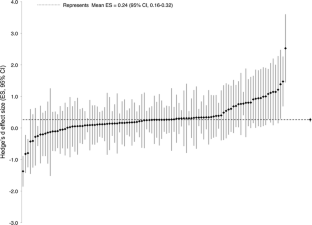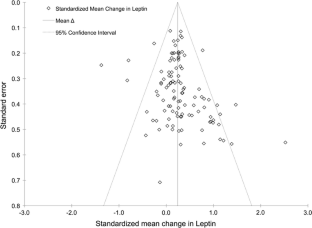 References
1.

Kelly T, Yang W, Chen C, Reynolds K, He J. Global burden of obesity in 2005 and projections to 2030. Int J Obes. 2008;32(9):1431–7.

2.

Ogden CL, Carroll MD, Fryar CD, Flegal KM. Prevalence of obesity among adults and youth: United States, 2011–2014. NCHS Data Brief. 2015;219:1–8.

3.

Pi-Sunyer FX, Becker DM, Bouchard C, Carleton R, Colditz G, Dietz W, et al. Clinical guidelines on the identification, evaluation, and treatment of overweight and obesity in adults. Am J Clin Nutr. 1998;68(4):899–917.

4.

Benjamin RM. The Surgeon General's vision for a healthy and fit nation. Public Health Rep. 2010;125(4):514.

5.

Klem ML, Wing RR, McGuire MT, Seagle HM, Hill JO. A descriptive study of individuals successful at long-term maintenance of substantial weight loss. Am J Clin Nutr. 1997;66(2):239–46.

6.

Thorogood A, Mottillo S, Shimony A, Filion KB, Joseph L, Genest J, et al. Isolated aerobic exercise and weight loss: a systematic review and meta-analysis of randomized controlled trials. Am J Med. 2011;124(8):747–55.

7.

Pontzer H. Constrained total energy expenditure and the evolutionary biology of energy balance. Exerc Sport Sci Rev. 2015;43(3):110–6.

8.

Schwartz MW, Woods SC, Porte D, Seeley RJ, Baskin DG. Central nervous system control of food intake. Nature. 2000;404(6778):661–71.

9.

Klok MD, Jakobsdottir S, Drent ML. The role of leptin and ghrelin in the regulation of food intake and body weight in humans: a review. Obes Rev. 2007;8(1):21–34.

10.

Galic S, Oakhill JS, Steinberg GR. Adipose tissue as an endocrine organ. Mol Cell Endocrinol. 2010;316(2):129–39.

11.

Hilton LK, Loucks AB. Low energy availability, not exercise stress, suppresses the diurnal rhythm of leptin in healthy young women. Am J Physiol Endocrinol Metab. 2000;278(1):E43–9.

12.

Mars M, de Graaf C, de Groot CP, van Rossum CT, Kok FJ. Fasting leptin and appetite responses induced by a 4-day 65%-energy-restricted diet. Int J Obes (Lond). 2006;30(1):122–8.

13.

Keim NL, Stern JS, Havel PJ. Relation between circulating leptin concentrations and appetite during a prolonged, moderate energy deficit in women. Am J Clin Nutr. 1998;68(4):794–801.

14.

Rosenbaum M, Murphy EM, Heymsfield SB, Matthews DE, Leibel RL. Low dose leptin administration reverses effects of sustained weight-reduction on energy expenditure and circulating concentrations of thyroid hormones. J Clin Endocrinol Metab. 2002;87(5):2391–4.

15.

Rosenbaum M, Goldsmith R, Bloomfield D, Magnano A, Weimer L, Heymsfield S, et al. Low-dose leptin reverses skeletal muscle, autonomic, and neuroendocrine adaptations to maintenance of reduced weight. J Clin Investig. 2005;115(12):3579–86.

16.

Heymsfield SB, Greenberg AS, Fujioka K, Dixon RM, Kushner R, Hunt T, et al. Recombinant leptin for weight loss in obese and lean adults: a randomized, controlled, dose-escalation trial. JAMA. 1999;282(16):1568–75.

17.

Myers MG Jr, Leibel RL, Seeley RJ, Schwartz MW. Obesity and leptin resistance: distinguishing cause from effect. Trends Endocrinol Metab. 2010;21(11):643–51.

18.

Git KC, Adan RA. Leptin resistance in diet-induced obesity: the role of hypothalamic inflammation. Obes Rev. 2015;16(3):207–24.

19.

Hulver MW, Houmard JA. Plasma leptin and exercise: recent findings. Sports Med. 2003;33(7):473–82.

20.

Mezghanni N, Mnif M, Chtourou H, Chaabouni K, Masmoudi L, Lassoued A, et al. Effect of aerobic training on insulin resistance and C-reactive protein (CRP) levels and subcutaneous abdominal in obese women. Sport Sci Health. 2014;10(2):111–8.

21.

Fatouros IG, Tournis S, Leontsini D, Jamurtas AZ, Sxina M, Thomakos P, et al. Leptin and adiponectin responses in overweight inactive elderly following resistance training and detraining are intensity related. J Clin Endocrinol Metab. 2005;90(11):5970–7.

22.

Shalitin S, Ashkenazi-Hoffnung L, Yackobovitch-Gavan M, Nagelberg N, Karni Y, Hershkovitz E, et al. Effects of a twelve-week randomized intervention of exercise and/or diet on weight loss and weight maintenance, and other metabolic parameters in obese preadolescent children. Horm Res. 2009;72(5):287–301.

23.

Lambert CP, Sullivan DH, Evans WJ. Effects of testosterone replacement and/or resistance training on interleukin-6, tumor necrosis factor alpha, and leptin in elderly men ingesting megestrol acetate: a randomized controlled trial. J Gerontol A Biol Sci Med Sci. 2003;58(2):165–70.

24.

Lucotti P, Monti LD, Setola E, Galluccio E, Gatti R, Bosi E, et al. Aerobic and resistance training effects compared to aerobic training alone in obese type 2 diabetic patients on diet treatment. Diabetes Res Clin Pract. 2011;94(3):395–403.

25.

Kraemer RR, Chu H, Castracane VD. Leptin and exercise. Exp Biol Med. 2002;227(9):701–8.

26.

Bouassida A, Zalleg D, Bouassida S, Zaouali M, Feki Y, Zbidi A, et al. Leptin, its implication in physical exercise and training: a short review. J Sports Sci Med. 2006;5(2):172–81.

27.

Bouassida A, Chamari K, Zaouali M, Feki Y, Zbidi A, Tabka Z. Review on leptin and adiponectin responses and adaptations to acute and chronic exercise. Br J Sports Med. 2010;44(9):620–30.

28.

Jürimäe J, Jürimäe T. Leptin responses to short term exercise in college level male rowers. Br J Sports Med. 2005;39(1):6.

29.

Legakis IN, Mantzouridis T, Saramantis A, Lakka-Papadodima E. Rapid decrease of leptin in middle-aged sedentary individuals after 20 minutes of vigorous exercise with early recovery after the termination of the test. J Endocrinol Investig. 2004;27(2):117–20.

30.

Zafeiridis A, Smilios I, Considine RV, Tokmakidis SP. Serum leptin responses after acute resistance exercise protocols. J Appl Physiol. 2003;94(2):591–7.

31.

Gomez-Merino D, Chennaoui M, Drogou C, Bonneau D, Guezennec CY. Decrease in serum leptin after prolonged physical activity in men. Med Sci Sports Exerc. 2002;34(10):1594–9.

32.

Moher D, Liberati A, Tetzlaff J, Altman D. Preferred reporting items for systematic reviews and meta-analyses: the PRISMA statement. BMJ. 2009;339:332–6.

33.

Hasson RE, Adam TC, Davis JN, Kelly LA, Ventura EE, Byrd-Williams CE, et al. Randomized controlled trial to improve adiposity, inflammation, and insulin resistance in obese African-American and Latino youth. Obesity (Silver Spring). 2012;20(4):811–8.

34.

Mason C, Foster-Schubert KE, Imayama I, Xiao LR, Kong A, Campbell KL, et al. History of weight cycling does not impede future weight loss or metabolic improvements in postmenopausal women. Metab Clin Exp. 2013;62(1):127–36.

35.

Straznicky NE, Lambert EA, Grima MT, Eikelis N, Nestel PJ, Dawood T, et al. The effects of dietary weight loss with or without exercise training on liver enzymes in obese metabolic syndrome subjects. Diabetes Obes Metab. 2012;14(2):139–48.

36.

Nuri R, Moghaddasi M, Darvishi H, Izadpanah A. Effect of aerobic exercise on leptin and ghrelin in patients with colorectal cancer. J Cancer Res Ther. 2016;12(1):169–74.

37.

Foster-Schubert KE, McTiernan A, Frayo RS, Schwartz RS, Rajan KB, Yasui Y, et al. Human plasma ghrelin levels increase during a one-year exercise program. J Clin Endocrinol Metab. 2005;90(2):820–5.

38.

Kim HJ, Lee S, Kim TW, Kim HH, Jeon TY, Yoon YS, et al. Effects of exercise-induced weight loss on acylated and unacylated ghrelin in overweight children. Clin Endocrinol. 2008;68(3):416–22.

39.

Loria-Kohen V, Fernandez-Fernandez C, Bermejo LM, Morencos E, Romero-Moraleda B, Gomez-Candela C, et al. Effect of different exercise modalities plus a hypocaloric diet on inflammation markers in overweight patients: a randomised trial. Clin Nutr. 2013;32(4):511–8.

40.

Marinho SM, Mafra D, Pelletier S, Hage V, Teuma C, Laville M, et al. In hemodialysis patients, intradialytic resistance exercise improves osteoblast function: a pilot study. J Ren Nutr. 2016;26(5):341–5.

41.

de Piano A, de Mello MT, Sanches PD, da Silva PL, Campos RMS, Carnier J, et al. Long-term effects of aerobic plus resistance training on the adipokines and neuropeptides in nonalcoholic fatty liver disease obese adolescents. Eur J Gastroenterol Hepatol. 2012;24(11):1313–24.

42.

Volpe SL, Kobusingye H, Bailur S, Stanek E. Effect of diet and exercise on body composition, energy intake and leptin levels in overweight women and men. J Am Coll Nutr. 2008;27(2):195–208.

43.

Abbenhardt C, McTiernan A, Alfano CM, Wener MH, Campbell KL, Duggan C, et al. Effects of individual and combined dietary weight loss and exercise interventions in postmenopausal women on adiponectin and leptin levels. J Intern Med. 2013;274(2):163–75.

44.

Hedges L, Olkin I. Statistical methods for meta-analysis. 6th ed. San Diego: Academic Press; 1985. p. 79–201.

45.

Gutin B, Ramsey L, Barbeau P, Cannady W, Ferguson M, Litaker M, et al. Plasma leptin concentrations in obese children: changes during 4-mo periods with and without physical training. Am J Clin Nutr. 1999;69(3):388–94.

46.

Barbeau P, Gutin B, Litaker Ramsey LT, Cannady WE, Allison J, et al. Influence of physical training on plasma leptin in obese youths. Can J Appl Physiol. 2003;28(3):382–96.

47.

Gutin B, Owens S. Role of exercise intervention in improving body fat distribution and risk profile in children. Am J Hum Biol. 1999;11(2):237–47.

48.

Rosenthal R. Meta-analytic procedures for social research. 2nd ed. Newbury Park: SAGE Publications; 1991.

49.

Egger M, Smith G, Schneider M, Minder C. Bias in meta-analysis detected by a simple, graphical test. BMJ. 1997;315(7109):629–34.

50.

Hox J. Multilevel analysis: techniques and applications. 2nd ed. New York: Taylor & Francis; 2010. p. 205–32.

51.

Singer JD, Using SAS. PROC MIXED to fit multilevel models, hierarchical models, and individual growth models. J Educ Behav Stat. 1998;23(4):323–55.

52.

Higgins J, Thompson S, Deeks J, Altman D. Measuring inconsistency in meta-analyses. BMJ. 2003;327(7414):557–60.

53.

Rosenberg M. The file-drawer problem revisited: a general weighted method for calculating fail-safe numbers in meta-analysis. Evolution. 2005;59(2):464–8.

54.

Sterne JAC, Sutton AJ, Ioannidis JPA, Terrin N, Jones DR, Lau J, et al. Recommendations for examining and interpreting funnel plot asymmetry in meta-analyses of randomised controlled trials. 2011;343:1–8.

55.

Begg CB, Berlin JA. Publication bias: a problem in interpreting medical data. J R Stat Soc Ser A Stat Soc. 1988;151(3):419–63.

56.

Sterne JAC, Egger M. Funnel plots for detecting bias in meta-analysis: guidelines on choice of axis. J Clin Epidemiol. 2001;54(10):1046–55.

57.

Klimcakova E, Kovacikova M, Stich V, Langin D. Adipokines and dietary interventions in human obesity. Obes Rev. 2010;11(6):446–56.

58.

Figueroa A, Vicil F, Sanchez-Gonzalez MA, Wong A, Ormsbee MJ, Hooshmand S, et al. Effects of diet and/or low-intensity resistance exercise training on arterial stiffness, adiposity, and lean mass in obese postmenopausal women. Am J Hypertens. 2013;26(3):416–23.

59.

Bereket A, Kiess W, Lustig RH, Muller HL, Goldstone AP, Weiss R, et al. Hypothalamic obesity in children. Obes Rev. 2012;13(9):780–98.

60.

Filozof C, Gonzalez C. Predictors of weight gain: the biological-behavioural debate. Obes Rev. 2000;1(1):21–6.

61.

Lau PW, Kong Z, Choi C-R, Clare C, Chan DF, Sung RY, et al. Effects of short-term resistance training on serum leptin levels in obese adolescents. J Exerc Sci Fit. 2010;8(1):54–60.

62.

Zhao J, Tian Y, Xu J, Liu D, Wang X, Zhao B. Endurance exercise is a leptin signaling mimetic in hypothalamus of Wistar rats. Lipids Health Dis. 2011;10:225.

63.

Guadalupe-Grau A, Perez-Gomez J, Olmedillas H, Chavarren J, Dorado C, Santana A, et al. Strength training combined with plyometric jumps in adults: sex differences in fat-bone axis adaptations. J Appl Physiol. 2009;106(4):1100–11.

64.

Miller GD, Nicklas BJ, Davis CC, Ambrosius WT, Loeser RF, Messier SP. Is serum leptin related to physical function and is it modifiable through weight loss and exercise in older adults with knee osteoarthritis? Int J Obes Relat Metab Disord. 2004;28(11):1383–90.

65.

Farr OM, Gavrieli A, Mantzoros CS. Leptin applications in 2015: what have we learned about leptin and obesity? Curr Opin Endocrinol Diabetes Obes. 2015;22(5):353–9.

66.

Paz-Filho G, Wong ML, Licinio J. Ten years of leptin replacement therapy. Obes Rev. 2011;12(5):e315–23.

67.

Pan H, Guo J, Su Z. Advances in understanding the interrelations between leptin resistance and obesity. Physiol Behav. 2014;130:157–69.

68.

Brinkoetter M, Magkos F, Vamvini M, Mantzoros CS. Leptin treatment reduces body fat but does not affect lean body mass or the myostatin–follistatin–activin axis in lean hypoleptinemic women. Am J Physiol Endocrinol Metab. 2011;301(1):E99–104.

69.

Donnelly JE, Blair SN, Jakicic JM, Manore MM, Rankin JW, Smith BK. American College of Sports Medicine Position Stand. Appropriate physical activity intervention strategies for weight loss and prevention of weight regain for adults. Med Sci Sports Exerc. 2009;41(2):459–71.

70.

Swift DL, Johannsen NM, Lavie CJ, Earnest CP, Church TS. The role of exercise and physical activity in weight loss and maintenance. Prog Cardiovasc Dis. 2014;56(4):441–7.

71.

Garber CE, Blissmer B, Deschenes MR, Franklin BA, Lamonte MJ, Lee IM, et al. American College of Sports Medicine position stand. Quantity and quality of exercise for developing and maintaining cardiorespiratory, musculoskeletal, and neuromotor fitness in apparently healthy adults: guidance for prescribing exercise. Med Sci Sports Exerc. 2011;43(7):1334–59.

72.

United States Department of Health and Human Services. 2008 physical activity guidelines for Americans. Washington, DC; 2008. http://www.health.gov/PAGuidelines. Accessed 12 Dec 2017.

73.

Stewart LA, Tierney JF. To IPD or not to IPD? Advantages and disadvantages of systematic reviews using individual patient data. Eval Health Prof. 2002;25(1):76–97.

74.

McAuley L, Pham B, Tugwell P, Moher D. Does the inclusion of grey literature influence estimates of intervention effectiveness reported in meta-analyses? Lancet. 2000;356(9237):1228–31.

75.

Hopewell S, McDonald S, Clarke MJ, Egger M. Grey literature in meta-analyses of randomized trials of health care interventions. Cochrane Database Syst Rev. 2007;(2):MR000010.

76.

Conn VS, Valentine JC, Cooper HM, Rantz MJ. Grey literature in meta-analyses. Nurs Res. 2003;52(4):256–61.

77.

Lemeshow AR, Blum RE, Berlin JA, Stoto MA, Colditz GA. Searching one or two databases was insufficient for meta-analysis of observational studies. J Clin Epidemiol. 2005;58(9):867–73.

78.

Whiting P, Westwood M, Burke M, Sterne J, Glanville J. Systematic reviews of test accuracy should search a range of databases to identify primary studies. J Clin Epidemiol. 2008;61(4):357–64.

79.

Papaioannou D, Sutton A, Carroll C, Booth A, Wong R. Literature searching for social science systematic reviews: consideration of a range of search techniques. Health Info Libr J. 2010;27(2):114–22.

80.

Linder SK, Kamath GR, Pratt GF, Saraykar SS, Volk RJ. Citation searches are more sensitive than keyword searches to identify studies using specific measurement instruments. J Clin Epidemiol. 2015;68(4):412–7.

81.

Ackel-D'Elia C, Carnier J, Bueno CR, Campos RMS, Sanches PL, Clemente APG, et al. Effects of different physical exercises on leptin concentration in obese adolescents. Int J Sports Med. 2014;35(2):164–71.

82.

Afshar R, Emany A, Saremi A, Shavandi N, Sanavi S. Effects of intradialytic aerobic training on sleep quality in hemodialysis patients. Iran J Kidney Dis. 2011;5(2):119–23.

83.

Ahmadizad S, Ghorbani S, Ghasemikaram M, Bahmanzadeh M. Effects of short-term nonperiodized, linear periodized and daily undulating periodized resistance training on plasma adiponectin, leptin and insulin resistance. Clin Biochem. 2014;47(6):417–22.

84.

Akbarpour M. The effect of aerobic training on serum adiponectin and leptin levels and inflammatory markers of coronary heart disease in obese men. Biol Sport. 2013;30(1):21–7.

85.

Almenning I, Rieber-Mohn A, Lundgren KM, Løvvik TS, Garnæs KK, Moholdt T. Effects of high intensity interval training and strength training on metabolic, cardiovascular and hormonal outcomes in women with polycystic ovary syndrome: a pilot study. PLoS One. 2015;10(9):e0138793.

86.

Ara I, Perez-Gomez J, Vicente-Rodriguez G, Chavarren J, Dorado C, Calbert JAL, et al. Serum free testosterone, leptin and soluble leptin receptor changes in a 6-week strength-training programme. Br J Nutr. 2006;96(6):1053–9.

87.

Arciero PJ, Baur D, Connelly S, Ormsbee MJ. Timed-daily ingestion of whey protein and exercise training reduces visceral adipose tissue mass and improves insulin resistance: the PRISE study. J Appl Physiol. 2014;117(1):1–10.

88.

Arciero PJ, Gentile CL, Pressman R, Everett M, Ormsbee MJ, Martin J, et al. Moderate protein intake improves total and regional body composition and insulin sensitivity in overweight adults. Metabolism. 2008;57(6):757–65.

89.

Arikawa AY, Thomas W, Schmitz KH, Kurzer MS. Sixteen weeks of exercise reduces C-reactive protein levels in young women. Med Sci Sports Exerc. 2011;43(6):1002–9.

90.

Balducci S, Zanuso S, Nicolucci A, Fernando F, Cavallo S, Cardelli P, et al. Anti-inflammatory effect of exercise training in subjects with type 2 diabetes and the metabolic syndrome is dependent on exercise modalities and independent of weight loss. Nutr Metab Cardiovasc Dis. 2010;20(8):608–17.

91.

Bijeh N, Hosseini SA, Hejazi K. The effect of aerobic exercise on serum C—reactive protein and leptin levels in untrained middle-aged women. Iran J Public Health. 2012;41(9):36–41.

92.

Boudou P, Sobngwi E, Mauvais-Jarvis F, Vexiau P, Gautier JF. Absence of exercise-induced variations in adiponectin levels despite decreased abdominal adiposity and improved insulin sensitivity in type 2 diabetic men. Eur J Endocrinol. 2003;149(5):421–4.

93.

Christensen JO, Svendsen OL, Hassager C, Christiansen C. Leptin in overweight postmenopausal women: no relationship with metabolic syndrome X or effect of exercise in addition to diet. Int J Obes Relat Metab Disord. 1998;22(3):195–9.

94.

Chyu M-C, Dagda RY, Doctolero S, Chaung E, Von Bergen V, Zhang Y, et al. Effects of martial arts exercise on body composition, serum biomarkers and quality of life in overweight/obese premenopausal women: a pilot study. Clin Med Insights Womens Health. 2013;6:55–65.

95.

Colakoglu S, Colakoglu M, Taneli F, Cetinoz F, Turkmen M. Cumulative effects of conjugated linoleic acid and exercise on endurance development, body composition, serum leptin and insulin levels. J Sports Med Phys Fit. 2006;46(4):570–7.

96.

Daryanoosh F, Mehrabani G, Shikhani H. The effect of aerobic and resistance exercises on hormonal changes in non-athlete students at Shiraz University, Southern Iran. Iran Red Crescent Med. 2010;12(2):127–32.

97.

Dede ND, Ipekci SH, Kebapcilar L, Arslan M, Kurban S, Yildiz M, et al. Influence of exercise on leptin, adiponectin and quality of life in type 2 diabetics. Turk J Endocrinol Metab. 2015;19(1):7–13.

98.

Deibert P, Solleder F, König D, Vitolins MZ, H-h Dickhuth, Gollhofer A, et al. Soy protein based supplementation supports metabolic effects of resistance training in previously untrained middle aged males. Aging Male. 2011;14(4):273–9.

99.

Dong-il SEO, Wi-Young SO, Dong Jun S. Changes in insulin resistance and adipokines in obese women following a 12-week programme of combined exercise training. S Afr J Res Sport Phys Educ Recreat. 2016;38(1):139–47.

100.

Eftekhari E, Zafari A, Gholami M. Physical activity, lipid profiles and leptin. J Sports Med Phys Fit. 2016;56(4):465–9.

101.

Fazelifar S, Ebrahim K, Sarkisian V. Effect of exercise training and detraining on serum leptin levels in obese young boys. Med Sport. 2013;66(3):325–37.

102.

Frank LL, Sorensen BE, Yasui Y, Tworoger SS, Schwartz RS, Ulrich CM, et al. Effects of exercise on metabolic risk variables in overweight postmenopausal women: a randomized clinical trial. Obes Res. 2005;13(3):615–25.

103.

Friedenreich CM, Neilson HK, Woolcott CG, McTiernan A, Wang Q, Ballard-Barbash R, et al. Changes in insulin resistance indicators, IGFs, and adipokines in a year-long trial of aerobic exercise in postmenopausal women. Endocr Relat Cancer. 2011;18(3):357–69.

104.

García-Unciti M, Izquierdo M, Idoate F, Gorostiaga E, Grijalba A, Ortega-Delgado F, et al. Weight-loss diet alone or combined with progressive resistance training induces changes in association between the cardiometabolic risk profile and abdominal fat depots. Ann Nutr Metab. 2012;61(4):296–304.

105.

Giannopoulou I, Fernhall B, Carhart R, Weinstock RS, Baynard T, Figueroa A, et al. Effects of diet and/or exercise on the adipocytokine and inflammatory cytokine levels of postmenopausal women with type 2 diabetes. Metabolism. 2005;54(7):866–75.

106.

Heyman E, Toutain C, Delamarche P, Berthon P, Briard D, Youssef H, et al. Exercise training and cardiovascular risk factors in type 1 diabetic adolescent girls. Pediatr Exerc Sci. 2007;19(4):408–19.

107.

Hopkins SA, Baldi JC, Cutfield WS, McCowan L, Hofman PL. Effects of exercise training on maternal hormonal changes in pregnancy. Clin Endocrinol (Oxf). 2011;74(4):495–500.

108.

Karim S, Afiq A. Does regular aerobic training affect basal leptin level (difference between male and female)? Afr J Microbiol Res. 2011;5(31):5591–5.

109.

Kelly AS, Steinberger J, Olson TP. Denael. In the absence of weight loss, exercise training does not improve adipokines or oxidative stress in overweight children. Metabolism. 2007;56(7):1005–9.

110.

Kerksick C, Thomas A, Campbell B, Taylor L, Wilborn C, Marcello B, et al. Effects of a popular exercise and weight loss program on weight loss, body composition, energy expenditure and health in obese women. Nutr Metab (Lond). 2009;6:23.

111.

Kim YS, Nam JS, Yeo DW, Kim KR, Suh SH, Ahn CW. The effects of aerobic exercise training on serum osteocalcin, adipocytokines and insulin resistance on obese young males. Clin Endocrinol. 2015;82(5):686–94.

112.

Ko IG, Choi PB. Regular exercise modulates obesity factors and body composition in sturdy men. J Exerc Rehabil. 2013;9(2):256–62.

113.

Kosydar-Piechna M, Bilińska M, Janas J, Piotrowicz R. Influence of exercise training on leptin levels in patients with stable coronary artery disease: a pilot study. Cardiol J. 2010;17(5):477–81.

114.

Ku YH, Han KA, Ahn H, Kwon H, Koo BK, Kim HC, et al. Resistance exercise did not alter intramuscular adipose tissue but reduced retinol-binding protein-4 concentration in individuals with type 2 diabetes mellitus. J Int Med Res. 2010;38(3):782–91.

115.

Ligibel JA, Giobbie-Hurder A, Olenczuk D, Campbell N, Salinardi T, Winer EP, et al. Impact of a mixed strength and endurance exercise intervention on levels of adiponectin, high molecular weight adiponectin and leptin in breast cancer survivors. Cancer Causes Control. 2009;20(8):1523–8.

116.

Loimaala A, Groundstroem K, Rinne M, Nenonen A, Huhtala H, Parkkari J, et al. Effect of long-term endurance and strength training on metabolic control and arterial elasticity in patients with type 2 diabetes mellitus. Am J Cardiol. 2009;103(7):972–7.

117.

Markofski MM, Carrillo AE, Timmerman KL, Jennings K, Coen PM, Pence BD, et al. Exercise training modifies ghrelin and adiponectin concentrations and is related to inflammation in older adults. J Gerontol A Biol Sci Med Sci. 2014;69(6):675–81.

118.

Mason C, Xiao L, Imayama I, Duggan CR, Campbell KL, Kong A, et al. The effects of separate and combined dietary weight loss and exercise on fasting ghrelin concentrations in overweight and obese women: a randomized controlled trial. Clin Endocrinol. 2015;82(3):369–76.

119.

McNeil J, Schwartz A, Rabasa-Lhoret R, Lavoie JM, Brochu M, Doucet E. Changes in leptin and peptide YY do not explain the greater-than-predicted decreases in resting energy expenditure after weight loss. J Clin Endocrinol Metab. 2015;100(3):E443–52.

120.

Mendham A, Duffield R, Marino F, Coutts A. Small-sided games training reduces CRP, IL-6 and leptin in sedentary, middle-aged men. Eur J Appl Physiol. 2014;114(11):2289–97.

121.

Mendham AE, Duffield R, Marino F, Coutts AJ. A 12-week sports-based exercise programme for inactive Indigenous Australian men improved clinical risk factors associated with type 2 diabetes mellitus. J Sci Med Sport. 2015;18(4):438–43.

122.

Okada S, Hiuge A, Makino H, Nagumo A, Takaki H, Konishi H, et al. Effect of exercise intervention on endothelial function and incidence of cardiovascular disease in patients with type 2 diabetes. J Atheroscler Thromb. 2010;17(8):828–33.

123.

Pil-Byung C, Shin-Hwan Y, Il-Gyu K, Gwang-Suk H, Jae-Hyun Y, Han-Joon L, et al. Effects of exercise program on appetite-regulating hormones, inflammatory mediators, lipid profiles, and body composition in healthy men. J Sports Med Phys Fit. 2011;51(4):654–63.

124.

Reseland JE, Anderssen SA, Solvoll K, Hjermann I, Urdal P, Holme I, et al. Effect of long-term changes in diet and exercise on plasma leptin concentrations. Am J Clin Nutr. 2001;73(2):240–5.

125.

Rokling-Andersen MH, Reseland JE, Veieroed MB, Anderssen SA, Jr Jacobs, Urdal P, et al. Effects of long-term exercise and diet intervention on plasma adipokine concentrations. Am J Clin Nutr. 2007;86(5):1293–301.

126.

Rosety-Rodriguez M, Camacho A, Rosety I, Fornieles G, Rosety MA, Diaz AJ, et al. Low-grade systemic inflammation and leptin levels were improved by arm cranking exercise in adults with chronic spinal cord injury. Arch Phys Med Rehabil. 2014;95(2):297–302.

127.

Sardar MA, Hejazi SM, Abedini R. The effects of an eight-week aerobic exercise training program on serum leptin and cardiovascular risk factors among obese men with type II diabetes. Life Sci J. 2012;9(3):2518–23.

128.

Shah K, Armamento-Villareal R, Parimi N, Chode S, Sinacore DR, Hilton TN, et al. Exercise training in obese older adults prevents increase in bone turnover and attenuates decrease in hip bone mineral density induced by weight loss despite decline in bone-active hormones. J Bone Miner Res. 2011;26(12):2851–9.

129.

Sheikholeslami-Vatani D, Siahkouhian M, Hakimi M, Ali-Mohammadi M. The effect of concurrent training order on hormonal responses and body composition in obese men. Sci Sport. 2015;30(6):335–41.

130.

Straznicky NE, Lambert EA, Nestel PJ, McGrane MT, Dawood T, Schlaich MP, et al. Sympathetic neural adaptation to hypocaloric diet with or without exercise training in obese metabolic syndrome subjects. Diabetes. 2010;59(1):71–9.

131.

Suksom D, Phanpheng Y, Soogarun S, Sapwarobol S. Step aerobic combined with resistance training improves cutaneous microvascular reactivity in overweight women. J Sports Med Phys Fit. 2015;55(12):1547–54.

132.

Tan S, Wang J, Cao L, Guo Z, Wang Y. Positive effect of exercise training at maximal fat oxidation intensity on body composition and lipid metabolism in overweight middle-aged women. Clin Physiol Funct Imaging. 2016;36(3):225–30.

133.

Trapp EG, Chisholm DJ, Freund J, Boutcher SH. The effects of high-intensity intermittent exercise training on fat loss and fasting insulin levels of young women. Int J Obes. 2008;32(4):684–91.

134.

Turner JE, Markovitch D, Betts JA, Thompson D. Nonprescribed physical activity energy expenditure is maintained with structured exercise and implicates a compensatory increase in energy intake. Am J Clin Nutr. 2010;92(5):1009–16.

135.

van Gemert WA, May AM, Schuit AJ, Oosterhof BY, Peeters PH, Monninkhof EM. Effect of weight loss with or without exercise on inflammatory markers and adipokines in postmenopausal women: the SHAPE-2 trial, a randomized controlled trial. Cancer Epidemiol Biomark Prev. 2016;25(5):799–806.

136.

Venojärvi M, Wasenius N, Manderoos S, Heinonen OJ, Hernelahti M, Lindholm H, et al. Nordic walking decreased circulating chemerin and leptin concentrations in middle-aged men with impaired glucose regulation. Ann Med. 2013;45(2):162–70.

137.

Villareal DT, Shah K, Banks MR, Sinacore DR, Klein S. Effect of weight loss and exercise therapy on bone metabolism and mass in obese older adults: a one-year randomized controlled trial. J Clin Endocrinol Metab. 2008;93(6):2181–7.

138.

Winzer BM, Paratz JD, Whitehead JP, Whiteman DC, Reeves MM. The feasibility of an exercise intervention in males at risk of oesophageal adenocarcinoma: a randomized controlled trial. PLoS One. 2015;10(2):e0117922.

139.

Yang C, Chen J, Wu F, Li J, Liang P, Zhang H, et al. Effects of 60-day head-down bed rest on osteocalcin, glycolipid metabolism and their association with or without resistance training. Clin Endocrinol. 2014;81(5):671–8.
Ethics declarations
Data Availability Statement
Data used for these analyses are available in a public repository through the University of Alabama, which does not issue datasets with DOIs (non-mandated deposition). The data can be downloaded directly from http://ir.ua.edu/handle/123456789/3480 in SPSS or Microsoft Excel file format.
Funding
No sources of funding were used to assist in the preparation of this article.
Conflict of interest
Michael V. Fedewa, Elizabeth D. Hathaway, Christie L. Ward-Ritacco, Tyler D. Williams, and Ward C. Dobbs declare that they have no conflicts of interest relevant to the content of this review.
Electronic supplementary material
Below is the link to the electronic supplementary material.
About this article
Cite this article
Fedewa, M.V., Hathaway, E.D., Ward-Ritacco, C.L. et al. The Effect of Chronic Exercise Training on Leptin: A Systematic Review and Meta-Analysis of Randomized Controlled Trials. Sports Med 48, 1437–1450 (2018). https://doi.org/10.1007/s40279-018-0897-1