Abstract
Background
Re-engineering the built environment to influence behaviors associated with physical activity potentially provides an opportunity to promote healthier lifestyles at a population level. Here we present evidence from two quasi-experimental field studies in which we tested a novel, yet deceptively simple, intervention designed to alter perception of, and walking behavior associated with, stairs in an urban area.
Objectives
Our objectives were to examine whether adjusting a stair banister has an influence on perceptions of stair steepness or on walking behavior when approaching the stairs.
Methods
In study 1, we asked participants (n = 143) to visually estimate the steepness of a set of stairs viewed from the top, when the stair banister was adjusted so that it converged with or diverged from the stairs (± 1.91°) or remained neutral (± 0°). In study 2, the walking behavior of participants (n = 36) was filmed as they approached the stairs to descend, unaware of whether the banister converged, diverged, or was neutral.
Results
In study 1, participants estimated the stairs to be steeper if the banister diverged from, rather than converged with, the stairs. The effect was greater when participants were unaware of the adjustment. In study 2, walking speed was significantly slower when the banister diverged from, rather than converged with, the stairs.
Conclusions
These findings encourage us to speculate about the potential to economically re-engineer features of the built environment to provide opportunities for action (affordances) that invite physical activity behavior or even promote safer navigation of the environment.
Access options
Buy single article
Instant access to the full article PDF.
USD 49.95
Price includes VAT (USA)
Tax calculation will be finalised during checkout.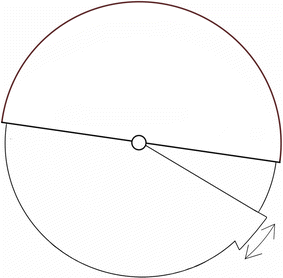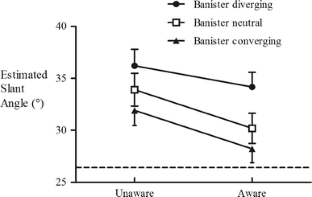 Notes
1.

2.

Order of banister adjustment was not counterbalanced, but there is no reason to believe that the day of the week upon which adjustments occurred (Tuesday, Wednesday, Thursday) influenced sampling or responses. Participants who had completed an estimate on a previous day were not tested.

3.

To avoid drawing the attention of participants to the banister–stairs relationship, participants had to complete the unaware condition first, so it was not possible to counterbalance aware/unaware conditions.

4.

5.

During debriefing, no student indicated awareness that the banister had been adjusted.

6.

Estimation data for one participant was unavailable, so the sample therefore included ten females and 22 males.

7.

Participants indicated the size of the aperture created by a Ponzo illusion with the thumb and index finger (automated, low conscious) or with the thumb and ring finger (awkward, high conscious).
References
1.

Brymer E, Davids K. Designing environments to enhance physical and psychological benefits of physical activity: a multidisciplinary perspective. Sports Med. 2016;46:925–6.

2.

Frank LD, Sallis JF, Saelens BE, et al. The development of a walkability index: application to the neighborhood quality of life study. Br J Sports Med. 2010;44:924–33.

3.

Giles-Corti B, Vernez Moudon A, Reis R, et al. City planning and population health: a global challenge. Lancet. 2016;388:2912–24.

4.

Moura F, Cambra P, Goncalves AB. Measuring walkability for distinct pedestrian groups with a participatory assessment method: a case study in Lisbon. Landsc Urban Plan. 2017;157:282–96.

5.

Gibson JJ. The ecological approach to visual perception. Hillsdale: Erlbaum; 1979.

6.

Adolph KE, Eppler MA, Gibson EJ. Crawling versus walking infants' perception of affordances for locomotion over sloping surfaces. Child Dev. 1993;64:1158–74.

7.

Fajen BR. The scaling of information to action in visually guided braking. J Exp Psychol Hum Percept Perform. 2005;31:1107–23.

8.

Lee DN, Lishman R. Visual control of locomotion. Scand J Psychol. 1977;18:224–30.

9.

Warren WH. Perceiving affordances: visual guidance of stair climbing. J Exp Psychol Hum Percept Perform. 1984;10:683–703.

10.

Proffitt DR. Embodied perception and the economy of action. Perspect Psychol Sci. 2006;1:110–22.

11.

Witt JK, Linkenauger S, Wickens C. Action-specific effects in perception and their potential applications. J Appl Res Mem Cogn. 2016;5:69–76.

12.

Bhalla M, Proffitt DR. Visual-motor recalibration in geographical slant perception. J Exp Psychol Hum Percept Perform. 1999;25:1076–96.

13.

Proffitt DR, Bhalla M, Gossweiler R, et al. Perceiving geographical slant. Psychon Bull Rev. 1995;2:409–28.

14.

Stefanucci JK, Proffitt DR, Clore G, Parekh N. Skating down a steeper slope: Fear influences the perception of geographical slant. J Exp Psychol Hum Percept Perform. 2008;37:321–3.

15.

Taylor-Covill GAH, Eves FF. When what we need influences what we see: choice of energetic replenishment is linked with perceived steepness. J Exp Psychol Hum Percept Perform. 2014;40:915–9.

16.

Jackson RE, Cormack LK. Evolved navigation theory and the descent illusion. Percept Psychophys. 2007;69:353–62.

17.

Haselton MG, Buss DM. Error management theory: A new perspective on biases in cross-sex mind reading. J Pers Soc Psychol. 2000;78:81–91.

18.

Eves FF, Thorpe KS, Lewis A, et al. Does perceived steepness deter stair climbing when an alternative is available? Psychon Bull Rev. 2014;21:637–44.

19.

Coren S, Girgus J. Seeing is deceiving: the psychology of visual illusions. Hillsdale: Erlbaum; 1978.

20.

Goodale M, Milner AD. Separate visual pathways for perception and action. Trends Neurosci. 1992;15:20–5.

21.

Milner AD, Goodale M. Two visual systems re-viewed. Neuropsychology. 2008;46:774–85.

22.

Aglioti S, DeSouza JFX, Goodale M. Size-contrast illusions deceive the eye but not the hand. Curr Biol. 1995;5:679–85.

23.

Chauvel G, Wulf G, Maquestiaux F. Visual illusions can facilitate sport skill learning. Psychon Bull Rev. 2015;22:717–21.

24.

Denton GG. The influence of visual pattern on perceived speed. J Exp Psychol Hum Percept Perform. 1980;9:393–402.

25.

Gray R. Being selective at the plate: processing dependence between perceptual variables relates to hitting goals and performance. J Exp Psychol Hum Percept Perform. 2013;39:1124–42.

26.

Witt JK, Linkenauger SA, Proffitt DR. Get me out of this slump! Visual illusions improve sports performance. Psychol Sci. 2012;23:397–9.

27.

Wood G, Vine S, Wilson M. The impact of visual illusions on perception, action planning, and motor performance. Atten Percept Psychophys. 2013;75:830–4.

28.

Gregory RL. Distortion of visual space as inappropriate constancy scaling. Nature. 1963;199:678–80.

29.

Weintraub DJ, Krantz DH, Olson TP. The Poggendorff illusion: consider all the angles. J Exp Psychol Hum Percept Perform. 1980;6:718–25.

30.

Westheimer G. Illusions in the spatial sense of the eye: geometrical-optical illusions and the neural representation of space. Vis Res. 2008;48:2128–42.

31.

Peng J, Fey NP, Kuiken TA, et al. Anticipatory kinematics and muscle activity preceding transitions from level-ground walking to stair ascent and descent. J Biomech. 2016;49:528–36.

32.

Glover SR, Dixon P. Dynamic illusion effects in a reaching task: evidence for separate visual representations in the planning and control of reaching. J Exp Psychol Hum Percept Perform. 2001;27:560–72.

33.

Elliott DB, Vale A, Whitaker D, et al. Does my step look big in this? A visual illusion leads to safer stepping behaviour. PLoS One. 2009;4:e4577. https://doi.org/10.1371/journal.pone.0004577.

34.

Rhea CK, Rietdyk S, Haddad JM. Locomotor adaptation versus perceptual adaptation when stepping over an obstacle with a height illusion. PLoS One. 2010;5(7):e11544. https://doi.org/10.1371/journal.pone.0011544.

35.

Wong T, Masters RSW, Maxwell JP, Abernethy BA. Reinvestment and falls in community-dwelling older adults. Neurorehabil Neural Repair. 2008;22:410–4.

36.

Masters RSW, Pall HS, MacMahon KMA, Eves FF. Duration of Parkinson disease is associated with an increased propensity for 'reinvestment'. Neurorehabil Neural Repair. 2007;21:123–6.

37.

Orrell A, Masters RSW, Eves FF. Reinvestment and movement disruption following stroke. Neurorehabil Neural Repair. 2009;23:177–83.

38.

Masters RSW, Maxwell JP. The theory of reinvestment. Int Rev Sport Exerc Psychol. 2008;1:160–83.

39.

Gonzalez CLR, Ganel T, Whitwell RL, Morrissey B, Goodale MA. Practice makes perfect, but only with the right hand: Sensitivity to perceptual illusions with awkward grasps decreases with practice in the right but not the left hand. Neuropsychology. 2008;46:624–31.

40.

Hamel KA, Okita N, Higginson JS, et al. Foot clearance during stair descent: effects of age and illumination. Gait Posture. 2005;21:135–40.

41.

Zietz D, Johannsen L, Hollands M. Stepping characteristics and centre of mass control during stair descent: Effects of age, fall risk and visual factors. Gait Posture. 2011;34:279–84.
Funding
No sources of funding were used to assist with preparation of the manuscript.
Ethics declarations
Ethical approval
All procedures were in accordance with the ethical standards of the institutional research committee and with the 1964 Helsinki declaration and its later amendments.
Conflict of interest
Rich Masters, Catherine Capio, Jamie Poolton, and Liis Uiga have no conflicts of interest associated with the manuscript.
About this article
Cite this article
Masters, R., Capio, C., Poolton, J. et al. Perceptual Modification of the Built Environment to Influence Behavior Associated with Physical Activity: Quasi-Experimental Field Studies of a Stair Banister Illusion. Sports Med 48, 1505–1511 (2018). https://doi.org/10.1007/s40279-018-0869-5