Abstract
Background
Physical inactivity is one of the key global health challenges as it is associated with adverse effects related to ageing, weight control, physical function, longevity, and quality of life. Dancing is a form of physical activity associated with health benefits across the lifespan, even at amateur levels of participation. However, it is unclear whether dance interventions are equally as effective as other forms of physical activity.
Objective
The aim was to systematically review the literature on the effectiveness of structured dance interventions, in comparison to structured exercise programmes, on physical health outcome measures.
Methods
Seven databases were searched from earliest records to 4 August 2017. Studies investigating dance interventions lasting > 4 weeks that included physical health outcomes and had a structured exercise comparison group were included in the study. Screening and data extraction were performed by two reviewers, with all disagreements resolved by the primary author. Where appropriate, meta-analysis was performed or an effect size estimate generated.
Results
Of 11,434 studies identified, 28 (total sample size 1276 participants) met the inclusion criteria. A variety of dance genres and structured exercise interventions were compared. Meta-analyses showed dance interventions significantly improved body composition, blood biomarkers, and musculoskeletal function. The effect of either intervention on cardiovascular function and self-perceived mobility was equivalent.
Conclusion
Undertaking structured dance of any genre is equally and occasionally more effective than other types of structured exercise for improving a range of health outcome measures. Health practitioners can recommend structured dance as a safe and effective exercise alternative.
Access options
Buy single article
Instant access to the full article PDF.
US$ 49.95
Tax calculation will be finalised during checkout.
Subscribe to journal
Immediate online access to all issues from 2019. Subscription will auto renew annually.
US$ 259
Tax calculation will be finalised during checkout.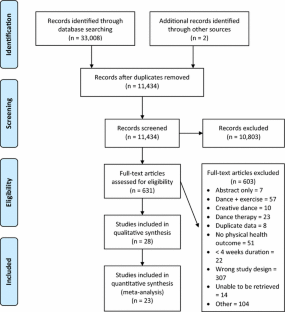 References
1.

Blair SN. Physical inactivity: the biggest public health problem of the 21st century. Br J Sports Med. 2009;43(1):1–2.

2.

Chau JY, Grunseit A, Midthjell K, Holmen J, Holmen TL, Bauman AE, et al. Cross-sectional associations of total sitting and leisure screen time with cardiometabolic risk in adults. Results from the HUNT Study, Norway. J Sci Med Sport. 2014;17(1):78–84.

3.

Keadle SK, Arem H, Moore SC, Sampson JN, Matthews CE. Impact of changes in television viewing time and physical activity on longevity: a prospective cohort study. Int J Behav Nutr Phys Act. 2015;12:1–11. https://doi.org/10.1186/s12966-015-0315-0.

4.

Booth FW, Roberts CK, Laye MJ. Lack of exercise is a major cause of chronic diseases. Compr Physiol. 2012;2(2):1143–211. https://doi.org/10.1002/cphy.c110025.

5.

Lobelo F, Stoutenberg M, Hutber A. The Exercise is Medicine Global Health Initiative: a 2014 update. Br J Sports Med. 2014;48(22):1627–33. https://doi.org/10.1136/bjsports-2013-093080.

6.

Bouchard C, Blair SN, Haskell WL. Physical activity and health. Champaign: Human Kinetics; 2007.

7.

Riddoch CJ, Mattocks C, Deere K, Saunders J, Kirkby J, Tilling K, et al. Objective measurement of levels and patterns of physical activity. Arch Dis Child. 2007;92(11):963–9. https://doi.org/10.1136/adc.2006.112136.

8.

Strong WB, Malina RM, Blimkie CJR, Daniels SR, Dishman RK, Gutin B, et al. Evidence based physical activity for school-age youth. J Pediatr. 2005;146(6):732–7. https://doi.org/10.1016/j.jpeds.2005.01.055.

9.

Kruger J, Ham SA, Kohl HW III. Trends in leisure-time physical inactivity by age, sex, and race/ethnicity-United States, 1994–2004. MMWR Morb Mortal Wkly Rep. 2005;54(39):991–4.

10.

Sallis JF, Haskell WL, Fortmann SP, Vranizan KM, Taylor CB, Solomon DS. Predictors of adoption and maintenance of physical activity in a community sample. Prev Med. 1986;15(4):331–41.

11.

Teixeira PJ, Carraça EV, Markland D, Silva MN, Ryan RM. Exercise, physical activity, and self-determination theory: a systematic review. Int J Behav Nutr Phys Act. 2012;9(1):78. https://doi.org/10.1186/1479-5868-9-78.

12.

Dishman RK, Motl RW, Saunders R, Felton G, Ward DS, Dowda M, et al. Enjoyment mediates effects of a school-based physical-activity intervention. Med Sci Sports Exerc. 2005;37(3):478–87.

13.

Salmon J, Owen N, Crawford D, Bauman A, Sallis JF. Physical activity and sedentary behavior: a population-based study of barriers, enjoyment, and preference. Health Psychol. 2003;22(2):178–88.

14.

Jago R, Edwards MJ, Sebire SJ, Bird EL, Tomkinson K, Kesten JM, et al. Bristol Girls Dance Project: a cluster randomised controlled trial of an after-school dance programme to increase physical activity among 11- to 12-year-old girls. Public Health Res (Southampt). 2016;4(6). https://doi.org/10.3310/phr04060.

15.

O'Donovan T, Kay T. Focus on girls in sport. Br J Teach Phys Educ. 2005;36:29–31.

16.

Hwang PW, Braun KL. The effectiveness of dance interventions to improve older adults' health: a systematic literature review. Altern Ther Health Med. 2015;21(5):64–70.

17.

Rodrigues-Krause J, Farinha JB, Krause M, Reischak-Oliveira A. Effects of dance interventions on cardiovascular risk with ageing: systematic review and meta-analysis. Complement Ther Med. 2016;29:16–28. https://doi.org/10.1016/j.ctim.2016.09.004.

18.

Vassallo AJ, Hiller CE, Pappas E, Stamatakis E. Temporal trends in dancing among adults between 1994 and 2012: the Health Survey for England. Prev Med. 2017. https://doi.org/10.1016/j.ypmed.2017.11.005.

19.

Hanna JL. The performer-audience connection: emotion to metaphor in dance and society. Austin: University of Texas Press; 1983.

20.

Dance Movement Therapy Association of Australasia. What is dance movement therapy. 2014–2016. http://dtaa.org.au/therapy/. Accessed 8 Feb 2017.

21.

Baldari C, Guidetti L. VO2max ventilatory and anaerobic thresholds in rhythmic gymnasts and young female dancers. J Sports Med Phys Fitness. 2001;41(2):177–82.

22.

Donath L, Roth R, Hohn Y, Zahner L, Faude O. The effects of Zumba training on cardiovascular and neuromuscular function in female college students. Eur J Sport Sci. 2014;14(6):569–77.

23.

Matthews B, Bennell K, McKay H, Khan K, Baxter-Jones A, Mirwald R, et al. Dancing for bone health: a 3-year longitudinal study of bone mineral accrual across puberty in female non-elite dancers and controls. Osteoporos Int. 2006;17(7):1043–54.

24.

Huang SY, Hogg J, Zandieh S, Bostwick SB. A ballroom dance classroom program promotes moderate to vigorous physical activity in elementary school children. Am J Health Promot. 2012;26(3):160–5.

25.

Burkhardt J, Brennan C. The effects of recreational dance interventions on the health and well-being of children and young people: a systematic review. Arts Health. 2012;4(2):148–61.

26.

Keogh JW, Kilding A, Pidgeon P, Ashley L, Gillis D. Physical benefits of dancing for healthy older adults: a review. J Aging Phys Act. 2009;17(4):479–500.

27.

Merom D, Ding D, Stamatakis E. Dancing participation and cardiovascular disease mortality: a pooled analysis of 11 population-based British cohorts. Am J Prev Med. 2016;50(6):756–60.

28.

Moher D, Liberati A, Tetzlaff J, Altman DG, The PG. Preferred reporting items for systematic reviews and meta-analyses: the PRISMA statement. PLoS Med. 2009;6(7):e1000097. https://doi.org/10.1371/journal.pmed.1000097.

29.

Slim K, Nini E, Forestier D, Kwiatkowski F, Panis Y, Chipponi J. Methodological Index for Non-Randomized Studies (MINORS): development and validation of a new instrument. ANZ J Surg. 2003;73:712–6. https://doi.org/10.1046/j.1445-2197.2003.02748.x.

30.

DerSimonian R, Laird N. Meta-analysis in clinical trials. Control Clin Trials. 1986;7(3):177–88.

31.

Cohen J. Statistical power analysis for the behavioral sciences, vol. Book. Whole. Burlington: Elsevier Science; 2013.

32.

Egger M, Smith GD, Schneider M, Minder C. Bias in meta-analysis detected by a simple, graphical test. BMJ. 1997;315(7109):629–34. https://doi.org/10.1136/bmj.315.7109.629.

33.

Duval S, Tweedie R. Trim and fill: a simple funnel-plot-based method of testing and adjusting for publication bias in meta-analysis. Biometrics. 2000;56(2):455–63.

34.

Hedges L, Olkin I. Statistical methods for meta-analysis. San Diego: Academic Press; 1985.

35.

Barene S, Holtermann A, Oseland H, Brekke OL, Krustrup P. Effects on muscle strength, maximal jump height, flexibility and postural sway after soccer and Zumba exercise among female hospital employees: a 9-month randomised controlled trial. J Sports Sci. 2016. https://doi.org/10.1080/02640414.2016.1140906.

36.

Barene S, Krustrup P, Brekke OL, Holtermann A. Soccer and Zumba as health-promoting activities among female hospital employees: a 40-weeks cluster randomised intervention study. J Sports Sci. 2014;32(16):1539–49. https://doi.org/10.1080/02640414.2014.906043.

37.

Barene S, Krustrup P, Holtermann A. Effects of the workplace health promotion activities soccer and Zumba on muscle pain, work ability and perceived physical exertion among female hospital employees. PLoS One. 2014;9(12):e115059. https://doi.org/10.1371/journal.pone.0115059.

38.

Hackney ME, Kantorovich S, Earhart GM. A study on the effects of Argentine tango as a form of partnered dance for those with Parkinson disease and the healthy elderly. Am J Dance Ther. 2007;29(2):109–27.

39.

Hackney ME, Kantorovich S, Levin R, Earhart GM. Effects of tango on functional mobility in Parkinson's disease: a preliminary study. J Neurol Phys Ther. 2007;31(4):173–9. https://doi.org/10.1097/NPT.0b013e31815ce78b.

40.

Rani SU, Sing SP. Effect of selected yogic practices and aerobic dance on health related physical fitness variables among Nicobari women students. Int J Phys Educ Fitness Sports. 2013;2(4):76–9.

41.

Volpe D, Signorini M, Marchetto A, Lynch T, Morris ME. A comparison of Irish set dancing and exercises for people with Parkinson's disease: a phase II feasibility study. BMC Geriatr. 2013;13(54):1–6.

42.

Arzoglou D, Tsimaras V, Kotsikas G, Fotiadou E, Sidiropoulou M, Proios M, et al. The effect of a traditional dance training program on neuromuscular coordination of individuals with autism. J Phys Educ Sport. 2013;13(4):563–9.

43.

Belardinelli R, Lacalaprice F, Ventrella C, Volpe L, Faccenda E. Waltz dancing in patients with chronic heart failure: new form of exercise training. Circ Heart Fail. 2008;1(2):107–14.

44.

Burgess G, Grogan S, Burwitz L. Effects of a 6-week aerobic dance intervention on body image and physical self-perceptions in adolescent girls. Body Image. 2006;3(1):57–66.

45.

Ford HT Jr, Puckett JR, Blessing DL, Tucker LA. Effects of selected physical activities on health-related fitness and psychological well-being. Psychol Rep. 1989;64(1):203–8.

46.

Garber CE, McKinney JS, Carleton RA. Is aerobic dance an effective alternative to walk-jog exercise training? J Sports Med Phys Fitness. 1992;32(2):136–41.

47.

Hackney ME, Earhart GM. Health-related quality of life and alternative forms of exercise in Parkinson disease. Parkinsonism Relat Disord. 2009;15(9):644–8. https://doi.org/10.1016/j.parkreldis.2009.03.003.

48.

Hashimoto H, Takabatake S, Miyaguchi H, Nakanishi H, Naitou Y. Effects of dance on motor functions, cognitive functions, and mental symptoms of Parkinson's disease: a quasi-randomized pilot trial. Complement Ther Med. 2015;23(2):210–9.

49.

Heffron M, Davey R, Cochrane T. Weight-training and bone mass in post-menopausal women. Sports Exerc Inj. 1997;3(3):143–9.

50.

Janyacharoen T, Laophosri M, Kanpittaya J, Auvichayapat P, Sawanyawisuth K. Physical performance in recently aged adults after 6 weeks traditional Thai dance: a randomized controlled trial. Clin Interv Aging. 2013;8:855–9.

51.

Kaltsatou ACH, Kouidi EI, Anifanti MA, Douka SI, Deligiannis AP. Functional and psychosocial effects of either a traditional dancing or a formal exercising training program in patients with chronic heart failure: a comparative randomized controlled study. Clin Rehabil. 2014;28(2):128–38. https://doi.org/10.1177/0269215513492988.

52.

Kin Isler A, Kosar SN, Korkusuz F. Effects of step aerobics and aerobic dancing on serum lipids and lipoproteins. J Sports Med Phys Fitness. 2001;41(3):380–5.

53.

Kouli O, Rokka S, Mavridis G, Derri V. The effects of an aerobic program on health-related fitness and intrinsic motivation in elementary school pupils. Stud Phys Cult Tour. 2009;16(3):301–6.

54.

Mangeri F, Montesi L, Forlani G, Grave RD, Marchesini G. A standard ballroom and Latin dance program to improve fitness and adherence to physical activity in individuals with type 2 diabetes and in obesity. Diabetol Metab Syndr. 2014;6(1):74.

55.

Mavridis G, Filippou F, Rokka S, Bousiou S, Mavridis K. The effect of a health-related aerobic dance program on elementary school children. J Hum Mov Stud. 2004;47(4):337–49.

56.

McKinley P, Jacobson A, Leroux A, Bednarczyk V, Rossignol M, Fung J. Effect of a community-based Argentine tango dance program on functional balance and confidence in older adults. J Aging Phys Act. 2008;16(4):435–53.

57.

Milburn S, Butts NK. A comparison of the training responses to aerobic dance and jogging in college females. Med Sci Sports Exerc. 1983;15(6):510–3.

58.

Rios Romenets S, Anang J, Fereshtehnejad SM, Pelletier A, Postuma R. Tango for treatment of motor and non-motor manifestations in Parkinson's disease: a randomized control study. Complement Ther Med. 2015;23(2):175–84.

59.

Shimamoto H, Adachi Y, Takahashi M, Tanaka K. Low impact aerobic dance as a useful exercise mode for reducing body mass in mildly obese middle-aged women. Appl Human Sci. 1998;17(3):109–14.

60.

Viskic-Stalec N, Stalec J, Katic R, Podvorac D, Katovic D. The impact of dance-aerobics training on the morpho-motor status in female high-schoolers. Coll Antropol. 2007;31(1):259–66.

61.

Rehfeld K, Muller P, Aye N, Schmicker M, Dordevic M, Kaufmann J, et al. Dancing or fitness sport? The effects of two training programs on hippocampal plasticity and balance abilities in healthy seniors. Front Hum Neurosci. 2017;11:305. https://doi.org/10.3389/fnhum.2017.00305.

62.

Sofianidis G, Dimitriou A-M, Hatzitaki V. A comparative study of the effects of Pilates and Latin dance on static and dynamic balance in older adults. J Aging Phys Act. 2017;25(3):412–9. https://doi.org/10.1123/japa.2016-0164.

63.

Brown W, Bauman A, Bull F, Burton N. Development of evidence-based physical activity recommendations for adults (18–64 years). Australia: Australian Government Department of Health; 2012.

64.

Quach L, Galica AM, Jones RN, Procter-Gray E, Manor B, Hannan MT, et al. The non-linear relationship between gait speed and falls: the MOBILIZE Boston Study. J Am Geriatr Soc. 2011;59(6):1069–73. https://doi.org/10.1111/j.1532-5415.2011.03408.x.

65.

Boule NG, Haddad E, Kenny GP, Wells GA, Sigal RJ. Effects of exercise on glycemic control and body mass in type 2 diabetes mellitus: a meta-analysis of controlled clinical trials. JAMA. 2001;286(10):1218–27.

66.

Donnelly JE, Blair SN, Jakicic JM, Manore MM, Rankin JW, Smith BK. Appropriate physical activity intervention strategies for weight loss and prevention of weight regain for adults. Med Sci Sports Exerc. 2009;41(2):459–71. https://doi.org/10.1249/MSS.0b013e3181949333.

67.

Sharp K, Hewitt J. Dance as an intervention for people with Parkinson's disease: a systematic review and meta-analysis. Neurosci Biobehav Rev. 2014;47:445–56. https://doi.org/10.1016/j.neubiorev.2014.09.009.

68.

Duncan RP, Earhart GM. Randomized controlled trial of community-based dancing to modify disease progression in Parkinson disease. Neurorehabil Neural Repair. 2012;26(2):132–43. https://doi.org/doi:10.1177/1545968311421614.

69.

Foster ER, Golden L, Duncan RP, Earhart GM. Community-based Argentine tango dance program is associated with increased activity participation among individuals with Parkinson's disease. Arch Phys Med Rehabil. 2013;94(2):240–9. https://doi.org/10.1016/j.apmr.2012.07.028.

70.

Nordestgaard BG, Varbo A. Triglycerides and cardiovascular disease. Lancet. 2014;384(9943):626–35.

71.

Rader D, Hovingh GK. HDL and cardiovascular disease. Lancet. 2014;384(9943):618–25.

72.

Lakes KD, Marvin S, Rowley J, Nicolas MS, Arastoo S, Viray L, et al. Dancer perceptions of the cognitive, social, emotional, and physical benefits of modern styles of partnered dancing. Complement Ther Med. 2016;26:117–22.

73.

Maraz A, Király O, Urbán R, Griffiths MD, Demetrovics Z. Why do you dance? Development of the Dance Motivation Inventory (DMI). PLoS One. 2015;10(3):e0122866.

74.

Slade SC, Dionne CE, Underwood M, Buchbinder R. Consensus on Exercise Reporting Template (CERT): explanation and elaboration statement. Br J Sports Med. 2016;50(23):1428–37. https://doi.org/10.1136/bjsports-2016-096651.

75.

Turner RM, Bird SM, Higgins JPT. The impact of study size on meta-analyses: examination of underpowered studies in Cochrane Reviews. PLoS One. 2013;8(3):e59202. https://doi.org/10.1371/journal.pone.0059202.

76.

Kattenstroth JC, Kolankowska I, Kalisch T, Dinse HR. Superior sensory, motor, and cognitive performance in elderly individuals with multi-year dancing activities. Front Aging Neurosci. 2010;2:31.

77.

Kattenstroth JC, Kalisch T, Holt S, Tegenthoff M, Dinse HR. Six months of dance intervention enhances postural, sensorimotor, and cognitive performance in elderly without affecting cardio-respiratory functions. Front Aging Neurosci. 2013;5:5.

78.

Kosmat H, Vranic A. The efficacy of dance intervention as a cognitive training for old-old. J Aging Phys Act. 2016;24:1–32.

79.

Porat S, Goukasian N, Hwang KS, Zanto T, Do T, Pierce J, et al. Dance experience and associations with cortical gray matter thickness in the aging population. Dement Geriatr Cogn Dis Extra. 2016;6(3):508–17.

80.

Higueras-Fresnillo S, Martinez-Gomez D, Padilla-Moledo C, Conde-Caveda J, Esteban Cornejo I. Dance participation and academic performance in youth girls. Nutr Hosp. 2016;33(3):288.

81.

Claire C, Martel M, Fortin S, Raymond MJ, Veilleux LN, D'Arcy S, et al. Motor, cognitive and psychosocial impacts of an adapted dance program among children with Charcot–Marie–Tooth disease: an exploratory study. Ann Phys Rehabil Med. 2016;59s:e58.

82.

Pinniger R, Brown RF, Thorsteinsson EB, McKinley P. Argentine tango dance compared to mindfulness meditation and a waiting-list control: a randomised trial for treating depression. Complement Ther Med. 2012;20(6):377–84.

83.

Gao L, Zhang L, Qi H, Petridis L. Middle-aged female depression in perimenopausal period and square dance intervention. Psychiatr Danub. 2016;28(4):372–8.

84.

Kaltsatou A, Kouidi E, Fountoulakis K, Sipka C, Theochari V, Kandylis D, et al. Effects of exercise training with traditional dancing on functional capacity and quality of life in patients with schizophrenia: a randomized controlled study. Clin Rehabil. 2015;29(9):882–91.

85.

Shanahan J, Coman L, Ryan F, Saunders J, O'Sullivan K, Ni Bhriain O, et al. To dance or not to dance? A comparison of balance, physical fitness and quality of life in older Irish set dancers and age-matched controls. Public Health. 2016;141:56–62.

86.

Muro A, Artero N. Dance practice and well-being correlates in young women. Women Health. 2016;04:1–11.

87.

Pescatello LS, Medicine ACoS. ACSM's guidelines for exercise testing and prescription. 9th ed. Philadelphia: Wolters Kluwer/Lippincott Williams & Wilkins Health; 2014.
Acknowledgements
The authors thank the student members of Dance Research Collaborative who assisted in the early stages of the review and the Faculty of Health Sciences expert librarians who were consulted regarding the literature search strategy. This work was initially presented at the 26th Conference of the International Association for Dance Medicine and Science held in Wanchai, Hong Kong in October 2016.
Funding
No funding was sought nor awarded for conducting and completing this meta-analysis and systematic literature review.
Ethics declarations
Conflict of interest
Alycia Fong Yan, Stephen Cobley, Cliffton Chan, Evangelos Pappas, Leslie L. Nicholson, Rachel E. Ward, Roslyn E. Murdoch, Yu Gu, Bronwyn L. Trevor, Amy Jo Vassallo, Michael A. Wewege, and Claire E. Hiller declare they have no conflicts of interest relevant to the content of this review.
About this article
Cite this article
Fong Yan, A., Cobley, S., Chan, C. et al. The Effectiveness of Dance Interventions on Physical Health Outcomes Compared to Other Forms of Physical Activity: A Systematic Review and Meta-Analysis. Sports Med 48, 933–951 (2018). https://doi.org/10.1007/s40279-017-0853-5