Abstract
Background
Cocoa flavanols (CFs) have antioxidant and anti-inflammatory capacities and can improve vascular function. It has recently been suggested that CF intake may improve exercise performance and recovery. This systematic review aimed to evaluate the literature on the effects of CF intake on exercise performance and recovery and exercise-induced changes in vascular function, cognitive function, oxidative stress, inflammation, and metabolic parameters.
Methods
Two electronic databases (Pubmed and Web of Science) were searched for studies examining the combination of CF intake and exercise in humans (up to 28 March 2017). Articles were included if the exact amount of CFs was mentioned. The methodological quality and level of bias of the 13 included studies was assessed according to the checklist for randomized controlled trials from the Dutch Cochrane center.
Results
Acute, sub-chronic (2 weeks) and chronic (3 months) CF intake reduced exercise-induced oxidative stress. Evidence on the effect of CF on exercise-induced inflammation and platelet activation was scarce. Acute CF intake reduced and tempered the exercise-induced increase in blood pressure in obese participants. Acute and sub-chronic CF intake altered fat and carbohydrate metabolism during exercise. Acute and sub-chronic CF intake did not have ergogenic effects in athletes, while chronic CF intake improved mitochondrial efficiency in untrained participants. While combining sub-chronic CF intake and exercise training improved cardiovascular risk factors and vascular function, evidence on the synergistic effects of CF and exercise training on oxidative stress, inflammation, and fat and glucose metabolism was lacking.
Conclusion
CF intake may improve vascular function, reduce exercise-induced oxidative stress, and alter fat and carbohydrate utilization during exercise, but without affecting exercise performance. There is a strong need for future studies examining the synergetic effect of chronic CF intake and exercise training.
Access options
Buy single article
Instant access to the full article PDF.
US$ 49.95
Tax calculation will be finalised during checkout.
Subscribe to journal
Immediate online access to all issues from 2019. Subscription will auto renew annually.
US$ 259
Tax calculation will be finalised during checkout.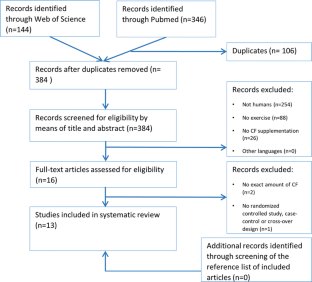 References
1.

Pingitore A, Lima GPP, Mastorci F, Quinones A, Iervasi G, Vassalle C. Exercise and oxidative stress: potential effects of antioxidant dietary strategies in sports. Nutrition. 2015;31:916–22.

2.

Myburgh KH. Polyphenol supplementation: benefits for exercise performance or oxidative stress? Sports Med. 2014;44(Suppl 1):S57–70.

3.

Holt RR, Lazarus SA, Sullards MC, Zhu QY, Schramm DD, Hammerstone JF, et al. Procyanidin dimer B2 [epicatechin-(4beta-8)-epicatechin] in human plasma after the consumption of a flavanol-rich cocoa. Am J Clin Nutr. 2002;76(4):798–804.

4.

Ferri C, Desideri G, Ferri L, Proietti I, Di Agostino S, Martella L, et al. Cocoa, blood pressure, and cardiovascular health. J Agric Food Chem. 2015;63:9901–9.

5.

Katz DL, Doughty K, Ali A. Cocoa and chocolate in human health and disease. Antioxid Redox Signal. 2011;15:2779–811. https://doi.org/10.1089/ars.2010.3697.

6.

Davison K, Coates AM, Buckley JD, Howe PRC. Effect of cocoa flavanols and exercise on cardiometabolic risk factors in overweight and obese subjects. Int J Obes (Lond). 2008;32:1289–96.

7.

Heiss C, Kleinbongard P, Dejam A, Perré S, Schroeter H, Sies H, et al. Acute consumption of flavanol-rich cocoa and the reversal of endothelial dysfunction in smokers. J Am Coll Cardiol. 2005;46:1276–83.

8.

Berry NM, Davison K, Coates AM, Buckley JD, Howe PRC. Impact of cocoa flavanol consumption on blood pressure responsiveness to exercise. Br J Nutr. 2010;103:1480–4.

9.

Flammer AJ, Sudano I, Wolfrum M, Thomas R, Enseleit F, Periat D, et al. Cardiovascular effects of flavanol-rich chocolate in patients with heart failure. Eur Heart J. 2012;33:2172–80. https://doi.org/10.1093/eurheartj/ehr448.

10.

Wu L, Zhang Q-L, Zhang X-Y, Lv C, Li J, Yuan Y, et al. Pharmacokinetics and blood-brain barrier penetration of (+)-catechin and (−)-epicatechin in rats by microdialysis sampling coupled to high-performance liquid chromatography with chemiluminescence detection. J Agric Food Chem. 2012;60:9377–83. https://doi.org/10.1021/jf301787f.

11.

Francis ST, Head K, Morris PG, Macdonald IA. The effect of flavanol-rich cocoa on the fMRI response to a cognitive task in healthy young people. J Cardiovasc Pharmacol. 2006;47(Suppl 2):S215–20.

12.

Schroeter H, Heiss C, Balzer J, Kleinbongard P, Keen CL, Hollenberg NK, et al. (−)-Epicatechin mediates beneficial effects of flavanol-rich cocoa on vascular function in humans. Proc Natl Acad Sci USA. 2006;103:1024–9.

13.

Ottaviani JI, Momma TY, Heiss C, Kwik-Uribe C, Schroeter H, Keen CL. The stereochemical configuration of flavanols influences the level and metabolism of flavanols in humans and their biological activity in vivo. Free Radic Biol Med. 2011;50:237–44. https://doi.org/10.1016/j.freeradbiomed.2010.11.005.

14.

Ramirez-Sanchez I, Maya L, Ceballos G, Villarreal F. (−)-epicatechin activation of endothelial cell eNOS, NO and related signaling pathways. Hypertension. 2010;55:1398–405.

15.

Nogueira L, Ramirez-Sanchez I, Perkins GA, Murphy A, Taub PR, Ceballos G, et al. (−)-Epicatechin enhances fatigue resistance and oxidative capacity in mouse muscle. J Physiol. 2011;18:4615–31.

16.

Schewe T, Steffen Y, Sies H. How do dietary flavanols improve vascular function? A position paper. Arch Biochem Biophys. 2008;476:102–6.

17.

Jobgen WS, Fried SK, Fu WJ, Meininger CJ, Wu G. Regulatory role for the arginine-nitric oxide pathway in metabolism of energy substrates. J Nutr Biochem. 2006;17:571–88.

18.

Jones AM. Dietary nitrate supplementation and exercise performance. Sports Med. 2014;44(Suppl 1):S35–45.

19.

Bescós R, Sureda A, Tur JA, Pons A. The effect of nitric-oxide-related supplements on human performance. Sport Med. 2012;42:99–117.

20.

Vauzour D, Vafeiadou K, Rodriguez-Mateos A, Rendeiro C, Spencer JPE. The neuroprotective potential of flavonoids: a multiplicity of effects. Genes Nutr. 2008;3:115–26.

21.

Baker LB, Nuccio RP, Jeukendrup AE. Acute effects of dietary constituents on motor skill and cognitive performance in athletes. Nutr Rev. 2014;72(12):790–802.

22.

Bentley DJ, Dank S, Coupland R, Midgley A, Spence I. Acute antioxidant supplementation improves endurance performance in trained athletes. Res Sports Med. 2012;20:1–12.

23.

Malaguti M, Angeloni C, Hrelia S. Polyphenols in exercise performance and prevention of exercise-induced muscle damage. Oxid Med Cell Longev. 2013;2013:825928.

24.

Peternelj TT, Coombes JS. Antioxidant supplementation during exercise training: beneficial or detrimental? Sport Med. 2011;41:1043–69.

25.

Bentley DJ, Ackerman J, Clifford T, Slattery KS. Acute and chronic effects of antioxidant supplementation on exercise performance. In: Lamprecht M, editor. Antioxidants in sport nutrition, Chap 9. Boca Raton, FL: CRC Press/Taylor & Francis; 2015.

26.

Patel RK, Brouner J, Spendiff O. Dark chocolate supplementation reduces the oxygen cost of moderate intensity cycling. J Int Soc Sports Nutr. 2015;12:7–14. https://doi.org/10.1186/s12970-015-0106-7.

27.

Allgrove J, Farrell E, Gleeson M, Williamson G, Cooper K. Regular dark chocolate consumption's reduction of oxidative stress and increase of free-fatty-acid mobilization in response to prolonged cycling. Int J Sport Nutr Exerc Metab. 2011;21:113–23.

28.

Wiswedel I, Hirsch D, Kropf S, Gruening M, Pfister E, Schewe T, et al. Flavanol-rich cocoa drink lowers plasma F2-isoprostane concentrations in humans. Free Radic Biol Med. 2004;37:411–21.

29.

González-Garrido JA, García-Sánchez JR, Garrido-Llanos S, Olivares-Corichi IM. An association of cocoa consumption with improved physical fitness and decreased muscle damage and oxidative stress in athletes. J Sports Med Phys 2017;57(4):441–7.

30.

Davison G, Callister R, Williamson G, Cooper KA, Gleeson M. The effect of acute pre-exercise dark chocolate consumption on plasma antioxidant status, oxidative stress and immunoendocrine responses to prolonged exercise. Eur J Nutr. 2012;51:69–79.

31.

Fraga CG, Actis-Goretta L, Ottaviani JI, Carrasquedo F, Lotito SB, Lazarus S, et al. Regular consumption of a flavanol-rich chocolate can improve oxidant stress in young soccer players. Clin Dev Immunol. 2005;12:11–7.

32.

Taub PR, Ramirez-Sanchez I, Patel M, Higginbotham E, Moreno-Ulloa A, Román-Pintos LM, et al. Beneficial effects of dark chocolate on exercise capacity in sedentary subjects: underlying mechanisms. A double-blind, randomized, placebo-controlled trial. Food Funct. 2016;7:3686–93.

33.

Stellingwerff T, Godin J-P, Chou CJ, Grathwohl D, Ross AB, Cooper KA, et al. The effect of acute dark chocolate consumption on carbohydrate metabolism and performance during rest and exercise. Appl Physiol Nutr Metab. 2014;39:173–82.

34.

Liberati A, Altman DG, Tetzlaff J, Mulrow C, Gøtzsche PC, Ioannidis JPA, et al. The PRISMA statement for reporting systematic reviews and meta-analyses of studies that evaluate health care interventions: explanation and elaboration. J Clin Epidemiol. 2009;62:e1–34.

35.

NICE. Appendix D: Methodology checklist: randomised controlled trials. Natl Inst Heal Clin Excell [Internet]. 2009;164–71. http://www.ha-ring.nl/download/literatuur/The_NICEguidelines_manual_2009_-_All_appendices.pdf.

36.

National Institute for Health and Clinical Excellence. Methods for development of NICE public health guidance. Process and Methods Guides No. 4. London: National Institute for Health and Care Excellence (NICE); 2012.

37.

Peschek K, Pritchett R, Bergman E, Pritchett K. The effects of acute post exercise consumption of two cocoa-based beverages with varying flavanol content on indices of muscle recovery following downhill treadmill running. Nutrients. 2014;6:50–62.

38.

Decroix L, Tonoli C, Soares DD, Tagougui S, Heyman E, Meeusen R. Acute cocoa flavanol improves cerebral oxygenation without enhancing executive function at rest or after exercise. Appl Physiol Nutr Metab. 2016;41:1225–32.

39.

Singh I, Quinn H, Mok M, Southgate RJ, Turner AH, Li D, et al. The effect of exercise and training status on platelet activation: do cocoa polyphenols play a role? Platelets. 2006;17:361–7.

40.

Soleimani M, Dehghani S, Mahdivand A, Nematallahi Z. Effect of short term consumption of cocoa on platelet factors (Plt, MPV, PDW) in male athletes following one session incremental exhaustive exercise. Sci J Kurd Univ Med Sci 2013;18(4):18–27.

41.

Taub PR, Ramirez-Sanchez I, Ciaraldi TP, Perkins G, Murphy AN, Naviaux R, et al. Alterations in Skeletal muscle indicators of mitochondrial structure and biogenesis in patients with type 2 diabetes and heart failure: effects of epicatechin rich cocoa. Clin Transl Sci. 2012;5:43–7.

42.

Powers SK, Radak Z, Ji LL. Exercise-induced oxidative stress: past, present and future. J Physiol. 2016;594(18):5081–92.

43.

Mankowski RT, Anton SD, Buford TW, Leeuwenburgh C. Dietary antioxidants as modifiers of physiologic adaptations to exercise. [Internet]. Med Sci Sport Exerc. 2015. http://journals.lww.com/acsm-msse/Fulltext/publishahead/Dietary_Antioxidants_as_Modifiers_of_Physiologic.97825.aspx.

44.

Ellinger S, Stehle P. Impact of cocoa consumption on inflammation processes—a critical review of randomized controlled trials. Nutrients. 2016;8:1–26.

45.

Hooper L, Kay C, Abdelhamid A, Kroon PA, Cohn JS, Rimm EB, et al. Effects of chocolate, cocoa, and flavan-3-ols on cardiovascular health : a systematic review and meta-analysis of randomized trials 1–3. Am J Clin Nutr. 2012;95:740–51.

46.

Scholey A, Owen L. Effects of chocolate on cognitive function and mood: a systematic review. Nutr Rev. 2013;71:665–81.

47.

Jeukendrup AE. Carbohydrate intake during exercise and performance. Nutrition. 2004;20:669–77.

48.

Strat KM, Rowley TJ, Smithson AT, Tessem JS, Hulver MW, Liu D, et al. Mechanisms by which cocoa flavanols improve metabolic syndrome and related disorders. J Nutr Biochem. 2016;35:1–21. https://doi.org/10.1016/j.jnutbio.2015.12.008.

49.

Nomura M, Tatsuo T, Naoto N, Kikue T, Shinjiro K, Tesuo A, et al. Inhibitory mechanism of flavonoids on insulin-stimulaed glucose uptake in MC3T3-G2/PA6 adipose cells. Biochem Pharmacol. 2008;31:1403–9.

50.

O'Neill H. AMPK and exercise: glucose uptake and insulin sensitivity. Diabetes Metab J. 2013;37:1–21.

51.

Gutierrez-Salmean G, Ciaraldi TP, Nogueira L, Barboza J, Taub PR, Hogan MC, et al. Effects of (−)-epicatechin on molecular modulators of skeletal muscle growth and differentiation. J Nutr Biochem. 2014;25:91–4.

52.

Braakhuis AJ, Hopkins WG. Impact of dietary antioxidants on sport performance: a review. Sports Med. 2015;45:939–55.

53.

Badrie N, Bekele F, Sikora E, Sikora M. Cocoa agronomy, quality, nutritional, and health aspects. Crit Rev Food Sci Nutr. 2015;55(5):620–59.

54.

Schramm DD, Karim M, Schrader HR, Holt RR, Kirkpatrick NJ, Polagruto JA, et al. Food effects on the absorption and pharmacokinetics of cocoa flavanols. Life Sci. 2003;73:857–69.

55.

Chin E, Miller KB, Payne MJ, Hurst WJ, Stuart DA. Comparison of antioxidant activity and flavanol content of cacao beans processed by modern and traditional Mesoamerican methods. Heritage Sci. 2013;1:9. https://doi.org/10.1186/2050-7445-1-9.
Ethics declarations
Funding
Lieselot Decroix has a PhD grant sponsored by "Nationale Loterij" Belgium.
Conflict of interest
Lieselot Decroix, Danusa Dias Soares, Romain Meeusen, Elsa Heyman, and Cajsa Tonoli declare no conflicts of interest relevant to the content of this review.
Ethical standards
Lieselot Decroix, Danusa Dias Soares, Romain Meeusen, Elsa Heyman, and Cajsa Tonoli declare that this systematic review complies with all ethical standards.
About this article
Cite this article
Decroix, L., Soares, D.D., Meeusen, R. et al. Cocoa Flavanol Supplementation and Exercise: A Systematic Review. Sports Med 48, 867–892 (2018). https://doi.org/10.1007/s40279-017-0849-1