Abstract
Background
The salutary effects of resistance exercise training (RET) are well established, including increased strength and function; however, less is known regarding the effects of RET on mental health outcomes. Aerobic exercise has well-documented positive effects on anxiety, but a quantitative synthesis of RET effects on anxiety is needed.
Objectives
To estimate the population effect size for resistance exercise training (RET) effects on anxiety and to determine whether variables of logical, theoretical, and/or prior empirical relation to anxiety moderate the overall effect.
Methods
Thirty-one effects were derived from 16 articles published before February 2017, located using Google Scholar, MEDLINE, PsycINFO, PubMed, and Web of Science. Trials involved 922 participants (mean age = 43 ± 21 years, 68% female/32% male) and included both randomization to RET (n = 486) or a non-active control condition (n = 436), and a validated anxiety outcome measured at baseline, mid-, and/or post-intervention. Hedges' d effect sizes were computed and random effects models were used for all analyses. Meta-regression quantified the extent to which participant and trial characteristics moderated the mean effect.
Results
RET significantly reduced anxiety symptoms (Δ = 0.31, 95% CI 0.17–0.44; z = 4.43; p < 0.001). Significant heterogeneity was not indicated (Q T(30) = 40.5, p > 0.09; I 2 = 28.3%, 95% CI 10.17–42.81); sampling error accounted for 77.7% of observed variance. Larger effects were found among healthy participants (Δ = 0.50, 95% CI 0.22–0.78) compared to participants with a physical or mental illness (Δ = 0.19, 95% CI 0.06–0.31, z = 2.16, p < 0.04). Effect sizes did not significantly vary according to sex (β = −0.31), age (β = −0.10), control condition (β = 0.08), program length (β = 0.07), session duration (β = 0.08), frequency (β = −0.10), intensity (β = −0.18), anxiety recall time frame (β = 0.21), or whether strength significantly improved (β = 0.19) (all p ≥ 0.06).
Conclusions
RET significantly improves anxiety symptoms among both healthy participants and participants with a physical or mental illness. Improvements were not moderated by sex, or based on features of RET. Future trials should compare RET to other empirically-supported therapies for anxiety.
Access options
Buy single article
Instant access to the full article PDF.
USD 39.95
Price excludes VAT (USA)
Tax calculation will be finalised during checkout.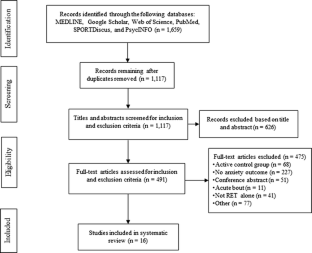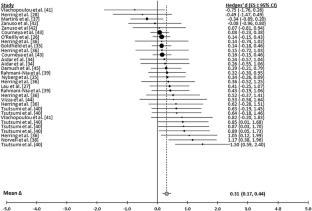 References
Barlow DH. Anxiety and its disorders: the nature and treatment of anxiety and panic. 2nd ed. New York: Guilford press; 2004.

Strine TW, Mokdad AH, Balluz LS, et al. Depression and anxiety in the United States: findings from the 2006 behavioral risk factor surveillance system. Psychiatr Serv. 2015;12:67–74.

Stubbs B, Koyanagi A, Hallgren M, et al. Physical activity and anxiety: a perspective from the World Health Survey. J Affect Disord. 2017;208:545–52.

Wittchen H-U, Zhao S, Kessler RC, et al. DSM-III-R generalized anxiety disorder in the National Comorbidity Survey. Arch Gen Psychiatry. 1994;51:8–19.

Baxter A, Vos T, Scott K, et al. The global burden of anxiety disorders in 2010. Psychol Med. 2014;44:2363–74.

Hofmann SG, Smits JA. Cognitive-behavioral therapy for adult anxiety disorders: a meta-analysis of randomized placebo-controlled trials. J Clin Psychiatry. 2008;69:621–32.

de Vries YA, de Jonge P, van den Heuvel E, et al. Influence of baseline severity on antidepressant efficacy for anxiety disorders: meta-analysis and meta-regression. Br J Psychiatry. 2016;208(6):515–21.

Ensari I, Greenlee TA, Motl RW, et al. Meta-analysis of acute exercise effects on state anxiety: an update of randomized controlled trials over the past 25 years. Depression Anxiety. 2015;32(8):624–34.

Conn VS. Anxiety outcomes after physical activity interventions: meta-analysis findings. Nurs Res. 2010;59(3):224–31.

Herring MP, Puetz TW, O'Connor PJ, et al. Effect of exercise training on depressive symptoms among patients with a chronic illness: a systematic review and meta-analysis of randomized controlled trials. Arch Intern Med. 2012;172(2):101–11.

Stonerock GL, Hoffman BM, Smith PJ, et al. Exercise as treatment for anxiety: systematic review and analysis. Ann Behav Med. 2015;49:542–56.

Stubbs B, Vancampfort D, Rosenbaum S, et al. An examination of the anxiolytic effects of exercise for people with anxiety and stress-related disorders: a meta-analysis. Psychiatr Res. 2017;249:102–8.

O'Connor PJ, Herring MP, Caravalho A. Mental health benefits of strength training in adults. Am J Lifestyle Med. 2010;4(5):377–96.

Physical Activity Guidelines Advisory Committee Report. 1st ed. Washington, DC: US Department of Health and Human Services; 2008.

Herring MP, Jacob ML, Suveg C, et al. Feasibility of exercise training for the short-term treatment of generalized anxiety disorder: a randomized controlled trial. Psychother Psychosom. 2012;81(1):21–8.

Schuch FB, Vancampfort D, Richards J, et al. Exercise as a treatment for depression: a meta-analysis adjusting for publication bias. J Psychiatr Res. 2016;77:42–51.

Ekkekakis P. Honey, I shrunk the pooled SMD! Guide to critical appraisal of systematic reviews and meta-analyses using the Cochrane review on exercise for depression as example. Ment Health Phys Act. 2015;8:21–36.

Moher D, Liberati A, Tetzlaff J, et al. Preferred reporting items for systematic reviews and meta-analyses: the PRISMA statement. Ann Intern Med. 2009;6(7):1–6.

Herring MP, O'Connor PJ, Dishman RK. The effect of exercise training on anxiety symptoms among patients: a systematic review. Arch Intern Med. 2010;170(4):321–31.

Jayakody K, Gunadasa S, Hosker C. Exercise for anxiety disorders: systematic review. Br J Sports Med. 2014;48(3):96–197.

Wipfli BM, Rethorst CD, Landers DM. The anxiolytic effects of exercise: a meta-analysis of randomized trials and dose–response analysis. J Sport Exerc Psychol. 2008;30(4):392–410.

Detsky AS, Naylor CD, O'Rourke K, et al. Incorporating variations in the quality of individual randomized trials into meta-analysis. J Clin Epidemiol. 1992;45(3):255–65.

Jüni P, Witschi A, Bloch R, et al. The hazards of scoring the quality of clinical trials for meta-analysis. JAMA. 1999;282:1054–60.

Hedges L, Olkin I. Statistical methods for meta-analysis. Orlando: Academic Press; 1985.

Nyberg A, Lindström B, Rickenlund A, Wadell K. Low-load/high-repetition elastic band resistance training in patients with COPD: a randomized, controlled, multicenter trial. Clin Respir J. 2015;9:278–88.

O'Reilly SC, Muir KR, Doherty M. Effectiveness of home exercise on pain and disability from osteoarthritis of the knee: a randomised controlled trial. Ann Rheum Dis. 1999;58:15–9.

Lau PWC, Yu CW, Lee A, et al. The physiological and psychological effects of resistance training on Chinese obese adolescents. J Exerc Sci Fit. 2004;2:115–20.

Herring LY, Wagstaff C, Scott A. The efficacy of 12 weeks supervised exercise in obesity management. Clin Obes. 2014;4(4):220–7.

Lipsey MW, Wilson DB. Practical meta-analysis. 1st ed. Thousand Oaks: Sage Publications; 2001.

Higgins JPT, Green S. Cochrane handbook for systematic reviews of interventions. 1st ed. West Sussex: The Cochrane Collaboration; 2011.

Egger M, Smith GD, Schneider M, et al. Bias in meta-analysis detected by a simple, graphical test. BMJ. 1997;315:629–34.

Begg CB, Mazumdar M. Operating characteristics of a rank correlation test for publication bias. Biometrics. 1994;50:1088–101.

Rosenberg MS. The file-drawer problem revisited: a general weighted method for calculating fail-safe numbers in meta-analysis. Evolution. 2005;59:464–8.

Aidar FJ, de Oliveira RJ, Silva AJ, et al. The influence of resistance exercise training on the levels of anxiety in ischemic stroke. Stroke Res Treat. 2012;2012:1–6, Article ID 298375.

Goldfield GS, Kenny GP, Alberga AS, et al. Effects of aerobic training, resistance training, or both on psychological health in adolescents with obesity: the HEARTY randomized controlled trial. J Consult Clin Psychol. 2015;83(6):1123–35.

Herring MP, Jacob ML, Suveg C, et al. Effects of short-term exercise training on signs and symptoms of generalized anxiety disorder. Ment Health Phys Act. 2011;4:71–7.

Martins R, Coelho E, Silva M, et al. Effects of strength and aerobic-based training on functional fitness, mood and the relationship between fatness and mood in older adults. J Sports Med Phys Fit. 2011;51:489–96.

Norvell N, Belles D. Psychological and physical benefits of circuit weight training in law enforcement personnel. J Consult Clin Psychol. 1993;61:520–7.

Rahmani-Nia F, Arazi H, Rahimi R, et al. Effects of an 8-week circuit strength training program on the body images and anxiety in untrained college students. Med Dello Sport. 2011;64:297–308.

Tsutsumi T, Don BM, Zaichkowsky LD, et al. Comparison of high and moderate intensity of strength training on mood and anxiety in older adults. Percept Mot Skills. 1998;87:1003–11.

Vlachopoulou T, Tsalis G, Fokas K, et al. Efficacy of a weight training program as a treatment for chemically dependent adults. J Hum Mov Stud. 2005;49:373–88.

Zanuso S, Sieverdes JC, Smith N, et al. The effect of a strength training program on affect, mood, anxiety, and strength performance in older individuals. Int J Sport Psychol. 2012;43:53–66.

Courneya KS, Segal RJ, Mackey JR, et al. Effects of aerobic and resistance exercise in breast cancer patients receiving adjuvant chemotherapy: a multicenter randomized controlled trial. J Clin Oncol. 2007;25(28):4396–404.

Vizza L, Smith CA, Swaraj S, et al. The feasibility of progressive resistance training in women with polycystic ovary syndrome: a pilot randomized controlled trial. BMC Sports Sci Med Rehabil. 2016;8:1–14.

Damush TM, Damush JG. The effects of strength training on strength and health-related quality of life in older adult women. Gerontologist. 1999;39:705–10.

Spielberger CD, Gorsuch RL, Lushene R, et al. Manual for the state-trait anxiety inventory (form Y): self-evaluation questionnaire. 1st ed. Palo Alto: Consulting Psychologists Press; 1983.

Wipfli BM, Rethorst CD, Landers DM. The anxiolytic effects of exercise: a meta-analysis of randomized trials and dose–response analysis. J Sport Exerc Psychol. 2008;30:392–410.

Hernández-Molina G, Reichenbach S, Zhang B, et al. Effect of therapeutic exercise for hip osteoarthritis pain: results of a meta-analysis. Arthritis Rheum. 2008;59(9):1221–8.

Puetz TW, O'Connor PJ, Dishman RK. Effects of chronic exercise on feelings of energy and fatigue: a quantitative synthesis. Psychol Bull. 2006;132(6):866–76.

Cook RJ, Sackett DL. The number needed to treat: a clinically useful measure of treatment effect. BMJ. 1995;310:452.

Tohen M, Calabrese J, Vieta E, et al. Effect of comorbid anxiety on treatment response in bipolar depression. J Affect Disord. 2007;104(1):137–46.

Laustsen S, Hjortdal VE, Petersen AK. Predictors for not completing exercise-based rehabilitation following cardiac surgery. Scand Cardiovasc J. 2013;47(6):344–51.

Lindheimer JB, O'Connor PJ, Dishman RK. Quantifying the placebo effect in psychological outcomes of exercise training: a meta-analysis of randomized trials. Sports Med. 2015;45(5):693–711.

Petruzzello SJ, Landers DM, Hatfield BD, et al. A meta-analysis on the anxiety-reducing effects of acute and chronic exercise. Sports Med. 1991;11(3):143–82.

Ruscio AM, Chiu WT, Roy-Byrne P, et al. Broadening the definition of generalized anxiety disorder: effects on prevalence and associations with other disorders in the National Comorbidity Survey Replication. J Anxiety Disord. 2007;21(5):662–76.

Wolitzky-Taylor K, Dour H, Zinbarg R, et al. Experiencing core symptoms of anxiety and unipolar mood disorders in late adolescence predicts disorder onset in early adulthood. Depression Anxiety. 2014;31(3):207–13.
Ethics declarations
Funding
No sources of funding were used to assist in the conduct of this analysis or the preparation of this article.
Conflict of interest
Brett R. Gordon, Cillian P. McDowell, Mark Lyons, and Matthew P. Herring declare that they have no conflicts of interest relevant to the content of this analysis.
Electronic supplementary material
Below is the link to the electronic supplementary material.
About this article
Cite this article
Gordon, B.R., McDowell, C.P., Lyons, M. et al. The Effects of Resistance Exercise Training on Anxiety: A Meta-Analysis and Meta-Regression Analysis of Randomized Controlled Trials. Sports Med 47, 2521–2532 (2017). https://doi.org/10.1007/s40279-017-0769-0
Published:

Issue Date:

DOI: https://doi.org/10.1007/s40279-017-0769-0