Abstract
Background
Doping in sports compromises fair play and endangers health. To deter doping among elite athletes, the World Anti-Doping Agency (WADA) oversees testing of several hundred thousand athletic blood and urine samples annually, of which 1–2% test positive. Measures using the Athlete Biological Passport suggest a higher mean prevalence of about 14% positive tests. Biological testing, however, likely fails to detect many cutting-edge doping techniques, and thus the true prevalence of doping remains unknown.
Methods
We surveyed 2167 athletes at two sporting events: the 13th International Association of Athletics Federations Word Championships in Athletics (WCA) in Daegu, South Korea in August 2011 and the 12th Quadrennial Pan-Arab Games (PAG) in Doha, Qatar in December 2011. To estimate the prevalence of doping, we utilized a "randomized response technique," which guarantees anonymity for individuals when answering a sensitive question. We also administered a control question at PAG assessing past-year use of supplements.
Results
The estimated prevalence of past-year doping was 43.6% (95% confidence interval 39.4–47.9) at WCA and 57.1% (52.4–61.8) at PAG. The estimated prevalence of past-year supplement use at PAG was 70.1% (65.6–74.7%). Sensitivity analyses, assessing the robustness of these estimates under numerous hypothetical scenarios of intentional or unintentional noncompliance by respondents, suggested that we were unlikely to have overestimated the true prevalence of doping.
Conclusions
Doping appears remarkably widespread among elite athletes, and remains largely unchecked despite current biological testing. The survey technique presented here will allow future investigators to generate continued reference estimates of the prevalence of doping.
This is a preview of subscription content, log in to check access.
Access options
Buy single article
Instant access to the full article PDF.
US$ 49.95
Price includes VAT for USA
Subscribe to journal
Immediate online access to all issues from 2019. Subscription will auto renew annually.
US$ 199
This is the net price. Taxes to be calculated in checkout.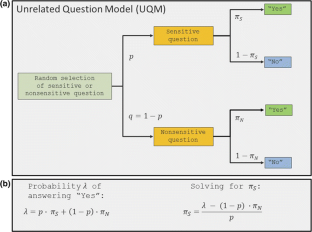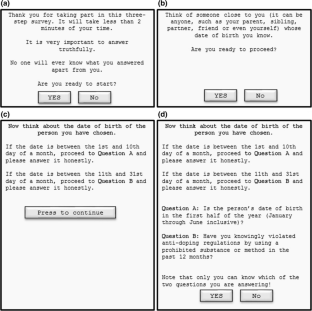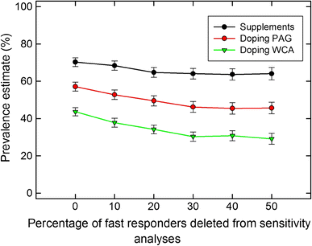 References
1.

de Hon O, Kuipers H, van Bottenburg M. Prevalence of doping use in elite sports: a review of numbers and methods. Sport Med. 2014;45:57–69.

2.

Dirix A. The doping problem at the Tokyo and Mexico City Olympic Games. J Sports Med Phys Fit. 1966;6:183–6.

3.

Scarpino V, Garattini S, La Vecchia C, Silvestrini G, Rossi Bernardi L, Tuccimmei G, et al. Evaluation of prevalence of "doping" among Italian athletes. Lancet. 1990;336:1048–50.

4.

Butch AW, Lombardo JA, Bowers LD, Chu J, Cowan DA. The quest for clean competition in sports: are the testers catching the dopers? Clin Chem. 2011;57:943–7.

5.

Thomas A, Kohler M, Schänzer W, Delahaut P, Thevis M. Determination of IGF-1 and IGF-2, their degradation products and synthetic analogues in urine by LC-MS/MS. Analyst. 2011;136:1003–12.

6.

Beiter T, Zimmermann M, Fragasso A, Hudemann J, Niess AM, Bitzer M, et al. Direct and long-term detection of gene doping in conventional blood samples. Gene Ther. 2011;18:225–31.

7.

Ashenden M, Gough CE, Garnham A, Gore CJ, Sharpe K. Current markers of the Athlete Blood Passport do not flag microdose EPO doping. Eur J Appl Physiol. 2011;111:2307–14.

8.

Sottas PE, Robinson N, Fischetto G, Dolle G, Alonso JM, Saugy M. Prevalence of blood doping in samples collected from elite track and field athletes. Clin Chem. 2011;57:762–9.

9.

Sparling PB. The Lance Armstrong saga: a wake-up call for drug reform in sports. Curr Sports Med Rep. 2013;12:53–4.

10.

Callaway E. Sports doping: racing just to keep up. Nature. 2011;475:283–5.

11.

Pielke R Jr. Gather data to reveal true extent of doping in sport. Nature. 2015;517:529.

12.

Berry DA. The science of doping: the processes used to charge athletes with cheating are often based on flawed statistics and flawed logic. 2008;454:692–3.

13.

Sottas P-E, Saudan C, Saugy M. Doping: a paradigm shift has taken place in testing. Nature. 2008;455:166.

14.

Baird G. Doping: probability that testing doesn't tell us anything new. Nature. 2008;454:692–3.

15.

Ljungqvist A, Horta L, Wadler G. Doping: world agency sets standards to promote fair play. Nature. 2008;455:1176.

16.

Frenger M, Emrich E, Pitsch W. How to produce the belief in clean sports which sells. Perform Enhanc Heal. 2013;2:210–5. doi:10.1016/j.peh.2014.09.001.

17.

Martensen CK, Møller V. Drugs. Education, prevention and policy more money—better anti-doping? Drugs Educ Prev policy [Internet]. Informa UK Limited, trading as Taylor 8 Francis Group; 2016;0:000. doi:10.1080/09687637.2016.1266300.

18.

Pitsch W. "The science of doping" revisited: Fallacies of the current anti-doping regime. Eur J Sport Sci. [Internet]. 2009;9:87–95 (cited 2014 Jun 5). Available from: http://www.tandfonline.com/doi/abs/10.1080/17461390802702309.

19.

Fox JF, Tracy PE. Randomized response: a method for sensitive surveys. In: Lewis-Beck MS, editor. Quant. Appl. Soc. Sci. Newbury Park: Sage Publications; 1986.

20.

Horvitz DG, Greenberg BG, Abernathy JR. Randomized response: a data-gathering device for sensitive questions. Int Stat Rev. 1976;44:181–96.

21.

Lensvelt-Mulders GJLM. Meta-analysis of randomized response research: thirty-five years of validation. Sociol Methods Res. 2005;33:319–48.

22.

Warner SL. Randomized response: a survey technique for eliminating evasive answer bias. J Am Stat Assoc. 1965;60:63–6.

23.

Greenberg BG, Abul-Ela A-LA, Simmons WR, Horvitz DG. The unrelated question randomized response model: theoretical framework. J Am Stat Assoc. 1969;64:520–39.

24.

Vital N, Reports S. National Vital Statistics Reports. 1999.

25.

Ulrich R, Schröter H, Striegel H, Simon P. Asking sensitive questions: A statistical power analysis of randomized response models. Psychol. Methods [Internet]. 2012;17:623–41 (cited 2014 Jun 4). Available from: http://www.ncbi.nlm.nih.gov/pubmed/22924599.

26.

Chaudhuri A, Christofides TC. Indirect questioning in sample surveys. Heidelberg: Springer; 2013.

27.

Plessner H, Musch J. Wie verbreitet ist Doping im Leistungssport? Eine www-Umfrage mit Hilfe der Randomized-Response-Technik. In: Strauß B, Editor. Expert. im Sport. Cologne: bps; 2002. pp. 78–79.

28.

Pitsch W, Emrich E, Klein M. Doping in elite sports in Germany: results of a www survey. Eur J Sport Soc. 2007;4:89–102.

29.

Striegel H, Ulrich R, Simon P. Randomized response estimates for doping and illicit drug use in elite athletes. Drug Alcohol Depend. 2010;106:230–2.

30.

Pitsch W, Emrich E. The frequency of doping in elite sport: results of a replication study. Int Rev Sociol Sport. 2012;47:559–80.

31.

Dietz P, Ulrich R, Dalaker R, Striegel H, Franke AG, Lieb K, et al. Associations between physical and cognitive doping–a cross-sectional study in 2.997 triathletes. PLoS One [Internet]. 2013;8:e78702. Available from: http://www.pubmedcentral.nih.gov/articlerender.fcgi?artid=3827233&tool=pmcentrez&rendertype=abstract.

32.

Schröter H, Studzinski B, Dietz P, Ulrich R, Striegel H, Simon P. A Comparison of the cheater detection and the unrelated question models: a randomized response survey on physical and cognitive doping in recreational triathletes. PLoS One [Internet]. 2016;11:e0155765. doi:10.1371/journal.pone.0155765.

33.

Frenger M, Pitsch W, Emrich E. Sport-induced substance use-an empirical study to the extent within a German Sports Association. PLoS One. 2016;11:1–17.

34.

Lunchins AS, Luchins EH. Rigidity of behavior: a variational approach to the effect of Einstellung. Eugene: University of Oregon Press; 1959.

35.

Tourangeau R, Yan T. Sensitive questions in surveys. Psychol Bull. 2007;133:859–83.

36.

Knapik JJ, Steelman RA, Hoedebecke SS, Austin KG, Farina EK, Lieberman HR. Prevalence of dietary supplement use by athletes: systematic review and meta-analysis. Sport Med. 2016;46:103–23.
Acknowledgements
We are grateful to Heba Jamal Al Ardah, Juliana Chialvo Arriola, Derek Jon Galotera, Ricky James, Fatma Lanouar, Dmitri Vorobyov, Ong Chin Wei, and Yoon Ji Yu for their help in data collection. We are especially grateful to Olivier Rabin for launching this project and to Georg Sandberger for legal advice. The authors are also grateful to the International Association of Athletics Federations (IAAF) and the Union of Arab National Olympic Authorities for their permissions to distribute the survey at 13th World Championship in Athletics (Daegu, South Korea, 2011) and at PAG 12th Quadrennial Pan-Arab Games (Doha, Qatar, 2011), respectively. The authors also appreciate the comments of the IAAF's reviewers on previous drafts of the manuscript.
Ethics declarations
Funding
This work was funded by the World Anti-Doping Agency/Agence Mondiale Antidopage, Montréal, Canada (WADA). The approximate cost of conducting the study was US$155,000.
Conflict of interest
All authors received travel reimbursement and an honorarium of Can$300 from the World Anti-Doping Agency for their work on designing the study. Andrea Petróczi, Perikles Simon, and Rolf Ulrich have received Grant support from WADA for work on other studies. Léa Cléret was employed by WADA when this survey was conducted. Harrison Pope, Tamás Nepusz, Jay Schaffer, Gen Kanayama, and R. Dawn Comstock declare no competing financial interests. We would note that there was a delay of nearly 6 years between the completion of the data collection and the publication of this paper, due to negotiations between WADA and the IAAF, and subsequently between the IAAF and the authors, regarding the authority to publish the results. This process has been described in reports in the popular media. However, the authors declare that neither WADA nor the IAAF has imposed any restrictions on the authors' access to the data, the analysis and interpretation of the data, or the writing of this report.
Ethical approval
This study was conducted under the approval of the Kingston University Science Faculty Ethics Committee (Kingston-upon-Thames, UK), and has been performed in accordance with the ethical standards as laid down in the 1964 Declaration of Helsinki and its later amendments or comparable ethical standards.
Electronic supplementary material
Below is the link to the electronic supplementary material.
About this article
Cite this article
Ulrich, R., Pope, H.G., Cléret, L. et al. Doping in Two Elite Athletics Competitions Assessed by Randomized-Response Surveys. Sports Med 48, 211–219 (2018). https://doi.org/10.1007/s40279-017-0765-4