Abstract
Background
Mindfulness as a present-oriented form of mental training affects cognitive processes and is increasingly considered meaningful for sport psychological training approaches. However, few intervention studies have examined the effects of mindfulness practice on physiological and psychological performance surrogates or on performance outcomes in sports.
Objective
The aim of the present meta-analytical review was to examine the effects of mindfulness practice or mindfulness-based interventions on physiological and psychological performance surrogates and on performance outcomes in sports in athletes over 15 years of age.
Data Sources
A structured literature search was conducted in six electronic databases (CINAHL, EMBASE, ISI Web of Knowledge, PsycINFO, MEDLINE and SPORTDiscus). The following search terms were used with Boolean conjunction: (mindful* OR meditat* OR yoga) AND (sport* OR train* OR exercis* OR intervent* OR perform* OR capacity OR skill*) AND (health* OR adult* OR athlete*).
Study Selection
Randomized and non-randomized controlled studies that compared mindfulness practice techniques as an intervention with an inactive control or a control that followed another psychological training program in healthy sportive participants were screened for eligibility.
Data Extraction
Eligibility and study quality [Physiotherapy Evidence Database (PEDro)] scales were independently assessed by two researchers. A third independent researcher was consulted to achieve final consensus in case of disagreement between both researchers. Standardized mean differences (SMDs) were calculated as weighted Hedges' g and served as the main outcomes in comparing mindfulness practice versus control. Statistical analyses were conducted using a random-effects inverse-variance model.
Results
Nine trials of fair study quality (mean PEDro score 5.4, standard deviation 1.1) with 290 healthy sportive participants (athletics, cyclists, dart throwers, hammer throwers, hockey players, hurdlers, judo fighters, rugby players, middle-distance runners, long-distance runners, shooters, sprinters, volleyball players) were included. Intervention time varied from 4 weeks to over 2 years. The practice frequency lasted from twice daily to just once a week, and the mean session time covered 50–60 min. In favor of mindfulness practice compared with the control condition, large effects with narrow confidence limits and low heterogeneity were found for mindfulness scores [SMD 1.03, 90% confidence interval (CI) 0.67–1.40, p < 0.001, I 2 = 17%]. Physiological performance indices depicted wide confidence limits accompanied with very large heterogeneity. However, the effect sizes remained very large, with confidence limits that did not overlap zero (SMD 3.62, 90% CI 0.03–7.21, p = 0.10, I 2 = 98%). Moderate to large effects were observed for both psychological performance surrogates (SMD 0.72, 90% CI 0.46–0.98, p < 0.001, I 2 = 14%) and performance outcomes in shooting and dart throwing (SMD 1.35, 90% CI 0.61–2.09, p = 0.003, I 2 = 82%).
Conclusions
Mindfulness practice consistently and beneficially modulates mindfulness scores. Furthermore, physiological and psychological surrogates improved to a meaningful extent following mindfulness practice, as well as performance outcomes in shooting and dart throwing. It seems reasonable to consider mindfulness practice strategies as a regular complementary mental skills training approach for athletes, at least in precision sports; however, more high-quality, randomized, controlled trials on mindfulness practice and performance improvements in diverse sport settings are needed.
This is a preview of subscription content, log in to check access.
Access options
Buy single article
Instant access to the full article PDF.
US$ 49.95
Price includes VAT for USA
Subscribe to journal
Immediate online access to all issues from 2019. Subscription will auto renew annually.
US$ 199
This is the net price. Taxes to be calculated in checkout.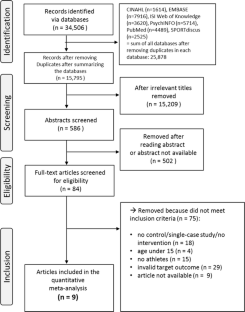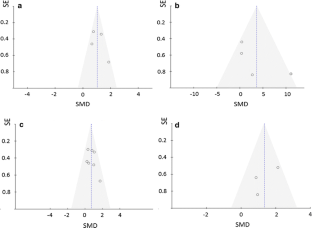 References
1.

Birrer D, Morgan G. Psychological skills trainings as a way to enhance an athlete`s performance in high-intensity sports. Scand J Med Sci Sports. 2010;20:78–87.

2.

Hasker SM. Evaluation of the mindfulness-acceptance-commitment (MAC) approach for enhancing athletic performance. Indiana University of Pennsylvania; 2010.

3.

Kabat-Zinn J. Wherever you go there you are. New York: Delta; 1994.

4.

Brown KW, Ryan RM. The benefits of being present: mindfulness and its role in psychological well-being. J Personal Soc Psychol. 2003;84:822–48.

5.

Bergomi C, Tschacher W, Kupper Z. Meditation practice and self-reported mindfulness: a cross-sectional investigation of meditators and non-meditators using the comprehensive inventory of mindfulness experiences (CHIME). Mindfulness. 2015;6(6):1411–21.

6.

Cebolla A, Campos D, Galiana L, et al. Exploring relations among mindfulness facets and various meditation practices: Do they work in different ways? Conscious Cognit. 2017;49:172–80.

7.

Moore ZE. Theoretical and empirical developments of the mindfulness-acceptance-commitment (MAC) approach to performance enhancement. J Clin Sport Psychol. 2009;25(4):291.

8.

Pineau TR, Glass CR, Kaufman KA. Mindfulness in sport performance. In: Ie A, Ngnoumen CT, Langer EJ, editors. Handbook of mindfulness. Oxford: Wiley-Blackwell; 2014: p. 1004–34.

9.

Kabat-Zinn J, Beall B, Rippe J. A systematic mental training program based on mindfulness meditation to optimize performance in collegiate and Olympic rowers. Poster presented at the World Congress in Sport Psychology, Copenhagen, Denmark; 1985

10.

Gardner FL, Moore ZE. A mindfulness-acceptance-commitment-based approach to athletic performance enhancement: theoretical considerations. Behav Ther. 2004;35(4):707–23.

11.

Kaufman KA, Glass CR, Arnkoff DB. Evaluation of mindful sport performance enhancement (MSPE): A new approach to promote flow in athletes. J Clin Sport Psychol. 2009;25(4):334.

12.

Baltzell AL. Mindfulness and performance. Cambridge: University Press; 2016.

13.

Aherne C, Moran AP, Lonsdale C. The effect of mindfulness training on athletes' flow: an initial investigation. Sport Psychol. 2011;25(2):177–89.

14.

Sappington R, Longshore K. Systematically Reviewing the efficacy of mindfulness-based interventions for enhanced athletic performance. J Clin Sport Psychol. 2015;9(3):232–62.

15.

Demarzo MM, Montero-Marin J, Cuijpers P, et al. The efficacy of mindfulness-based interventions in primary care: a meta-analytic review. Ann Fam Med. 2015;13(6):573–82.

16.

Khoury B, Sharma M, Rush SE, et al. Mindfulness-based stress reduction for healthy individuals: a meta-analysis. J Psychosom Res. 2015;78(6):519–28.

17.

Khoury B, Lecomte T, Fortin G, et al. Mindfulness-based therapy: a comprehensive meta-analysis. Clin Psychol Rev. 2013;33(6):763–71.

18.

Sanada K, Montero-Marin J, Alda Díez M, et al. Effects of mindfulness-based interventions on salivary cortisol in healthy adults: a meta-analytical review. Front Physiol. 2016;7:471.

19.

Hutton B, Salanti G, Caldwell DM, et al. The PRISMA extension statement for reporting of systematic reviews incorporating network meta-analyses of health care interventions: checklist and explanations. Ann Intern Med. 2015;162:777–84.

20.

Deeks JJ, Higgins JP. Statistical algorithms in review manager 5. Oxford: Statistical Methods Group of The Cochrane Collaboration; 2010.

21.

Borenstein M, Hedges LV, Higgins JP, et al. A basic introduction to fixed-effect and random-effects models for meta-analysis. Res Synth Methods. 2010;1:97–111.

22.

Cohen J. Statistical power analysis for the behavioral sciences. 2nd ed. New Jersey: Lawrence Erlbaum Association; 1988.

23.

Goodman FR, Kashdan TB, Mallard TT, et al. A brief mindfulness and yoga intervention with an entire NCAA division I athletic team: an initial investigation. Psychol Conscious Theory Res Pract. 2014;1:339–56.

24.

John S, Verma SK, Khanna G. The effect of mindfulness meditation on HPA-axis in pre-competition stress in sports performance of elite shooters. Natl J Integr Res Med. 2011;2:15–21.

25.

Raju PS, Madhavi S, Prasad KV, et al. Comparison of effects of yoga and physical exercise in athletes. Indian J Med Res. 1994;100:81–6.

26.

Scott-Hamilton J, Schutte NS, Brown RF. Effects of a mindfulness intervention on sports-anxiety, pessimism, and flow in competitive cyclists. Appl Psychol Health Well Being. 2016;8(1):85–103.

27.

Solberg EE, Halvorsen R, Sundgot-Borgen J, et al. Meditation: a modulator of the immune response to physical stress? A brief report. Br J Sports Med. 1995;29(4):255–7.

28.

Solberg EE. The effect of meditation on shooting performance. Br J Sports Med. 1996;30(4):342–6.

29.

Solberg EE, Ingjer F, Holen A, et al. Stress reactivity to and recovery from a standardized exercise bout: a study of 31 runners practicing relaxation techniques. Br J Sports Med. 2000;34:268–72.

30.

Zhang C-Q, Si G, Duan Y, et al. The effects of mindfulness training on beginners' skill acquisition in dart throwing: a randomized controlled trial. Psychol Sport Exerc. 2016;22:279–85.

31.

Marks DR. A Buddhas`s extra scoop: Neural correlates of mindfulness and clinical sport psychology. J Clin Sport Psychol. 2008;2:216–41.

32.

Block-Lerner J, Salters-Pedneault K, Tull MT. Assessing mindfulness and experiential acceptance: attempts to capture inherently elusive phenomena. In: Orsillo SM, Roemer L, editors. Acceptance and mindfulness-based approaches to anxiety: conceptualization and treatment. New York: Springer; 2005: p. 71–99.

33.

Birrer D, Röthlin P, Morgan G. Mindfulness to enhance athletic performance: theoretical considerations and possible impact mechanisms. Mindfulness. 2012;3(3):235–46.

34.

Thelwell RC, Greenless IA, Weston NJV. Using psychological skills training to develop soccer performance. J Appl Sport Psychol. 2006;18:254–70.

35.

Davidson RJ, Kabat-Zinn J, Schumacher J, et al. Alterations in brain and immune function produced by mindfulness meditation. Psychosom Med. 2003;65:564–70.

36.

Mahony J, Hanrahan SJ. A brief educational intervention using acceptance and commitment therapy: four injured athletes experiences. J Clin Sport Psychol. 2011;5:252–73.

37.

Ivarsson A, Johnson U, Andersen MB, et al. It pays to pay attention: a mindfulness-based program for injury prevention with soccer players. J Appl Sport Psychol. 2015;27(3):319–34.

38.

Nakamura J, Csikszentmihalyi M. The concept of flow. In: Snyder CR, Lopez SJ, editors. Handbook of positive psychology. New York: Oxford University Press; 2005: p. 89–105.

39.

Kee YH, Wang CKJ. Relationships between mindfulness, flow dispositions and mental skills adoption: A cluster analytic approach. Psychol Sport Exerc. 2008;9:393–411.

40.

Gardner FL, Moore ZE. Mindfulness and acceptance models in sport psychology: A decade of basic and applied scientific advancements. Can Psychol Psychol Can. 2012;53:309–18.

41.

Kee YH, Liu Y-T. Effects of dispositional mindfulness on the self-controlled learning of a novel motor task. Learn Individ Differ. 2011;21:468–71.

42.

Röthlin P, Horvath S, Birrer D, et al. Mindfulness promotes the ability to deliver performance in highly demanding situations. Mindfulness. 2016;7(3):727–33.

43.

Bernier M, Thienot E, Cordon R, et al. Mindfulness and acceptance approaches in sport performance. J Clin Sport Psychol. 2009;25(4):320.

44.

Bar-Eli M, Blumenstein B. Performance enhancement in swimming: the effect of mental training with biofeedback. J Sci Med Sport. 2004;7:454–64.

45.

Röthlin P, Birrer D, Horvath S, et al. Psychological skills training and a mindfulness-based intervention to enhance functional athletic performance: design of a randomized controlled trial using ambulatory assessment. BMC Psychol. 2016;4:39.
Ethics declarations
This article was written according to the ethical standards of scientific writing and publishing.
Funding
No sources of funding were used to assist in the preparation of this article.
Conflicts of interest
Lars Donath, Lucia Bühlmayer, Daniel Birrer, Philipp Röthlin and Oliver Faude declare that they have no conflicts of interest relevant to the content of this review.
About this article
Cite this article
Bühlmayer, L., Birrer, D., Röthlin, P. et al. Effects of Mindfulness Practice on Performance-Relevant Parameters and Performance Outcomes in Sports: A Meta-Analytical Review. Sports Med 47, 2309–2321 (2017). https://doi.org/10.1007/s40279-017-0752-9