Abstract
Background
N-Acetylcysteine (NAC) is a promising antioxidant supplement with potential as an acute strategy to enhance performance in elite sport, but there are concerns about its side effects with high doses.
Objective
To review the current literature and evaluate the effects of NAC supplementation on sport performance and the risk of adverse effects.
Methods
The literature up to May 2016 was searched on MEDLINE (PubMed), EMBASE, SPORTDiscus, Google Scholar and Scopus databases to identify all studies investigating the effects of NAC supplementation on exercise performance and/or side effects experienced. Performance outcomes from each study were converted to the percent effect equivalent to mean power output in a time trial. All pooled analyses were based on random-effects models generated by Review Manager (RevMan) [Computer program], version 5.3 (The Nordic Cochrane Centre, The Cochrane Collaboration, Copenhagen, 2014).
Results
A total of seven studies met criteria for inclusion in the sport performance meta-analysis, and 17 for inclusion in the side effects meta-analysis. The typical daily dose of NAC reported was 5.8 g·d−1; with a range between 1.2 and 20.0 g·d−1. The mean increase in performance was 0.29% (95% confidence interval −0.67 to 1.25). The difference in the odds ratio of side effects on NAC compared with placebo was 1.11 (95% confidence interval 0.88–1.39). The sub-analysis of NAC dose suggested an increase in side effects as the dosage of NAC increased; however, this observation requires further investigation.
Conclusions
Despite initial research publications reporting positive performance effects with NAC, at this stage it cannot be recommended further. The risk of side effects from NAC supplementation also remains unclear owing to significant variations in effects. Suboptimal reporting and documentation in the literature creates difficulties when meta-analysing outcomes and generating conclusions.
Access options
Buy single article
Instant access to the full article PDF.
USD 39.95
Price excludes VAT (USA)
Tax calculation will be finalised during checkout.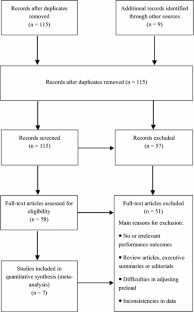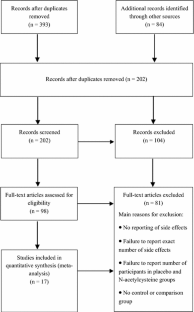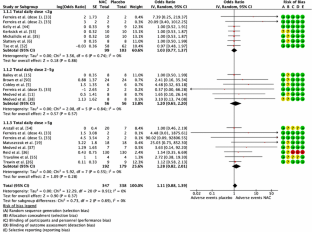 References
Powers SK, Jackson MJ. Exercise-induced oxidative stress: cellular mechanisms and impact on muscle force production. Physiol Rev. 2008;88(4):1243–76.

Sakellariou GK, Jackson MJ, Vasilaki A. Redefining the major contributors to superoxide production in contracting skeletal muscle: the role of NAD(P)H oxidases. Free Radic Res. 2008;48(1):12–29.

Powers SK, Duarte J, Kavazis AN, et al. Reactive oxygen species are signalling molecules for skeletal muscle adaptation. Exp Physiol. 2010;95(1):1–9.

Reid MB. Free radicals and muscle fatigue: of ROS, canaries, and the IOC. Free Radic Biol Med. 2008;44(2):169–79.

Cobley JN, McGlory C, Morton JP, et al. N-acetylcysteine's attenuation of fatigue after repeated bouts of intermittent exercise: practical implications for tournament situations. Int J Sport Nutr Exerc Metab. 2011;21(6):451–61.

Slattery KM, Dascombe B, Wallace LK, et al. Effect of N-acetylcysteine on cycling performance after intensified training. Med Sci Sports Exerc. 2014;46(6):1114–23.

Sen C, Packer L, Hänninen O. Handbook of Oxidants and Antioxidants in Exercise. Amsterdam, The Netherlands: Elsevier Science; 2000.

Leelarungrayub D, Khansuwan R, Pothongsunun P, et al. N-Acetylcysteine supplementation controls total antioxidant capacity, creatine kinase, lactate, and tumor necrotic factor-alpha against oxidative stress induced by graded exercise in sedentary men. Oxid Med Cell Longev. 2011;2011:329643.

Maughan RJ. The Encyclopaedia of Sports Medicine: an IOC Medical Commission publication. The Olympic Textbook of Science in Sport. West Sussex, UK: Wiley; 2009.

Holdiness MR. Clinical pharmacokinetics of N-acetylcysteine. Clin Pharmacokinet. 1991;20(2):123–34.

Medved I, Brown MJ, Bjorksten AR, et al. N-Acetylcysteine enhances muscle cysteine and glutathione availability and attenuates fatigue during prolonged exercise in endurance-trained individuals. J Appl Physiol (1985). 2004;97(4):1477–85.

Sen CK, Rankinen T, Vaisanen S, et al. Oxidative stress after human exercise: effect of N-acetylcysteine supplementation. J Appl Physiol (1985). 1994;76(6):2570–7.

Aruoma OI, Halliwell B, Hoey BM, et al. The antioxidant action of N-acetylcysteine: its reaction with hydrogen peroxide, hydroxyl radical, superoxide, and hypochlorous acid. Free Radic Biol Med. 1989;6(6):593–7.

Bangsbo J, Iaia FM, Krustrup P. The Yo-Yo intermittent recovery test. Sports Med. 2008;38(1):37–51.

Bailey SJ, Winyard PG, Blackwell JR, et al. Influence of N-acetylcysteine administration on pulmonary O2 uptake kinetics and exercise tolerance in humans. Respir Physiol Neurobiol. 2011;175(1):121–9.

Zembron-Lacny A, Slowinska-Lisowska M, Szygula Z, et al. Modulatory effect of N-acetylcysteine on pro-antioxidant status and haematological response in healthy men. J Physiol Biochem. 2010;66(1):15–21.

Corn SD, Barstow TJ. Effects of oral N-acetylcysteine on fatigue, critical power, and W′ in exercising humans. Respir Physiol Neurobiol. 2011;178(2):261–8.

McKenna MJ, Medved I, Goodman CA, et al. N-Acetylcysteine attenuates the decline in muscle Na+, K+-pump activity and delays fatigue during prolonged exercise in humans. J Physiol. 2006;576(1):279–88.

Matuszczak Y, Farid M, Jones J, et al. Effects of N-acetylcysteine on glutathione oxidation and fatigue during handgrip exercise. Muscle Nerve. 2005;32(5):633–8.

Currell K, Jeukendrup AE. Validity, reliability and sensitivity of measures of sporting performance. Sports Med. 2008;38(4):297–316.

Ferreira LF, Reid MB. Muscle-derived ROS and thiol regulation in muscle fatigue. J Appl Physiol (1985). 2008;104(3):853–60.

Braakhuis AJ, Hopkins WG. Impact of dietary antioxidants on sport performance: a review. Sports Med. 2015;45(7):939–55.

Natural Medicines. N-Acetyl cysteine. 2015. Available from: https://naturalmedicines.therapeuticresearch.com. Accessed 29 June 2015.

Higgins JPT, Green S. Cochrane Handbook for Systematic Reviews of Interventions Version 5.1.0 [updated March 2011]. The Cochrane Collaboration, 2011. Available from https://www.handbook.cochrane.org.

McGaw B, Glass GV. Choice of the metric for effect size in meta-analysis. Am Educ Res J. 1980;17(3):325–37.

Trewin AJ, Petersen AC, Billaut F, et al. N-Acetylcysteine alters substrate metabolism during high-intensity cycle exercise in well-trained humans. Appl Physiol Nutr Metab. 2013;38(12):1217–27.

Miltenberger MR, Zipp G, Parasher R, et al. The acute effect of n-acetylcysteine supplementation on repeat sprint performance in recreationally active males. Int J Exerc Sci Conf Proc. 2015;9(3):Article 65.

Nielsen HB, Kharazmi A, Bolbjerg ML, et al. N-Acetylcysteine attenuates oxidative burst by neutrophils in response to ergometer rowing with no effect on pulmonary gas exchange. Int J Sports Med. 2001;22(4):256–60.

da Silva ND, Jr Roseguini BT, Chehuen M, et al. Effects of oral N-acetylcysteine on walking capacity, leg reactive hyperemia, and inflammatory and angiogenic mediators in patients with intermittent claudication. Am J Physiol Heart Circ Physiol. 2015;309(5):H897–905.

Hopkins WG, Schabort EJ, Hawley JA. Reliability of power in physical performance tests. Sports Med. 2001;31(3):211–34.

Hopkins WG. Sample sizes for magnitude-based inferences about clinical, practical or mechanistic significance. Med Sci Sports Exerc. 2006;38(5):S528.

Childs A, Jacobs C, Kaminski T, et al. Supplementation with vitamin C and N-acetyl-cysteine increases oxidative stress in humans after an acute muscle injury induced by eccentric exercise. Free Radic Biol Med. 2001;31(6):745–53.

Ferreira LF, Campbell KS, Reid MB. N-Acetylcysteine in handgrip exercise: plasma thiols and adverse reactions. Int J Sport Nutr Exerc Metab. 2011;21(2):146–54.

Silva LA, Silveira PC, Pinho CA, et al. N-Acetylcysteine supplementation and oxidative damage and inflammatory response after eccentric exercise. Int J Sport Nutr. 2008;18(4):379.

Michailidis Y, Karagounis LG, Terzis G, et al. Thiol-based antioxidant supplementation alters human skeletal muscle signaling and attenuates its inflammatory response and recovery after intense eccentric exercise. Am J Clin Nutr. 2013;98(1):233–45.

Reid MB, Stokic DS, Koch SM, et al. N-Acetylcysteine inhibits muscle fatigue in humans. J Clin Invest. 1994;94(6):2468–74.

Medved I, Brown MJ, Bjorksten AR, et al. Effects of intravenous N-acetylcysteine infusion on time to fatigue and potassium regulation during prolonged cycling exercise. J Appl Physiol (1985). 2004;96(1):211–7.

Medved I, Brown MJ, Bjorksten AR, et al. N-Acetylcysteine infusion alters blood redox status but not time to fatigue during intense exercise in humans. J Appl Physiol (1985). 2003;94(4):1572–82.

Petersen DJ, Alexander GR. Needs assessment in public health: a practical guide for students and professionals. New York, US: Springer Science & Business Media; 2001.

Estensen RD, Levy M, Klopp SJ, et al. N-Acetylcysteine suppression of the proliferative index in the colon of patients with previous adenomatous colonic polyps. Cancer Lett. 1999;147(1):109–14.

Tynell E, Bratt G, Bielenstein M, et al. N-Acetylcysteine treatment and the risk of toxic reactions to trimethoprim-sulphamethoxazole in primary Pneumocystis carinii prophylaxis in HIV-infected patients. J Infect. 1997;35(2):143–7.

Behr J, Maier K, Degenkolb B, et al. Antioxidative and clinical effects of high-dose N-acetylcysteine in fibrosing alveolitis: adjunctive therapy to maintenance immunosuppression. Am J Respir Crit Care Med. 1997;156(6):1897–901.

Jackson IM, Barnes J, Cooksey P. Efficacy and tolerability of oral acetylcysteine (Fabrol) in chronic bronchitis: a double-blind placebo controlled study. J Int Med Res. 1984;12(3):198–206.

Kelly MK, Wicker RJ, Barstow TJ, et al. Effects of N-acetylcysteine on respiratory muscle fatigue during heavy exercise. Respir Physiol Neurobiol. 2009;165(1):67–72.

Hopkins W, Marshall S, Batterham A, et al. Progressive statistics for studies in sports medicine and exercise science. Med Sci Sports Exerc. 2009;41(1):3.

Patton KT, Thibodeau GA. Anatomy & Physiology. Missouri, US: Elsevier Health Sciences; 2014.

Powers SK, Smuder AJ, Kavazis AN, et al. Experimental guidelines for studies designed to investigate the impact of antioxidant supplementation on exercise performance. Int J Sport Nutr Exerc Metab. 2010;20(1):2–14.

Reid MB. Invited review: redox modulation of skeletal muscle contraction: what we know and what we don't. J Appl Physiol (1985). 2001;90(2):724–31.

Kanter M. Free radicals, exercise and antioxidant supplementation. Proc Nutr Soc. 1998;57(1):9–13.

Brown M, Bjorksten A, Medved I, et al. Pharmacokinetics of intravenous N-acetylcysteine in men at rest and during exercise. Eur J Clin Pharmacol. 2004;60(10):717–23.

McArdle WD, Katch FI, Katch VL. Essentials of Exercise Physiology. Philadelphia, US: Lippincott Williams & Wilkins; 2006.

Tse HN, Raiteri L, Wong KY, et al. High-dose N-acetylcysteine in stable COPD: the 1-year, double-blind, randomized, placebo-controlled HIACE study. Chest. 2013;144(1):106–18.

Kerksick CM, Roberts MD, Dalbo VJ, et al. Changes in skeletal muscle proteolytic gene expression after prophylactic supplementation of EGCG and NAC and eccentric damage. Food Chem Toxicol. 2013;61:47–52.

Arstall MA, Yang J, Stafford I, et al. N-Acetylcysteine in combination with nitroglycerin and streptokinase for the treatment of evolving acute myocardial infarction: safety and biochemical effects. Circulation. 1995;92(10):2855–62.

Travaline JM, Sudarshan S, Roy BG, et al. Effect of N-acetylcysteine on human diaphragm strength and fatigability. Am J Respir Crit Care Med. 1997;156(5):1567–71.
Ethics declarations
Funding
No sources of funding were used to assist in the preparation of this article.
Conflict of interest
Kate Rhodes and Andrea Braakhuis declare they have no conflicts of interest relevant to the content of this review.
About this article
Cite this article
Rhodes, K., Braakhuis, A. Performance and Side Effects of Supplementation with N-Acetylcysteine: A Systematic Review and Meta-Analysis. Sports Med 47, 1619–1636 (2017). https://doi.org/10.1007/s40279-017-0677-3
Published:

Issue Date:

DOI: https://doi.org/10.1007/s40279-017-0677-3
Keywords