Abstract
Background
Mental fatigue is a psychobiological state caused by prolonged periods of demanding cognitive activity. It has recently been suggested that mental fatigue can affect physical performance.
Objective
Our objective was to evaluate the literature on impairment of physical performance due to mental fatigue and to create an overview of the potential factors underlying this effect.
Methods
Two electronic databases, PubMed and Web of Science (until 28 April 2016), were searched for studies designed to test whether mental fatigue influenced performance of a physical task or influenced physiological and/or perceptual responses during the physical task. Studies using short (<30 min) self-regulatory depletion tasks were excluded from the review.
Results
A total of 11 articles were included, of which six were of strong and five of moderate quality. The general finding was a decline in endurance performance (decreased time to exhaustion and self-selected power output/velocity or increased completion time) associated with a higher than normal perceived exertion. Physiological variables traditionally associated with endurance performance (heart rate, blood lactate, oxygen uptake, cardiac output, maximal aerobic capacity) were unaffected by mental fatigue. Maximal strength, power, and anaerobic work were not affected by mental fatigue.
Conclusion
The duration and intensity of the physical task appear to be important factors in the decrease in physical performance due to mental fatigue. The most important factor responsible for the negative impact of mental fatigue on endurance performance is a higher perceived exertion.
Access options
Buy single article
Instant access to the full article PDF.
USD 49.95
Price includes VAT (USA)
Tax calculation will be finalised during checkout.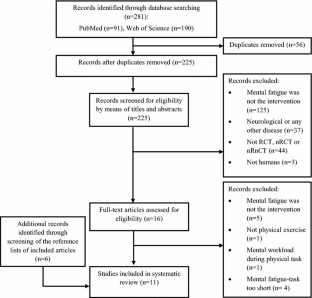 References
1.

Desmond PA, Hancock PA. Active and passive fatigue states. In: Desmond PA, Hancock PA, editors. Stress, workload and fatigue. Mahwah: Lawrence Erlbaum Associates; 2001. p. 455–65.

2.

Job RFS, Dalziel J. Defining fatigue as a condition of the organism and distinguishing it from habituation, adaptation and boredom. In: Hancock PA, Desmond PA, editors. Stress, workload and fatigue. Mahwah: Lawrence Erlbaum Associates; 2001. p. 466–75.

3.

McCormick F, Kadzielski J, Landrigan CP, et al. Surgeon fatigue: a prospective analysis of the incidence, risk, and intervals of predicted fatigue-related impairment in residents. Arch Surg. 2012;147(5):430–5.

4.

Chaudhuri A, Behan PO. Fatigue in neurological disorders. Lancet. 2004;363(9413):978–88.

5.

Boksem MA, Tops M. Mental fatigue: costs and benefits. Brain Res Rev. 2008;59(1):125–39.

6.

Boksem MA, Meijman TF, Lorist MM. Mental fatigue, motivation and action monitoring. Biol Psychol. 2006;72(2):123–32.

7.

van der Linden D, Massar SA, Schellekens AF, et al. Disrupted sensorimotor gating due to mental fatigue: preliminary evidence. Int J Psychophysiol. 2006;62(1):168–74.

8.

Wascher E, Rasch B, Sanger J, et al. Frontal theta activity reflects distinct aspects of mental fatigue. Biol Psychol. 2014;96:57–65.

9.

Mockel T, Beste C, Wascher E. The effects of time on task in response selection—an ERP study of mental fatigue. Sci Rep. 2015;5:10113.

10.

Marcora SM, Staiano W, Manning V. Mental fatigue impairs physical performance in humans. J Appl Physiol (1985). 2009;106(3):857–64.

11.

Cook DB, O'Connor PJ, Lange G, et al. Functional neuroimaging correlates of mental fatigue induced by cognition among chronic fatigue syndrome patients and controls. Neuroimage. 2007;36(1):108–22.

12.

Brownsberger J, Edwards A, Crowther R, et al. Impact of mental fatigue on self-paced exercise. Int J Sports Med. 2013;34(12):1029–36.

13.

Hopstaken JF, van der Linden D, Bakker AB, et al. A multifaceted investigation of the link between mental fatigue and task disengagement. Psychophysiology. 2015;52(3):305–15.

14.

Mosso A. Fatigue. London: Allen & Unwin Ltd.; 1915.

15.

Wilmore J, Costill D, Kenney W. Physiology of sport and exercise. 4th ed. Champaign: Human Kinetics; 2008.

16.

McCormick A, Meijen C, Marcora S. Psychological determinants of whole-body endurance performance. Sports Med. 2015;45(7):997–1015.

17.

Pageaux B, Marcora SM, Lepers R. Prolonged mental exertion does not alter neuromuscular function of the knee extensors. Med Sci Sports Exerc. 2013;45(12):2254–64.

18.

Gandevia SC. Spinal and supraspinal factors in human muscle fatigue. Physiol Rev. 2001;81(4):1725–89.

19.

Thompson K. Pacing: individual strategies for optimal performance. Champaign: Human Kinetics; 2014.

20.

Pageaux B, Marcora SM, Rozand V, et al. Mental fatigue induced by prolonged self-regulation does not exacerbate central fatigue during subsequent whole-body endurance exercise. Front Hum Neurosci. 2015;9:67.

21.

Smith MR, Marcora SM, Coutts AJ. Mental fatigue impairs intermittent running performance. Med Sci Sports Exerc. 2015;47(8):1682–90.

22.

Ackerman PL, Kanfer R. Test length and cognitive fatigue: an empirical examination of effects on performance and test-taker reactions. J Exp Psychol Appl. 2009;15(2):163–81.

23.

MacMahon C, Schucker L, Hagemann N, et al. Cognitive fatigue effects on physical performance during running. J Sport Exerc Psychol. 2014;36(4):375–81.

24.

Bray SR, Martin Ginis KA, Hicks AL, et al. Effects of self-regulatory strength depletion on muscular performance and EMG activation. Psychophysiology. 2008;45(2):337–43.

25.

Bray SR, Graham JD, Martin Ginis KA, et al. Cognitive task performance causes impaired maximum force production in human hand flexor muscles. Biol Psychol. 2012;89(1):195–200.

26.

Bray SR, Graham JD, Saville PD. Self-control training leads to enhanced cardiovascular exercise performance. J Sports Sci. 2015;33(5):534–43.

27.

Baumeister RF, Vohs KD, Tice DM. The strength model of self-control. Curr Dir Psychol Sci. 2007;16(6):351–5.

28.

Moher D, Shamseer L, Clarke M, et al. Preferred reporting items for systematic review and metaanalysis protocols (PRISMA-P) 2015 statement. Syst Rev. 2015;4:1.

29.

Hagger M, Chatzisarantis N, Alberts H, et al. A multi-lab pre-registered replication of the ego depletion effect. Perspect Psychol Sci. 2016;11(4):546–73.

30.

Nuechterlein KH, Parasuraman R, Jiang Q. Visual sustained attention: image degradation produces rapid sensitivity decrement over time. Science. 1983;220(4594):327–9.

31.

Smith MR, Coutts AJ, Merlini M, et al. Mental fatigue impairs soccer-specific physical and technical performance. Med Sci Sports Exerc. 2016;48(2):267–76.

32.

Liberati A, Altman DG, Tetzlaff J, et al. The PRISMA statement for reporting systematic reviews and meta-analyses of studies that evaluate healthcare interventions: explanation and elaboration. BMJ. 2009;339:b2700.

33.

Kmet LM, Lee RC, Cook LS. standard quality assessment criteria for evaluating primary research papers from a variety of fields. Edmonton: Alberta Heritage Foundation for Medical Research; 2004.

34.

Budini F, Lowery M, Durbaba R, et al. Effect of mental fatigue on induced tremor in human knee extensors. J Electromyogr Kinesiol. 2014;24(3):412–8.

35.

Pageaux B, Lepers R, Dietz KC, et al. Response inhibition impairs subsequent self-paced endurance performance. Eur J Appl Physiol. 2014;114(5):1095–105.

36.

Duncan MJ, Fowler N, George O, et al. Mental fatigue negatively influences manual dexterity and anticipation timing but not repeated high-intensity exercise performance in trained adults. Res Sports Med. 2015;23(1):1–13.

37.

Martin K, Thompson KG, Keegan R, et al. Mental fatigue does not affect maximal anaerobic exercise performance. Eur J Appl Physiol. 2015;115(4):715–25.

38.

De Pauw K, Roelands B, Cheung SS, et al. Guidelines to classify subject groups in sport-science research. Int J Sports Physiol Perform. 2013;8(2):111–22.

39.

Marcora SM. Effort: perception of. In: Goldstein EB, editor. Encyclopedia of perception. Thousand Oaks: SAGE Publications Inc; 2010. p. 380–3.

40.

Pageaux B. Perception of effort in exercise science: definition, measurement and perspectives. Eur J Sport Sci. 2016;16(8):885–94.

41.

Borg GA. Borg's perceived exertion and pain scales. Champaign: Human Kinetics; 1998.

42.

Matthews G, Campbell S, Falconer S. Assessment of motivational states in performance environments. In: Proceedings of the human factors and ergonomics society. 45th Annual Meeting, Santa Monica. 2001;45:906–10.

43.

Guay F, Vallerand RJ, Blanchard C. On the assessment of situational intrinsic and extrinsic motivation: the Situational Motivation Scale (SIMS). Motiv Emotion. 2000;24(3):175–213.

44.

Gergelyfi M, Jacob B, Olivier E, et al. Dissociation between mental fatigue and motivational state during prolonged mental activity. Front Behav Neurosci. 2015;9:176.

45.

Grandjean E. Fitting the task to the man. London: Taylor and Francis; 1988.

46.

Wang C, Trongnetrpunya A, Samuel IB, et al. Compensatory neural activity in response to cognitive fatigue. J Neurosci. 2016;36(14):3919–24.

47.

Lorist MM, Bezdan E, ten Caat M, et al. The influence of mental fatigue and motivation on neural network dynamics; an EEG coherence study. Brain Res. 2009;1270:95–106.

48.

Barwick F, Arnett P, Slobounov S. EEG correlates of fatigue during administration of a neuropsychological test battery. Clin Neurophysiol. 2012;123(2):278–84.

49.

Trejo LJ, Kubitz K, Rosipal R, et al. EEG-based estimation and classification of mental fatigue. Psychology. 2015;6:572–89.

50.

Yamamoto S, Matsuoka S. Topographic EEG study of visual display terminal (VDT) performance with special reference to frontal midline theta waves. Brain Topogr. 1990;2(4):257–67.

51.

Nakashima K, Sato H. The effects of various mental tasks on appearance of frontal midline theta activity in EEG. J Hum Ergol (Tokyo). 1992;21(2):201–6.

52.

Smith ME, McEvoy LK, Gevins A. Neurophysiological indices of strategy development and skill acquisition. Cogn Brain Res. 1999;7(3):389–404.

53.

Ackerman PL. 100 years without resting. In: Ackerman PL, editor. Cognitive fatigue: multidisciplinary perspectives on current research and future applications. Washington: American Psychological Association; 2011. p. 11–37.

54.

Schücker L, MacMahon C. Working on a cognitive task does not influence performance in a physical fitness test. Psychol Sport Exerc. 2016;25:1–8.

55.

Englert C, Wolff W. Ego depletion and persistent performance in a cycling task. Int J Sport Psychol. 2015;46:137–51.

56.

Englert C. The strength model of self-control in sport and exercise psychology. Front Psychol. 2016;7:314.

57.

Brick N, MacIntyre T, Campbell M. Metacognitive processes in the self-regulation of performance in elite endurance runners. Psychol Sport Exerc. 2015;19:1–9.

58.

Brick NE, Campbell MJ, Metcalfe RS, et al. Altering pace control and pace regulation: attentional focus effects during running. Med Sci Sports Exerc. 2016;48(5):879–86.

59.

Badin OO, Smith MR, Conte D, et al. Mental fatigue impairs technical performance in small-sided soccer games. Int J Sports Physiol Perform. 2016;11(8):1100–5.

60.

Rozand V, Pageaux B, Marcora SM, et al. Does mental exertion alter maximal muscle activation? Front Hum Neurosci. 2014;8:755.

61.

Inzlicht M, Schmeichel BJ, Macrae CN. Why self-control seems (but may not be) limited. Trends Cogn Sci. 2014;18(3):127–33.

62.

Barth JL, Holding DH, Stamford BA. Risk versus effort in the assessment of motor fatigue. J Mot Behav. 1976;8(3):189–94.

63.

Marcora S. Perception of effort during exercise is independent of afferent feedback from skeletal muscles, heart, and lungs. J Appl Physiol (1985). 2009;106(6):2060–2.

64.

Proske U. What is the role of muscle receptors in proprioception? Muscle Nerve. 2005;31(6):780–7.

65.

Zenon A, Sidibe M, Olivier E. Disrupting the supplementary motor area makes physical effort appear less effortful. J Neurosci. 2015;35(23):8737–44.

66.

Jurgens U. The efferent and afferent connections of the supplementary motor area. Brain Res. 1984;300(1):63–81.

67.

Noble BJ, Robertson RJ. Perceived Exertion. Champaign: Human Kinetics; 1996.

68.

Amann M, Blain GM, Proctor LT, et al. Group III and IV muscle afferents contribute to ventilatory and cardiovascular response to rhythmic exercise in humans. J Appl Physiol (1985). 2010;109(4):966–76.

69.

de Morree HM, Klein C, Marcora SM. Cortical substrates of the effects of caffeine and time-on-task on perception of effort. J Appl Physiol (1985). 2014;117(12):1514–23.

70.

Pageaux B, Gaveau J. Studies using pharmacological blockade of muscle afferents provide new insights into the neurophysiology of perceived exertion. J Physiol. 2016;594(18):5049–51.

71.

Sharples SA, Gould JA, Vandenberk MS, et al. Cortical mechanisms of central fatigue and sense of effort. PLoS One. 2016;11(2):e0149026.

72.

Roelands B, Goekint M, Heyman E, et al. Acute norepinephrine reuptake inhibition decreases performance in normal and high ambient temperature. J Appl Physiol (1985). 2008;105(1):206–12.

73.

Roelands B, Hasegawa H, Watson P, et al. The effects of acute dopamine reuptake inhibition on performance. Med Sci Sports Exerc. 2008;40(5):879–85.

74.

Klass M, Duchateau J, Rabec S, et al. Noradrenaline reuptake inhibition impairs cortical output and limits endurance time. Med Sci Sports Exerc. 2016;48(6):1014–23.

75.

Lovatt D, Xu Q, Liu W, et al. Neuronal adenosine release, and not astrocytic ATP release, mediates feedback inhibition of excitatory activity. Proc Natl Acad Sci. 2012;109(16):6265–70.

76.

Davis JM, Zhao Z, Stock HS, et al. Central nervous system effects of caffeine and adenosine on fatigue. Am J Physiol Regul Integr Comp Physiol. 2003;284(2):R399–404.

77.

Moeller SJ, Tomasi D, Honorio J, et al. Dopaminergic involvement during mental fatigue in health and cocaine addiction. Transl Psychiatry. 2012;2:e176.

78.

Bruno RL, Creange SJ, Frick NM. Parallels between post-polio fatigue and chronic fatigue syndrome: a common pathophysiology? Am J Med. 1998;105(3A):66S–73S.

79.

Caldwell JA, Caldwell JL. An in-flight investigation of the efficacy of dextroamphetamine for sustaining helicopter pilot performance. Aviat Space Environ Med. 1997;68(12):1073–80.

80.

Martin K, Staiano W, Menaspà P, et al. Superior inhibitory control and resistance to mental fatigue in professional road cyclists. PLoS One. 2016;11(7):e0159907.
Acknowledgements
Bart Roelands is a post-doctoral fellow of the Fund for Scientific Research.
Ethics declarations
Jeroen Van Cutsem, Samuele Marcora, Kevin De Pauw, Stephen Bailey, Romain Meeusen, and Bart Roelands declare that the systematic review complies with all ethical standards.
Funding
No sources of funding were used to assist in the preparation of this article.
Conflict of interest
Jeroen Van Cutsem, Samuele Marcora, Kevin De Pauw, Stephen Bailey, Romain Meeusen, and Bart Roelands have no conflicts of interest relevant to the content of this review.
About this article
Cite this article
Van Cutsem, J., Marcora, S., De Pauw, K. et al. The Effects of Mental Fatigue on Physical Performance: A Systematic Review. Sports Med 47, 1569–1588 (2017). https://doi.org/10.1007/s40279-016-0672-0
Keywords
Endurance Performance

Mental Fatigue

Physical Task

Corollary Discharge

Peripheral Fatigue