Abstract
Background
The majority of patients with overweight and type 2 diabetes show insufficient levels of daily physical activity (PA) and usually are among the least likely to engage in or adhere to any form of generic PA. Active video games (exergames) may be a solution to motivate these individuals to overcome their sedentary lifestyle.
Objectives
This systematic review was conducted to review the current evidence for the effectiveness of exergaming in overweight and type 2 diabetes mellitus and thus to evaluate the suitability of these games to be used as tools for exercise promotion that meet current PA guidelines.
Methods
We searched electronic bibliographic databases (PubMed, Embase, Web of Science, OpenGrey, and the Cochrane Central Register of Controlled Trials) up to March 2015. Randomized controlled trials (RCT) and cross-sectional studies published in English in a peer-reviewed journal and analyzing the effects of exergames on objectively measured intensity parameters of PA in overweight (body mass index [BMI] ≥25 kg/m2) adults (mean age ≥18 years) with and without type 2 diabetes were included. Study selection, data extraction, and quality assessment were performed independently by two review authors. Primary outcomes included changes in oxygen uptake (VO2), energy expenditure (EE), heart rate (HR), or activity counts. Secondary outcomes were enjoyment of treatment, exercise adherence, ratings of perceived exertion (RPE), changes in body composition, and changes in blood parameters (serum glucose, long-term blood glucose, blood cholesterol, triglycerides, or serum lactate).
Results
Of 2845 records, 14 publications (11 studies) met the inclusion criteria. All included studies (ten experimental, cross-sectional laboratory studies and one RCT) were able to show increases in either VO2, EE, HR, or activity counts. However, effects of exergaming in terms of changes in these intensity parameters varied significantly between game modes and consoles as well as because of the vastly differing durations of exergame activity between studies. One of the included studies had a low risk of bias, and three had a high risk of bias; seven studies had an unclear risk of bias as the study description was insufficient. No studies were found investigating the changes in objectively measured PA intensity parameters in patients with type 2 diabetes.
Conclusion
This review suggests that exergames are able to increase PA among overweight individuals. However, the inconsistent results and the overall poor or moderate methodological quality do not permit judgment on whether exergames are suitable to meet PA guidelines in this target group. The lack of research regarding the effects of exergames in type 2 diabetes indicates a great need for future research.
This is a preview of subscription content, log in to check access.
Access options
Buy single article
Instant access to the full article PDF.
US$ 49.95
Price includes VAT for USA
Subscribe to journal
Immediate online access to all issues from 2019. Subscription will auto renew annually.
US$ 199
This is the net price. Taxes to be calculated in checkout.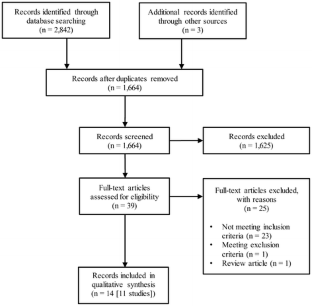 References
1.

World Health Organization. Obesity and overweight [Internet factsheet]. Geneva: WHO; 2014. http://www.who.int/mediacentre/factsheets/fs311/en/. Accessed 19 Feb 2015.

2.

Pinto Pereira SM, Ki M, Power C. Sedentary behaviour and biomarkers for cardiovascular disease and diabetes in mid-life: the role of television-viewing and sitting at work. PloS One. 2012;7:e31132.

3.

Dunstan DW, Barr ELM, Healy GN, et al. Television viewing time and mortality: the Australian Diabetes, Obesity and Lifestyle Study (AusDiab). Circulation. 2010;121:384–91.

4.

Centers for Disease Control and Prevention. National Diabetes Statistics Report: estimates of diabetes and its burden in the United States. Atlanta: Department of Health and Human Services; 2014.

5.

Kohl HW, Craig CL, Lambert EV, et al. The pandemic of physical inactivity: global action for public health. Lancet. 2012;380:294–305.

6.

Zhao G, Ford ES, Li C, et al. Physical activity in US older adults with diabetes mellitus: prevalence and correlates of meeting physical activity recommendations. J Am Geriatr Soc. 2011;59:132–7.

7.

Morrato EH, Hill JO, Wyatt HR, et al. Physical activity in US adults with diabetes and at risk for developing diabetes, 2003. Diabetes Care. 2007;30:203–9.

8.

World Health Organization. Prevalence of insufficient physical activity [Internet]. WHO. 2010. http://www.who.int/gho/ncd/risk_factors/physical_activity/en/. Accessed 20 Feb 2015.

9.

Lee I-M, Shiroma EJ, Lobelo F, et al. Effect of physical inactivity on major non-communicable diseases worldwide: an analysis of burden of disease and life expectancy. Lancet. 2012;380:219–29.

10.

Crimmins EM, Preston SH, Cohen B. Explaining divergent levels of longevity in high-income countries [Internet]. Washington (DC): National Academies Press (US); 2011. http://www.ncbi.nlm.nih.gov/books/NBK62369/. Accessed 16 July 2014.

11.

Kodama S, Saito K, Tanaka S, et al. Cardiorespiratory fitness as a quantitative predictor of all-cause mortality and cardiovascular events in healthy men and women: a meta-analysis. JAMA. 2009;301:2024–35.

12.

Duncan GE, Perri MG, Theriaque DW, et al. Exercise training, without weight loss, increases insulin sensitivity and postheparin plasma lipase activity in previously sedentary adults. Diabetes Care. 2003;26:557–62.

13.

Tuomilehto J, Lindström J, Eriksson JG, et al. Prevention of type 2 diabetes mellitus by changes in lifestyle among subjects with impaired glucose tolerance. N Engl J Med. 2001;344:1343–50.

14.

Knowler WC, Barrett-Connor E, Fowler SE, et al. Reduction in the incidence of type 2 diabetes with lifestyle intervention or metformin. N Engl J Med. 2002;346:393–403.

15.

Laaksonen DE, Lindström J, Lakka TA, et al. Physical activity in the prevention of type 2 diabetes: the Finnish diabetes prevention study. Diabetes. 2005;54:158–65.

16.

Hamman RF, Wing RR, Edelstein SL, et al. Effect of weight loss with lifestyle intervention on risk of diabetes. Diabetes Care. 2006;29:2102–7.

17.

Eriksson J, Lindström J, Valle T, et al. Prevention of type II diabetes in subjects with impaired glucose tolerance: the Diabetes Prevention Study (DPS) in Finland. Study design and 1-year interim report on the feasibility of the lifestyle intervention programme. Diabetologia. 1999;42:793–801.

18.

Colberg SR, Albright AL, Blissmer BJ, et al. Exercise and type 2 diabetes: American College of Sports Medicine and the American Diabetes Association: joint position statement. Exercise and type 2 diabetes. Med Sci Sports Exerc. 2010;42:2282–303.

19.

Cohen ND, Dunstan DW, Robinson C, et al. Improved endothelial function following a 14-month resistance exercise training program in adults with type 2 diabetes. Diabetes Res Clin Pr. 2008;79:405–11.

20.

Jeon CY, Lokken RP, Hu FB, et al. Physical activity of moderate intensity and risk of type 2 diabetes: a systematic review. Diabetes Care. 2007;30:744–52.

21.

Qiu S, Sun Z, Cai X, et al. Improving patients' adherence to physical activity in diabetes mellitus: a review. Diabetes Metab J. 2012;36:1–5.

22.

Zuckoff A. "Why won't my patients do what's good for them?" Motivational interviewing and treatment adherence. Surg Obes Relat Dis. 2012;8:514–21.

23.

Thompson D. Designing serious video games for health behavior change: current status and future directions. J Diabetes Sci Technol. 2012;6:807–11.

24.

Sween J, Wallington SF, Sheppard V, et al. The role of exergaming in improving physical activity: a review. J Phys Act Health. 2014;11:864–70.

25.

Garber CE, Blissmer B, Deschenes MR, et al. American College of Sports Medicine position stand. Quantity and quality of exercise for developing and maintaining cardiorespiratory, musculoskeletal, and neuromotor fitness in apparently healthy adults: guidance for prescribing exercise. Med Sci Sports Exerc. 2011;43:1334–59.

26.

Moher D, Liberati A, Tetzlaff J, et al. Preferred reporting items for systematic reviews and meta-analyses: the PRISMA statement. BMJ. 2009;339:b2535.

27.

Borg GA. Psychophysical bases of perceived exertion. Med Sci Sports Exerc. 1982;14:377–81.

28.

Higgins JPT, Green S. Cochrane handbook for systematic reviews of interventions. 1st ed. Hoboken: Wiley; 2008.

29.

Viswanathan M, Ansari MT, Berkman ND, et al. Assessing the risk of bias of individual studies in systematic reviews of health care interventions. 2012. http://www.ncbi.nlm.nih.gov/books/NBK91433/. Accessed 29 Apr 2015.

30.

Barkley JE, Penko AL. Physiologic responses, perceived exertion, and hedonics of playing a physical interactive video game relative to a sedentary alternative and treadmill walking in adults. J Exerc Physiol. 2009;12:1389–98.

31.

Garn AC, Baker BL, Beasley EK, et al. What are the benefits of a commercial exergaming platform for college students? Examining physical activity, enjoyment, and future intentions. J Phys Act Health. 2012;9:311–8.

32.

Graves LEF, Ridgers ND, Williams K, et al. The physiological cost and enjoyment of Wii Fit in adolescents, young adults, and older adults. J Phys Act Health. 2010;7:393–401.

33.

Guderian B, Borreson LA, Sletten LE, et al. The cardiovascular and metabolic responses to Wii Fit video game playing in middle-aged and older adults. J Sports Med Phys Fit. 2010;50:436–42.

34.

Jordan M, Donne B, Fletcher D. Only lower limb controlled interactive computer gaming enables an effective increase in energy expenditure. Eur J Appl Physiol. 2011;111:1465–72.

35.

Lanningham-Foster L, Foster RC, McCrady SK, et al. Activity-promoting video games and increased energy expenditure. J Pediatr. 2009;154:819–23.

36.

Lyons EJ, Tate DF, Ward DS, et al. Energy expenditure and enjoyment during video game play: differences by game type. Med Sci Sports Exerc. 2011;43:1987–93.

37.

Lyons EJ, Tate DF, Komoski SE, et al. Novel approaches to obesity prevention: effects of game enjoyment and game type on energy expenditure in active video games. J Diabetes Sci Technol. 2012;6:839–48.

38.

Lyons EJ, Tate DF, Ward DS, et al. Do motion controllers make action video games less dedentary? A randomized experiment. J Obes. 2012;2012:e852147.

39.

Lyons EJ, Tate DF, Ward DS, et al. Engagement, enjoyment, and energy expenditure during active video game play. Health Psychol. 2014;33:174–81.

40.

Sell K, Lillie T, Taylor J. Energy expenditure during physically interactive video game playing in male college students with different playing experience. J Am Coll Health. 2008;56:505–11.

41.

Siegel SR, Haddock BL, Dubois AM, et al. Active video/arcade games (exergaming) and energy expenditure in college students. Int J Exerc Sci. 2009;2:165–74.

42.

Taylor LM, Maddison R, Pfaeffli LA, et al. Activity and energy expenditure in older people playing active video games. Arch Phys Med Rehabil. 2012;93:2281–6.

43.

Warburton DER, Bredin SSD, Horita LTL, et al. The health benefits of interactive video game exercise. Appl Physiol Nutr Metab. 2007;32:655–63.

44.

Bonetti AJ, Drury DG, Danoff JV, et al. Comparison of acute exercise responses between conventional video gaming and isometric resistance exergaming. J Strength Cond Res. 2010;24:1799–803.

45.

deJong A. Active video gaming an opportunity to increase energy expenditure throughout aging. ACSM's Health Fit J. 2010;14:44–6.

46.

Douris PC, McDonald B, Vespi F, et al. Comparison between Nintendo Wii Fit aerobics and traditional aerobic exercise in sedentary young adults. J Strength Cond Res. 2012;26:1052–7.

47.

Fachko MJ, Xiao C, Bowles KH, et al. Cardiovascular effects and enjoyment of exercise gaming in older adults. J Gerontol Nurs. 2013;39:43–54.

48.

Grieser J, Gao Y, Ransdell L, et al. Determining intensity levels of selected Wii Fit activities in college aged individuals. Meas Phys Educ Exerc Sci. 2012;16:135–50.

49.

Jacobs K, Zhu L, Dawes M, et al. Wii health: a preliminary study of the health and wellness benefits of Wii Fit on university students. Br J Occup Ther. 2011;74:262–8.

50.

Kempf K, Martin S. Autonomous exercise game use improves metabolic control and quality of life in type 2 diabetes patients—a randomized controlled trial. BMC Endocr Disord. 2013;13:57.

51.

Keogh JWL, Power N, Wooller L, et al. Physical and psychosocial function in residential aged-care elders: effect of Nintendo Wii Sports games. J Aging Phys Act. 2014;22:235–44.

52.

Kraft JA, Russell WD, Bowman TA, et al. Heart rate and perceived exertion during self-selected intensities for exergaming compared to traditional exercise in college-age participants. J Strength Cond Res. 2011;25:1736–42.

53.

Leatherdale ST, Woodruff SJ, Manske SR. Energy expenditure while playing active and inactive video games. Am J Health Behav. 2010;34:31–5.

54.

Mark RS, Rhodes RE. Testing the effectiveness of exercise videogame bikes among families in the home-setting: a pilot study. J Phys Act Health. 2013;10:211–21.

55.

Mellecker RR, McManus AM. Active video games and physical activity recommendations: a comparison of the Gamercize Stepper, XBOX Kinect and XaviX J-Mat. J Sci Med Sport. 2014;17:288–92.

56.

Mitre N, Foster RC, Lanningham-Foster L, et al. The energy expenditure of an activity-promoting video game compared to sedentary video games and TV watching. J Pediatr Endocrinol Metab. 2011;24:689–95.

57.

Miyachi M, Yamamoto K, Ohkawara K, et al. METs in adults while playing active video games: a metabolic chamber study. Med Sci Sports Exerc. 2010;42:1149–53.

58.

O'Donovan C, Hirsch E, Holohan E, et al. Energy expended playing Xbox Kinect™ and Wiit™ games: a preliminary study comparing single and multiplayer modes. Physiotherapy. 2012;98:224–9.

59.

O'Donovan C, Hussey J. Active video games as a form of exercise and the effect of gaming experience: a preliminary study in healthy young adults. Physiotherapy. 2012;98:205–10.

60.

Owens S, Garner J, Loftin J, et al. Changes in physical activity and fitness after 3 months of home Wii Fit™ use. J Strength Cond Res. 2011;25:3191–7.

61.

Pena J, Kim E. Increasing exergame physical activity through self and opponent avatar appearance. Comput Hum Behav. 2014;41:262–7.

62.

Radon K, Fürbeck B, Thomas S, et al. Feasibility of activity-promoting video games among obese adolescents and young adults in a clinical setting. J Sci Med Sport. 2011;14:42–5.

63.

Strand KA, Francis SL, Margrett JA, et al. Community-based exergaming program increases physical activity and perceived wellness in older adults. J Aging Phys Act. 2014;22:364–71.

64.

Stroud LC, Amonette WE, Dupler TL. Metabolic responses of upper-body accelerometer-controlled video games in adults. Appl Physiol Nutr Metab. 2010;35:643–9.

65.

Studenski S, Perera S, Hile E, et al. Interactive video dance games for healthy older adults. J Nutr Health Aging. 2010;14:850–2.

66.

Tripette J, Ando T, Murakami H, et al. Evaluation of active video games intensity: comparison between accelerometer-based predictions and indirect calorimetric measurements. Technol Health Care. 2014;22:199–208.

67.

Warburton DER, Sarkany D, Johnson M, et al. Metabolic requirements of interactive video game cycling. Med Sci Sports Exerc. 2009;41:920–6.

68.

Worley JR, Rogers SN, Kraemer RR. Metabolic responses to Wii Fitt™ video games at different game levels. J Strength Cond Res. 2011;25:689–93.

69.

Kozey S, Lyden K, Staudenmayer J, et al. Errors in MET estimates of physical activities using 3.5 ml × kg(−1) × min(−1) as the baseline oxygen consumption. J Phys Act Health. 2010;7:508–16.

70.

Thompson PD, Arena R, Riebe D, American College of Sports Medicine, et al. ACSM's new preparticipation health screening recommendations from ACSM's guidelines for exercise testing and prescription, ninth edition. Curr. Sports Med. Rep. 2013;12:215–7.
Ethics declarations
Funding
This study was conducted with internal support by the Department of Sports, Exercise and Health, University of Basel, Basel, Switzerland. No external sources of funding were used to assist in the preparation of this article.
Conflicts of interest
Christoph Höchsmann, Michael Schüpbach, and Arno Schmidt-Trucksäss declare that they have no conflicts of interest relevant to the content of this review.
Electronic supplementary material
Below is the link to the electronic supplementary material.
About this article
Cite this article
Höchsmann, C., Schüpbach, M. & Schmidt-Trucksäss, A. Effects of Exergaming on Physical Activity in Overweight Individuals. Sports Med 46, 845–860 (2016). https://doi.org/10.1007/s40279-015-0455-z
Keywords
Physical Activity

Bias Assessment

Overweight Individual

Active Video Game

Exercise Adherence