Abstract
Background
Research into the nature of overuse Achilles tendon injuries is extensive, yet uncertainty remains around how to identify athletes susceptible to Achilles tendon injury.
Objective
To identify the strength of evidence for biomechanical risk factors associated with Achilles tendon injuries.
Research Methods
SPORTDiscus, CINAHL, Web of Science and PubMed were searched for Achilles tendon injury risk factors and biomechanical measures which are altered in runners with Achilles tendon injuries, excluding ruptures. Fifteen articles were included in the analysis.
Results
Two variables, high vertical forces and high arch, showed strong evidence for reduced injury risk. High propulsive forces and running on stiffer surfaces may also be protective. Only one biomechanical variable, high braking force, showed clear evidence for increasing Achilles injury risk.
Discussion
Gait retraining to direct the centre of mass further forward to reduce high braking force could be useful in decreasing the risk of Achilles injury. The majority of biomechanical risk factors examined showed unclear results, which is likely due to the multifactorial nature of Achilles overuse injuries. Many risk factors are related to how the athlete's body interacts with the environment during gait, including ground reaction forces, muscle activity both prior to landing and immediately post ground contact, and joint motion throughout stance.
Conclusion
Multiple risk factors have been associated with the development of Achilles tendon injuries in running athletes but most effects remain unclear. Advice for athletes recovering from Achilles tendon injuries could include avoiding soft surfaces and reducing the pace of recovery runs. Orthotic intervention could assist athletes with low arches but modification of pronation should be viewed with caution. Strength training and gait retraining could be beneficial for reducing injury risk.
Access options
Buy single article
Instant access to the full article PDF.
US$ 49.95
Tax calculation will be finalised during checkout.
Subscribe to journal
Immediate online access to all issues from 2019. Subscription will auto renew annually.
US$ 259
Tax calculation will be finalised during checkout.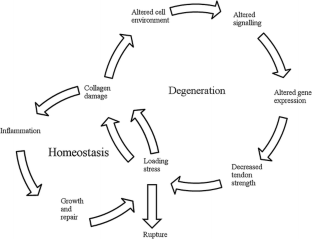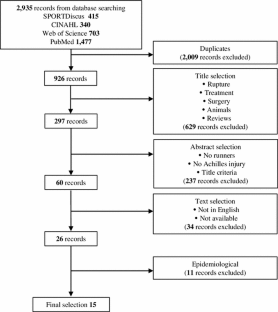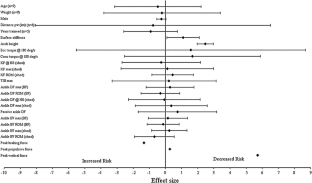 References
1.

Lopes AD, Hespanhol Júnior LC, Yeung SS, Costa LO. What are the main running-related musculoskeletal injuries? Sports Med. 2012;42(10):891–905.

2.

Vleck VE, Garbutt G. Injury and training characteristics of male elite, development squad, and club triathletes. Int J Sports Med. 1998;19(1):38–42.

3.

Muraoka T, Muramatsu T, Fukunaga T, Kanehisa H. Geometric and elastic properties of in vivo human Achilles tendon in young adults. Cells Tissues Organs. 2004;178(4):197–203.

4.

de Jonge S, van den Berg C, de Vos RJ, van der Heide HJL, Weir A, Verhaar JAN, et al. Incidence of midportion Achilles tendinopathy in the general population. Br J Sports Med. 2011;45(13):1026–8.

5.

Kujala UM, Sarna S, Kaprio J. Cumulative incidence of Achilles tendon rupture and tendinopathy in male former elite athletes. Clin J Sport Med. 2005;15(3):133–5.

6.

Khan KM, Maffulli N. Tendinopathy: an Achilles' heel for athletes and clinicians. Clin J Sport Med. 1998;8(3):151–4.

7.

Langberg H, Ellingsgaard H, Madsen T, Jansson J, Magnusson SP, Aagaard P, et al. Eccentric rehabilitation exercise increases peritendinous type I collagen synthesis in humans with Achilles tendinosis. Scand J Med Sci Sports. 2007;17(1):61–6.

8.

Allison GT, Purdam C. Eccentric loading for Achilles tendinopathy: strengthening or stretching? Br J Sports Med. 2009;43(4):276–9.

9.

Müller R, Siebert T, Blickhan R. Muscle preactivation control: simulation of ankle joint adjustments at touchdown during running on uneven ground. J Appl. Biomech. 2012;28(6):718–25.

10.

Novacheck TF. The biomechanics of running. Gait Posture. 1998;7(1):77–95.

11.

Zhang SN, Bates BT, Dufek JS. Contributions of lower extremity joints to energy dissipation during landings. Med Sci Sports Exerc. 2000;32(4):812–9.

12.

Scott SH, Winter DA. Internal forces of chronic running injury sites. Med Sci Sports Exerc. 1990;22(3):357–69.

13.

Dixon SJ, Collop AC, Batt ME. Surface effects on ground reaction forces and lower extremity kinematics in running. Med Sci Sports Exerc. 2000;32(11):1919–26.

14.

Ferris DP, Louie M, Farley CT. Running in the real world: adjusting leg stiffness for different surfaces. Proc R Soc Lond B Biol Sci. 1998;265(1400):989–94.

15.

Müller R, Grimmer S, Blickhan R. Running on uneven ground: leg adjustments by muscle pre-activation control. Hum Mov Sci. 2010;29(2):299–310.

16.

Farris DJ, Trewartha G, Polly McGuigan M. Could intra-tendinous hyperthermia during running explain chronic injury of the human Achilles tendon? J Biomech. 2011;44(5):822–6.

17.

Maganaris CN, Narici MV, Maffulli N. Biomechanics of the Achilles tendon. Disabil Rehabil. 2008;30(20–22):1542–7.

18.

Hintermann B, Nigg BM, Sommer C. Foot movement and tendon excursion: an in vitro study. Foot Ankle Int. 1994;15(7):386–95.

19.

Wakahara T, Kanehisa H, Kawakami Y, Fukunaga T. Fascicle behavior of medial gastrocnemius muscle in extended and flexed knee positions. J Biomech. 2007;40(10):2291–8.

20.

Lersch C, Grötsch A, Segesser B, Koebke J, Brüggemann G-P, Potthast W. Influence of calcaneus angle and muscle forces on strain distribution in the human Achilles tendon. Clin Biomech. 2012;27(9):955–61.

21.

Bojsen-Møller J, Hansen P, Aagaard P, Svantesson U, Kjaer M, Magnusson SP. Differential displacement of the human soleus and medial gastrocnemius aponeuroses during isometric plantar flexor contractions in vivo. J Appl Physiol. 2004;97(5):1908–14.

22.

Wilson AM, Goodship AE. Exercise-induced hyperthermia as a possible mechanism for tendon degeneration. J Biomech. 1994;27(7):899–905.

23.

Wyndow N, Cowan SM, Wrigley TV, Crossley KM. Neuromotor control of the lower limb in Achilles tendinopathy: implications for foot orthotic therapy. Sports Med. 2010;40(9):715–27.

24.

Lyman J, Weinhold PS, Almekinders LC. Strain behavior of the distal Achilles tendon implications for insertional Achilles tendinopathy. Am J Sports Med. 2004;32(2):457–61.

25.

Wren TAL, Yerby SA, Beaupré GS, Carter DR. Mechanical properties of the human achilles tendon. Clin Biomech. 2001;16(3):245–51.

26.

Wren TAL, Lindsey DP, Beaupré GS, Carter DR. Effects of creep and cyclic loading on the mechanical properties and failure of human Achilles tendons. Ann Biomed Eng. 2003;31(6):710–7.

27.

Alfredson H, Lorentzon R. Chronic Achilles tendinosis. Sports Med. 2000;29(2):135–46.

28.

Wen DY. Risk factors for overuse injuries in runners. Curr Sports Med Rep. 2007;6(5):307–13.

29.

Higgins JP, Green S, Collaboration C. Cochrane handbook for systematic reviews of interventions. Chichester: Wiley Online Library; 2008.

30.

Maher CG, Sherrington C, Herbert RD, Moseley AM, Elkins M. Reliability of the PEDro scale for rating quality of randomized controlled trials. Phys Ther. 2003;83(8):713–21.

31.

Bizzini M, Childs JD, Piva SR, Delitto A. Systematic review of the quality of randomized controlled trials for patellofemoral pain syndrome. J Orthop Sports Phys Ther. 2003;33(1):4–20.

32.

Chinn S. A simple method for converting an odds ratio to effect size for use in meta-analysis. Stat Med. 2000;19(22):3127–31.

33.

Hopkins WG, Marshall SW, Batterham AM, Hanin J. Progressive statistics for studies in sports medicine and exercise science. Med Sci Sports Exerc. 2009;41(1):3–13.

34.

Migliorini S. Risk factors and injury mechanism in triathlon. J Human Sport Exerc. 2011;6(2):309–14.

35.

Kader D, Saxena A, Movin T, Maffulli N. Achilles tendinopathy: some aspects of basic science and clinical management. Br J Sports Med. 2002;36(4):239.

36.

Gosling C, Forbes A, Donaldson A, Gabbe B. The perception of injury risk and safety in triathlon: an exploratory focus group study. J Sci Med Sport. 2011;14:e54–5.

37.

Gosling CM, Forbes AB, Gabbe BJ. Health professionals' perceptions of musculoskeletal injury and injury risk factors in Australian triathletes: a factor analysis. Phys Ther Sport. 2012;21(12):1–6.

38.

Taunton JE, Ryan MB, Clement DB, McKenzie DC, Lloyd-Smith DR, Zumbo BD. A retrospective case-control analysis of 2002 running injuries. Br J Sports Med. 2002;36(2):95–101.

39.

Knobloch K, Uzung Y, Vogt PM. Acute and overuse injuries correlated to hours of training in master running athletes. Foot Ankle Int. 2008;29(7):671–6.

40.

Di Caprio F, Buda R, Mosca M, Calabrò A, Giannini S. Foot and lower limb diseases in runners: assessment of risk factors. J Sports Sci Med. 2010;9(4):587–96.

41.

McCrory JL, Martin DF, Lowery RB, Cannon DW, Curl WW, Read HM, et al. Etiologic factors associated with Achilles tendinitis in runners. Med Sci Sports Exerc. 1999;31(10):1374–81.

42.

Azevedo LB. Biomechanical variables associated with Achilles tendinopathy in runners. Br J Sports Med. 2009;43(4):288–92.

43.

Williams DS III, Zambardino JA, Banning VA. Transverse-plane mechanics at the knee and tibia in runners with and without a history of achilles tendonopathy. J Orthop Sports Phys Ther. 2008;38(12):761–7.

44.

Donoghue OA, Harrison AJ, Laxton P, Jones RK. Lower limb kinematics of subjects with chronic Achilles tendon injury during running. Res Sports Med. 2008;16(1):23–38.

45.

Ryan M, Grau S, Krauss I, Maiwald C, Taunton J, Horstmann T. Kinematic analysis of runners with Achilles mid-portion tendinopathy. Foot Ankle Int. 2009;30(12):1190–5.

46.

Baur H, Divert C, Hirschmüller A, Müller S, Belli A, Mayer F. Analysis of gait differences in healthy runners and runners with chronic Achilles tendon complaints. Isokinet Exerc Sci. 2004;12(2):111–6.

47.

Baur H, Muller S, Hirschmuller A, Cassel M, Weber J, Mayer F. Comparison in lower leg neuromuscular activity between runners with unilateral mid-portion Achilles tendinopathy and healthy individuals. J Electromyogr Kinesiol. 2011;21(3):499–505.

48.

Wyndow N, Cowan SM, Wrigley TV, Crossley KM. Triceps surae activation is altered in male runners with Achilles tendinopathy. J Electromyogr Kinesiol. 2013;23(1):166–72.

49.

Van Ginckel A, Thijs Y, Hesar NGZ, Mahieu N, De Clercq D, Roosen P, et al. Intrinsic gait-related risk factors for Achilles tendinopathy in novice runners: a prospective study. Gait Posture. 2009;29(3):387–91.

50.

Maquirriain J. Leg stiffness changes in athletes with Achilles tendinopathy. Int J Sports Med. 2012;33(7):567–71.

51.

Kaufman KR, Brodine SK, Shaffer RA, Johnson CW, Cullison TR. The effect of foot structure and range of motion on musculoskeletal overuse injuries. Am J Sports Med. 1999;27(5):585–93.

52.

Mahieu NN, Witvrouw E, Stevens V, Van Tiggelen D, Roget P. Intrinsic risk factors for the development of Achilles tendon overuse injury: a prospective study. Am J Sports Med. 2006;34(2):226–35.

53.

Longo UG, Rittweger J, Garau G, Radonic B, Gutwasser C, Gilliver SF, et al. No influence of age, gender, weight, height, and impact profile in achilles tendinopathy in masters track and field athletes. Am J Sports Med. 2009;37(7):1400–5.

54.

Gaida JE, Alfredson H, Kiss ZS, Bass SL, Cook JL. Asymptomatic Achilles tendon pathology is associated with a central fat distribution in men and a peripheral fat distribution in women: a cross sectional study of 298 individuals. BMC Musculoskelet Disorders. 2010;11(1):41.

55.

Galloway MT, Jokl P, Dayton OW. Achilles tendon overuse injuries. Clin Sports Med. 1992;11(4):771–82.

56.

Clement DB, Taunton JE, Smart GW. Achilles tendinitis and peritendinitis: etiology and treatment. Am J Sports Med. 1984;12(3):179–84.

57.

Haglund-Akerlind Y, Eriksson E. Range of motion, muscle torque and training habits in runners with and without Achilles tendon problems. Knee Surg Sports Traumatol Arthrosc. 1993;1(3–4):195–9.

58.

Farley CT, Houdijk HHP, Van Strien C, Louie M. Mechanism of leg stiffness adjustment for hopping on surfaces of different stiffnesses. J Appl Physiol. 1998;85(3):1044–55.

59.

Ferris DP, Farley CT. Interaction of leg stiffness and surface stiffness during human hopping. J Appl Physiol. 1997;82(1):15–22.

60.

Ferris DP, Liang K, Farley CT. Runners adjust leg stiffness for their first step on a new running surface. J Biomech. 1999;32(8):787–94.

61.

Kerdok AE, Biewener AA, McMahon TA, Weyand PG, Herr HM. Energetics and mechanics of human running on surfaces of different stiffnesses. J Appl Physiol. 2002;92(2):469–78.

62.

Hardin EE, Van den Bogert AJ, Hamill J. Kinematic adaptations during running: effects of footwear, surface, and duration. Med Sci Sports Exerc. 2004;36(5):838–44.

63.

Williams DS III, McClay IS, Hamill J. Arch structure and injury patterns in runners. Clin Biomech. 2001;16(4):341–7.

64.

Williams DS III, Davis IM, Scholz JP, Hamill J, Buchanan TS. High-arched runners exhibit increased leg stiffness compared to low-arched runners. Gait Posture. 2004;19(3):263.

65.

Reule CA, Alt WW, Lohrer H, Hochwald H. Spatial orientation of the subtalar joint axis is different in subjects with and without Achilles tendon disorders. Br J Sports Med. 2011;45(13):1029–34.

66.

Öhberg L, Lorentzon R, Alfredson H. Eccentric training in patients with chronic Achilles tendinosis: normalised tendon structure and decreased thickness at follow up. Br J Sports Med. 2004;38(1):8–11.

67.

Fahlström M, Jonsson P, Lorentzon R, Alfredson H. Chronic Achilles tendon pain treated with eccentric calf-muscle training. Knee Surg Sports Traumatol Arthrosc. 2003;11(5):327–33.

68.

Alfredson H, Pietilä T, Jonsson P, Lorentzon R. Heavy-load eccentric calf muscle training for the treatment of chronic Achilles tendinosis. Am J Sports Med. 1998;26(3):360–6.

69.

Henriksen M, Aaboe J, Bliddal H, Langberg H. Biomechanical characteristics of the eccentric Achilles tendon exercise. J Biomech. 2009;42(16):2702–7.

70.

Arndt A, Brueggemann GP, Koebke J, Segesser B. Asymmetrical loading of the human triceps surae: I. Mediolateral force differences in the Achilles tendon. Foot Ankle Int. 1999;20(7):444–9.

71.

Hamill J, van Emmerik RE, Heiderscheit BC, Li L. A dynamical systems approach to lower extremity running injuries. Clin Biomech. 1999;14(5):297–308.

72.

O'Brien M. The anatomy of the Achilles tendon. Foot Ankle Clinics. 2005;10(2):225–38.

73.

Arya S, Kulig K. Tendinopathy alters mechanical and material properties of the Achilles tendon. J Appl Physiol. 2010;108(3):670–5.

74.

Arya S. Mechanical properties of degenerated tendons and their influence on lower extremity biomechanics. University of South California; 2008.

75.

Kubo K, Morimoto M, Komuro T, Tsunoda N, Kanehisa H, Fukunaga T. Influences of tendon stiffness, joint stiffness, and electromyographic activity on jump performances using single joint. Eur J Appl Physiol. 2007;99(3):235–43.

76.

McMahon TA, Cheng GC. The mechanics of running: how does stiffness couple with speed? J Biomech. 1990;23:65–78.

77.

Davids K, Button C, Bennett S. Physical constraints on coordination: dynamical systems theory. In: Davids K, Button C, Bennett S, editors. Dynamics of skill acquisition: a constraints-led approach. Champaign: Human Kinetics; 2008: p. 29–53.
Acknowledgements
Auckland University of Technology (AUT) funded this review. Anna Lorimer was funded by the AUT University Vice Chancellors PhD scholarship. Anna Lorimer and Patria Hume have no conflicts of interest relevant to the content of this review. There are no competing interests by the authors. The corresponding author has the right to grant on behalf of all authors, and does grant on behalf of all authors, an exclusive license on a worldwide basis to the journal editor to permit this article to be published in the journal. Anna Lorimer reviewed the literature as the basis for her later PhD biomechanical studies on the effects of lower-limb stiffness on running mechanics and injury. Patria Hume, as Anna Lorimer's PhD supervisor, with experience in epidemiology injury prevention and sports injury biomechanics, helped determine the focus of the review, examined the identified literature and edited the manuscript. Both authors approved the final manuscript.
About this article
Cite this article
Lorimer, A.V., Hume, P.A. Achilles Tendon Injury Risk Factors Associated with Running. Sports Med 44, 1459–1472 (2014). https://doi.org/10.1007/s40279-014-0209-3
Keywords
Achilles Tendon

Ground Reaction Force

Injury Risk

Overuse Injury

Propulsive Force