Abstract
Background
Despite several studies that have been conducted on running injuries, the risk factors for running-related injuries are still not clear in the literature.
Objective
The aim of this study was to systematically review prospective cohort studies that investigated the risk factors for running injuries in general.
Data Sources
We conducted electronic searches without restriction of language on EMBASE (1980 to Dec 2012), PUBMED (1946 to Dec 2012), CINAHL (1988 to Dec 2012) SPORTDiscus (1977 to Dec 2012), Latin American and Caribbean Centre on Health Sciences Information (1985 to Dec 2012) and Scientific Electronic Library Online (1998 to Dec 2012) databases, using subject headings, synonyms, relevant terms and variant spellings for each database.
Study Selection
Only prospective cohort studies investigating the risk factors for running-related musculoskeletal injuries were included in this review. Two independent reviewers screened each article and, if they did not reach a consensus, a third reviewer decided whether or not the article should be included.
Study Appraisal and Synthesis Methods
Year of publication, type of runners, sample size, definition of running-related musculoskeletal injury, baseline characteristics, reported risk factors and the statistical measurement of risk or protection association were extracted from the articles. A scale adapted by the authors evaluated the risk of bias of the articles.
Results
A total of 11 articles were considered eligible in this systematic review. A total of 4,671 pooled participants were analysed and 60 different predictive factors were investigated. The main risk factor reported was previous injury (last 12 months), reported in 5 of the 8 studies that investigated previous injuries as a risk factor. Only one article met the criteria for random selection of the sample and only six articles included a follow-up of 6 months or more. There was no association between gender and running injuries in most of the studies.
Limitations
It is possible that eligible articles for this review were published in journals that were not indexed in any of the searched databases. We found a great heterogeneity of statistical methods between studies, which prevented us from performing a meta-analysis.
Conclusions
The main risk factor identified in this review was previous injury in the last 12 months, although many risk factors had been investigated in the literature. Relatively few prospective studies were identified in this review, reducing the overall ability to detect risk factors. This highlights the need for more, well designed prospective studies in order to fully appreciate the risk factors associated with running.
Access options
Buy single article
Instant access to the full article PDF.
USD 49.95
Price excludes VAT (USA)
Tax calculation will be finalised during checkout.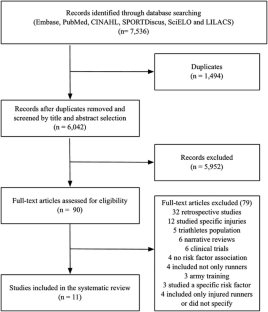 References
Pazin J. Corredores de rua: características demográficas, treinamento e prevalência de lesões. Revista Brasileira de Cineantropometria & Desempenho Humano. 2008;10:6–11.

Fredericson M, Misra AK. Epidemiology and aetiology of marathon running injuries. Sports Med. 2007;37:437–9.

Paluska SA. An overview of hip injuries in running. Sports Med. 2005;35:991–1014.

van Gent RN, Siem D, van Middelkoop M et al. Incidence and determinants of lower extremity running injuries in long distance runners: a systematic review. Br J Sports Med. 2007;41:469–80; discussion 80.

Fields KB, Sykes JC, Walker KM, et al. Prevention of running injuries. Curr Sports Med Rep. 2010;9:176–82.

Hoeberigs JH. Factors related to the incidence of running injuries. A review. Sports Med. 1992;13:408–22.

Wen DY. Risk factors for overuse injuries in runners. Curr Sports Med Rep. 2007;6:307–13.

Hreljac A, Marshall RN, Hume PA. Evaluation of lower extremity overuse injury potential in runners. Med Sci Sports Exerc. 2000;32:1635–41.

Hreljac A. Impact and overuse injuries in runners. Med Sci Sports Exerc. 2004;36:845–9.

Kretsch A, Grogan R, Duras P, et al. Melbourne marathon study. Med J Aust. 1980;1984(141):809–14.

Hreljac A. Etiology, prevention, and early intervention of overuse injuries in runners: a biomechanical perspective. Phys Med Rehabil Clin N Am. 2005;16:651–67, vi.

Bahr R. No injuries, but plenty of pain? On the methodology for recording overuse symptoms in sports. Br J Sports Med. 2009;43:966–72.

Chang WL, Shih YF, Chen WY. Running injuries and associated factors in participants of ING Taipei Marathon. Phys Ther Sport. 2012;13:170–4.

Nielsen RO, Buist I, Sorensen H, et al. Training errors and running related injuries: a systematic review. Int J Sports Phys Ther. 2012;7:58–75.

Bahr R, Holme I. Risk factors for sports injuries—a methodological approach. Br J Sports Med. 2003;37:384–92.

Lopes AD, Hespanhol Junior LC, Yeung SS, et al. What are the main running-related musculoskeletal injuries? a systematic review. Sports Med. 2012;42:891–905.

Herbert R, Jamtvedt G, Mead J, et al. Practical evidence-based physiotherapy. 1st ed. London: Elsevier; 2005.

Verhagen E, van Mechelen W. Sports injury research. 1st ed. Oxford: Oxford University Press; 2010.

Wells G, Shea B, O'Connell D et al. The Newcastle-Ottawa Scale (NOS) for assessing the quality of nonrandomised studies in meta-analyses. [cited 2013 September 24]. http://www.ohri.ca/programs/clinical_epidemiology/oxford.asp.

Hartling L, Milne A, Hamm MP, et al. Testing the Newcastle Ottawa Scale showed low reliability between individual reviewers. J Clin Epidemiol. 2013;66:982–93.

Fewtrell MS, Kennedy K, Singhal A, et al. How much loss to follow-up is acceptable in long-term randomised trials and prospective studies? Arch Dis Child. 2008;93:458–61.

Buist I, Bredeweg SW, Lemmink KA, et al. Predictors of running-related injuries in novice runners enrolled in a systematic training program: a prospective cohort study. Am J Sports Med. 2009;38:273–80.

Macera CA, Pate RR, Powell KE, et al. Predicting lower-extremity injuries among habitual runners. Arch Intern Med. 1989;149:2565–8.

Rauh MJ, Koepsell TD, Rivara FP, et al. Epidemiology of musculoskeletal injuries among high school cross-country runners. Am J Epidemiol. 2006;163:151–9.

Van Middelkoop M, Kolkman J, Van Ochten J, et al. Risk factors for lower extremity injuries among male marathon runners. Scand J Med Sci Sports. 2008;18:691–7.

Wen DY, Puffer JC, Schmalzried TP. Injuries in runners: a prospective study of alignment. Clin J Sport Med. 1998;8:187–94.

Walter SD, Hart LE, McIntosh JM, et al. The Ontario cohort study of running-related injuries. Arch Intern Med. 1989;149:2561–4.

Rauh MJ, Koepsell TD, Rivara FP, et al. Quadriceps angle and risk of injury among high school cross-country runners. J Orthop Sports Phys Ther. 2007;37:725–33.

Taunton JE, Ryan MB, Clement DB, et al. A prospective study of running injuries: the Vancouver Sun Run "In Training" clinics. Br J Sports Med. 2003;37:239–44.

Pileggi P, Gualano B, Souza M, et al. Incidência e fatores de risco de lesões osteomioarticulares em corredores: um estudo de coorte prospectivo. Revista Brasileira de Educação Física e Esporte. 2010;24:453–62.

Lun V, Meeuwisse WH, Stergiou P, et al. Relation between running injury and static lower limb alignment in recreational runners. Br J Sports Med. 2004;38:576–80.

Fields KB, Delaney M, Hinkle JS. A prospective study of type A behavior and running injuries. J Fam Pract. 1990;30:425–9.

Bredeweg SW, Kluitenberg B, Bessem B, et al. Differences in kinetic variables between injured and noninjured novice runners: a prospective cohort study. J Sci Med Sport. 2012;16:205–10.

Fuller CW, Bahr R, Dick RW, et al. A framework for recording recurrences, reinjuries, and exacerbations in injury surveillance. Clin J Sport Med. 2007;17:197–200.

Lankhorst NE, Bierma-Zeinstra SM, van Middelkoop M. Factors associated with patellofemoral pain syndrome: a systematic review. Br J Sports Med. 2013;47:193–206.

Livingston LA. The quadriceps angle: a review of the literature. J Orthop Sports Phys Ther. 1998;28:105–9.

van Mechelen W. Running injuries. A review of the epidemiological literature. Sports Med. 1992;14:320–35.
Acknowledgments
Luiz Carlos Hespanhol Junior is a PhD student supported by CAPES (Coordenação de Aperfeiçoamento de Pessoal de Nível Superior), Process Number 0763-12-8, Ministry of Education, Brazil. The other authors declare that they have no competing interest and there is no funding involved in this study.
Electronic Supplementary Material
Below is the link to the electronic supplementary material.
About this article
Cite this article
Saragiotto, B.T., Yamato, T.P., Hespanhol Junior, L.C. et al. What are the Main Risk Factors for Running-Related Injuries?. Sports Med 44, 1153–1163 (2014). https://doi.org/10.1007/s40279-014-0194-6
Published:

Issue Date:

DOI: https://doi.org/10.1007/s40279-014-0194-6
Keywords
Prospective Cohort Study

Main Risk Factor

Overuse Injury

Newcastle Ottawa Scale

Previous Injury