Abstract
Background
Resistance and aerobic exercises are both recommended as effective treatments for people with type 2 diabetes. However, the optimum type of exercise for the disease remains to be determined to inform clinical decision-making and facilitate personalized exercise prescription.
Objectives
Our objective was to investigate whether resistance exercise is comparable to aerobic exercise in terms of effectiveness and safety in people with type 2 diabetes.
Data sources
PubMed, EMBASE, CENTRAL, CINAHL, and SPORTdiscus were systematically searched up to March 2013. The reference lists of eligible studies and relevant reviews were also checked.
Study Selection
We used the following criteria to select studies for inclusion in the review: (i) the study was a randomized controlled trial; (ii) the participants were people with type 2 diabetes aged 18 years or more; (iii) the trial compared resistance exercise with aerobic exercise for a duration of at least 8 weeks, with pre-determined frequency, intensity, and duration; and (iv) the trial provided relevant data on at least one of the following: glycaemic control, blood lipids, anthropometric measures, blood pressure, fitness, health status, and adverse events.
Study Appraisal and Synthesis Methods
The assessment of study quality was based on the Cochrane Risk of Bias tool. For effectiveness measures, differences (resistance group minus aerobic group) in the changes from baseline with the two exercises were combined, using a random-effects model wherever possible. For adverse events, the relative risks (resistance group vs. aerobic group) were combined.
Results
Twelve trials (n = 626) were included. Following the exercise interventions, there was a greater reduction of glycosylated hemoglobin with aerobic exercise than with resistance exercise (difference 0.18 % (1.97 mmol/mol), 95 % confidence interval (CI) 0.01, 0.36). This difference became non-significant with sensitivity analysis (p = 0.14). The differences in changes from baseline were also statistically significant for body mass index (difference 0.22, 95 % CI 0.06, 0.39), peak oxygen consumption (difference −1.84 mL/kg/min, 95 % CI −3.07, −0.62), and maximum heart rate (difference 3.44 beats per minute, 95 % CI 2.49, 4.39). Relative risks for adverse events (all) and serious adverse events were 1.17 (95 % CI 0.77, 1.79) and 0.89 (95 % CI 0.18, 4.39), respectively.
Limitations
Most included trials were short term (8 weeks to 6 months), and seven had important methodological limitations. Additionally, the meta-analyses for some of the secondary outcomes had a small number of participants or substantial statistical heterogeneity.
Conclusions
Although differences in some diabetic control and physical fitness measures between resistance exercise and aerobic exercise groups reached statistical significance, there is no evidence that they are of clinical importance. There is also no evidence that resistance exercise differs from aerobic exercise in impact on cardiovascular risk markers or safety. Using one or the other type of exercise for type 2 diabetes may be less important than doing some form of physical activity. Future long-term studies focusing on patient-relevant outcomes are warranted.
This is a preview of subscription content, log in to check access.
Access options
Buy single article
Instant access to the full article PDF.
US$ 49.95
Price includes VAT for USA
Subscribe to journal
Immediate online access to all issues from 2019. Subscription will auto renew annually.
US$ 199
This is the net price. Taxes to be calculated in checkout.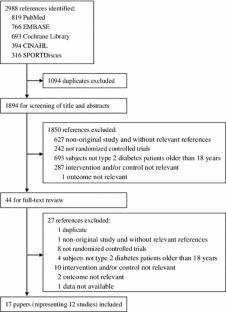 References
1.

Sigal RJ, Armstrong MJ, Colby P, et al. Canadian Diabetes Association 2013 Clinical Practice Guidelines for the Prevention and Management of Diabetes in Canada: physical activity and diabetes. Can J Diabetes. 2013;37(suppl 1):S40–4.

2.

Myers J, Atwood JE, Froelicher V. Active lifestyle and diabetes. Circulation. 2003;107:2392–4.

3.

Chudyk A, Petrella RJ. Effects of exercise on cardiovascular risk factors in type 2 diabetes: a meta-analysis. Diabetes Care. 2011;34:1228–37.

4.

Boulé NG, Haddad E, Kenny GP, Wells GA, Sigal RJ. Effects of exercise on glycemic control and body mass in type 2 diabetes mellitus: a meta-analysis of controlled clinical trials. JAMA. 2001;286:1218–27.

5.

Thomas DE, Elliott EJ, Naughton GA. Exercise for type 2 diabetes mellitus. Cochrane Database Syst Rev. 2006;(3):CD002968.

6.

Bloomgarden ZT. American Diabetes Association Annual Meeting, 1999: diabetes and obesity. Diabetes Care. 2000;23:118–24.

7.

Linke SE, Gallo LC, Norman GJ. Attrition and adherence rates of sustained vs. intermittent exercise interventions. Ann Behav Med. 2011;42:197–209.

8.

Irvine C, Taylor NF. Progressive resistance exercise improves glycaemic control in people with type 2 diabetes mellitus: a systematic review. Aust J Physiother. 2009;55:237–46.

9.

Kelley GA, Kelley KS. Impact of progressive resistance training on lipids and lipoproteins in adults: a meta-analysis of randomized controlled trials. Prev Med. 2009;48:9–19.

10.

Arikawa AY, O'Dougherty M, Schmitz KH. Adherence to a strength training intervention in adult women. J Phys Act Health. 2011;8:111–8.

11.

Umpierre D, Ribeiro PA, Kramer CK, et al. Physical activity advice only or structured exercise training and association with HbA1c levels in type 2 diabetes: a systematic review and meta-analysis. JAMA. 2011;305:1790–9.

12.

Liberati A, Altman DG, Tetzlaff J, et al. The PRISMA statement for reporting systematic reviews and meta-analyses of studies that evaluate healthcare interventions: explanation and elaboration. BMJ. 2009;339:b2700.

13.

Higgins JP, Altman DG, Gøtzsche PC, et al. The Cochrane Collaboration's tool for assessing risk of bias in randomised trials. BMJ. 2011;343:d5928.

14.

Higgins JPT, Green S. Cochrane Handbook for Systematic Reviews of Interventions Version 5.0.2 [updated September 2009]. Chichester: Wiley; 2009.

15.

Higgins JPT, Thompson SG, Deeks JJ, Altman DG. Measuring inconsistency in meta-analyses. BMJ. 2003;327:557–60.

16.

Arora E, Shenoy S, Sandhu JS. Effects of resistance training on metabolic profile of adults with type 2 diabetes. Indian J Med Res. 2009;129:515–9.

17.

Bacchi E, Negri C, Zanolin ME, et al. Metabolic effects of aerobic training and resistance training in type 2 diabetic subjects: a randomized controlled trial (the RAED2 study). Diabetes Care. 2012;35:676–82.

18.

Cauza E, Hanusch-Enserer U, Strasser B, et al. The relative benefits of endurance and strength training on the metabolic factors and muscle function of people with type 2 diabetes mellitus. Arch Phys Med Rehabil. 2005;86:1527–33.

19.

Church TS, Blair SN, Cocreham S, et al. Effects of aerobic and resistance training on hemoglobin A1c levels in patients with type 2 diabetes: a randomized controlled trial. JAMA. 2010;304:2253–62.

20.

Jorge ML, de Oliveira VN, Resende NM, et al. The effects of aerobic, resistance, and combined exercise on metabolic control, inflammatory markers, adipocytokines, and muscle insulin signaling in patients with type 2 diabetes mellitus. Metabolism. 2011;60:1244–52.

21.

Kadoglou NP, Fotiadis G, Kapelouzou A, Kostakis A, Liapis CD, Vrabas IS. The differential anti-inflammatory effects of exercise modalities and their association with early carotid atherosclerosis progression in patients with Type 2 diabetes. Diabet Med. 2013;30:e41–50.

22.

Ku YH, Han KA, Ahn H, et al. Resistance exercise did not alter intramuscular adipose tissue but reduced retinol-binding protein-4 concentration in individuals with type 2 diabetes mellitus. J Int Med Res. 2010;38:782–91.

23.

Larose J, Sigal RJ, Boulé NG, et al. Effect of exercise training on physical fitness in type II diabetes mellitus. Med Sci Sports Exerc. 2010;42:1439–47.

24.

Moe B, Augestada LB, Asvoldb BO, Flanders WD. Effects of aerobic versus resistance training on glycaemic control in men with type 2 diabetes. Eur J Sport Sci. 2011;11:365–74.

25.

Ng CL, Goh SY, Malhotra R, Østbye T, Tai ES. Minimal difference between aerobic and progressive resistance exercise on metabolic profile and fitness in older adults with diabetes mellitus: a randomised trial. J Physiother. 2010;56:163–70.

26.

Ng CL, Tai ES, Goh SY, Wee HL. Health status of older adults with Type 2 diabetes mellitus after aerobic or resistance training: a randomised trial. Health Qual Life Outcomes. 2011;9:59.

27.

de Oliveira VN, Bessa A, Jorge ML, et al. The effect of different training programs on antioxidant status, oxidative stress, and metabolic control in type 2 diabetes. Appl Physiol Nutr Metab. 2012;37:334–44.

28.

Reid RD, Tulloch HE, Sigal RJ, et al. Effects of aerobic exercise, resistance exercise or both, on patient-reported health status and well-being in type 2 diabetes mellitus: a randomised trial. Diabetologia. 2010;53:632–40.

29.

Shenoy S, Arora E, Jaspal S. Effects of progressive resistance training and aerobic exercise on type 2 diabetics in Indian population. Int J Diabetes Metab. 2009;17:27–30.

30.

Sigal RJ, Kenny GP, Boulé NG, et al. Effects of aerobic training, resistance training, or both on glycemic control in type 2 diabetes: a randomized trial. Ann Intern Med. 2007;147:357–69.

31.

Sukala WR, Page R, Rowlands DS, et al. South Pacific Islanders resist type 2 diabetes: comparison of aerobic and resistance training. Eur J Appl Physiol. 2012;112:317–25.

32.

Yavari A, Najafipoor F, Aliasgarzadeh A, Niafar M, Mobasseri M. Effect of aerobic exercise, resistance training or combined training on glycaemic control and cardiovascular risk factors in patients with type 2 diabetes. Biol Sport. 2012;29:135–43.

33.

Colberg SR, Sigal RJ, Fernhall B, American College of Sports Medicine; American Diabetes Association, et al. Exercise and type 2 diabetes: the American College of Sports Medicine and the American Diabetes Association: joint position statement. Diabetes Care. 2010;33:e147–67.

34.

Park SW, Goodpaster BH, Strotmeyer ES, et al. Decreased muscle strength and quality in older adults with type 2 diabetes: the health, aging, and body composition study. Diabetes. 2006;55:1813–8.

35.

Nicolaï SP, Kruidenier LM, Leffers P, Hardeman R, Hidding A, Teijink JA. Supervised exercise versus non-supervised exercise for reducing weight in obese adults. J Sports Med Phys Fitness. 2009;49:85–90.

36.

Olney SJ, Nymark J, Brouwer B, et al. A randomized controlled trial of supervised versus unsupervised exercise programs for ambulatory stroke survivors. Stroke. 2006;37:476–81.

37.

Hirst JA, Farmer AJ, Ali R, Roberts NW, Stevens RJ. Quantifying the effect of metformin treatment and dose on glycemic control. Diabetes Care. 2012;35:446–54.

38.

Stratton IM, Adler AI, Neil HA, et al. Association of glycaemia with macrovascular and microvascular complications of type 2 diabetes (UKPDS 35): prospective observational study. BMJ. 2000;321:405–12.

39.

Plowman SA, Smith DL. Exercise physiology for health, fitness, and performance. 2nd ed. San Francisco: Benjamin Cummings; 2007.
Acknowledgments
The authors thank the Global Scholarship Programme for Research Excellence—CNOOC Grants for 2012–2013 offered by The Chinese University of Hong Kong.
AJF is an NIHR Senior Investigator and receives funding from NIHR Oxford Biomedical Research Centre. CAS is an NIHR funded GP Academic Clinical Fellow.
The authors declare that there are no conflicts of interest associated with this manuscript.
ZY, JT, and AJF contributed to the conception and design of the study. ZY, CAS, CM, and AJF contributed to the acquisition of data. ZY, CAS, and AJF contributed to the analysis and interpretation of data. All authors contributed to drafting the article or revising it critically. All authors approved the final version to be submitted.
Electronic supplementary material
Below is the link to the electronic supplementary material.
About this article
Cite this article
Yang, Z., Scott, C.A., Mao, C. et al. Resistance Exercise Versus Aerobic Exercise for Type 2 Diabetes: A Systematic Review and Meta-Analysis. Sports Med 44, 487–499 (2014). https://doi.org/10.1007/s40279-013-0128-8
Keywords
Glycaemic Control

Resistance Exercise

Aerobic Exercise

Exercise Group

Maximum Heart Rate