Abstract
Successful participation in competitive endurance activities requires continual regulation of muscular work rate in order to maximise physiological performance capacities, meaning that individuals must make numerous decisions with regards to the muscular work rate selected at any point in time. Decisions relating to the setting of appropriate goals and the overall strategic approach to be utilised are made prior to the commencement of an event, whereas tactical decisions are made during the event itself. This review examines current theories of decision-making in an attempt to explain the manner in which regulation of muscular work is achieved during athletic activity. We describe rational and heuristic theories, and relate these to current models of regulatory processes during self-paced exercise in an attempt to explain observations made in both laboratory and competitive environments. Additionally, we use rational and heuristic theories in an attempt to explain the influence of the presence of direct competitors on the quality of the decisions made during these activities. We hypothesise that although both rational and heuristic models can plausibly explain many observed behaviours in competitive endurance activities, the complexity of the environment in which such activities occur would imply that effective rational decision-making is unlikely. However, at present, many proposed models of the regulatory process share similarities with rational models. We suggest enhanced understanding of the decision-making process during self-paced activities is crucial in order to improve the ability to understand regulation of performance and performance outcomes during athletic activity.
Access options
Buy single article
Instant access to the full article PDF.
USD 49.95
Price excludes VAT (USA)
Tax calculation will be finalised during checkout.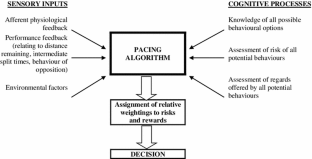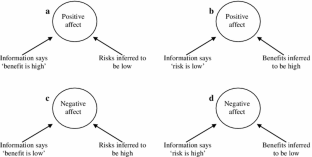 References
De Koning JJ, Foster C, Bakkum A, et al. Regulation of pacing strategy during athletic competition. PLoS ONE. 2011;6(1):e15863. doi:10.1371/journal.pone.0015863.

Noakes TD. Fatigue is a brain-derived emotion that regulates the exercise behaviour to ensure the protection of whole body homeostasis. Front Physiol. 2012;3(82):1–13.

St Clair Gibson A, DeKoning JJ, Thompson KG, et al. Crawling to the finish line—why do endurance athletes collapse? Implications for understanding mechanisms underlying pacing and fatigue. Sports Med. 2013; 43(6):413–24.

St Clair Gibson A, Lambert EV, Rauch LHG, et al. The role of information processing between the brain and peripheral physiological systems in pacing and perception of effort. Sports Med. 2006; 36(8):706–22.

Renfree A, St Clair Gibson A. Influence of different performance levels on pacing strategy during the female World Championship marathon race. Int J Sports Physiol Perform. 2013; 8(3):279–85.

Bach DR, Dolan RJ. Knowing how much you don't know: a neural organization of uncertainty estimates. Nat Rev Neurosci. 2012;13:573–86.

Bar-Eli M. Judgment and decision-making in sport and exercise: Rediscovery and new visions. Psychol Sport Exerc. 2006;7:519–24.

Abbis CR, Laursen PB. Describing and understanding pacing strategies during athletic competition. Sports Med. 2008;38(3):239–52.

Ulmer H-V. Concept of an extracellular regulation of muscular metabolic rate during heavy exercise in humans by psychophysiological feedback. Experientia. 1996;52:416–20.

St Clair Gibson A, Goedecke JH, Harley YX, et al. Metabolic setpoint control mechanisms in different physiological systems as rest and during exercise. J Theor Biol. 2005;236:60–72.

Bar-Eli M, Plesner H, Raab M. Judgment, decision-making and success in sport. Chichester: Wiley; 2011.

Baker J, Cote J, Abernethy B. Sport-specific practice and the development of expert decision-making in team ball sports. J Appl Sport Psychol. 2003;15(1):12–25.

Memmert D, Furley P. "I spy with my little eye!": breadth of attention, inattentional blindness, and tactical decision-making in team sports. J Sport Exerc Psychol. 2007;29(3):365–81.

Johnson JG. Cognitive modelling of decision-making in sports. Psychol Sport Exerc. 2006;7:631–52.

Simon HA. A behavioral model of rational choice. Q J Econ. 1955;69(1):99–118.

Simon HA. Rational decision-making in business organizations, Nobel memorial lecture 1978. http://www.nobelprize.org/nobel_prizes/economics/laureates/1978/simon-lecture.pdf.

Savage LJ. The foundations of statistics. 2nd ed. New York: Dover; 1954.

Miller EK. The prefrontal cortex and cognitive control. Nat Rev Neurosci. 2000;1:59–65.

Boksem MAS, Tops M. Mental fatigue: costs and benefits. Brain Res Rev. 2008;59:125–39.

Knill D, Pouget A. The Bayesian brain: the role of uncertainty in neural coding and computation. Trends Neurosci. 2004;27(12):712–9.

Berger JO. Statistical decision theory and Bayesian analysis. 2nd ed. New York: Springer; 1985.

Trommershauser J, Maloney LT, Landy MS. Statistical decision theory and the trade-offs in the control of motor response. Spat Vis. 2003;16:255–75.

Morton RH. Deception by manipulating the clock calibration influences cycle ergometer endurance time in males. J Sci Med Sport. 2009;12(2):332–7.

Thomas G, Renfree A. The effect of secret clock manipulation on 10 km cycle time trial performance. Int J Arts Sci. 2010;3(9):193–202.

Gigerenzer G, Gaissmaier W. Heuristic decision-making. Annu Rev Psychol. 2011;62:451–82.

Shah AK, Oppenheimer DM. Heuristics made easy: an effort-reduction framework. Psychol Bull. 2008;137:207–22.

Gilovich T, Griffin DW, Kahneman D, editors. Heuristics and biases: the psychology of intuitive judgment. New York: Cambridge University Press; 2002.

Tversky A, Kahneman D. The framing of decisions and the psychology of choice. Science. 1981;211(4481):453–8.

De Martino B, Kumaran D, Seymour B, et al. Frames, biases, and rational decision-making in the human brain. Science. 2009;313(5787):684–7.

Ariely D, Carmon Z. Gestalt characteristics of experiences: the defining features of summarized events. J Behav Decis Mak. 2000;13:191–201.

Borg GAV. Psychophysical bases of perceived exertion. Med Sci Sports Exerc. 1982;14(5):377–81.

Tucker R. The anticipatory regulation of performance: the physiological basis for pacing strategies and the development of a perception-based model for exercise performance. Br J Sports Med. 2009;43:392–400.

Baden DA, Warwick-Evans LA, Lakomy J. Am I nearly there? The effect of anticipated running distance on perceived exertion and attentional focus. J Sport Exercise Psychol. 2004;27:215–31.

Hall EE, Ekkekakis P, Petruzzello SJ. Is the relationship of RPE to psychological factors intensity dependent? Med Sci Sports Exerc. 2005;37(8):1365–73.

Noakes TD. Lore of running. Cape Town: Oxford University Press; 1992.

Hutchinson JC, Tenenbaum G. Perceived effort—can it be considered gestalt? Psychol Sport Exerc. 2006;7:463–76.

Watson D. Mood and temperament. New York: The Guilford Press; 2000.

Baron B, Moullan F, Deruelle F, et al. The role of emotions on pacing strategies and performance in middle and long duration sport events. Br J Sports Med. 2009;45:511–7.

Renfree A, West J, Corbett M, et al. Complex interplay between the determinants of pacing and performance during 20 km cycle time trials. Int J Sports Physiol Perform. 2012;7(2):121–9.

Isen AM. An influence of positive affect on decision-making in complex situations: Theoretical issues with practical implications. J Consum Psychol. 2001;11(2):75–85.

Slovic P, Peters E, Finucane ML, et al. Affect, risk, and decision-making. Health Psychol. 2005;24(4):S35–40.

Epstein S. Integration of the cognitive and psychodynamic unconscious. Am Psychologist. 1994;49:709–24.

Epstein S. Intuition from the perspective of cognitive-experiential self-theory. In: Plessner H, Betsch C, Betsch T, editors. Intuition in judgement and decision-making. New York: Taylor and Francis; 2010.

Denes-Raj V, Epstein S. Conflict between intuitive and rationale processing: when people behave against their better judgement. J Pers Soc Psychol. 1994;66:819–29.

Finucane ML, Alhakami A, Slovic P, Johnson SM. The affect heuristic in judgements of risks and benefits. J Behav Decis Mak. 2000;13(1):1–17.

Bannerjee AV. A simple model of herd behaviour. Q J Econ. 1992;107(3):797–817.

Skorski S, Faude O, Rausch K, et al. Reproducibility of pacing profiles in competitive swimmers. Int J Sports Med. 2012;33:1–6.

Appelt KC, Milch KF, Handgraaf MJJ, et al. The decision-making individual differences inventory and guidelines for the study of individual differences in judgement and decision-making research. Judgm Decis Mak. 2011;6(3):252–62.
Acknowledgments
No sources of funding were used to assist in the preparation of this review. To the knowledge of the authors, there are no conflicts of interest that are directly or indirectly related to the contents of this manuscript.
About this article
Cite this article
Renfree, A., Martin, L., Micklewright, D. et al. Application of Decision-Making Theory to the Regulation of Muscular Work Rate during Self-Paced Competitive Endurance Activity. Sports Med 44, 147–158 (2014). https://doi.org/10.1007/s40279-013-0107-0
Published:

Issue Date:

DOI: https://doi.org/10.1007/s40279-013-0107-0
Keywords
Work Rate

Exercise Bout

Behaviour Alternative

Pace Strategy

Afferent Feedback