Abstract
Background
The benefits of physical activity to maintain optimal health and well-being in children and adolescents are undisputed. The school environment offers opportunities for children to be physically active.
Objective
The aim of this review is to systematically examine the effects of recess-based interventions on the physical activity (PA) levels of school-aged children and adolescents.
Data Sources
A systematic literature search was conducted to identify papers reporting interventions to promote PA during school recess and/or lunchtime periods. The search was conducted in six databases (PubMed, SPORTDiscus™, Web of Science, Proquest, Cochrane and Scopus) for papers published between January 2000 and April 2011.
Study Selection
Articles were included in the review if (i) they reported the findings of an intervention targeting PA levels of children and/or adolescents during school recess and/or lunchtime; (ii) have a measure of PA as an outcome variable; (iii) participants were aged between 5 and 18 years; and (iv) were published in English.
Methods
Two authors independently searched the literature using the same search strategies to identify papers reporting interventions that promote PA during school recess and lunchtime periods. Methodological quality was assessed using an adapted eight item assessment scale. The effects of the interventions were assessed with a rating system used in a recent review of interventions in youth.
Results
The search originally retrieved 2,265 articles. Nine published peer-reviewed journal articles met the inclusion criteria for this review. Eight studies used randomized controlled trials and one was a controlled trial. Three studies demonstrated high methodological quality (33%). None of the studies adequately reported the randomization procedure or used power calculations. Few studies reported potential confounders and three studies had less than a 6 week follow-up. Five studies demonstrated a positive intervention effect on children's PA levels, with four reporting statistically significant increases and two reporting significant decreases in recess PA. The summary of the levels of evidence for intervention effects found inconclusive results for all intervention types, though promising strategies that require further investigation were identified.
Limitations
Whilst every effort was made to ensure that this review was as encompassing as possible, it may be limited by its search terms especially if there were studies with unclear titles or abstracts. In addition, only manuscripts published in English were considered, eliminating any possible studies published in other languages.
Conclusions
All of the studies used an objective measure to assess PA outcomes, although several criteria were consistently absent from the studies. The levels of evidence were not sufficient to establish conclusive intervention effects on children's recess PA. This could be due to the small number of published studies. There is a need for higher-quality intervention research to strengthen published findings to inform recess PA interventions. Intervention research is needed in adolescents due to the absence of school recess intervention research in this population.
This is a preview of subscription content, log in to check access.
Access options
Buy single article
Instant access to the full article PDF.
US$ 49.95
Price includes VAT for USA
Subscribe to journal
Immediate online access to all issues from 2019. Subscription will auto renew annually.
US$ 199
This is the net price. Taxes to be calculated in checkout.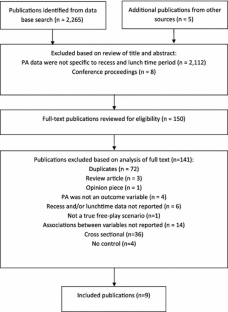 References
1.

World Health Organisation. Global strategy on diet, physical activity and health. Geneva: WHO; 2004.

2.

Cancer Council New South Wales. Position statement: physical activity and reducing cancer risk. Kings Cross: Cancer Council, 2009 [online] Available from URL: http://www.cancercouncil.com.au/html/healthprofessionals/nutrition_physical/downloads/position%20statement%20-%20physical%20activity.pdf. [Accessed 2011 Oct 25].

3.

Royal Australian College of General Practitioners. Physical activity: policy endorsed by the 50th RACGP Council. 2008 [online]. Available from URL: http://www.racgp.org.au/policy/Physical_activity.pdf [Accessed 2011 Oct 25].

4.

Strong WB, Malina RM, Blimkie CJR, et al. Evidence based physical activity for school-age youth. J Pediatr. 2005;146(6):732–7.

5.

Australian Government Department of Health and Ageing. Active kids are healthy kids. Australia's physical activity recommendations for 5–12 year olds. Canberra (ACT): DoHA, 2004 [online]. http://www.health.gov.au/internet/main/publishing.nsf/Content/9D7D393564FA0C42CA256F970014A5D4/$File/kids_phys.pdf [Accessed 25 Oct 2011].

6.

Pate RR, Davis MG, Robinson TN, et al. Promoting physical activity in children and youth. Circulation. 2006;114(11):1214–24.

7.

Dollman J, Norton K, Norton L. Evidence for secular trends in children's physical activity behaviour. Br J Sports Med. 2005;39(12):892–7.

8.

Meron D, Rissel C, Reinten-Reynolds T, et al. Changes in active travel of school children from 2004 to 2010 in New South Wales, Australia. Prev Med. 2011;53(6):408–10.

9.

Kriemler S, Meyer U, Martin E, et al. Effect of school-based interventions on physical activity and fitness in children and adolescents: a review of reviews and systematic update. Br J Sports Med. 2011;45(11):923–30.

10.

Centre for Disease Control. School health guidelines to promote healthy eating and physical activity. Mortality and Morbidity Weekly Report. 2011;60(5).

11.

Robert Wood Johnson Foundation. Recess rules: why the undervalued playtime may be America's best investment for healthy kids and healthy schools. Princeton: Robert Wood Johnson Foundation; 2007.

12.

Beurden E, Barnett LM, Zask A, et al. Can we skill and activate children through primary school physical education lessons? "Move it groove it": a collaborative health promotion intervention. Prev Med. 2003;36(4):493–501.

13.

Evans J. Changes to (primary) school recess and their effect on children's physical activity: an Australian perspective. J Phys Educ NZ. 2003;36(1):53.

14.

Ridgers ND, Stratton G, Fairclough SJ. Physical activity levels of children during school playtime. Sports Med. 2006;36(4):359–71.

15.

van Sluijs EMF, McMinn AM, Griffin SJ. Effectiveness of interventions to promote physical activity in children and adolescents: systematic review of controlled trials. BMJ. 2007;335(7622):703.

16.

Crombie IK, Davies HT. What is a meta-analysis? Evidence based medicine: what is? series. 2nd ed [online]. Available from URL: http://www.medicine.ox.ac.uk/bandolier/painres/download/whatis/syst-review.pdf [Accessed 1 Jun 2012].

17.

Higgins JPT, Green SE, editors. Cochrane handbook for systematic reveiws. 2011 [online]. Available from URL: http://www.mrc-bsu.cam.ac.uk/cochrane/handbook/ [Accessed 1 of June 2012].

18.

Goldstein H, Yang M, Omar R, et al. Meta-analysis using multilevel models with an application to the study of class size effects. J R Stat Soc Ser C Appl Stat. 2000;49(3):399–412.

19.

Elder JP, McKenzie TL, Arredondo EM, et al. Effects of a multi-pronged intervention on children's activity levels at recess: the Aventuras para Ninos Study. Adv Nutr. 2011;2:171S–6S.

20.

Stratton G. Promoting children's physical activity in primary school: an intervention study using playground markings. Ergonomics. 2000;43:1538–46.

21.

Stratton G, Mullan E. The effect of multicolor playground markings on children's physical activity level during recess. Prev Med. 2005;41(5–6):828–33.

22.

Ridgers ND, Fairclough SJ, Stratton G. Twelve-month effects of a playground intervention on children's morning and lunchtime recess physical activity levels. J Phys Act Health. 2010;7(2):167–75.

23.

Ridgers ND, Stratton G, Fairclough SJ, et al. Children's physical activity levels during school recess: a quasi-experimental intervention study. Int J Behav Nutr Phys Act. 2007;4:19.

24.

Duncan M, Staples V. The impact of a school-based active video game play intervention on children's physical activity during recess. Hum Mov. 2010;11(1):95–9.

25.

Ridgers ND, Stratton G, Fairclough SJ, et al. Long-term effects of a playground markings and physical structures on children's recess physical activity levels. Prev Med. 2007;44(5):393–7.

26.

Verstraete SJM, Cardon GM, De Clercq DLR, et al. Increasing children's physical activity levels during recess periods in elementary schools: the effects of providing game equipment. Eur J Public Health. 2006;16(4):415–9.

27.

Loucaides CA, Jago R, Charalambous I. Promoting physical activity during school break times: piloting a simple, low cost intervention. Prev Med. 2009;48(4):332–4.

28.

Ridgers ND, Salmon J, Parrish AM, et al. Review of correlates of children's and adolescent's physical activity during school recess periods. Am J Prev Med. 2012;43(3):320–8.

29.

Ridgers ND, Timperio A, Crawford D, et al. Five-year changes in school recess and lunchtime and the contribution to children's daily physical activity. Br J Sports Med. 2012;46(10):741–6.

30.

Parrish A-M, Yeatman H, Iverson D, et al. Using interviews and peer pairs to better understand how school environments affect young children's playground physical activity levels: a qualitative study. Health Educ Res. 2012;27(2):269–80.

31.

Parrish AM, Iverson D, Russell K, et al. Psychosocial barriers to playground activity levels. Br J School Nurs. 2012;7(3):20–6.

32.

Pate RR, Baranowski TOM, Dowda M, et al. Tracking of physical activity in young children. Med Sci Sports Exerc. 1996;28(1):92–6.

33.

Blatchford P, Baines E, Pellegrini A. The social context of school playground games: sex and ethnic differences, and changes over time after entry to junior school. Br J Dev Psychol. 2003;21(4):481–505.

34.

Boyle DE, Marshall NL, Robeson WW. Gender at play. Am Behav Sci. 2003;46(10):1326–45.

35.

Sarkin JA. Gender differences in physical activity during fifth-grade physical education and recess periods. J Teach Phys Educ. 1997;17(1):99.

36.

Kjønniksen L, Torsheim T, Wold B. Tracking of leisure-time physical activity during adolescence and young adulthood: a 10-year longitudinal study. Int J Behav Nutr Phys Act. 2009;5:69.
Acknowledgments
Funding: Anthony D. Okely is supported by a National Heart Foundation of Australia Career Development Fellowship (CR11S 6099). Nicola Ridgers is supported by an Australian Research Council Discovery Early Career Researcher Award (DE120101173). The remaining authors received no funding.
Conflict of interest
There are no known conflicts of interest that are directly relevant to this content of this article.
About this article
Cite this article
Parrish, A., Okely, A.D., Stanley, R.M. et al. The Effect of School Recess Interventions on Physical Activity. Sports Med 43, 287–299 (2013). https://doi.org/10.1007/s40279-013-0024-2
Keywords
Physical Activity

Physical Activity Level

Active Video Game

Recess Period

High Methodological Quality