Abstract
Objectives
The Orphan Drug Act extends exclusivity of branded drugs by 7 years for each rare disease approval. By extending market exclusivity, manufacturers can forestall generic competition. We determined the prevalence of drugs with multiple orphan approvals, the duration for which manufacturers are able to maintain exclusivity using this mechanism, and the budget impact of these additional exclusivity periods on US spending on orphan drugs.
Methods
We analyzed a retrospective cohort of US orphan drug approvals filed between 1983 and 2017. Drug costs throughout this time period were measured using IQVIA claims data. We estimated additional years of exclusivity per drug per orphan approval using mixed-effects negative binomial regression. The budget impact analyzed potential cost-savings for exclusivity periods greater than 7 years after the initial orphan approval based on potential price reductions from the introduction of biosimilar/generic competition.
Results
A total of 432 branded drugs were approved for 615 orphan indications, of which 108 had multiple indications. Market exclusivity, beyond the initial 7 years, increased by 4.7 years with two orphan approvals, and there were 3.1-, 2.7-, and 2.9-year extensions for three, four, and five approvals, respectively (p < 0.05). Drugs with five approvals averaged 13.4 additional years of exclusivity. Sixteen drugs had exclusivity periods extending at least 1 decade beyond the original exclusivity period. The potential budget impact of additional exclusivity was estimated at US$591 billion for 7 years following the end of the first approval.
Conclusions
Multiple blockbuster drugs have received exclusivity of > 10 years through the Orphan Drug Act, thereby delaying rare disease cohorts' access to generic/biosimilar equivalents.
Access options
Buy single article
Instant access to the full article PDF.
US$ 49.95
Tax calculation will be finalised during checkout.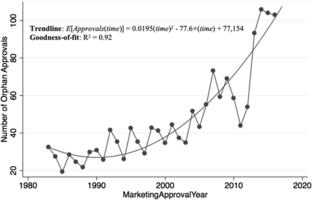 Data Availability Statement
The budget impact model used in this analysis contains the aggregate information from the FDA on orphan disease populations, as well as patient costs from IQVIA claims. This model and these data are available as supplementary material for readers.
References
1.

Orphan Drug Act. Public Law 97-414. 97th Congress January; 1983. p. 2049–66.

2.

U.S. Food and Drug Administration. General Provisions of the Orphan Drug Act. U.S. Code of Federal Regulations: 21 CFR 316. 1992.

3.

U.S. Tax Cuts and Jobs Act. Public Law 115-97. In: December tC, editor. 2017.

4.

Reaves ND. A model of effective health policy: the 1983 Orphan Drug Act. J Health Soc Policy. 2003;17(4):61–71.

5.

Caton ML. Maryland's Prescription Drug Affordability Board Bill set to take effect. The National Law Review. 2019.

6.

Conti RM, Berndt ER. Specialty drug prices and utilization after loss of US patent exclusivity, 2001–2007: National Bureau of Economic Research (NBER); 2014.

7.

FDA Search Orphan Drug Designations and Approvals. Silver Spring, MD: US Food and Drug Administration (FDA). 2017. https://www.accessdata.fda.gov/scripts/opdlisting/oopd/. Accessed 23 May 2017.

8.

FDA/CDER Small Business and Industry Assistance. Patients and exclusivity. Silver Spring, MD: US Food and Drug Administration (FDA). 2015 May 19. https://www.fda.gov/downloads/drugs/developmentapprovalprocess/smallbusinessassistance/ucm447307.pdf. Accessed 25 Feb 2018.

9.

Centers for Medicare & Medicaid Services. Consumer Assessment of Healthcare Providers & Systems (CAHPS). https://www.cms.gov/Research-Statistics-Data-and-Systems/Research/CAHPS/. Accessed 5 May 2016.

10.

Padula WV, Larson RA, Dusetzina SB, Apperley JF, Hehlmann R, Baccarani M, Eigendorff E, Guilhot J, Huilhot F, Mahon FX, Martinelli G, Mayer J, Muller MC, Niederwieser D, Saussele S, Schiffer CA, Silver RT, Simonsson B, Conti RM. Cost-effectiveness of tyrosine kinase inhibitor treatment strategies for chronic myeloid leukemia in chronic phase after generic entry of imatinib in the United States. J Natl Cancer Inst. 2016;108(7):djw003.

11.

Li X, Guh D, Lacaille D, Esdaile J, Anis AH. The impact of cost sharing of prescription drug expenditures on health care utilization by the elderly: own- and cross-price elasticities. Health Policy (Amsterdam, Netherlands). 2007;82(3):340–7.

12.

Kesselheim AS. Ethical considerations in orphan drug approval and use. Clin Pharmacol Ther. 2012;92(2):153–5.

13.

Sarpatwari A, Beall RF, Abdurrob A, He M, Kesselheim AS. Evaluating the impact of the Orphan Drug Act's seven-year market exclusivity period. Health Aff (Project Hope). 2018;37(5):732–7.

14.

Grabowski HG, Long G, Mortimer R. Recent trends in brand-name and generic drug competition. J Med Econ. 2014;17(3):207–14.

15.

Thorat C, Xu K, Freeman SN, Bonnel RA, Joseph F, Phillips MI, Imoisilli MA. What the Orphan Drug Act has done lately for children with rare diseases: a 10-year analysis. Pediatrics. 2012;129(3):516–21.

16.

Kesselheim AS, Murtagh L, Mello MM. "Pay for delay" settlements of disputes over pharmaceutical patents. N Engl J Med. 2011;365(15):1439–45.

17.

Aitken M, Kleinrock M. Orphan Drugs in the United States (part two): exclusivity, pricing and treatment populations. Danbury: The IQVIA Institute; 2018.

18.

Grabowski HG, Ridley DB, Schulman KA. Entry and competition in generic biologics. Manag Decis Econ. 2007;28(4–5):491–502.
Acknowledgements
The authors acknowledge funding from Arnold Ventures to conduct this study. We wish to thank John Shin for his collaborative work related to this study.
Ethics declarations
Funding
The authors were supported by an unrestricted grant from Arnold Ventures foundation to Johns Hopkins University to conduct this investigation.
Conflict of interest
The authors, WP, SP, MS, RC, and GA, have no perceived conflicts for the submitted research.
Electronic supplementary material
Below is the link to the electronic supplementary material.
About this article
Cite this article
Padula, W.V., Parasrampuria, S., Socal, M.P. et al. Market Exclusivity for Drugs with Multiple Orphan Approvals (1983–2017) and Associated Budget Impact in the US. PharmacoEconomics 38, 1115–1121 (2020). https://doi.org/10.1007/s40273-020-00934-2