Abstract
Differential pricing—manufacturers varying prices for on-patent pharmaceuticals across markets—can, in theory, lead to increased patient access and improved research and development (R&D) incentives compared with charging a uniform price across markets. Theoretical models of price discrimination and Ramsey pricing support differentials based inversely on price elasticities, which are plausibly related to average per capita income. However, these models do not address absolute price levels and dynamic efficiency. Value-based differential pricing theory incorporates insurance coverage and addresses static and dynamic efficiency. Limited empirical evidence indicates a weak positive relationship between prices and gross domestic product (GDP) per capita. External referencing and parallel trade undermine differential pricing. We discuss previously neglected factors that undermine differential pricing in practice. High price growth relative to GDP in the USA leads to widening differentials between the USA and other countries. Concerns over the effects of confidential rebating challenges acceptance of this approach to implementing price differentials. The growth of branded generics in low- and middle-income countries leads to complex markets with product and price differentiation.
Access options
Buy single article
Instant access to the full article PDF.
USD 49.95
Price includes VAT (USA)
Tax calculation will be finalised during checkout.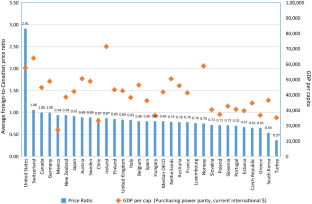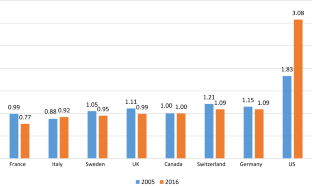 Notes
1.

Retail prices may also differ due to distribution markups and taxes, but these are not discussed here.

2.

For example, see Outterson [6] and sources therein.

3.

In theory, dynamic efficiency requires that producers capture the full expected marginal social surplus created by innovation. This conclusion ignores potential practical issues, for example, that full producer surplus capture may induce excessive, 'racing' R&D to capture monopoly rents or, if R&D is lumpy, a significant share of surplus may suffice to induce appropriate investment. The underlying theory also assumes that consumers/decision makers on average accurately perceive the benefits and risks of drugs.

4.

Differential pricing theory focuses on on-patent products sold by a monopolist with pricing power. Models of markets with generics typically assume that prices are constrained by competition, assuming that the generics are required by regulation to be bioequivalent to the originator, hence quality is known. Such equivalence is not required of branded generics in many LMICs, hence quality uncertainty undermines price competition (see Sect. 4.3).

5.

This welfare measure is a simple aggregate of equally weighted consumer utilities.

6.

Overall price elasticity combines an unobserved pure (income-compensated) price elasticity and an income effect due to the price change. This income effect is expected to be positive. For detail, see Danzon et al. [3].

7.

R&D investment to establish safety, efficacy and manufacturing standards for new drugs entails joint costs and creates a knowledge base that can benefit consumers globally.

8.

WTP in poor countries could include payment by citizens and donors.

9.

Consistent with the patent system and other policies, the aim here is second-best efficiency, recognizing that implementing first-best efficiency would entail taxes and subsidies that themselves entail administrative costs and are therefore not generally considered practical.

10.

Parallel trade is also called 'commercial drug importation' in the USA.

11.

Manufacturers may limit supply to each country to the quantity needed by that country, without such restriction constituting a boycott.

12.

Medicaid is an exception, where states must operate within annual budgets.

13.

14.

15.

See, for example, Sagonowsky [39]

16.

Sweden is an outlier in 2016 compared with previous years.

17.

For example, if a patient has a stop loss of $US3000, a co-insurance rate of 25% becomes irrelevant once the drug price exceeds $US12,000, because any price increment is borne by the payer. Both Medicare Part D for seniors and the Affordable Care Act for non-seniors have stop-loss limits on patient cost sharing that are designed for financial protection but thereby make patients price insensitive.

18.

The PMPRB uses consistent data sources and methodologies. It provides the best available source for cross-national price comparisons over time.

19.

20.

PBMs are intermediaries/agents contracted by health plans, self-insured employers and other plan sponsors to manage drug coverage. Some very large health plans manage their own PBMs [42].

21.

PBMs' utilization management tools include very restricted formularies, with only one or two preferred drugs per class; a large spread in patient copayments for preferred versus non-preferred drugs; step edits; and prior authorization for non-preferred drugs.

22.

23.

For example, two dominant, incumbent drugs in a class could create barriers to entry of competitors if they make their rebates contingent on being one of only two preferred drugs in the class for a formulary. If a PBM were to add a new drug on the preferred tier, either in addition to or in place of an incumbent, because the new drug offered a lower list and net price, the PBM could lose significant rebate revenue from incumbents, especially if the uptake of the new drug is slow due to prescriber/consumer brand loyalty to the incumbent drugs.

24.

For example, Graf [44] examined the rebate contracts used by German Sickness Funds, which are now authorized to contract with manufacturers on behalf of their enrolees using exclusive or non-exclusive contracts. In several Asian countries, drug dispensing by providers has encouraged rebating by manufacturers to providers. Recent policies in South Korea, Japan and China seek to discourage provider dispensing and manufacturer rebating as potentially harmful to efficient drug prescribing.

25.

A study of insurer/provider contracting in the USA found that large insurers and small provider groups obtained relatively low prices [47], as predicted if differential pricing primarily reflects relative bargaining power. Further research is needed to evaluate the efficiency implications, if any, in such contexts.

26.

In theory, MNCs could outsource manufacturing to contract manufacturers, but the MNC would still incur the cost of capacity construction. Agency issues may also be best handled if the LMIC manufacturer also markets the product under its own name and handles distribution, regulatory and marketing, as is currently the norm, rather than contracting with the originator firm to produce its product under license.
References
1.

Danzon PM, Towse AK. Differential pricing for pharmaceuticals: reconciling access, R&D and patents. Int J Health Care Finance Econ. 2003;3(3):183–205.

2.

Yadav P. Differential pricing for pharmaceuticals. UK Department for International Development. 2010. https://www.gov.uk/government/uploads/system/uploads/attachment_data/file/67672/diff-pcing-pharma.pdf. Accessed 12 Jan 2017.

3.

Danzon PM, Towse AK, Mestre-Ferrandiz J. Value-Based differential pricing: efficient prices for drugs in a global context. Health Econ. 2013;24(3):238–52.

4.

Kaló Z, Annemans L, Garrison LP. Differential pricing of new pharmaceuticals in lower income European countries. Expert Rev Pharmacoecon Outcomes Res. 2013;13(6):735–41.

5.

Towse A, Pistollato M, Mestre-Ferrandiz J, et al. European Union pharmaceutical markets: a case for differential pricing? Int J Econ Bus. 2015;22(2):263–75.

6.

Outterson K. Pharmaceutical arbitrage: balancing access and innovation in international prescription drug markets. Yale J Health Policy Law Ethics. 2005;5(1):193–292.

7.

Daems R, Maes E, Glaetzer C. Equity in pharmaceutical pricing and reimbursement: crossing the income divide in Asia Pacific. Value Health Reg Issues. 2013;2:160–6.

8.

Elegido J. The ethics of price discrimination. Bus Ethics Q. 2011;21(4):633–60.

9.

Barros P, Martinez-Giralt X. On international cost-sharing of pharmaceutical R&D. Int J Health Care Finance Econ. 2008;8:301–12.

10.

Flynn S, Hollis A, Palmedo M. An economic justification for open access to essential medicine patents in developing countries. J Law, Med Ethics. 2009;37(2):184–208.

11.

Varian H. Price discrimination and social welfare. Am Econ Rev. 1985;75(4):870–5.

12.

Malueg D, Schwartz M. Parallel imports, demand dispersion, and international price discrimination. J Int Econ. 1994;37:167–95.

13.

Danzon PM. Price discrimination for pharmaceuticals: Welfare effects in the US and the EU. Int J Econ Bus. 1997;4(3):301–22.

14.

Valletti TM, Szymanski S. Parallel trade, international exhaustion and intellectual property rights: a welfare analysis. J Ind Econ. 2006;54(4):499–526.

15.

Garber AM, Jones CI, Romer PM. Insurance and incentives for medical innovation. Forum Health Econ Pol. 2006;9(2):1–27.

16.

Ramsey FP. A contribution to the theory of taxation. Econ J. 1927;37(145):47–60.

17.

Toumi, M., Remuzat, C, Vataire, A-L, Urbinati, D. External reference pricing of medicinal products: simulation-based considerations for cross-country coordination. Final Report. European Commission. 2014.

18.

Danzon PM, Wang YR, Wang L. The impact of price regulation on the launch delay of new drugs—evidence from twenty-five major markets in the 1990s. Health Econ. 2005;14(3):269–92.

19.

Danzon PM, Epstein AJ. Effects of regulation on drug launch and pricing in interdependent markets. In: Blin K, Kaestner R, editors. The economics of medical technology: advances in health economics and health services research, vol. 23. Bingley: Emerald Books; 2012. p. 35–71.

20.

Kyle M. Pharmaceutical price controls and entry strategies. Rev Econ Stat. 2007;89(1):88–99.

21.

Danzon PM, Mulcahy AW, Towse AK. Pharmaceutical pricing in emerging markets: effects of income, competition, and procurement. Health Econ. 2013;24(2):238–52.

22.

Danzon PM, Chao L. Does regulation drive out competition in pharmaceutical markets? J Law Econ. 2000;43(2):311–58.

23.

Danzon PM, Furukawa M. Prices and availability of pharmaceuticals: Evidence from nine countries. Health Aff (Millwood) Suppl Web Exclusive. 2003;W3-521-36.

24.

Danzon PM, Furukawa M. Prices and availability of biopharmaceuticals: an international comparison. Health Aff (Millwood). 2006;25(5):1353–62.

25.

Kanavos P, Kowal S. Does pharmaceutical parallel trade serve the objectives of cost control? Eurohealth. 2008;14(2) 22–26. http://www.lse.ac.uk/LSEHealthAndSocialCare/pdf/eurohealth/VOL14N2/Kanavos%20and%20Kowal.pdf. Accessed 12 Jan 2018.

26.

Persson U, Jonsson B. The end of the international reference pricing system? Appl Health Econ Health Pol. 2016;14:1–8.

27.

Kanavos P, Ferrario A, Vandoros S, Anderson G. Higher US branded drug prices and spending compared to other countries may stem partly from quick uptake of new drugs. Health Affairs. 2013;4:753–61.

28.

Scherer FM, Watal J. Post-trips options for access to patented medicines in developing countries. Commission on Macroeconomics and Health Working Paper Series. 2001; Paper No. WG4:1.

29.

Helble M, Aizawa T. 2015. International trade and determinants of price differentials of insulin medicine. ADBI Working Paper 551. Tokyo: Asian Development Bank Institute. http://www.adb.org/publications/international-trade-and-determinants-price-differentials-insulin-medicine/ Accessed Sep 2017.

30.

Iacobucci W, Mehta P, Marinoni G, Ando G, Dall T. 2014. Differential pharmaceutical pricing: are prices co-related with GDP? HIS: Washington DC.

31.

Danzon P. Regulation of price and reimbursement for pharmaceuticals. In: Patricia D, Sean N, editors. The Oxford handbook of the economics of the biopharmaceutical industry. Oxford: Oxford University Press; 2012.

32.

Danzon P. Pricing and reimbursement for biopharmaceuticals and medical devices in the USA. In: Culyer AJ, editor. Encyclopedia of health economics, vol. 3. San Diego: Elsevier; 2014. p. 127–35.

33.

Bach PB. Limits on Medicare's ability to control rising spending on cancer drugs". N Engl J Med. 2009;360:626–33.

34.

Howard DH, Bach PB, Berndt ER, et al. Pricing in the market for anticancer drugs. J Econ Perspect. 2015;29:139–62.

35.

Dusetzina SB. Drug pricing trends for orally administered anti-cancer medications reimbursed by commercial health plans, 2000–2014. JAMA Oncol. 2016;2(7):960–1.

36.

Canada Patented Medicine Prices Review Board. Annual Report 2016. http://www.pmprb-cepmb.gc.ca/view.asp?ccid=1334#a6. Accessed 25 Jan 2018.

37.

Danzon PM, Furukawa M. Cross-national evidence on generic pharmaceuticals: pharmacy vs. physician-driven markets. 2011. NBER Working Paper 17226.

38.

Commonwealth Fund. Getting to the root of high prescription drug prices. Issue Brief July 17, 2017. Commonwealthfund.org. http://www.commonwealthfund.org/publications/issue-briefs/2017/jul/getting-to-root-high-prescription-drug-prices. Accessed 12 Jan 2018.

39.

Sagonowsky E. Pfizer, Novartis and more post price hikes on dozens of drugs, but AbbVie's is worth the most. FiercePharma. 2018. www.fiercepharma.com/pharma/drug-price-hikes-a-few-bad-actors-or-widespread-pharma. Accessed 4 Jan 2018.

40.

Stigler GA. A theory of oligopoly. J Political Econ. 1964;72(1):44–61.

41.

Congressional Budget Office Cost Estimate. "H.R. 1 Medicare Prescription Drug and Modernization Act of 2003 As passed by the House of Representatives on June 27, 2003 and S. 1 Prescription Drug and Medicare Improvement Act of 2003As passed by the Senate on June 27, 2003, with a modification requested by Senate conferees" (July 22, 2003). https://www.cbo.gov/sites/default/files/108th-congress-2003-2004/costestimate/hr1s100.pdf.

42.

Danzon PM. Pharmacy benefit management: are reporting requirements pro- or anti-competitive? Int J Econ Bus. 2015;22(2):245–61.

43.

Gates SP. Antitrust by analogy: developing rules for loyalty rebates and discounts. Antitrust L J. 2013;79(1):99–137.

44.

Graf J. The effects of rebate contracts on the health care system. Eur J Health Econ. 2014;15:477–87.

45.

Hiltzik M. How "price-cutting" middlemen are making crucial drugs vastly more expensive. LA Times June 09 2017. http://www.latimes.com/business/hiltzik/la-fi-hiltzik-pbm-drugs-20170611-story.html.

46.

Hartung DM, Bourdette DN, Ahmed SM, Whitham RH. The cost of multiple sclerosis drugs in the US and the pharmaceutical industry: too big to fail? Neurology. 2015;84(21):2185–92.

47.

Roberts ET, Chernew ME, McWilliams JM. Market shares matter: evidence of insurer and provider bargaining over prices. Health Affairs. 2017;36(1).

48.

Kaplan W et al. Policy options for promoting the use of generic medicines in low- and middle-income countries. 2016. Health Action International. http://haiweb.org/wp-content/uploads/2017/02/HAI_Review_generics_policies_final.pdf.

49.

Dean EB. Who benefits from pharmaceutical price ceilings? Evidence from India. 2017.

50.

CMS.gov. CMS Proposes Policy Changes and Updates for Medicare Advantage and Prescription Drug Benefit Program for Contract Year 2019 (CMS-4182-P) https://www.cms.gov/Newsroom/MediaReleaseDatabase/Fact-sheets/2017-Fact-Sheet-items/2017-11-16.html.

51.

The World Bank. GDP per capita, PPP (current international $). https://data.worldbank.org/indicator/NY.GDP.PCAP.PP.CD. Accessed 24 July 2018.
Ethics declarations
Funding
No sources of funding were used to conduct this study or prepare this manuscript.
Conflicts of Interest
Patricia M. Danzon and the Celia Moh Foundation have no conflicts of interest that are directly relevant to the content of this article.
About this article
Cite this article
Danzon, P.M. Differential Pricing of Pharmaceuticals: Theory, Evidence and Emerging Issues. PharmacoEconomics 36, 1395–1405 (2018). https://doi.org/10.1007/s40273-018-0696-4