Abstract
Background
Dravet syndrome is a catastrophic form of pediatric treatment-resistant epilepsy with few effective treatment options. Stiripentol is approved for use in Canada for treatment of Dravet syndrome, but the associated long-term costs and benefits have not been well-studied and its cost effectiveness is unclear.
Objective
The aim of this study was to evaluate the cost effectiveness of stiripentol as an adjunctive treatment to clobazam and valproate for treatment of Dravet syndrome from the perspective of the Canadian public healthcare payer.
Methods
A cost-utility analysis was performed to estimate the costs and quality-adjusted life-years (QALYs) associated with adjunctive stiripentol treatment compared with clobazam and valproate alone in children with Dravet syndrome. Transition probabilities, drug efficacy, utility weights, and costs were obtained from a review of the literature. Probabilistic analyses were conducted using a Markov model with health states related to seizure frequency. A 10-year horizon was used. The incremental cost per QALY gained (incremental cost-effectiveness ratio [ICER]) for adjunctive use of stiripentol was calculated, and assumptions were explored in scenario analyses. All costs are expressed in 2017 Canadian dollars ($Can).
Results
Compared with clobazam and valproate alone, the adjunctive use of stiripentol is associated with an ICER of $Can151,310. At a willingness-to-pay threshold of $Can50,000, the probability that stiripentol was the optimal treatment was 5.2%. The cost of stiripentol would need to be reduced by 61.4% for stiripentol to be cost effective.
Conclusion
From the perspective of the Canadian public healthcare payer, stiripentol is not cost effective at its current price at a willingness-to-pay threshold of $Can50,000. Funding stiripentol will be associated with important opportunity costs that bear consideration.
Access options
Buy single article
Instant access to the full article PDF.
US$ 49.95
Tax calculation will be finalised during checkout.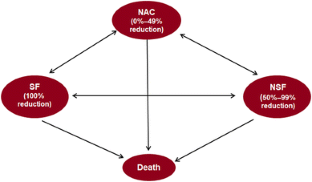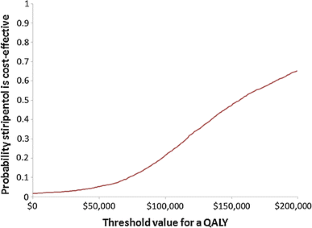 References
1.

Durá-Travé T, Yoldi-Petri ME, Gallinas-Victoriano F. Epilepsy in children in Navarre, Spain: epileptic seizure types and epileptic syndromes. J Child Neurol. 2007;22:823–8.

2.

Wu YW, Sullivan J, McDaniel SS, Meisler MH, Walsh EM, Li SX, et al. Incidence of Dravet syndrome in a US population. Pediatrics. 2015;136:e1310–5.

3.

Dravet C, Oguni H. Dravet syndrome (severe myoclonic epilepsy in infancy). Handb Clin Neurol. 2013;111:627–33.

4.

Wallace A, Wirrell E, Kenney-Jung DL. Pharmacotherapy for Dravet syndrome. Paediatr Drugs. 2016;19:197–208.

5.

Brigo F, Igwe SC. Antiepileptic drugs for the treatment of infants with severe myoclonic epilepsy. Cochrane Database Syst Rev. 2015;10:CD010483.

6.

Chiron C, Marchand MC, Tran A, Rey E, D'Athis P, Vincent J, et al. Stiripentol in severe myoclonic epilepsy in infancy: a randomised placebo-controlled syndrome-dedicated trial. STICLO Study Group. Lancet. 2000;356:1638–42.

7.

Guerrini R, Tonnelier S, D'Athis P, Rey E, Vincent J, Pons G, et al. Stiripentol in severe myoclonic epilepsy in infancy (SEMI): a placebo-controlled Italian trial [poster no. P496]. Epilepsia. 2002;43(Suppl. 8):155.

8.

Biocodex, Product monograph: Diacomit (stiripentol). Gentilly: Biocodex; 2012.

9.

Common Drug Review. Pharmacoeconomic review report - Diacomit. Ottawa: CADTH; 2015. https://www.cadth.ca/sites/default/files/cdr/pharmacoeconomic/sr0360_diacomit_pe_report.pdf. Accessed 8 May 2018.

10.

CADTH. Guidelines for the economic evaluation of health technologies: Canada. 4th ed. Ottawa: CADTH; 2017.

11.

Husereau D, Drummond M, Petrou S, Carswell C, Moher D, Greenberg D, et al. Consolidated Health Economic Evaluation Reporting Standards (CHEERS) statement. Value Health. 2013;16:e1–5.

12.

National Institute for Health and Care Excellence (NICE). Appendix R: economic evaluation of AEDs used as monotherapy and adjunctive therapy in the treatment of children with focal seizures. London: NICE; 2012. pp. 55–76. https://www.nice.org.uk/guidance/cg137/evidence. Accessed 8 May 2018.

13.

Inoue Y, Ohtsuka Y. Long-term safety and efficacy of stiripentol for the treatment of Dravet syndrome: a multicenter, open-label study in Japan. Epilepsy Res. 2015;113:90–7.

14.

Briggs AH, Ades A, Price MJ. Probabilistic sensitivity analysis for decision trees with multiple branches: use of the Dirichlet distribution in a Bayesian framework. Med Decis Mak. 2003;23:341–50.

15.

Cooper MS, Mcintosh A, Crompton DE, McMahon JM, Schneider A, Farrell K, et al. Mortality in Dravet syndrome. Epilepsy Res. 2016;128:43–7.

16.

Fleurence RL, Hollenbeak CS. Rates and probabilities in economic modelling. Pharmacoeconomics. 2007;25:3–6.

17.

Verdian L, Oyee J, Heyes A, Tolley K, Yi Y. Eliciting preferences for health states associated with Lennox-Gastaut syndrome (LGS) [abstract no. 1.352]. 62nd meeting of the American Epilepsy Society; 5–9 Dec 2008; Seattle. https://www.aesnet.org/meetings_events/annual_meeting_abstracts/view/8833. Accessed 8 May 2018.

18.

Edlin R, Mccabe C, Hulme C, Hall P. Cost effectiveness modelling for health technology assessment: correlated parameters and the Cholesky decomposition. In: Edlin R, Mccabe C, Hulme C, Hall P, Wright J, editors. Cost effectiveness modelling for health technology assessment: a practical course. Cham: Springer; 2015.

19.

Jacoby A, Buck D, Baker G, McNamee P, Graham-Jones S, Chadwick D. Uptake and costs of care for epilepsy: findings from a UK regional study. Epilepsia. 1998;39:776–86.

20.

Jennum P, Christensen J, Ibsen R, Kjellberg J. Long-term socioeconomic consequences and health care costs of childhood and adolescent-onset epilepsy. Epilepsia. 2016;57:1078–85.

21.

Whittington MD, Knupp KG, Vanderveen G, Kim C, Gammaitoni A, Campbell JD. The direct and indirect costs of Dravet syndrome. Epilepsy Behav. 2018;80:109–13.

22.

Strzelczyk A, Schubert-Bast S, Reese JP, Rosenow F, Stephani U, Boor R. Evaluation of health-care utilization in patients with Dravet syndrome and on adjunctive treatment with stiripentol and clobazam. Epilepsy Behav. 2014;34:86–91.

23.

Wijnen BFM, van Mastrigt GAPG, Evers SMAA, Gershuni O, Lambrechts DAJE, Majoie MHJM, et al. A systematic review of economic evaluations of treatments for patients with epilepsy. Epilepsia. 2017;58:706–26.

24.

Common Drug Review. Stiripentol (Diacomit): for severe myoclonic epilepsy in infancy (Dravet syndrome): CDEC final recommendation. 2014. http://www.ncbi.nlm.nih.gov/books/NBK349324/. Accessed 8 May 2018.

25.

Jetté N, Quan H, Faris P, Dean S, Li B, Fong A, et al. Health resource use in epilepsy: Significant disparities by age, gender, and aboriginal status. Epilepsia. 2008;49:586–93.

26.

Wilmshurst JM, Burman R, Gaillard WD, Cross JH. Treatment of infants with epilepsy: common practices around the world. Epilepsia. 2015;56:1033–46.

27.

Panju AH, Bell CM. Policy alternatives for treatments for rare diseases. CMAJ. 2010;182:E787–92.

28.

Clarke JTR. Is the current approach to reviewing new drugs condemning the victims of rare diseases to death? A call for a national orphan drug review policy. CMAJ. 2006;174:189–90.

29.

McCabe C, Edlin R, Round J. Economic considerations in the provision of treatments for rare diseases. In: de la Paz MP, Groft S, editors. Rare Disease Epidemiology, Chapter 13. Dordrecht: Springer; 2010. pp. 211–22.

30.

Coyle D, Cheung MC, Evans GA. Opportunity cost of funding drugs for rare diseases: the cost-effectiveness of eculizumab in paroxysmal nocturnal hemoglobinuria. Med Decis Mak. 2014;34:1016–29.

31.

Ontario Municipal Benchmarking Initiative (OMBI). Emergency medical services (EMS): 2013 OMBI performance measurement report. Dundas: OMBI; 2013. p. 2013.
Acknowledgements
JE is supported by an Ontario Graduate Scholarship and is a trainee in the Drug Safety and Effectiveness Cross-Disciplinary Training (DSECT) program, funded by the Canadian Institutes of Health Research.
Ethics declarations
Funding
No specific funding was received for this study.
Conflict of interest
Bláthnaid McCoy is principal investigator in a study of cannabinoids for Dravet syndrome. Tammy Clifford is employed by CADTH (Canadian Agency for Drugs and Technologies in Health). She had no role in the review of stiripentol that was undertaken by the Common Drug Review. Jesse Elliott, George Wells, and Doug Coyle have no conflicts of interest to declare.
Data availability statement
All data generated or analyzed during this study are included in this published article (and its online supplementary information files). The Markov model used in this analysis was provided for peer review.
Electronic supplementary material
Below is the link to the electronic supplementary material.
About this article
Cite this article
Elliott, J., McCoy, B., Clifford, T. et al. Economic Evaluation of Stiripentol for Dravet Syndrome: A Cost-Utility Analysis. PharmacoEconomics 36, 1253–1261 (2018). https://doi.org/10.1007/s40273-018-0669-7