Abstract
Enthusiasm for performance-based risk-sharing arrangements (PBRSAs) continues but at variable pace across countries. Our objective was to identify and characterize publicly available cases and related trends for these arrangements. We performed a review of PBRSAs from 1993 to 2016 using the University of Washington PBRSA Database. Arrangements were categorized according to a previously published taxonomy. Macro-level trends were identified related to the timing of adoption, countries involved, types of arrangements, and disease areas. Our search yielded 437 arrangements. Among these, 183 (41.9%) were categorized as currently active, while 58.1% have expired. Five main types of arrangements have been identified, namely coverage with evidence development (149 cases, 34.1%), performance-linked reimbursement (104 cases, 23.8%), conditional treatment continuation (78 cases, 17.8%), financial or utilization (71 cases, 16.2%), and hybrid schemes with multiple components (35 cases, 8.0%). The pace of adoption varies across countries but has renewed an upward trend after a lull in 2012/2013. Conditions in the USA may be changing toward a more favorable environment of PBRSAs. Interest in PBRSAs remains high, suggesting they are a viable coverage and reimbursement mechanism for a wide range of medical products.
Access options
Buy single article
Instant access to the full article PDF.
US$ 49.95
Tax calculation will be finalised during checkout.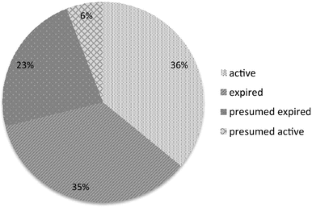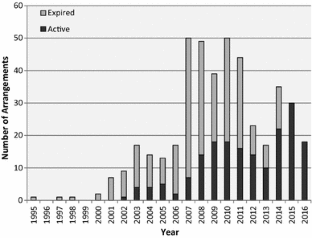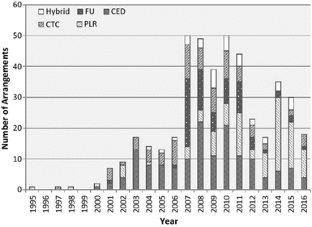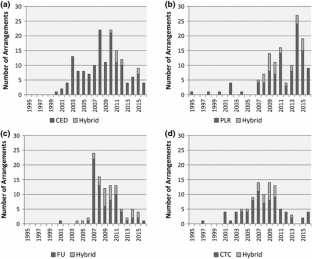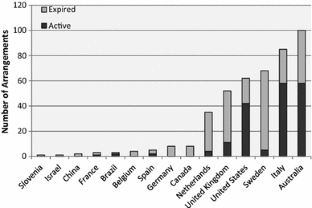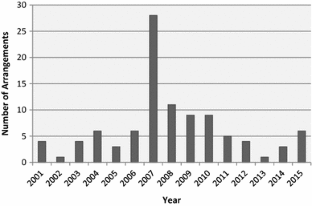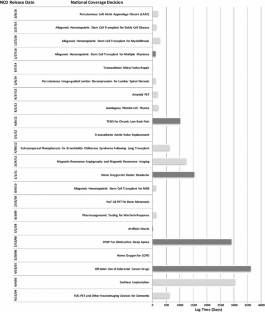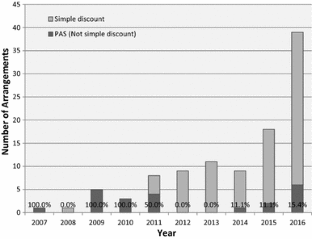 Notes
1.

We did not include some of these cases in our PBRA database as they are for procedures.
References
1.

Carlson JJ, Sullivan SD, Garrison LP, Neumann PJ, Veenstra DL. Linking payment to health outcomes: a taxonomy and examination of performance-based reimbursement schemes between healthcare payers and manufacturers. Health Policy. 2010;96(3):179–90. doi:10.1016/j.healthpol.2010.02.005.

2.

de Pouvourville G. Risk-sharing agreements for innovative drugs: a new solution to old problems? Eur J Health Econ. 2006;7(3):155–7.

3.

Espin J, Rovira J, Olry de Labry A. WHO/HAI Project on Medicine Prices and Availability. Review Series on Pharmaceutical Pricing Policies and Interventions. Working Paper 1: external reference pricing. Granada: Andalusian School of Public Health; 2011.

4.

NICE. List of technologies with approved Patient Access Schemes. 2017. https://www.nice.org.uk/about/what-we-do/patient-access-schemes-liaison-unit/list-of-technologies-with-approved-patient-access-schemes. Accessed 8 Mar 2017.

5.

Garrison LP Jr, Carlson JJ, Bajaj PS, Towse A, Neumann PJ, Sullivan SD, et al. Private sector risk-sharing agreements in the United States: trends, barriers, and prospects. Am J Manag Care. 2015;21(9):632–40.

6.

The University of Washington Performance Based Risk Sharing (PBRS) web-enabled database [database on the Internet]. 2017. https://depts.washington.edu/pbrs/. Accessed 10 Mar 2017.

7.

Walker S, Sculpher M, Claxton K, Palmer S. Coverage with evidence development, only in research, risk sharing, or patient access scheme? A framework for coverage decisions. Value Health. 2012;15(3):570–9. doi:10.1016/j.jval.2011.12.013.

8.

Louis P, Garrison J, Towse A, Briggs A. Performance-based risk-sharing arrangements—good practices for design, implementation, and evaluation: ISPOR good practices for performance-based risk-sharing arrangements task force report. Value Health. 2013;16(5):703–19.

9.

CMS. CMS coverage with evidence development. 2017. https://www.cms.gov/Medicare/Coverage/Coverage-with-Evidence-Development/index.html. Accessed 7 Mar 2017.

10.

TLV. Beslut läkemedel. 2017. http://www.tlv.se/beslut/beslut-lakemedel/. Accessed 8 Mar 2017.

11.

AIFA. Lista aggiornata dei Registri e dei Piani Terapeutici web based. 2017. http://www.agenziafarmaco.gov.it/it/content/lista-aggiornata-dei-registri-e-dei-piani-terapeutici-web-based. Accessed 8 Mar 2017.

12.

ZonWm. Programma: Doelmatigheidsonderzoek Farmacotherapie. 2017. https://www.zonmw.nl/nl/onderzoek-resultaten/geneesmiddelen/programmas/programma-detail/doelmatigheidsonderzoek-farmacotherapie/. Accessed 8 Mar 2017.

13.

PBS. Pharmaceutical Benefit Advisory Committee outcomes. 2017. http://www.pbs.gov.au/info/industry/listing/elements/pbac-meetings/pbac-outcomes/. Accessed 8 Mar 2017.

14.

Lu CY, Williams KM, Day RO. The funding and use of high-cost medicines in Australia: the example of anti-rheumatic biological medicines. Aust N Z Health Policy. 2007;4:2.

15.

Vitry A, Roughead E. Managed entry agreements for pharmaceuticals in Australia. Health Policy. 2014;117(3):345–52. doi:10.1016/j.healthpol.2014.05.005.

16.

Neumann PJ, Chambers J. Medicare's reset on 'coverage with evidence development'. Health Affairs Blog. 2013 Apr 1. http://healthaffairs.org/blog/2013/04/01/medicares-reset-on-coverage-with-evidence-development/. Accessed 2 Jul 2017.

17.

Neumann PJ, Kamae MS, Palmer JA. Medicare's national coverage decisions for technologies, 1999–2007. Health Aff (Millwood). 2008;27(6):1620–31. doi:10.1377/hlthaff.27.6.1620.

18.

Carlson JJ, Gries KS, Yeung K, Sullivan SD, Garrison LP Jr. Current status and trends in performance-based risk-sharing arrangements between healthcare payers and medical product manufacturers. Appl Health Econ Health Policy. 2014;12(3):231–8. doi:10.1007/s40258-014-0093-x.

19.

FDA. FDA approves new drug to treat heart failure. 2015. http://www.fda.gov/NewsEvents/Newsroom/PressAnnouncements/ucm453845.htm. Accessed 15 Feb 2017.

20.

FDA. FDA approves Repatha to treat certain patients with high cholesterol. 2015. http://www.fda.gov/NewsEvents/Newsroom/PressAnnouncements/ucm460082.htm. Accessed 15 Feb 2017.

21.

Drummond M. When do performance-based risk-sharing arrangements make sense? Eur J Health Econ. 2015;16(6):569–71. doi:10.1007/s10198-015-0683-z.

22.

CMS. Medicare Program; Part B drug payment model, a proposed rule by the Centers for Medicare & Medicaid Services. 2016. https://www.federalregister.gov/documents/2016/03/11/2016-05459/medicare-program-part-b-drug-payment-model. Accessed 8 Mar 2017.

23.

Launois R, Navarrete LF, Ethgen O, Le Moine JG, Gatsinga R. Health economic value of an innovation: delimiting the scope and framework of future market entry agreements. J Mark Access Health Policy. 2014;2.

24.

Edlin R, Hall P, Wallner K, McCabe C. Sharing risk between payer and provider by leasing health technologies: an affordable and effective reimbursement strategy for innovative technologies? Value Health. 2014;17:438–44.

25.

Towse A, Pistollato M, Mestre-Ferrandiz J, Khan Z, Kaura S, Garrison L. European union pharmaceutical markets: a case for differential pricing? Int J Econ Bus. 2015;22(2):263–75.

26.

Kaló Z, Annemans L, Garrison LP. Differential pricing of new pharmaceuticals in lower income European countries. Expert Rev Pharmacoecon Outcomes Res. 2013;13(6):735–41.
Ethics declarations
Data Availability Statement
The data that support the findings of this study are available from the University of Washington, but are part of a proprietary database available via a license agreement so are not publicly available.
Funding
No sources of funding were used for this review article.
Conflict of interest
Josh J. Carlson, Shuxian Chen, and Louis P. Garrison Jr. declare that they have no conflicts of interest.
About this article
Cite this article
Carlson, J.J., Chen, S. & Garrison, L.P. Performance-Based Risk-Sharing Arrangements: An Updated International Review. PharmacoEconomics 35, 1063–1072 (2017). https://doi.org/10.1007/s40273-017-0535-z