Abstract
Background
A pharmaceutical grade formulation of cannabidiol (CBD) has been approved for the treatment of Dravet syndrome and Lennox-Gastaut syndrome; however, this formulation is not yet available to patients outside the USA. In addition, CBD is thought to have broad anti-seizure properties that may be beneficial for other types of intractable epilepsy.
Objective
The aim of this study was to evaluate the efficacy, safety and tolerability of artisanal medical CBD oil in patients with developmental and epileptic encephalopathy (DEE) at the tertiary epilepsy center of Bambino Gesù Children's Hospital in Rome, Italy.
Methods
This was a single-center, prospective, open-label study. Patients aged from 1 to 18 years with DEE and seizures refractory to appropriate antiepileptic drugs (AEDs) and other alternative treatments (i.e., vagal nerve stimulator and ketogenic diet) were included. Crystalline extract CBD powder (98–99% pure) in an oil artisanal formulation was added to the baseline AED regimen at a dosage of 2–5 mg/kg/day divided for twice-daily administration, then up-titrated until intolerance or a maximum dosage of 25 mg/kg/day was reached. Patients were treated for at least 6 months. Efficacy, safety and tolerability of CBD treatment were assessed through the evaluation of seizure frequency and reports of adverse effects.
Results
Twenty-nine patients were enrolled in this study (41.4% male). The mean duration of exposure to artisanal CBD was 11.2 months [range 6–25 months; standard deviation (SD) ± 4.4 months]. Mean age at study enrollment was 9.3 years (range 1.9–16.3 years; SD ± 4.7 years). Eleven out of 29 patients (37.9%) had a ≥ 50% improvement in seizure frequency; one patient became seizure free. None of the patients reported worsening seizure frequency; however, 18 patients (62.1%) experienced no beneficial effect regarding seizure frequency. Adverse effects were reported in seven patients (24.14%), most commonly somnolence, decreased appetite and diarrhea. Adverse events were mild and transient, and no dose modification of CBD or other AEDs was required.
Conclusions
These data suggest that CBD may have beneficial effects in patients with DEE and an acceptable safety profile. Placebo-controlled randomized trials should be conducted to formally assess the safety and efficacy of CBD in patients with DEE.
Access options
Buy single article
Instant access to the full article PDF.
US$ 49.95
Tax calculation will be finalised during checkout.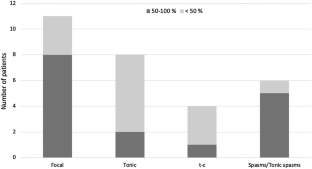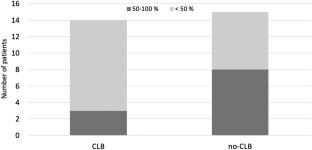 References
1.

Scheffer IE, Berkovic S, Capovilla G, Connolly MB, French J, Guilhoto L, et al. ILAE classification of the epilepsies: position paper of the ILAE commission for classification and terminology. Epilepsia. 2017;58(4):512–21.

2.

McTague A, Howell KB, Cross JH, Kurian MA, Scheffer IE. The genetic landscape of the epileptic encephalopathies of infancy and childhood. Lancet Neurol. 2016;15(3):304–16.

3.

Donat JF. The age-dependent epileptic encephalopathies. J Child Neurol. 1992;7(1):7–21.

4.

Berg AT, Zelko FA, Levy SR, Testa FM. Age at onset of epilepsy, pharmacoresistance, and cognitive outcomes: a prospective cohort study. Neurology. 2012;79(13):1384–91.

5.

Jones NA, Hill AJ, Smith I, Bevan SA, Williams CM, Whalley BJ, et al. Cannabidiol displays. Antiepileptiform and antiseizure properties in vitro and in vivo. J Pharmacol Exp Ther. 2010;332(2):569–77.

6.

Jones NA, Glyn SE, Akiyama S, Hill TD, Hill AJ, Weston SE, et al. Cannabidiol exerts anti-convulsant effects in animal models of temporal lobe and partial seizures. Seizure. 2012;21(5):344–52.

7.

Devinsky O, Marsh E, Friedman D, Thiele E, Laux L, Sullivan J, et al. Cannabidiol in patients with treatment-resistant epilepsy: an open-label interventional trial. Lancet Neurol. 2016;15(3):270–8.

8.

Hess EJ, Moody KA, Geffrey AL, Pollack SF, Skirvin LA, Bruno PL, et al. Cannabidiol as a new treatment for drug-resistant epilepsy in tuberous sclerosis complex. Epilepsia. 2016;57(10):1617–24.

9.

Gofshteyn JS, Wilfong A, Devinsky O, Bluvstein J, Charuta J, Ciliberto MA, et al. Cannabidiol as a potential treatment for febrile infection-related epilepsy syndrome (FIRES) in the acute and chronic phases. J Child Neurol. 2017;32(1):35–40.

10.

GW Pharmaceuticals plc and its U.S. subsidiary Greenwich Biosciences announce FDA approval of EPIDIOLEX® (cannabidiol) oral solution—the first plant-derived cannabinoid prescription medicine. https://www.gwpharm.com/about-us/news/gw-pharmaceuticals-plc-and-its-us-subsidiary-greenwich-biosciences-announce-fda. Accessed 15 Nov 2018.

11.

Devinsky O, Patel AD, Cross JH, Villanueva V, Wirrell EC, Privitera M, et al. Effect of cannabidiol on drop seizures in the Lennox-Gastaut syndrome Neurology. N Engl J Med. 2018;378(20):1888–97.

12.

Thiele EA, Marsh ED, French JA, Mazurkiewicz-Beldzinska M, Benbadis SR, Joshi C, et al. CBD in patients with seizures associated with Lennox-Gastaut syndrome (GWPCARE4): a randomised, double-blind, placebo-controlled phase 3 trial. Lancet. 2018;391(10125):1085–96.

13.

Devinsky O, Cross JH, Laux L, Marsh E, Miller I, Nabbout R, et al. Cannabidiol in Dravet syndrome study group. Trial of cannabidiol for drug-resistant seizures in the Dravet syndrome. N Engl J Med. 2017;376(21):2011–20.

14.

FDA. 2018. https://www.fda.gov/newsevents/newsroom/pressannouncements/ucm611046.htm. Accessed 15 Dec 2018.

15.

GW Pharmaceuticals announces the European Medicines Agency (EMA) accepts Epidiolex® (cannabidiol) Marketing Authorization Application (MAA) for review. https://globenewswire.com/news-release/2018/02/05/1333218/0/en/GW-Pharmaceuticals-Announces-the-European-Medicines-Agency-EMA-Accepts-Epidiolex-Cannabidiol-Marketing-Authorization-Application-MAA-for-Review.html. Accessed 1 Nov 2018.

16.

Citti C, Ciccarella G, Braghiroli D, Parenti C, Vandelli MA, Cannazza G. Medicinal cannabis: Principal cannabinoids concentration and their stability evaluated by a high performance liquid chromatography coupled to diode array and quadrupole time of flight mass spectrometry method. J Pharm Biomed Anal. 2016;128:201–9.

17.

Pacifici R, Marchei E, Salvatore F, Guandalini L, Busardò FP, Pichini S. Evaluation of cannabinoids concentration and stability in standardized preparations of cannabis tea and cannabis oil by ultra-high performance liquid chromatography tandem mass spectrometry. Clin Chem Lab Med. 2017;55(10):1555–63.

18.

Calvi L, Pentimalli D, Panseri S, Giupponi L, Gelmini F, Beretta G, Vitali D. Comprehensive quality evaluation of medical Cannabis sativa L. inflorescence and macerated oils based on HS-SPME coupled to GC–MS and LC–HRMS (q-exactive orbitrap®) approach. J Pharm Biomed Anal. 2018;150:208–19.

19.

Carcieri C, Tomasello C, Simiele M, De Nicolò A, Avataneo V, Canzoneri L. Cannabinoids concentration variability in cannabis olive oil galenic preparations. J Pharm Pharmacol. 2018;70(1):143–9.

20.

Decreto 9 novembre 2015: Funzioni di Organismo statale per la cannabis previsto dagli articoli 23 e 28 della convenzione unica sugli stupefacenti del 1961, come modificata nel 1972. Available online: Molecules 2018, 23, 1230 21 of 22. http://www.gazzettaufficiale.it/eli/id/2015/11/30/15A08888/sg;jsessionid=p1rnwNujUKlqQ5azhA%20Q95A__.ntc-as3-guri2. Accessed 1 Oct 2018.

21.

Pamplona FA, da Silva LR, Coan AC. Potential clinical benefits of CBD-rich cannabis extracts over purified CBD in treatment-resistant epilepsy: observational data meta-analysis. Front Neurol. 2018;9:759.

22.

Neubauer D, Perković Benedik M, Osredkar D. Cannabidiol for treatment of refractory childhood epilepsies: experience from a single tertiary epilepsy center in Slovenia. Epilepsy Behav. 2018;81:79–85.

23.

Porcari GS, Fu C, Doll ED, Carter EG, Carson RP. Efficacy of artisanal preparations of Cannabidiol for the treatment of epilepsy: practical experiences in a tertiary medical center. Epilepsy Behav. 2018;80:240–6.

24.

Pavlovic R, Nenna G, Calvi L, Panseri S, Borgonovo G, Giupponi L, et al. Quality traits of "CBD oils": cannabinoids content, terpene fingerprint and oxidation stability of European commercially available preparations. Molecules. 2018;23:5.

25.

Tzadok M, Uliel-Siboni S, Linder I, Kramer U, Epstein O, Menascu S, et al. CBD-enriched medical cannabis for intractable pediatric epilepsy: the current Israeli experience. Seizure. 2016;35:41–4.

26.

Hausman-Kedem M, Menascu S, Kramer U. Efficacy of CBD-enriched medical cannabis for treatment of refractory epilepsy in children and adolescents—an observational, longitudinal study. Brain Dev. 2018;40(7):544–51.

27.

Porter BE, Jacobson C. Report of a parent survey of cannabidiol-enriched cannabis use in pediatric treatment-resistant epilepsy. Epilepsy Behav. 2013;29(3):574–7.

28.

Fusco L, Vigevano F. Tonic spasm seizures: a particular and previously unreported type of seizure. Epilepsia. 1994;35(7):S87.

29.

Hussain SA, Zhou R, Jacobson C, Weng J, Cheng E, Lay J. Perceived efficacy of cannabidiol-enriched cannabis extracts for treatment of pediatric epilepsy: a potential role for infantile spasms and Lennox-Gastaut syndrome. Epilepsy Behav. 2015;47:138–41.

30.

Trial of cannabidiol (CBD; GWP42003-P) for infantile spasms (GWPCARE7). https://clinicaltrials.gov/ct2/show/NCT02953548. Accessed on 1 Jan 2018.

31.

Wang GS. Pediatric concerns due to expanded cannabis use: unintended consequences of legalization. J Med Toxicol. 2017;13(1):99–105.

32.

Rosenberg EC, Louik J, Conway E, Devinsky O, Friedman D. Quality of life in childhood epilepsy in pediatric patients enrolled in a prospective, open-label clinical study with CBD. Epilepsia. 2017;58(8):96–100.

33.

Geffrey AL, Pollack SF, Bruno PL, Thiele EA. Drug-drug interaction between clobazam and cannabidiol in children with refractory epilepsy. Epilepsia. 2015;56(8):1246–51.

34.

Taylor L, Gidal B, Blakey G, Tayo B, Morrison G. A phase I, randomized, double-blind, placebo-controlled, single ascending dose, multiple dose, and food effect trial of the safety, tolerability and pharmacokinetics of highly purified cannabidiol in healthy subjects. CNS Drugs. 2018;32(11):1053–67.

35.

Montouris GD, Wheless JW, Glauser TA. The efficacy and tolerability of pharmacologic treatment options for Lennox-Gastaut syndrome. Epilepsia. 2014;55(Suppl 4):10–20.
Ethics declarations
Funding
This study was not funded.
Conflict of Interest
Nicola Pietrafusa, Alessandro Ferretti, Marina Trivisano, Luca de Palma, Costanza Calabrese, Giusy Carfi' Pavia, Ilaria Tondo, Simona Cappelletti, Federico Vigevano, and Nicola Specchio have no conflicts of interest.
Ethical Approval
This trial was conducted in accordance with International Conference on Harmonization Good Clinical Practice guidelines and ethical principles that have their origin in the Declaration of Helsinki.
Informed Consent
Written informed consent was obtained from each patient's parent or primary caregiver before any trial-related procedures were performed.
About this article
Cite this article
Pietrafusa, N., Ferretti, A., Trivisano, M. et al. Purified Cannabidiol for Treatment of Refractory Epilepsies in Pediatric Patients with Developmental and Epileptic Encephalopathy. Pediatr Drugs 21, 283–290 (2019). https://doi.org/10.1007/s40272-019-00341-x