Abstract
Background
Research examining trends in the outpatient prescription medicine use of New Zealand children is limited.
Objectives
Our objective was to provide an overview of prescription medicine use in New Zealand children and assess changing patterns in use from 2010 to 2015.
Methods
We conducted a retrospective cohort study including all New Zealand primary care-registered children aged < 18 years using data from the national pharmaceutical claims database. We calculated the prevalence of use within four age groups in each year by anatomical therapeutic class, therapeutic group and drug. Rate ratios were calculated to compare the prevalence of use in 2010 and 2015.
Results
In total, 1,496,026 children with a mean of 2.7 years of potential drug exposure were included. The overall prevalence of drug use was 70% in 2010 and 73% in 2015. In 2015, medicine use was highest in children aged < 2 years (90%) and lowest in children aged 12–17 years (65%). Antibacterials, analgesics, topical corticosteroids, non-steroidal anti-inflammatory drugs (NSAIDs) and antihistamines were the most widely used medicines. The prevalence of use of systemic and topical antibiotics decreased by 2 and 10%, respectively, between 2010 and 2015, but there was increased use of analgesics (10%), NSAIDs (39%), antihistamines (15%) and antinausea and vertigo agents (306%).
Conclusions
Our findings indicate areas for further research focusing on inappropriate prescribing to children and safety issues in children's medicine use. Monitoring changing patterns of use over time is important for the evaluation of effective therapies in children and any potential harmful consequences of prescribing.
This is a preview of subscription content, log in to check access.
Access options
Buy single article
Instant access to the full article PDF.
US$ 49.95
Price includes VAT for USA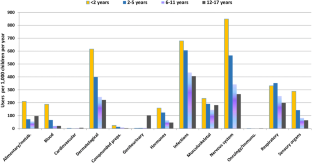 References
1.

Zhang T, Smith MA, Camp PG, et al. Prescription drug dispensing profiles for one million children: a population-based analysis. Eur J Clin Pharmacol. 2013;69:581–8.

2.

Clavenna A, Bonati M. Drug prescriptions to outpatient children: a review of the literature. Eur J Clin Pharmacol. 2009;65:749–55.

3.

Benard-Laribiere A, Jove J, Lassalle R, et al. Drug use in French children: a population-based study. Arch Dis Child. 2015;100:960–5.

4.

Schirm E, Tobi H, de Jong-van den Berg LTW. Unlicensed and off label drug use by children in the community: cross sectional study. BMJ. 2002;324:1312–3.

5.

Bazzano AT, Mangione-Smith R, Schonlau M, et al. Off-label prescribing to children in the United States outpatient setting. Acad Pediatr. 2009;9(2):81–8.

6.

Olsson J, Kimland E, Pettersson S, Odlind V. Paediatric drug use with focus on off-label prescriptions in Swedish outpatient care—a nationwide study. Acta Paediatrica. 2011;100:1272–5.

7.

Ekins-Daukes S, Helms RJ, Simpson CR, et al. Off-label prescribing to children in primary care: retrospective observational study. Eur J Clin Pharmacol. 2004;60(5):349–53.

8.

Sturkenboom MCJM, Verhamme KMC, Nicolosi A, et al. Drug use in children: cohort study in three European countries. BMJ. 2008;337:a2245. https://doi.org/10.1136/bmj.a2245.

9.

Clavenna A, Berti A, Gualandi L, et al. Drug utilisation profile in the Italian paediatric population. Eur J Paediatr. 2009;168:173–80.

10.

Chai G, Governale L, McMahon AW, et al. Trends of outpatient prescription drug utilization in US children, 2002-2010. Pediatrics. 2012;130:23–31.

11.

Hall J, Martin I. Prescribing for teenagers in New Zealand general practice. NZ Med J. 2003;116(1186):U685.

12.

WHO Collaborating Centre for Drug Statistics Methodology, Guidelines for ATC classification and DDD assignment 2013. Oslo, 2012.

13.

HISO 10001:2017 Ethnicity Data Protocols. Ministry of Health. 2017. https://www.health.govt.nz/publication/hiso-100012017-ethnicity-data-protocols. Accessed 18 Jun 2018.

14.

Children and sedating antihistamines. Prescriber Update March 2013; 34(1). http://www.medsafe.govt.nz/profs/puarticles/mar2013childrenandsedatingantihistamines.htm. Accessed 15 Feb 2018.

15.

Otitis Media; A common childhood illness. Best Practice Journal 2012 (46). https://bpac.org.nz/BPJ/2012/September/otitismedia.aspx. Accessed 15 Feb 2018.

16.

Tanné C, Javouhey E, Millet A, Bordet F. Severe tramadol overdoses in children: a case series admitted to paediatric intensive care unit. J Clin Toxicol. 2016;6:317. https://doi.org/10.4172/2161-0495.1000317.

17.

Hassanian-Moghaddam H, Farnaghi F, Rahimi M. Tramadol overdose and apnea in hospitalized children, a review of 20 cases. Res Pharm Sci. 2015;10(6):544–52.

18.

FDA Drug Safety Communication: FDA restricts use of prescription codeine pain and cough medicines and tramadol pain medicines in children; recommends against use in breastfeeding women. https://www.fda.gov/Drugs/DrugSafety/ucm549679.htm. Accessed 16 Feb 2018.

19.

Freedman SB, Tung C, Cho D, Rumantir M, Chan KJ. Time-series analysis of ondansetron use in pediatric gastroenteritis. J Pediatr Gastroenterol Nutr. 2012;54(3):381–6. https://doi.org/10.1097/MPG.0b013e31822ecaac.

20.

Freedman SB, Hall M, Shah SS, et al. Impact of increasing ondansetron use on clinical outcomes in children with gastroenteritis. JAMA Pediatr. 2014;168(4):321–9. https://doi.org/10.1001/jamapediatrics.2013.4906.

21.

Freedman SB, Ali S, Oleszczuk M, Gouin S, Hartling L. Treatment of acute gastroenteritis in children: an overview of systematic reviews of interventions commonly used in developed countries. Evid Based Child Health. 2013;8(4):1123–37. https://doi.org/10.1002/ebch.1932.

22.

Brenner SM, Boucher J. Fatal cardiac arrest in 2 children: possible role of ondansetron. Pediatr Emerg Care. 2016;32(11):779–84.

23.

de Martino M, Chiarugi A, Boner A, Montini G, de Angelis GL. Towards an appropriate use of ibuprofen in children: an evidence-based appraisal. Drugs. 2017;77(12):1295–311. https://doi.org/10.1007/s40265-017-0751-z.

24.

van der Pol RJ, Smits MJ, van Wijk MP, Omari TI, Tabbers MM, Benninga MA. Efficacy of proton-pump inhibitors in children with gastroesophageal reflux disease: a systematic review. Pediatrics. 2011;127(5):925–35. https://doi.org/10.1542/peds.2010-2719.

25.

Tjon JA, Pe M, Soscia J, Mahant S. Efficacy and safety of proton pump inhibitors in the management of pediatric gastroesophageal reflux disease. Pharmacotherapy. 2013;33(9):956–71. https://doi.org/10.1002/phar.1299.

26.

Irritable infants reflux and GORD. Best Practice Journal 2011 (4). https://bpac.org.nz/BPJ/2011/november/infant-reflux.aspx. Accessed 16 Feb 2018.

27.

Rood JM, Engels MJ, Ciarkowski SL, Wagenknecht LD, Dickinson CJ, Stevenson JG. Variability in compounding of oral liquids for pediatric patients: a patient safety concern. J Am Pharm Assoc. 2014;54(4):383–9.

28.

Institute for Safe Medication Practices (ISMP) Safety Alert (April 23, 2015). Life threatening errors with flecainide suspension in children. https://www.ismp.org/newsletters/acutecare/showarticle.aspx?id=107. Accessed 17 Feb 2018.
Ethics declarations
Conflicts of Interest
AM Tomlin, DJ Woods, HS Lloyd and MW Tilyard have no conflicts of interest with regard to this study.
Funding
This research received no specific grant from any funding agency in the public, commercial, or not-for-profit sectors. It was conducted as a component of the usual employment of the authors.
Ethical Approval
In New Zealand ethics committee review is not required for secondary use of data for the purpose of quality assurance or outcome analysis where the researchers are bound by a professional or employment obligation to preserve confidentiality and the patient information is not identifiable. Ethical guidelines for observational studies: National Ethics Advisory Committee. http://www.neac.health.govt.nz/
About this article
Cite this article
Tomlin, A.M., Woods, D.J., Lloyd, H.S. et al. Trends in Outpatient Prescription Medicine Use in New Zealand Children 2010–2015: A National Population-Based Study. Pediatr Drugs 20, 465–474 (2018). https://doi.org/10.1007/s40272-018-0303-3