Abstract
Background
Regulatory guidelines require that any new medicine designed for a pediatric population must be demonstrated as being acceptable to that population. There is currently no guidance on how to conduct or report on acceptability testing.
Aim
Our objective was to undertake a review of the methods used to assess the acceptability of medicines within a pediatric population and use this review to propose the most appropriate methodology.
Methods
We used a defined search strategy to identify literature reports of acceptability assessments of medicines conducted within pediatric populations and extracted information about the tools used in these studies for comparison across studies.
Results
In total, 61 articles were included in the analysis. Palatability was the most common (54/61) attribute measured when evaluating acceptability. Simple scale methods were most commonly used, with visual analog scales (VAS) and hedonic scales used both separately and in combination in 34 of the 61 studies. Hedonic scales alone were used in 14 studies and VAS alone in just five studies. Other tools included Likert scales; forced choice or preference; surveys or questionnaires; observations of facial expressions during administration, ease of swallowing, or ability to swallow the dosage; prevalence of complaints or refusal to take the medicine; and time taken for a nurse to administer the medicine.
Conclusions
The best scale in terms of validity, reliability, feasibility, and preference to use when assessing acceptability remains unclear. Further work is required to select the most appropriate method to justify whether a medicine is acceptable to a pediatric population.
Access options
Buy single article
Instant access to the full article PDF.
USD 49.95
Price excludes VAT (USA)
Tax calculation will be finalised during checkout.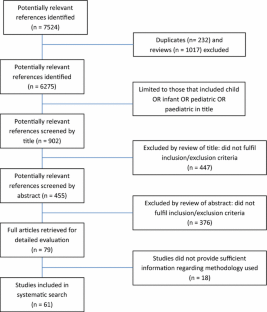 References
Venables R, Batchelor HK, Hodson J, Stirling H, Marriott J. Determination of formulation factors that affect oral medicines acceptability in a domiciliary paediatric population. Int J Pharm. 2015;480(1–2):55–62.

Winnick S, Lucas DO, Hartman AL, Toll D. How do you improve compliance? Pediatrics. 2005;115(6):e718–24.

Kozarewicz P. Regulatory perspectives on acceptability testing of dosage forms in children. Int J Pharm. 2014;469(2):245–8.

European Medicines Agency. Guideline on pharmaceutical development of medicines for paediatric use EMA/CHMP/QWP/805880/2012. London: EMA; 2013. http://www.ema.europa.eu/docs/en_GB/document_library/Scientific_guideline/2013/07/WC500147002.pdf. Accessed 31 April 2013.

European Medicines Agency. Guideline on the demonstration of palatability of veterinary medicinal products. EMA/CVMP/EWP/206024/2011. London: EMA; 2014. http://www.ema.europa.eu/docs/en_GB/document_library/Scientific_guideline/2014/07/WC500170030.pdf.

Thompson C, Lombardi D, Sjostedt P, Squires L. Best practice recommendations regarding the assessment of palatability and swallowability in the development of oral dosage forms for pediatric patients. Ther Innov Regul Sci. 2015;49(5):647–58.

Higgins J, Green S. Cochrane handbook for systematic reviews of interventions. Version 5.1.0 (updated March 11). The Cochrane Collaboration; 2011. http://www.cochrane-handbook.org.

Davies EH, Tuleu C. Medicines for children: a matter of taste. J Pediatr. 2008;153(5):599–604.

te Loo DM, van der Graaf F, Ten WT. The effect of flavoring oral rehydration solution on its composition and palatability. J Pediatr Gastr Nutr. 2004;39(5):545–8.

Motte J, Pedespan JM, Sevestre M, Chiron C. Acceptability and tolerance of sodium valproate, a new sustained-action granule formulation, in monotherapy for epileptic children from 3 years old [in French]. Arch Pediatr. 2005;12(10):1533–9.

Ameen VZ, Pobiner BF, Giguere GC, Carter EG. Ranitidine (Zantac®) syrup versus ranitidine effervescent tablets (Zantac® EFFERdose®) in children: A single-center taste preference study. Pediatr Drugs. 2006;8(4):265–70.

Bagger-Sjoback D, Bondesson G. Taste evaluation and compliance of two paediatric formulations of phenoxymethylpenicillin in children. Scand J Prim Health. 1989;7(2):87–92.

El-Chaar GM, Mardy G, Wehlou K, Rubin LG. Randomized, double blind comparison of brand and generic antibiotic suspensions: II. A study of taste and compliance in children. Pediatr Infect Dis J. 1996;15(1):18–22.

Herd DW, Salehi B. Palatability of two forms of paracetamol (acetaminophen) suspension: a randomised trial. Paediatr Perinat Drug Ther. 2006;7(4):189–93.

Jahnsen T, Thorn P. An acceptability study of two pivampicillin mixtures in children in general practice. Scand J Prim Health. 1987;5(4):241–3.

Kim MK, Yen K, Redman RL, Nelson TJ, Brandos J, Hennes HM. Vomiting of liquid corticosteroids in children with asthma. Pediatr Emerg Care. 2006;22(6):397–401.

Martínez JM, Bartoli F, Recaldini E, Lavanchy L, Bianchetti MG. A taste comparison of two different liquid colecalciferol (vitamin D 3) preparations in healthy newborns and infants. Clin Drug Investig. 2006;26(11):663–5.

Sjövall J, Fogh A, Huitfeldt B, Karlsson G, Nylén O. Methods for evaluating the taste of paediatric formulations in children: a comparison between the facial hedonic method and the patients' own spontaneous verbal judgement. Eur J Pediatr. 1984;141(4):243–7.

Stafford L, Hope ME, Janney EP, Ailakis JG. Comparison of pediatric steroid mixtures. Aust J Hosp Pharm. 1998;28(4):246–9.

Stevens R, Votan B, Lane R, Schaison G. A randomized study of ondansetron syrup in children: evaluation of taste acceptability and tolerance. Pediatr Hematol Oncol. 1996;13(2):199–202.

Thompson A, Reader S, Field E, Shephard A. Open-label taste-testing study to evaluate the acceptability of both strawberry-flavored and orange-flavored amylmetacresol/2,4-dichlorobenzyl alcohol throat lozenges in healthy children. Drugs R&D. 2013;13(2):101–7.

Ubaka CM, Udeogaranya OP, Ezeugwu N. Palatability of oral paediatric antibiotics commonly prescribed in a Nigerian specialist hospital. Eur J Hosp Pharm Sci Pract. 2013;20(2):122–4.

Cohen JFW, Richardson S, Austin SB, Economos CD, Rimm EB. School lunch waste among middle school students: nutrients consumed and costs. Am J Prev Med. 2013;44(2):114–21.

Reader S, Shaw H, Hails S. A taste-testing study in healthy volunteers (children) to investigate children's preference for ibuprofen or placebo suspension. Paediatr Perinat Drug Ther. 2006;7(2):54–8.

Adams LV, Craig SR, Mmbaga EJ, Naburi H, Lahey T, Nutt CT, et al. Children's medicines in Tanzania: a national survey of administration practices and preferences. PLoS ONE. 2013;8(3):e58303. doi:10.1371/journal.pone.0058303.

Klingmann V, Spomer N, Lerch C, Stoltenberg I, Fromke C, Bosse HM, et al. Favorable acceptance of mini-tablets compared with syrup: a randomized controlled trial in infants and preschool children. J Pediatr. 2013;163(6):1728–32.

Kluk A, Sznitowska M, Brandt A, Sznurkowska K, Plata-Nazar K, Mysliwiec M, et al. Can preschool-aged children swallow several minitablets at a time? Results from a clinical pilot study. Int J Pharm. 2015;485(1–2):1–6.

Spomer N, Klingmann V, Stoltenberg I, Lerch C, Meissner T, Breitkreutz J. Acceptance of uncoated mini-tablets in young children: results from a prospective exploratory cross-over study. Arch Dis Child. 2012;97(3):283–6.

Weinberg EG, Naya I. Treatment preferences of adolescent patients with asthma. Pediatr Allergy Immunol. 2000;11(1):49–55.

Lottmann H, Froeling F, Alloussi S, El-Radhi AS, Rittig S, Riis A, et al. A randomised comparison of oral desmopressin lyophilisate (MELT) and tablet formulations in children and adolescents with primary nocturnal enuresis. Int J Clin Pract. 2007;61(9):1454–60.

Isa JM, Wong GK, Teraoka SS, Sera MJ, Tsushima MM, Yamamoto LG. Parental pediatric corticosteroid preferences. Am J Emerg Med. 2001;19(1):29–31.

McIntyre J, Hull D. Comparing efficacy and tolerability of ibuprofen and paracetamol in fever. Arch Dis Child. 1996;74(2):164–7.

Uhari M, Eskelinen L, Jokisalo J. Acceptance of antibiotic mixtures by infants and children. Eur J Clin Pharmacol. 1986;30(4):503–4.

Chen AW, Resurreccion AVA, Paguio LP. Age appropriate hedonic scales to measure food preferences of young children. J Sens Stud. 1996;11(2):141–63.

Meier CM, Simonetti GD, Ghiglia S, Fossali E, Salice P, Limoni C, et al. Palatability of angiotensin II antagonists among nephropathic children. Br J Clin Pharmacol. 2007;63(5):628–31.

Powers JL. Properties of azithromycin that enhance the potential for compliance in children with upper respiratory tract infections. Pediatr Infect Dis J. 1996;15(9):30–7.

Powers JL, Gooch Iii WM, Oddo LP. Comparison of the palatability of the oral suspension of cefdinir vs. amoxicillin/clavulanate potassium, cefprozil and azithromycin in pediatric patients. Pediatr Infect Dis J. 2000;19(12 Suppl.):S174–80.

McColl E, Jacoby A, Thomas L, Soutter J, Bamford C. Design and use of questionnaires: a review of best practice applicable to surveys of health service staff and patients. Health Technol Assess. 2002;5(31):256. doi:10.3310/hta5310.

Guinard J-X. Sensory and consumer testing with children. Trends Food Sci Technol. 2000;11(8):273–83. doi:10.1016/S0924-2244(01)00015-2.

Bovell-Benjamin AC, Allen LH, Guinard JX. Toddlers' acceptance of whole maize meal porridge fortified with ferrous bisglycinate. Food Qual Prefer. 1999;10(2):123–8.

Guenther Skokan E, Junkins EP Jr, Corneli HM, Schunk JE. Taste test: children rate flavoring agents used with activated charcoal. Arch Pediatr Adolesc Med. 2001;155(6):683–6.

Mulla H, Buck H, Price L, Parry A, Bell G, Skinner R. 'Acceptability' of a new oral suspension formulation of mercaptopurine in children with acute lymphoblastic leukaemia. J Oncol Pharm Pract. 2016;22(3):387–95. doi:10.1177/1078155215577808.

Schwartz RH. Enhancing children's satisfaction with antibiotic therapy: a taste study of several antibiotic suspensions. Curr Ther Res. 2000;61(8):570–81.

Garra G, Singer AJ, Taira BR, Chohan J, Cardoz H, Chisena E, et al. Validation of the Wong-Baker FACES pain rating scale in pediatric emergency department patients. Acad Emerg Med. 2010;17(1):50–4.

Peryam DR, Pilgrim FJ. Hedonic scale method of measuring food preferences. Food Technol. 1957;11:9–14.

Tomlinson D, von Baeyer CL, Stinson JN, Sung L. A systematic review of faces scales for the self-report of pain intensity in children. Pediatrics. 2010;126(5):e1168–98.

Angelilli ML, Toscani M, Matsui DM, Rieder MJ. Palatability of oral antibiotics among children in an urban primary care center. Arch Pediatr Adolesc Med. 2000;154(3):267–70.

Freedman SB, Cho D, Boutis K, Stephens D, Schuh S. Assessing the palatability of oral rehydration solutions in school-aged children: a randomized crossover trial. Arch Pediatr Adol Med. 2010;164(8):696–702.

Hames H, Seabrook JA, Matsui D, Rieder MJ, Joubert GI. A palatability study of a flavored dexamethasone preparation versus prednisolone liquid in children with asthma exacerbation in a pediatric emergency department. Can J Clin Pharmacol. 2008;15(1):e95–8.

Dagnone D, Matsui D, Rieder MJ. Assessment of the palatability of vehicles for activated charcoal in pediatric volunteers. Pediatr Emerg Care. 2002;18(1):19–21.

Smith CJ, Sammons HM, Fakis A, Conroy S. A prospective study to assess the palatability of analgesic medicines in children. J Adv Nurs. 2013;69(3):655–63.

Abdulla S, Amuri B, Kabanywanyi AM, Ubben D, Reynolds C, Pascoe S, et al. Early clinical development of artemether-lumefantrine dispersible tablet: palatability of three flavours and bioavailability in healthy subjects. Malar J. 2010;9:253. doi:10.1186/1475-2875-9-253.

Verrotti A, Nanni G, Agostinelli S, Alleva ET, Aloisi P, Franzoni E, et al. Effects of the abrupt switch from solution to modified-release granule formulation of valproate. Acta Neurol Scand. 2012;125(3):e14–8.

Shields BJ, Cohen DM, Harbeck-Weber C, Powers JD, Smith GA. Pediatric pain measurement using a visual analogue scale: a comparison of two teaching methods. Clin Pediatr. 2003;42(3):227–34.

Shields BJ, Palermo TM, Powers JD, Grewe SD, Smith GA. Predictors of a child's ability to use a visual analogue scale. Child Care Hlth Dev. 2003;29(4):281–90.

Bartoshuk LM, Fast K, Snyder DJ. Differences in our sensory worlds: invalid comparisons with labeled scales. Curr Dir Psychol Sci. 2005;14(3):122–5.

Lucas-Bouwman ME, Roorda RJ, Jansman FG, Brand PL. Crushed prednisolone tablets or oral solution for acute asthma? Arch Dis Child. 2001;84(4):347–8.

Milani G, Ragazzi M, Simonetti GD, Ramelli GP, Rizzi M, Bianchetti MG, et al. Superior palatability of crushed lercanidipine compared with amlodipine among children. Br J Clin Pharmcol. 2010;69(2):204–6.

Cheng A, Ratnapalan S. Improving the palatability of activated charcoal in pediatric patients. Pediatr Emerg Care. 2007;23(6):384–6.

Saez-Llorens X, Yogev R, Arguedas A, Rodriguez A, Spigarelli MG, De Leon Castrejon T, et al. Pharmacokinetics and safety of famciclovir in children with herpes simplex or varicella-zoster virus infection. Antimicrob Agents Chemother. 2009;53(5):1912–20.

Van Riet-Nales DA, De Neef BJ, Schobben AFAM, Ferreira JA, Egberts TCG, Rademaker CMA. Acceptability of different oral formulations in infants and preschool children. Arch Dis Child. 2013;98(9):725–31.

Thompson CA, Lombardi DP, Sjostedt P, Squires LA. Industry survey on current practices in the assessment of palatability and swallowability in the development of pediatric oral dosage forms. Ther Innov Regul Sci. 2013;47(5):542–9. doi:10.1177/2168479013500287.

Moniot-Ville N, Chelly M, Consten L, Rosenbaum M. The acceptability, efficacy and safety of a new paediatric oral suspension of roxithromycin in respiratory tract infections. J Int Med Res. 1998;26(3):144–51.

Gooch WM, Philips A, Rhoades R, Rosenberg R, Schaten R, Starobin S. Comparison of the efficacy, safety and acceptability of cefixime and amoxicillin/clavulanate in acute otitis media. Pediatr Infect Dis J. 1997;16(2):S21–4.

Nasrin D, Larson CP, Sultana S, Khan TU. Acceptability of and adherence to dispersible zinc tablet in the treatment of acute childhood diarrhoea. J Health Popul Nutr. 2005;23(3):215–21.

Van de Vijver E, Desager K, Mulberg AE, Staelens S, Verkade HJ, Bodewes FA, et al. Treatment of infants and toddlers with cystic fibrosis-related pancreatic insufficiency and fat malabsorption with pancrelipase MT. J Pediatr Gastr Nutr. 2011;53(1):61–4.

Somasiri UL, Thillainathan S, Fernandopulle R, Sri Ranganathan SS. Antiepileptic drugs for children: availability, suitability and acceptability. Sri Lanka J Child Health. 2013;42(1):38–9.

Ahmed S, Nasrin D, Ferdous F, Farzana F, Kaur G, Chisti M, et al. Acceptability and compliance to a 10-day regimen of zinc treatment in diarrhea in rural Bangladesh. Food Nutr Sci. 2013;4(4):357–64.

Blossfeld I, Collins A, Boland S, Baixauli R, Kiely M, Delahunty C. Relationships between acceptance of sour taste and fruit intakes in 18-month-old infants. Br J Nutr. 2007;98(5):1084–91.

Schwartz C, Issanchou S, Nicklaus S. Developmental changes in the acceptance of the five basic tastes in the first year of life. Br J Nutr. 2009;102(9):1375–85.

Rousseau B. Sensory discrimination testing and consumer relevance. Food Qual Prefer. 2015;43:122–5. doi:10.1016/j.foodqual.2015.03.001.

Lawless HT, Heymann H. Sensory evaluation of food—principles and practices. 2nd ed. New York: Springer; 2010.

Meilgaard MC, Civille GV, Carr BT. Sensory evaluation techniques. 4th ed. Boca Raton: CRC Press, Taylor and Francis Group; 2007.

Hough G, Wakeling I, Mucci A, Chambers Iv E, Gallardo IM, Alves LR. Number of consumers necessary for sensory acceptability tests. Food Qual Pref. 2006;17(6):522–6. doi:10.1016/j.foodqual.2005.07.002.

Hester NO, Foster R, Kristensen K. Measurement of pain in children: generalizability and validity of the pain ladder and the poker chip tool. In: Tyler DC, Crane EJ, editors. Advances in pain research and therapy, vol. 15. New York: Raven; 1990. p. 79–84

Edwards P. Questionnaires in clinical trials: guidelines for optimal design and administration. Trials. 2010;11:2.

Luffy R, Grove SK. Examining the validity, reliability, and preference of three pediatric pain measurement tools in African-American children. Pediatr Nurs. 2003;29(1):54–9.

Tolia V, Johnston G, Stolle J, Lee C. Flavor and taste of lansoprazole strawberry-flavored delayed-release oral suspension preferred over ranitidine peppermint-flavored oral syrup. Pediatr Drugs. 2004;6(2):127–31.

Tolia V, Han C, North JD, Amer F. Taste comparisons for lansoprazole strawberry-flavoured delayed-release orally disintegrating tablet and ranitidine peppermint-flavoured syrup in children. Clin Drug Investig. 2005;25(5):285–92.

Matsui D, Barron A, Rieder MJ. Assessment of the palatability of antistaphylococcal antibiotics in pediatric volunteers. Ann Pharmacother. 1996;30(6):586–8.

Matsui D, Lim R, Tschen T, Rieder MJ. Assessment of the palatability of β-lactamase-resistant antibiotics in children. Arch Pediatr Adolesc Med. 1997;151(6):599–602.

Toscani M, Drehobl M, Freed J, Stool S. A multicenter, randomized, comparative assessment in healthy pediatric volunteers of the palatability of oral antibiotics effective in the therapy of otitis media. Curr Ther Res. 2000;61(5):278–85.

Almenrader N, Passariello M, Coccetti B, Haiberger R, Pietropaoli P. Steal-induction after clonidine premedication: a comparison of the oral and nasal route. Paediatr Anaesth. 2007;17(3):230–4. doi:10.1111/j.1460-9592.2006.02080.x.

McCrindle BW, O'Neill MB, Cullen-Dean G, Helden E. Acceptability and compliance with two forms of cholestyramine in the treatment of hypercholesterolemia in children: a randomized, crossover trial. J Pediatr. 1997;130(2):266–73. doi:10.1016/s0022-3476(97)70353-6.

Mekmullica J, Pancharoen C. Acceptability of oral typhoid vaccine in Thai children. Southeast Asian J Trop Med Public Health. 2003;34(2):334–6.

Nahirya-Ntege P, Cook A, Vhembo T, Opilo W, Namuddu R, Katuramu R, et al. Young HIV-infected children and their adult caregivers prefer tablets to syrup antiretroviral medications in Africa. PloS One. 2012;7(5):e36186. doi:10.1371/journal.pone.0036186.

Patchell CJ, Desai M, Weller PH, MacDonald A, Smyth RL, Bush A, et al. Creon® 10000 Minimicrospheres™ vs. Creon® 8000 microspheres—an open randomised crossover preference study. J Cyst Fibros. 2002;1(4):287–91. doi:10.1016/S1569-1993(02)00103-0.

Volovitz B, Duenas-Meza E, Chmielewska-Szewczyk DA, Kosa L, Astafieva NG, Villaran C, et al. Comparison of oral montelukast and inhaled cromolyn with respect to preference, satisfaction, and adherence: a multicenter, randomized, open-label, crossover study in children with mild to moderate persistent asthma. Curr Ther Res. 2000;61(7):490–506.

Cloyd JC, Kriel RL, Jones-Saete CM, Ong BY, Jancik JT, Remmel RP. Comparison of sprinkle versus syrup formulations of valproate for bioavailability, tolerance, and preference. J Pediatr. 1992;120(4 Pt 1):634–8.

Cohen IT, Joffe D, Hummer K, Soluri A. Ondansetron oral disintegrating tablets: acceptability and efficacy in children undergoing adenotonsillectomy. Anesth Analg. 2005;101(1):59–63.

Steele RW, Thomas MP, Begue RE, Despinasse BP. Selection of pediatric antibiotic suspensions: taste and cost factors. Infect Med. 1999;16(3):197–200.
Ethics declarations
Funding
This project was supported by Innovate UK Formulated Products Collaborative R&D project (Ref: 101709). SPaeDD-UK (Accelerating Paediatric Formulation Development through Smart Design and Predictive Science), which is co-funded by Innovate UK and the contributing companies of AstraZeneca, Bristol Myers Squibb, GlaxoSmithKline, Juniper Pharmaceuticals, and Pfizer.
Conflict of interest
PM and HB have no conflicts of interest.
Electronic supplementary material
Below is the link to the electronic supplementary material.
About this article
Cite this article
Mistry, P., Batchelor, H. & On behalf of SPaeDD-UK project. Methodology Used to Assess Acceptability of Oral Pediatric Medicines: A Systematic Literature Search and Narrative Review. Pediatr Drugs 19, 223–233 (2017). https://doi.org/10.1007/s40272-017-0223-7
Published:

Issue Date:

DOI: https://doi.org/10.1007/s40272-017-0223-7
Keywords
Visual Analog Scale

Facial Expression

Pediatric Population

Famciclovir

Hedonic Scale