Abstract
Introduction
Children are frequently asked to take tablets and capsules of different sizes and shapes to manage acute and chronic medical conditions. Medication size is an important factor that contributes to compliance, yet few studies detail size variation or pediatric pharmacy inventory.
Objective
This study assesses the available sizes and size variations of common inpatient and outpatient pediatric medications and provides an inventory of the tablet and capsule sizes available in a children's inpatient hospital pharmacy.
Methods
We derived the most frequently prescribed oral medications from US national databases, including the IMS, Vector One®: National (VONA) and Pediatric Health Information System (PHIS). We analyzed a composite list using the National Library of Medicine Pillbox website, which provides size measurements. Medications from a children's inpatient pharmacy were audited and hand measured for comparison.
Results
We created a list of the top 15 most prescribed inpatient and outpatient pediatric tablet/capsule medications and observed a wide variation in size: acetaminophen 500 mg ranged from 5 to 22 mm in length, median 15 mm. Common pediatric antibiotics were larger and ranged from 8 to 25 mm in length, median 17 mm. Hand-measured samples from the inpatient pharmacy were often the larger pill sizes, despite smaller alternatives being available.
Conclusions
We observed a marked variation in the sizes of common pediatric tablet/capsule medications, and pharmacies that serve children may not stock the most child-friendly medications. Tablet/capsule size does not appear to be considered when decisions about tablet and capsule medication selections are made. These results should increase awareness of these sizes and affect how physicians prescribe, how pharmacies order inventory, and how insurers and pharmaceutical companies pay for and produce pediatric medications.
This is a preview of subscription content, log in to check access.
Access options
Buy single article
Instant access to the full article PDF.
US$ 49.95
Price includes VAT for USA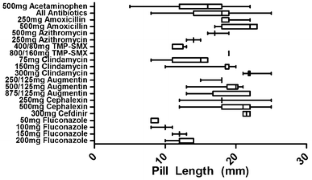 References
1.

Schroeder AR, Ralston SL. Intravenous antibiotic durations for common bacterial infections in children: When is enough enough? J Hosp Med. 2014;9(9):604–9.

2.

Moore JA, Wei JL, Smith HJ, Mayo MS. Treatment of pediatric suppurative mastoiditis: is peripherally inserted central catheter (PICC) antibiotic therapy necessary? Otolaryngol Head Neck Surg. 2006;135(1):106–10.

3.

Zaoutis T, Localio AR, Leckerman K, Saddlemire S, Bertoch D, Keren R. Prolonged intravenous therapy versus early transition to oral antimicrobial therapy for acute osteomyelitis in children. Pediatrics. 2009;123(2):636–42.

4.

Chai G, Governale L, McMahon AW, Trinidad JP, Staffa J, Murphy D. Trends of outpatient prescription drug utilization in US children, 2002–2010. Pediatrics. 2012;130(1):23–31.

5.

Diamond S, Lavallee DC. Experience with a pill-swallowing enhancement aid. Clin Pediatr. 2010;49(4):391–3.

6.

Garvie PA, Lensing S, Rai SN. Efficacy of a pill-swallowing training intervention to improve antiretroviral medication adherence in pediatric patients with HIV/AIDS. Pediatrics. 2007;119(4):e893–9.

7.

Hommel KA, Baldassano RN. Brief report: Barriers to treatment adherence in pediatric inflammatory bowel disease. J Pediatr Psychol. 2010;35(9):1005–10.

8.

Beck MH, Cataldo M, Slifer KJ, Pulbrook V, Guhman JK. Teaching children with attention deficit hyperactivity disorder (ADHD) and autistic disorder (AD) how to swallow pills. Clin Pediatr. 2005;44:515–26.

9.

Patel A, Jacobsen L, Jhaveri R, Bradford K. Effectiveness of pediatric pill swallowing interventions: a systematic review. Pediatrics. 2015;135(5):883–9.

10.

Schiele JT, Quinzler R, Klimm HD, Pruszydlo MG, Haefeli WE. Difficulties swallowing solid oral dosage forms in a general practice population: prevalence, causes, and relationship to dosage forms. Eur J Clin Pharmacol. 2013;69:937–48.

11.

Yamamoto S, Taniguchi H, Hayashi H, Hori K, Tsujimura T, Nakamura Y, Sato H, Inoue M. How do tablet properties influence swallowing behaviours? J Pharm Pharmacol. 2013;66:32–9.

12.

Osterberg L, Blaschke T. Drug therapy: adherence to medication. N Engl J Med. 2005;353:487–97.

13.

Jacobsen L, Patel A, Fox M, Miller S, Bradford KK, Jhaveri R. A pilot study of the Pediatric Oral Medications Screener (POMS). Hosp Pediatr. 2015;5(11):586–90.

14.

Singh M. National Public Radio. Trouble swallowing pills? Try the 'pop bottle' or the 'lean forward'. Health News From NPR. 11 November 2014. Available at http://www.npr.org/blogs/health/2014/11/11/363024822/trouble-swallowing-pills-try-the-pop-bottle-or-the-lean-forward. Accessed 6 Feb 2015.

15.

Overgaard AB, Højsted J, Hansen R, Møller-Sonnergaard J, Christrup LL. Patients' evaluation of shape, size and colour of solid dosage forms. Pharm World Sci. 2001;23(5):185–8.

16.

Adams LV, Craig SR, Mmbaga EJ, Naburi H, Lahey T, Nutt CT, Kisenge R, Noel GJ, Spielberg SP. Children's medicine in Tanzania: a national survey of administration practices and preferences. PLoS One. 2013;8(3):e58303.

17.

Bekele E, Thornburg CD, Brandow AM, Sharma M, Smaldone AM, Jin Z, Green NS. Do difficulties in swallowing medication impede the use of hydroxyurea in children? Pediatr Blood Cancer. 2014;61:1536–9.

18.

Nahata MC, Allen LV. Extemporaneous drug formulations. Clin Ther. 2008;30:2112–9.

19.

Centers for Disease Control and Prevention (CDC). Multistate outbreak of fungal infection associated with injection of methylprednisolone acetate solution from a single compounding pharmacy: United States, 2012. MMWR Morb Mortal Wkly Rep. 2012;61(41):839–42.

20.

Gudeman J, Jozwiakowski M, Chollet J, Randell M. Potential risks of pharmacy compounding. Drugs R D. 2013;13(1):1–8.

21.

Klingmann V, Spomer N, Lerch C, Stoltenberg I, Fromke C, Bosse HM, Breitkreutz J, Meissner T. Favorable acceptance of mini-tablets compared with syrup: a randomized controlled trial in infants and preschool children. J Pediatr. 2013;163:1728–32.

22.

Thomson SA, Tuleu C, Wong IC, Keady S, Pitt KG, Sutcliffe AG. Minitablets: new modality to deliver medicines to preschool-aged children. Pediatrics. 2009;123(2):e235–8.

23.

van Riet-Nales DA, de Neef BJ, Schobben AF, Ferreira JA, Egberts TC, Rademaker CM. Acceptability of different oral formulations in infants and preschool children. Arch Dis Child. 2013;98(9):725–31.

24.

World Health Organization (WHO), Finney E. Children's medicines: a situational analysis. Campaign "Make medicines child size". Progress Reports, Reports by the Secretariat 2011.

25.

FDA. Guidance for industry, size, shape, and other physical attributes of generic tablets and capsules, draft guidance (Silver Spring, Md.); December 2013.

26.

European Medicines Agency. "Guideline on pharmaceutical development of medicines for paediatric use". http://www.ema.europa.eu/docs/en_GB/document_library/Scientific_guideline/2013/07/WC500147002.pdf. Accessed 16 Sep 2015.

27.

Kesselheim AS, Bykov K, Avorn J, Tong A, Doherty M, Choudhry NK. Burden of changes in pill appearance for patients receiving generic cardiovascular medications after myocardial infarction: cohort and nested case–control studies. Ann Intern Med. 2014;161(2):96–103.
Acknowledgments
The authors would like to acknowledge Amee Patel and Meghan Fox from the Pediatric Oral Medication Screener (POMS) team for their efforts in advancing this research. We would also like to thank Christopher Falato from the NC Children's inpatient pharmacy for productive discussions on this topic.
Ethics declarations
L Jacobsen, K Riley, B Lee, KK Bradford, and R Jhaveri have no conflicts of interest to report. No sources of funding were used to support the study.
About this article
Cite this article
Jacobsen, L., Riley, K., Lee, B. et al. Tablet/Capsule Size Variation Among the Most Commonly Prescribed Medications for Children in the USA: Retrospective Review and Firsthand Pharmacy Audit. Pediatr Drugs 18, 65–73 (2016). https://doi.org/10.1007/s40272-015-0156-y
Keywords
Oral Medication

Peripherally Insert Central Catheter

Cefdinir

Chewable Tablet

Capsule Size