Abstract
Background
Meningococcal disease can result in severe disabling sequelae, but there is no published information about the lifelong rehabilitation costs of patients with severe outcome in the UK. As cost-effectiveness studies play a crucial role in determining whether immunization programmes will be implemented, it is important to identify these costs.
Objective
The aim of the study was to estimate lifelong rehabilitation costs associated with severe cases of meningococcal disease and to present these costs in a format appropriate for use in a cost-effectiveness analysis.
Methods
Two severe scenarios of meningococcal disease with major sequelae were developed; one that presented acutely as meningitis and the other as septicemia. Scenarios were based on systematic reviews of the literature describing the sequelae of meningococcal disease, dialogue with Meningitis Research Foundation members who have experience of the disease, and discussions with pediatricians who have been responsible for managing children with this disease over many years. The two scenarios were devised to represent cases typical of the severe end of the spectrum. To obtain a comprehensive list of the health, educational and other resources used by survivors during and since their acute illness, families of individuals with sequelae similar to those in each of our scenarios were interviewed. Relevant academics and professionals in health, social care and education were consulted in order to ensure that our scenarios accurately represented the treatment and support that individuals with such sequelae might realistically receive from the National Health Service (NHS), the local authority and Personal Social Services (PSS). The majority of costs were derived from English Department of Health reference costs and unit costs of health and social care reflecting values for the financial year 2008–2009 indexed to 2010–2011. Costs were based on a life expectancy of 70 years in each scenario and are presented at a discount rate of 3.5 % for the first 30 years and 3 % thereafter, as recommended by the UK treasury (non-discounted costs are also presented for comparison). Costs are presented from both an NHS/PSS perspective and a government perspective.
Results
This study has revealed that severe cases of disease that result in long-term sequelae can result in costs to the NHS/PSS of around £160,000–£200,000 in the first year alone. Over a lifetime of 70 years, discounted costs from an NHS/PSS perspective ranged from approximately £590,000 to £1,090,000 (£1,250,000–£3,320,000 undiscounted) and discounted costs from a government perspective ranged from £1,360,000 to £1,720,000 (£3,030,000–£4,470,000 undiscounted).
Conclusion
This study fills a gap in the UK literature and produces estimates that can be used in cost-effectiveness analysis to better represent the cost of illness at the severe end of the spectrum. Costs from a government perspective highlight the wider impacts of this disease, which is important for clinical decision makers, and budgetary and service planners to be aware of when making decisions about the benefits of implementing public health interventions such as immunization programmes.
Access options
Buy single article
Instant access to the full article PDF.
USD 49.95
Price includes VAT (USA)
Tax calculation will be finalised during checkout.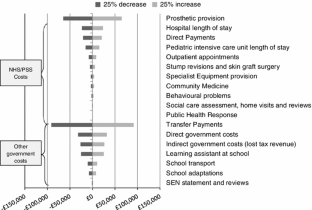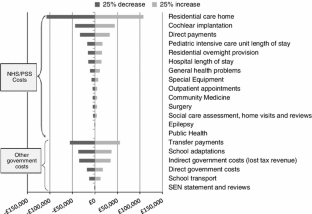 References
1.

NICE. Bacterial meningitis and meningococcal septicaemia in children. Full guideline 2010. Available from URL: http://www.nice.org.uk/nicemedia/live/13027/49437/49437.pdf. Accessed 18 Dec 2012.

2.

Edmond K, et al. Global and regional risk of disabling sequelae from bacterial meningitis: a systematic review and meta-analysis. Lancet Infect Dis. 2010;10(5):317–28.

3.

Erickson L, De Wals P. Complications and sequelae of meningococcal disease in Quebec, Canada, 1990–1994. Clin Infect Dis. 1998;26(5):1159–64.

4.

Canavese F, Krajbich JI, LaFleur BJ. Orthopaedic sequelae of childhood meningococcemia: management considerations and outcome. J Bone Joint Surg Am. 2010;92(12):2196–203.

5.

Hall AJ. The United Kingdom Joint Committee on Vaccination and Immunisation. Vaccine. 2010;28(Suppl 1):A54–7.

6.

Trotter CL, Edmunds WJ. Modelling cost effectiveness of meningococcal serogroup C conjugate vaccination campaign in England and Wales. BMJ. 2002;324:809.

7.

Scottish Intercollegiate Guidelines Network. Management of invasive meningococcal disease in children and young people. Edinburgh: Scottish Intercollegiate Guidelines Network; 2008.

8.

National Institute for Clinical Excellence. Guide to the methods of technology appraisal. 2004. Available from URL: http://www.nice.org.uk/niceMedia/pdf/TAP_Methods.pdf. Accessed 9 Dec 2010.

9.

Ten Jonsson B. Arguments for a societal perspective in the economic evaluation of medical innovations. Eur J Health Econ. 2009;10(4):357–9.

10.

Treasury HM. The green book: appraisal and evaluation in central government. London: TSO; 2003.

11.

Office for National Statistics. Interim life tables, 2007-2009. Available from URL: http://www.ons.gov.uk/ons/publications/re-reference-tables.html?edition=tcm%3A77-61850. Accessed 14 Dec 2010.

12.

Buysse CM, et al. Long-term health status in childhood survivors of meningococcal septic shock. Arch Pediatr Adolesc Med. 2008;162(11):1036–41.

13.

Department of Health. National schedule of reference costs 2008-09 for NHS trusts and PCTs combined. Available from URL: http://www.dh.gov.uk/en/Publicationsandstatistics/Publications/PublicationsPolicyAndGuidance/DH_111591. Accessed 4 Oct 2010.

14.

Curtis L. Unit costs of health and social care 2009. Available from URL: http://www.pssru.ac.uk/project-pages/unit-costs/2009/index.php. Accessed 21 Dec 2012.

15.

Holmes L, McDermid S, Sempik J. The costs of short break provision. Available from URL: http://www.ccfcs.org.uk/Documents/Publications/ShortBreaksDCSF.pdf. Accessed 6 Dec 2010.

16.

British National Formulary, 2010. Available from URL: http://bnf.org/bnf/bnf/60/3914.htm#_3914. Accessed 7 Dec 2010.

17.

British National Formulary for Children, 2010. Available from URL: http://bnfc.org/bnfc/bnfc/current/3914.htm#_3914. Accessed 7 Dec 2010.

18.

Christensen H, et al. Modelling the potential impact of new menB vaccines in England allowing for herd immunity. EMGM Book of Abstracts 2011. Available from URL: http://emgm.eu/meetings/emgm2011/abstracts.pdf. Accessed 21 Dec 2012.

19.

Welte R, et al. The role of economic evaluation in vaccine decision making: focus on meningococcal group C conjugate vaccine. Pharmacoeconomics. 2005;23(9):855–74.

20.

Copps J, Heady L. What price an ordinary life? The financial costs and benefits of supporting disabled children and their families. Available from URL: http://www.philanthropycapital.org/publications/health/disabled_children/disabled_children_cost.aspx. Accessed 21 Dec 2010.

21.

Dobson B, Middleton S. Paying to care: the cost of childhood disability. Joseph Rowntree Foundation, 1998. Available from URL: http://www.jrf.org.uk/publications/paying-care-cost-childhood-disability. Accessed 21 Dec 2012.

22.

Gordon D, Parker R, Loughran F, Heslop P. Disabled children in Britain: a re-analysis of the OPCS disability survey. London: The Stationery Office; 2000.

23.

Cadman D, Boyle M, Offord DR. The Ontario Child Health Study: social adjustment and mental health of siblings of children with chronic health problems. J Dev Behav Pediatr. 1988;9(3):117–21.

24.

Viner RM, et al. Outcomes of invasive meningococcal serogroup B disease in children and adolescents (MOSAIC): a case-control study. Lancet Neurol. 2012;11(9):774–83.
Acknowledgments
Numerous professionals were consulted to complete this study. The authors would like to thank the orthopedic surgeons, plastic surgeons, specialist pediatricians, neurologists, consultants in rehabilitation medicine, prosthetists, psychiatrists, occupational therapists, physiotherapists, educational professionals and academics who provided assistance during the study. We would also like to thank the many individuals at the NHS Information Centre and Connecting for Health, and the families of children affected by meningococcal disease who took the time to share their experiences with us.
Funding
Unrestricted educational grants from Novartis, Pfizer and GlaxoSmithKline provided funding for the study to take place. A knowledge transfer partnership grant from the Department of Trade and Industry funded interviews and work leading up to interviews with the families affected. No funding body influenced the study design, data collection, data analysis, data interpretation, writing of the report, or the decision to submit the paper for publication.
Outside of the submitted work, the MRF has received unrestricted educational grants and conference sponsorship from Novartis, Pfizer, GlaxoSmithKline, Baxter and Sanofi Pasteur. Claire Wright and Linda Glennie have also been paid for providing consultancy for Novartis.
Contributors
Linda Glennie was responsible for study concept. Linda Glennie and Claire Wright were responsible for study design. All authors took part in interviews with members and health professionals to produce the patient scenarios. Claire Wright and Rebecca Wordsworth undertook the data collection for costs. Claire Wright produced the consultation document that was sent to health professionals and academics for verification. She also wrote the first draft of the report, which was critically revised by Linda Glennie and Rebecca Wordsworth. All authors take responsibility for the integrity of the data.
Electronic supplementary material
Below is the link to the electronic supplementary material.
About this article
Cite this article
Wright, C., Wordsworth, R. & Glennie, L. Counting the Cost of Meningococcal Disease. Pediatr Drugs 15, 49–58 (2013). https://doi.org/10.1007/s40272-012-0006-0
Keywords
National Health Service

Pediatric Intensive Care Unit

Disable Child

Cochlear Implantation

Meningococcal Disease